Me and My Motor: Andy Green, OBE, on breaking the land speed record and his first car, a Mk1 Escort
From a tired Escort Mk1 to 1,000mph
HE MAY be one of the world's most celebrated drivers, but Andy Green is not strictly a "car person" — in the dentist's waiting room he will reach over Autocar for a copy of Flyer magazine. Nevertheless, the RAF fighter pilot appreciates fine engineering, particularly when his life depends on it.
---
Browse NEW or USED cars for sale on driving.co.uk
---
Next year, he aims to "revisit the sound barrier", 20 years after he became the world's first and only supersonic motorist. The car he'll do it in is Bloodhound SSC, a seven-ton hybrid jet-rocket car. It may even reach 1,000mph.
The project is inspiring thousands of children who are following Bloodhound-based science modules in schools around the world. "There are kids on Pacific islands with no roads who are following the Bloodhound programme," Green says proudly.
"My Escort was very old, and so unreliable I had it in bits most of the time"
It is designed to be the terrestrial equivalent of the Concorde programme, which inspired a generation of engineers. For all that, Green's preference is to stay in the background: he calls himself "the driver for the team that holds the world land-speed record". You might think he would therefore elect to drive something in which he wouldn't be recognised. The trouble is, Jaguar is one of Bloodhound's sponsors, so his "company car" is a five-litre F-type — painted in Bloodhound's blue and orange colours.
"It's a fantastic car, really well made, 0 to 60 in under four seconds," Green says. "The four-wheel drive is brilliant for control. Travelling whole days to and from Bloodhound events could be hard work, but the F-type means I always look forward to it. Comfort is stupendous, and looks-wise it stops people in their tracks. Personally, I'd prefer it if it was an understated black, but if it gets the word out, that's fine by me."
It has one thing that no other F-type possesses, however: in the glove compartment is an FIA (International Automobile Federation) licence in the name of Andy Green, marked "speed record licence — world record attempts only".
It was used on October 15, 1997, when Green drove Thrust SSC through the sound barrier in the Black Rock Desert in Nevada, a feat that has been repeated only once — by Green himself, on the return run. He pushed the car to 763mph, a world record that still stands.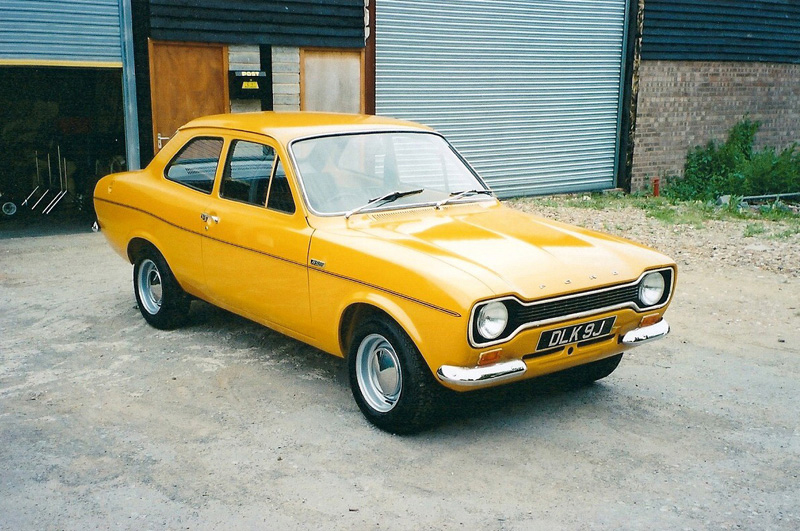 It's very different from Green's first car, a Mk 1 Escort (mint example shown above) bought in 1982, when he was a student at Oxford on his way to a first-class honours degree in mathematics.
"I had a pilot's licence before I could drive and bought a car because it was the most practical way of getting to the airfield. It was very old, and so unreliable I had it in bits most of the time — useful for finding out how these things work, but something that has become almost impossible with modern cars," he says.
Green is honing the skills he'll need for his new record attempt in a Radical SR3, a very touchy racing car. "It helps develop the physical skills to retain precise control of the steering wheel and the pedals. Plus the psychological ability not to panic when it all goes a bit wrong."
At 1,000mph, he must be hoping it doesn't go a bit wrong.
---
Browse NEW or USED cars for sale on driving.co.uk
---
Andy Green: my life in cars
1982 Ford Escort Mk 1

1988 Porsche 944

1997 Thrust SSC

2001 Harley-Davidson Road King

2015 Jaguar F-type

2017 Bloodhound SSC
My dream car …would be able to fly
---
Read the other interviews in the Me and My Motor series
---