Bear Grylls on Land Rover, his first car and adventuring
Survivalists say don't take risks. Unbearable
---
Published 02 December 2014
'I WISH I had a pound for every time I've been offered pee in a bar," says Bear Grylls as we toast our hands around a fire he has made, of course, using his knife and a fallen tree. "It tastes horrible, salty and warm. I'm not one of these people who does it for fun." I guess that means it's safe to drink the steaming mug of tea he has just handed me.
We're camping in an isolated canyon near the Gila National Forest in New Mexico, miles from the nearest road. To get here, we've abseiled towering cliffs, waded raging rivers, clambered rough ropes and dined on prickly cactus. My feet are soaking, my face is smeared with mud and I'm bleeding in at least three places.
---
Browse NEW or USED cars for sale
---
I might be knackered but, for Grylls, it's just another day at the office. Since he made his television debut in the series Born Survivor in 2006, Grylls has wrestled alligators, munched animal droppings, braved forest fires and jumped out of a hundred helicopters, to say nothing of slurping gallons of urine in burning deserts.
"Straight pee isn't actually so bad," he continues. "The worst I ever had was when I skinned a snake and used it as a bottle. I wore it round my neck for a day so the pee had been fermenting in all the snake bits."
We're here in the American wilderness so Grylls can pass on his survival lore to Alex Woodford, a 22-year-old from Leicestershire who has won Land Rover's Discovery Adventure Challenge. "Land Rovers are the unsung workhorses of our productions," says Grylls. "You'll see me come screaming in on helicopters and jumping out of planes, but we use Land Rovers to get down jungle tracks, move crew in and out and resupply."
Grylls, whose real first name is Edward, wasn't always at the wheel of such a large machine. One of his first cars was a bright green Fiat Panda, bought shortly after he passed his test. It gave him an opportunity to test his make-do-and-mend skills: "Once I went over 30mph the roof flipped off, so I had some climbing rope tied around the thing. When I hit 30, I knew I had to grab the rope."
The worst I ever had was when I skinned a snake and used it as a bottle. I wore it round my neck for a day so the pee had been fermenting in all the snake bits
Next he bought a London taxi, more for practicality than anything else. "It cost £1,000 and I slept in the back," he says. "I put the two flip seats down, plywood over the top, mattress on top. Travelled around, slept in that — awesome."
Although Grylls comes from a privileged background — he is an Old Etonian and the son of the former Conservative politician Sir Michael Grylls — a conventional career was never on the agenda.
At 23 he climbed Everest (becoming one of the youngest Britons to do so), just 18 months after breaking his back in a recreational parachuting accident in Zimbabwe during his time in the SAS reserves. He went on to circumnavigate Britain on a jet ski, cross the Atlantic in a tiny open boat and set a new altitude record in a powered paraglider over the Himalayas.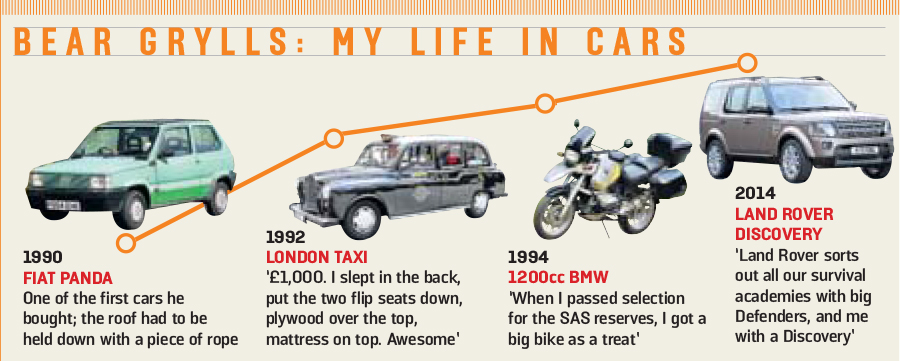 It was feats such as this that led the Discovery Channel to offer Grylls his own survival television show. "I said no three times," he says. "I was super-sceptical of TV. I grew up on survival shows that were quite anoraky. I wanted to make something fun and dynamic, not just about whittling."
In Born Survivor, Grylls would be dropped, supposedly unsupported, into extreme environments around the world, from which he would have to escape using little more than his wits, his muscles and a large knife.
Over 76 episodes, Grylls made it out alive from jungles, deserts, glaciers, rivers and mountains. The show was wildly popular, but also attracted plenty of controversy.
"It got lots of flak with people saying my advice was reckless," says Grylls, with a glint in his eye. "Textbook survival tells you to stay still, not to take any risks and wait for rescue. But that's a very boring TV show. My feeling was always, if I've got a shoelace, a dead squirrel and no other way down this rock face, I can do this. It's reckless but it just could work."
The first series was also criticised for faking key scenes, including having a crew member wear a bear suit and using smoke machines to simulate lava. Grylls even spent one night in a nearby hotel with his family rather than staying for the entire shoot on a desert island. Subsequent series made it clearer that Grylls relies on a small support crew and occasionally receives expert assistance.
"One lesson I've learnt from my experience in the wild is that you have to embrace failure," he says. "You'll look silly sometimes, you'll fall flat on your face, but it's the only way you progress."
Since Born Survivor, Grylls has hosted several other programmes. The Island, now filming its second series, drops untrained volunteers on tropical islands. This year, there are separate men's and women's islands. "I've seen the daily reports," Grylls whispers to me, eyes wide with mischief. "The women are going feral!"
The moment Grylls gets back to civilisation, he is flying to the jungle for a new ITV reality show called Mission Survive. This Apprentice-style programme will pit eight UK celebrities against one another on a tough two-week journey. Every couple of days one will be sent home. And next year Grylls is planning his riskiest show yet: Keep Me Alive, in which a member of the public will be left in the wilderness with just a backpack and a satellite phone connection to Grylls. They can call him for advice but when the battery dies, they're on their own.
"Danger is important because it inspires people," Grylls tells me, suddenly serious again. "I'll take some Scouts away and say, 'What we're going to do today is going to be incredibly dangerous'. Then I'll see 20 smiles. You don't empower kids if you don't expose them to risk. You empower by teaching them how to deal with risk properly."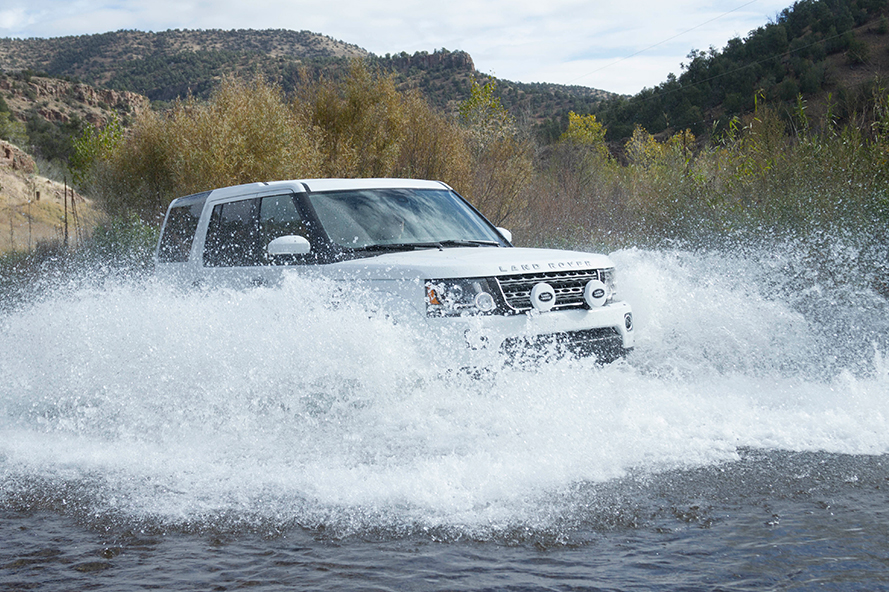 In 2009, Grylls was appointed Chief Scout. "Baden-Powell wouldn't recognise Scouting today, and he'd be so proud of that," he says. "You have to keep developing and keep moving forward." He is critical of the Boy Scouts of America for its ban on gay adult volunteers. "They should definitely allow it and it's really going to hold them back," he says.
---
Browse NEW or USED cars for sale
---
As I drain the last dregs of tea from my Bear Grylls-branded mug and prepare to bed down for the night in my Bear Grylls sleeping bag on top of a Bear Grylls mattress, in a Bear Grylls tent, I wonder if his empire has reached its limit. Luckily, the adventurer does not reach for his Bear Grylls-branded survival knife. Instead, he whips out a smartphone and pulls up a photo of his latest collaboration, the 2015 Triumph Tiger 800 XC with Bear Grylls.
One lesson I've learnt from my experience in the wild is that you have to embrace failure
This adventure bike is classic midlife crisis fodder: a slew of off-road features and just enough power to get Sunday riders into trouble. Just don't expect Grylls, who turned 40 this year and has three school-age children, to ride it out of the back of a helicopter over the Gobi desert any time soon.
"I've spent so many years hankering after travel, trying to get to this place or up that mountain. But the more I travel, the more I realise that home is special," he says, hauling a massive final log on to the fire. Next morning, he'll be up before dawn to blow its embers back to life.
"The adventures are a privilege but a lot of it is work as well," he says. "That's my job; I do it and then it's all about getting home in one piece."
And with that, Grylls slips off alone into the dark.
---
Browse used Land Rovers for sale on driving.co.uk
---