Interview: Nissan's Palmer and Nakamura talk GT-R, Pulsar and future cars
How about a car with the steering wheel in the back?
IT'S AN exciting time for Nissan, which is riding the crest of a sales wave with the Juke and Qashqai SUVs, which have given the company enough confidence to take on the Ford Focus with the Pulsar, its first mid-size family car since the Almera.
The Japanese company, which has its European manufacturing facility in Sunderland, has also been hard at work pushing through updates to its car range this year, with refreshes of the Juke, Qashqai, Micra and X-Trail.
And there's a clear eye on the future, too – car enthusiasts are getting very excited about the prospect of a new GT-R supercar which, according to reports, will have a hybrid powertrain for even more brutal performance (more on this below). And don't forget, Nissan is also the company that brought us the pioneering Leaf pure-electric car and entered the experimental Zeod RC racing car at Le Mans this year – the first car at the 24-hour race to complete a full lap of the track under electric power alone. Expect more in this area.
But as we find out below, there's an even longer-term vision – fly-by-wire steering, autonomous vehicles and more are all on the conference table, as we discover in our exclusive Q&A with Andy Palmer, chief operating officer and Shiro Nakamura (pictured above), senior vice president and chief creative officer.
Driving: Introducing the Pulsar is a big move for Nissan. What does the design mean to you as the lead creative, Nakamura-san? Is it a conservative segment in which sexiness doesn't sell?
SN: The C-segment hatchback is a very much established market, unlike that of the crossover SUV. The crossover segment allows much more freedom of design because it's not as established, whereas people have in their mind what [a family car] should be. It means we can't be very radical – we cannot simply create a Juke hatchback, for example. It's a different market. So maybe, for the Pulsar, we tried to do it more mainstream.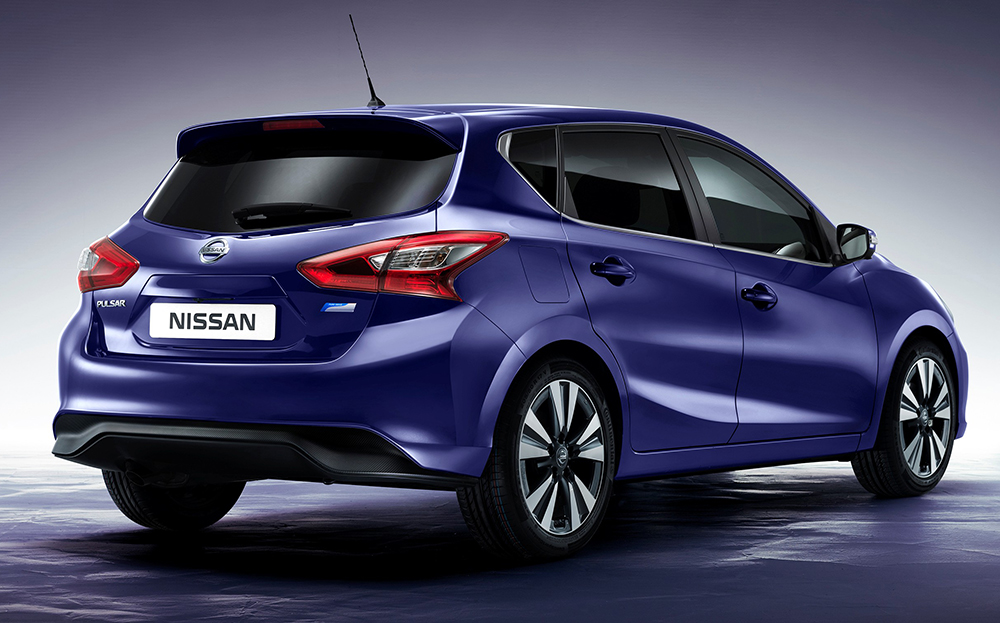 Driving: How does that feel as a designer? Is it a bit dull?
SN: Sometimes we have to challenge an existing segment, so the approach is quite different. What we really wanted to capture, though, was a family resemblance between Qashqai and Pulsar.
AP: Pulsar is interesting because you can see a lot of work has gone into the design and emotion along the sides. If you look at a lot of its rivals there is a lot of emotion at the front and the rear but the sides are fairly monosyllabic. So what we did with the team is to try and bring much more sculpture into the shape of the side.
Driving: Any clues on what the Pulsar will be like to drive?
AP: I signed off the NVH [noise, vibration and harshness] recently. It's very solid, it sits nicely on the ground, it rides the bumps very well. It might not have the fastest steering in the world, it might not be the sportiest feeling in the world – it's not designed to be – but it feels like it's in the same family as other Nissans. And that is important because you have people moving between car segments.
Driving: Potentially it could be very successful, given the sale figures associated with the Ford Focus and VW Golf. Have you got ambitions to outsell those rivals with the Pulsar?
AP: No, we don't have outright ambitions. We have fairly ambitious targets for volume in Europe, but remember we've been out of the pure C-segment market for a long time so most customers in Europe know us for SUVs, so it's going to take a full generation of having that car in before you see us really, really dominating the C-segment, which of course is an ambition with the two cars.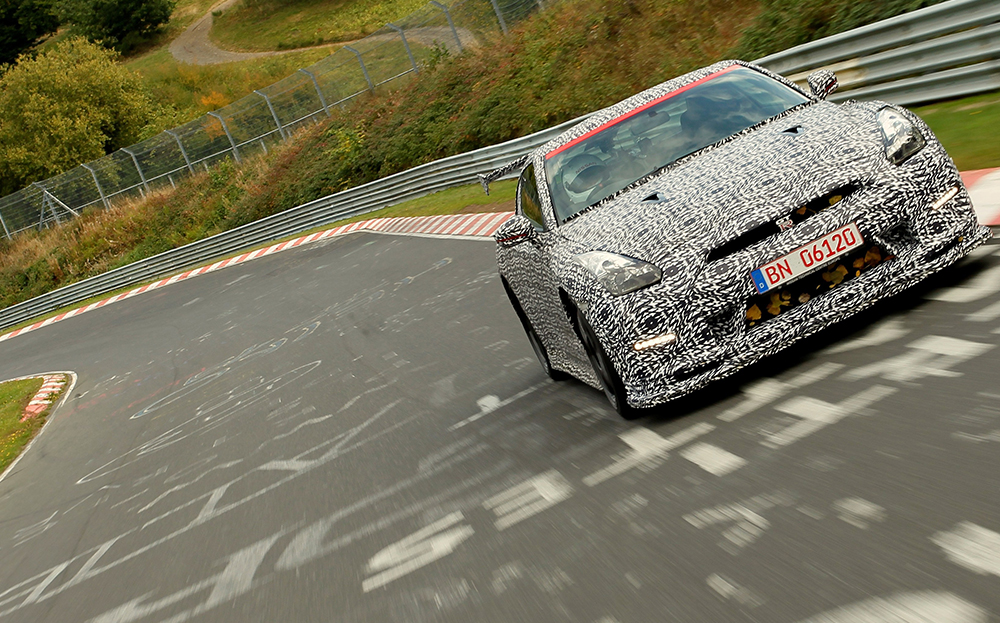 Driving: Let's talk about your supercar – the GT-R. Will the next one be a hybrid?
AP: We've registered the trademark "R-Hybrid", so I guess you'd have to say there's some logical thinking there. But look, I think if you look at a hybrid through the lens of a performance enhancement, rather than as a pure means of saving fuel, it actually makes a lot of sense. If you look at the torque curve of an engine – it has a slow ramp up and then goes flat, then drops off. The electric motor, of course, doesn't have that lag.
Hybrid's really good – particularly when thinking about the Nürburgring – into slow corners, out, basically using the electric power to give you an extra squirt of power.
Driving: I dread to think what the GT-R could do around the Nürburgring with additional electric power…
AP: Yes, well it needs a little bit more poke out of some of those corners – that's where we're a little bit slower than the 918. We're still waiting to have a race over five laps around the Nürburgring, actually, because their KERS may not last that amount of time – their battery might not be good enough. I don't know…
Driving: You think that would be fairer?
AP: I think it would be fairer, and I think we'd be quicker.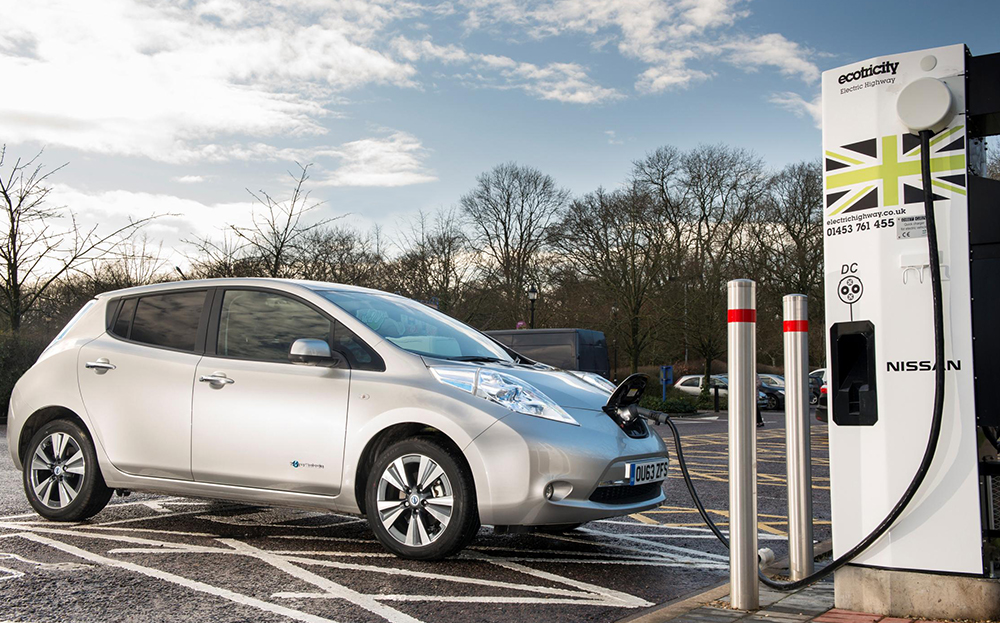 Driving: What about the pure-electric cars.  We have heard that the next Leaf might have a 200 mile range. Is that pie-in-the-sky?
AP: No, it's technically reasonable. What's clear is that the major innovation on the electric car is in the battery or the ability to get more range. Once you've lived with Leaf for a few weeks that whole thing goes away. My daily drive is a Leaf and the standard battery is fine. But new purchasers of electric cars are often concerned about range so I think you'll see customers being given more choices. 200 miles is not an unreasonable target.
Driving: So, what does the next 10 years look like for Nissan?
AP: That would be telling you everything!
Driving: If you wouldn't mind…
AP: Yeah, sure! That would be a long piece. But the way that we work as an organisation is that you've normally got a long-term view on what's going to happen in 2050, for example. So, we're looking at sociology, looking at graphical trends, geo-political situations and generational changes.
For example, we're now looking at so-called "Generation Z" – the millennials – because they're going to be the big influencers in 10 years' time. We're looking at the behaviours of the Facebook generation – maybe even the post-Facebook generation, actually – and that is starting to influence the design strategy.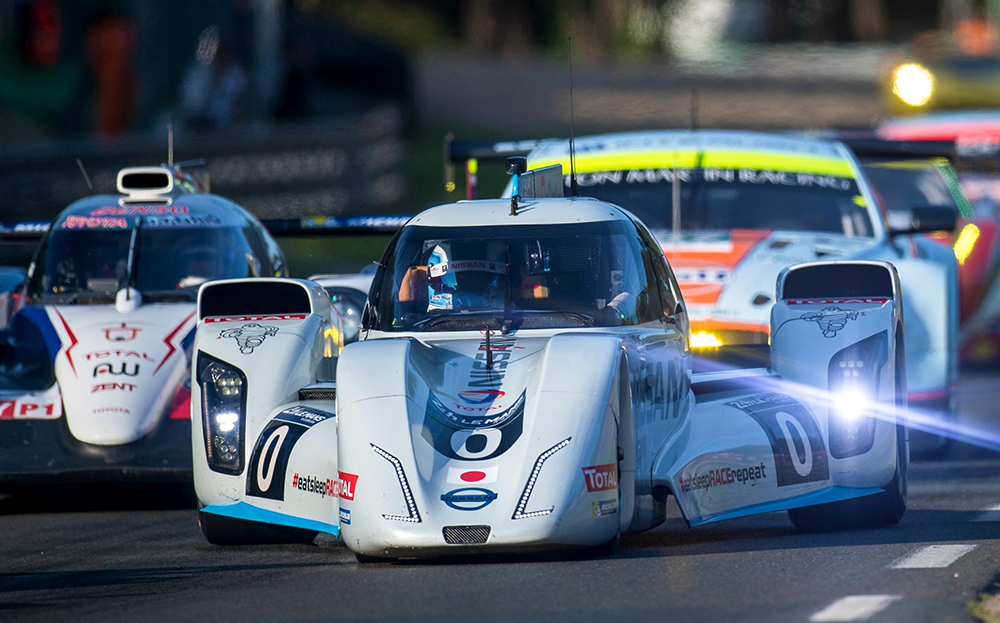 Driving: Is the Zeod RC racing car, with its hybrid drive, a glimpse of the sort of car they might be driving?
AP: Yes, very much so. We decided three years ago that we wouldn't do any racing that didn't have relevance track-to-road or road-to-track. So for example the Zeod wasn't using wing mirrors – it used cameras and a screen in the cockpit.
Interestingly, the history of wing mirrors started on the race track so I thought it was a nice close of a circle to take it off on the race track, and then hopefully that rolls forward onto the road.
Driving: What's the benefit of taking mirrors off cars?
AP: Aerodynamics, [wind] noise, plus you can get much greater visibility using a camera. The technology of a mirror really belongs to the past.
Driving: What else will future cars have?
AP: I can speculate on social trends and technology trends. The way I would characterise what I call the "innovation space", one of the social trends is megacities. By 2050, about 70% of the world's population is going to live in a city. So this is where you're going to see social unrest if we don't fix things like clean air. You already see that in many, many cities – that's a real issue.
Within that are the three other major social trends. I already mentioned Generation Z – the young generation – which basically is much more social media savvy, using technology intuitively and couldn't imagine life without a computer attached.
You've then got the opposite end of the spectrum, which is your Seniors – people are living longer. If you look at a generation today and compare to a generation 10 years ago, an 80-year-old today, on average, is walking at the same speed as a 70-year-old 10 years ago. So people are fitter, people want to keep their dignity longer, people are living longer, so they're looking for the ability to use their cars for longer.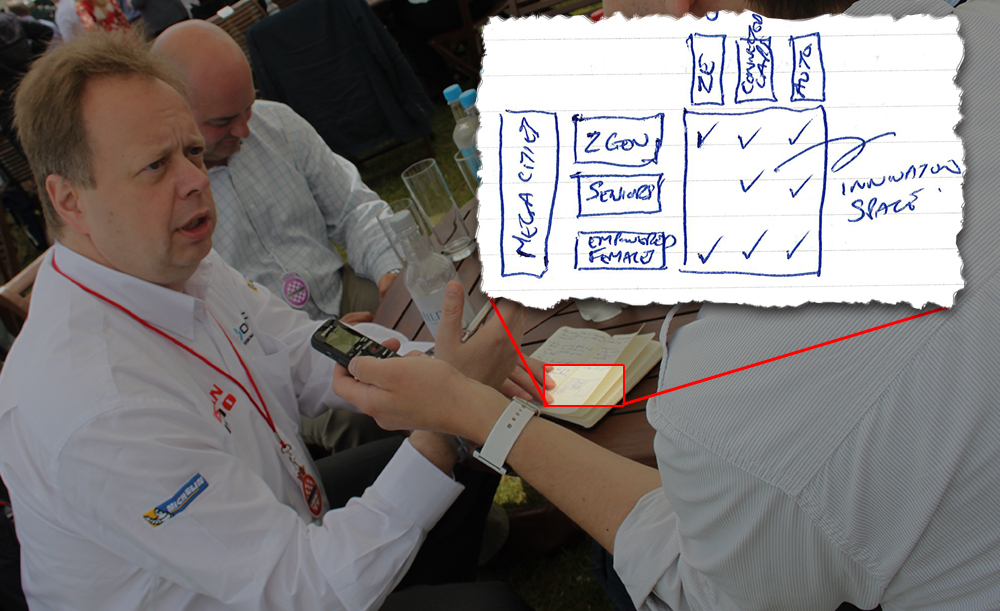 And the other social trend, in my opinion, is empowered females; basically you see this coming out of emerging countries.
If you overlay three technical trends, the first is zero emissions, the second is connected cars, the third is autonomous cars.
With zero emission, Gen Z absolutely ticks that box, Gen Z is also very much connected and Gen Z is looking for autonomous cars because they want to be able to use social media while on the road.
Meanwhile, Seniors want to be able to drive cars for longer, so autonomous cars are key. Being connected would be very useful for health as you can have bio-monitoring, so you can look after the health of your mother, or whatever, if you're worried about them.
For empowered females, who do more work with their kids than the males in the family, generally, zero emissions is important as they're thinking about the next generation. They're also interested in connected cars as they're looking to stay in touch with their family. The same is true for autonomous.
This is really the innovation space for the car industry over the next 20 to 30 years.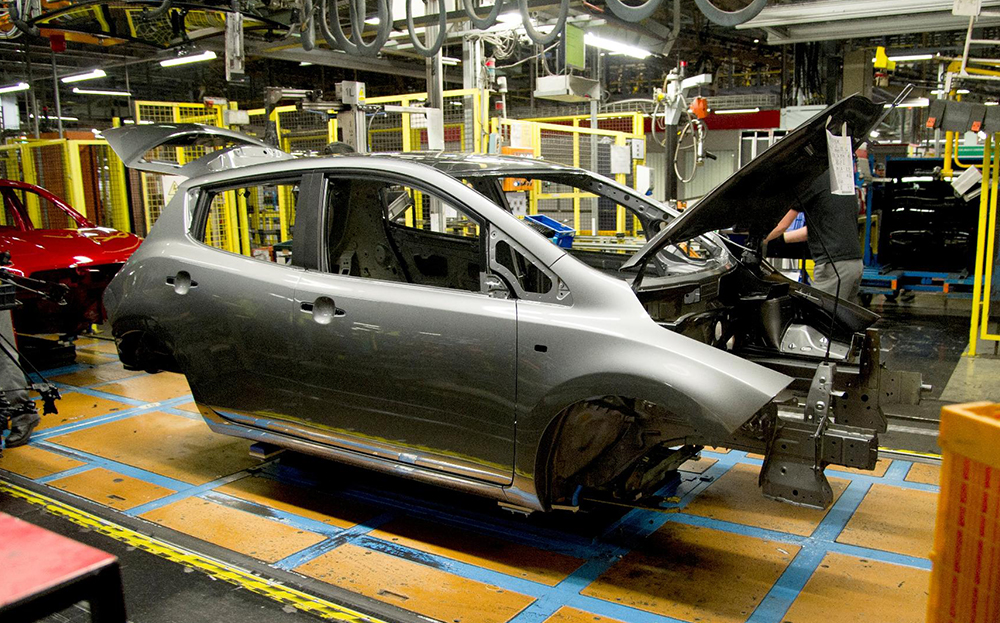 Driving: In terms of car design, where are we going, Nakamura-san?
SN: Exterior design is not going to change radically. Think about the last 30 or 40 years – things haven't changed hugely. The exterior is an emotional expression and it has not changed too much because people's emotions cannot be radically changed.
However, the things Andy speaks about – connectivity, autonomous driving – will have much more impact on the interior of cars. In particular, the function of the interior is becoming much more complex.
Think about the 1960s – you had only a steering wheel, three gauges, a radio and a heater – that was it. Now you have audio infotainment and many more electronic interfaces. And now we're looking towards autonomous driving, and without human error, increased safety will come.
AP: From 2020, you won't need to have your eyes on the road any more. The impact that has on interior design is quite dramatic. Your windscreen could become more like a monitor than it is a windscreen, allowing you to be video conferencing while on the move. You can also use your head-up displays to help navigate.
The architecture of the car is changed by zero emissions, too, because you can put the electric motors in the wheels.
SN: The steering wheel won't be mechanically connected to the wheels, either. It will be connected electronically. In fact, we have already started on this. Maybe the steering wheel could be to the side of the car, or in the middle.
Driving: You mean you could be a back seat driver for real?!
SN: Exactly! You could be steering while sitting in the back of the car. It's not a joke.
---
Search for and buy a Nissan on driving.co.uk
---