Hydrogen cars clean up as Honda opens solar-powered filling station
Clean but costly solution
---
Published 01 November 2014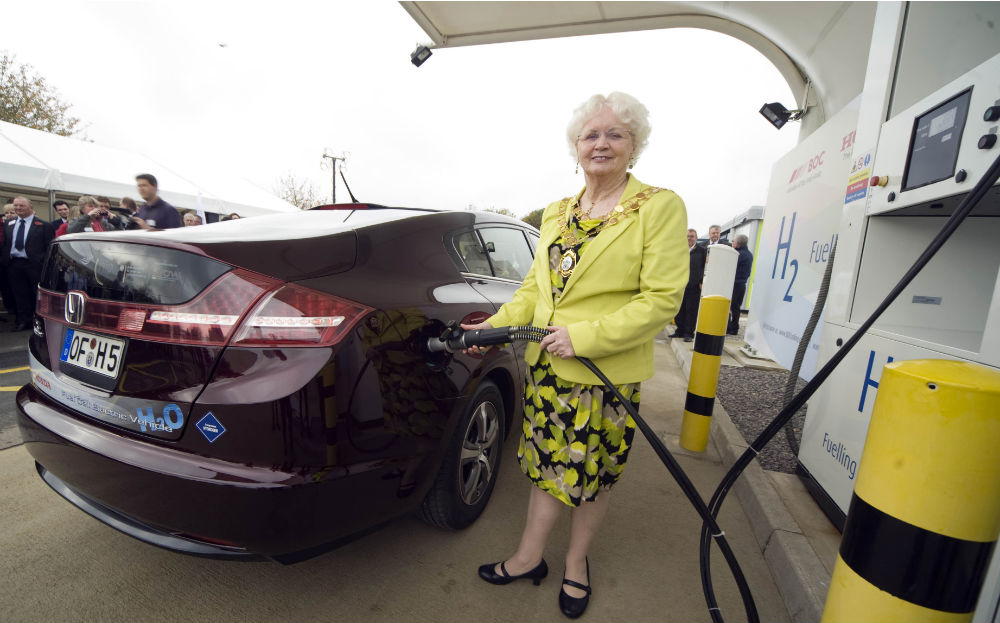 HYDROGEN FUEL cells are heralded by many, including Jeremy Clarkson and the Top Gear team, as the long-term solution to the problem of how we power our cars. The positives are certainly alluring: hydrogen gas goes in, electricity is produced in the fuel cell stack to drive the wheels and all that is emitted by the car is water.
What's more, hydrogen gas tanks can allow cars to travel further between fill-ups than the batteries in all-electric vehicles (Honda's current hydrogen prototype has a range of 240 miles), and refuelling takes not much longer than a petrol or diesel fill-up instead of anything from 30 minutes to 12 hours for an electric car recharge, depending on the electrical supply.
---
Search for and buy your next car on driving.co.uk
---
Sounds great, doesn't it? Except that at the moment hydrogen filling stations are as rare as hens' teeth (there are just a dozen in operation in the UK at present, most of which aren't open to the public), and generating and compressing the hydrogen gas requires mains water and electricity. Electricity that in Britain is predominantly generated by coal, gas and nuclear power stations.
However, on Thursday a consortium of businesses including Honda and BOC, a provider of industrial and medical gases, opened Britain's first commercial-scale solar-powered hydrogen production and refuelling station. Honda first opened the filling station at its UK vehicle manufacturing facility in Swindon in 2011, but until now it has required the hydrogen to be delivered in tanks on the back of trucks (diesel-powered). The new and improved plant not only generates the hydrogen on site but is powered by renewable energy from the sun, making it, and the vehicles it refuels, almost 100% green.
"Only by removing the need for trucking hydrogen around the country will it ever be considered a truly viable alternative to fossil fuels"
"In our view it's absolutely fundamental that for hydrogen to be credibly called a zero-carbon fuel, the upstream production mix and supply chain must be fully decarbonised too," said Nathan Palmer, BOC's director of bulk and packaged gases.
"This means that our preferred operational model is to produce the hydrogen on site, at the point of use, harnessing a renewable energy source, such as we have here at Honda. Only by adopting that model and removing the need for trucking hydrogen around the country will it ever be considered a truly viable alternative to fossil fuels."
The plant will be used to refuel seven Ford Transit vans (run by Swindon borough council and the business services company Commercial Group) converted to run on diesel and hydrogen, as well as two fuel cell-powered forklift tucks at the Honda factory.
How easy would it be, then, to bring this model to other regions and get a hydrogen refuelling network up and running? Developing the infrastructure would be a long, slow and expensive process – a standard hydrogen refuelling station costs about £2m at present, according to the UK Petroleum Industry Association.
Honda says its filling station and production plant cost half that. Exact figures were not immediately available; when pressed, experts at the launch told Driving that it was a 15-megawatt station with power coming from two vast energy farms nearby, comprising 61,000 solar panels – enough to power the entire Honda UK Manufacturing plant.
With extremely tough European emission targets to hit by 2050 (Britain must reduce its national carbon output by 80% by then), clean alternatives to petrol and diesel are not only a philanthropic aspiration but  essential. That's why the UK's Office for Low Emission Vehicles has already spent £400m on supporting low-emission vehicle technology, with an extra £500m pledged up to 2020. In addition, £500m of taxpayers' money will be spent on the new Advanced Propulsion Centre, based at Warwick University, matched by £500m from the automotive industry.
Last month the government announced that it was committing £7m towards the UKH2Mobility hydrogen-fuelled transport project, with £4m coming from industry. With this money and the launch of Honda's solar-powered hydrogen production facility, the ball is rolling, and the proliferation of such plants on an industrial scale would reduce costs. Don't forget that Britain's network of petrol stations wasn't built in a day.