Road to hell: getting stuck in Operation Stack (and is there a better solution?)
This is no ordinary traffic jam — this is Stack attack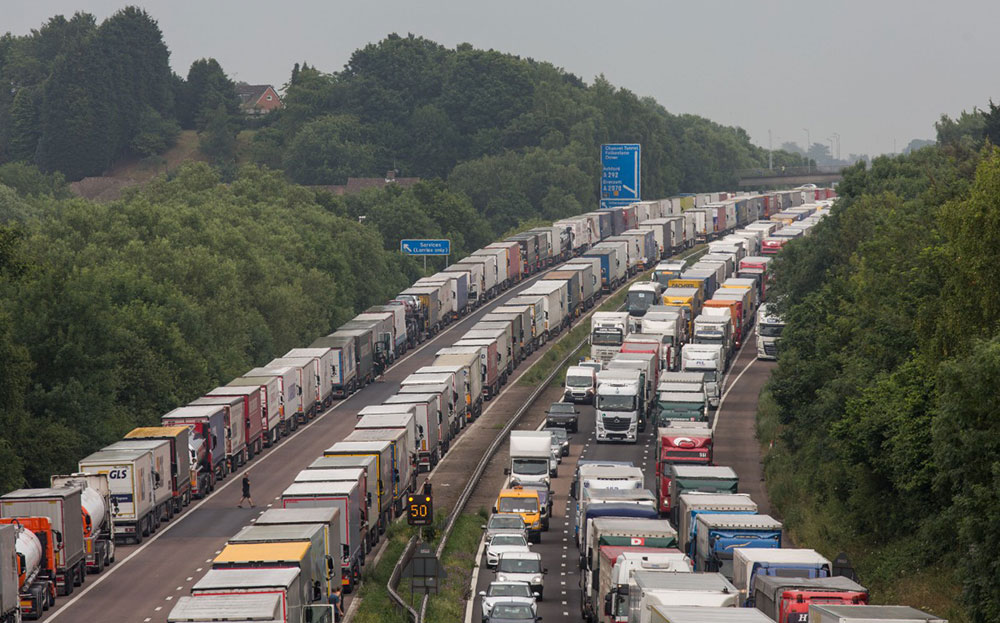 IT BEGAN as a drive through the Garden of England. Then the A20 through Kent turned into the road to hell. If anarchy comes to reign in the UK, I now know how it will look — and it isn't pretty. It even has a name: Operation Stack.
---
Click to read car REVIEWS or search NEW or USED cars for sale on driving.co.uk
---
Unless you have been living in a cave for several weeks you will know that a combination of French ferry workers blockading roads in Calais and an increasingly desperate situation with migrants hoping to enter Britain from the port has led to emergency measures being introduced on the main arterial road from the port of Dover.
The emergency procedure — Operation Stack — takes the form of converting the M20 motorway into a gigantic lorry park, where freight vehicles en route to France queue while waiting to board delayed ferries or to enter the Channel tunnel at Folkestone.
It sounds like a military operation, with all that this implies: efficiency, precision and brisk good humour. In fact, it is anything but. From the driver's seat it felt at times more like an ill-thought-out and badly organised attempt to keep traffic flowing on the cheap.
Let me tell you first what my experience was like. Last week I became stuck in a 40-mile queue to the Channel. It was formed of holidaymakers, commuters and delivery vehicles that had been diverted off the motorway and onto the A20. This runs parallel to the M20 for most of its route, but as a single- lane road it is unsuitable for heavy traffic.
The result is gridlock, with cars backed up for miles. And that's if you are lucky enough to be able to follow the diversion signs. If my experience is anything to go by, many signs are either missing or misleading, resulting in drivers meandering aimlessly around the Kent countryside or simply following the car in front hoping for the best.
My journey started at 9am in Edgware, north London. I was en route to France, as I am a keen amateur historian of First World War battlefields. It is a journey I have made dozens of times, and it usually takes about 1½ hours to reach the Channel tunnel. Of course I had heard there were likely to be disruptions so I left 90 minutes earlier, assuming it would be more than enough time. I was wrong.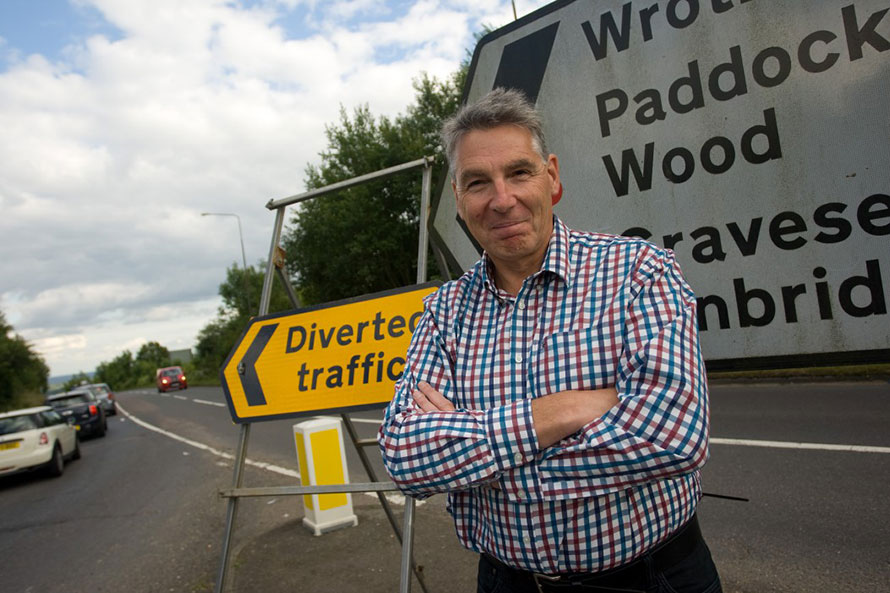 On this trip I was also taking my 85-year-old father. We left the house, turned on the radio and headed towards the M20. The first indication that things were not as they should be was the illuminated signs flashing up the message "Motorway closed — Operation Stack in operation". Traffic started to build as we approached junction 8, but there is little you can do: you know there is going to be a jam but there is no way around it.
About a mile before the junction we hit stationary traffic. For the next hour we crawled along at a snail's pace. Cars were directed to use the middle lane, while lorries had to use the inside lane, and all traffic was directed off the motorway. As we approached the top of the slip road a traffic officer directed lorries back onto the M20 (down the opposite slip road) and cars onto the A20.
I assumed traffic would start to ease from here partly because at least all the lorries had been filtered out, but it didn't. As we pulled onto the narrow A20, mile after mile of nose-to-tail cars stretched ahead. Traffic would flow for a few hundred yards and then bunch up at the next roundabout or crossroads. Then free up. Then bunch up. It was monotonous stuff. It was now 11am — three hours to travel a distance I would usually have covered in about an hour.
The worst thing about it was that drivers were left to fend for themselves. The diversion signs were few and far between. Many were positioned confusingly; certainly from the driver's seat it felt as if no one from Highways England or any other agency — the police, say, or Kent county council — had driven the route to see it through the eyes of motorists unfamiliar with the roads. I saw one sign at the entrance to an unmetalled road and had to slow down and mentally assess whether it was serious or not. Luckily I ignored it.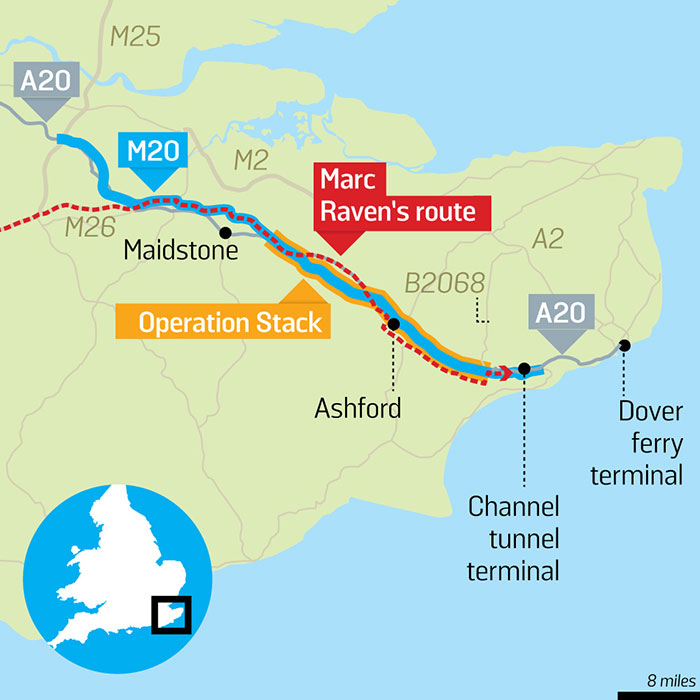 The other thing was that no one knew where they were going: there are no traditional signposts for Dover or the Channel tunnel anywhere on the route (they're all on the M20). And since the two places are several miles apart, following generic diversion signs is no help to anyone. You don't know if you are being diverted to the port or the tunnel.
After four hours without a break in the car, my father was beginning to suffer. Yes, we were only in Kent — this wasn't like being stranded in the Australian outback — but the absence of places for lavatory stops and the lack of obvious facilities to park and buy refreshments, or even to stretch our legs, was beginning to take its toll.
Outside, frustration was beginning to boil over too: drivers who presumably knew the road were overtaking dithering holidaymakers at mini roundabouts, horns blared and one motorist felt the wrath of a dozen road users when he circled a roundabout several times desperately looking for his exit.
Frustration was compounded by the fact that the A20 crosses over the M20 at several points, allowing you to look down on the motorway. And guess what. It was empty. The police "kettle" the lorries further up the motorway and then bring them down in batches to board, meaning the final few miles into the port are entirely clear.
Finally, at about 2pm, we reached the tunnel, which at least was clear, and boarded quickly. By the sounds of it, we were lucky: other drivers have reported a further five-hour delay to get onto the Eurotunnel shuttle.
I arrived exhausted at the Somme at about 5pm — well over five hours late. Never again.
---
Click to read car REVIEWS or search NEW or USED cars for sale on driving.co.uk
---
What is Operation Stack, and is there a better way?
HOW DOES IT WORK?
When there are problems at Channel ports, police have powers to turn a large section of the M20 into a car park, from junction 8 towards the coast.
The length of section closed depends on the number of waiting lorries, and in the most severe cases, such as last week, both carriageways are used. With junctions 8 to 11 closed in both directions, 7,000 lorries can be parked.
Cars are diverted onto the A20 and A2, where lengthy tailbacks and a lack of services make for uncomfortable conditions. The congestion also spreads through Kent, bringing towns and villages to a standstill.
Operation Stack was first mounted in 1988 and is meant to be a short-term measure, for use when gales stop ferries sailing from Dover, say, or when strike action (usually French) affects cross-Channel services.
This summer Calais has been hit by a perfect storm. Strong winds have caused delays. One of the Dover-to-Calais services, MyFerryLink, stopped operating at the beginning of July, removing from the route two vessels that would normally carry 1,000 lorries a day. This has resulted in more demand for other cross-Channel services. What's more, MyFerryLink workers have disrupted other services, as have large groups of migrants attempting to storm the Channel tunnel.
Operation Stack has been in place for more than 25 of the past 40 days. Kent police said that they did not have a record for the number of closures in 2014, but in 2007-9 the operation was in force on an average of 19 days a year.
HOW TO CRACK THE STACK
Highways England, which manages motorways and main A-roads, has responsibility for the M20. Kent county council runs most other routes in the region. Both are under pressure to find a better way of managing Channel port delays.
The simplest answer, some say, would be to set up a cars-only contraflow on the northbound carriageway of the M20 when just the southbound is closed, as was the case at the beginning of last week. This would allow traffic heading for the ports to use at least one motorway lane, easing the pressure on local roads. Highways England says it has investigated setting this up quickly by using cones to separate the traffic but decided it would not be safe, even with a reduced speed limit.
Until 2012 a section of the M20 was fitted with a concrete barrier that could be shuffled across lanes. This created a safe contraflow within minutes. But the Highways Agency, the predecessor of Highways England, scrapped the equipment because it was costing almost £630,000 a year to lease — not deemed good value for money.
Kent county council is backing plans to create a giant lorry park to prevent motorway queuing. It also wants holding areas for lorries in other areas of the country during times of severe disruption.
"We are looking at other options but this is going to take more than a few months to solve," said a council spokesman.
How to survive the Kent chaos
BEAT THE QUEUES
If you can, avoid the A20, the single carriageway that runs more or less alongside the M20. Motorists are diverted onto this road when they hit Operation Stack.
It's best to bypass these roads entirely. Some car drivers heading to the Channel tunnel at Folkestone last week jumped the queues by using a back road. Take the M2 and A2 until just past Canterbury and then turn off onto the B2068 and follow it all the way to junction 11 of the M20, past Stack. Come off at junction 11a to check in.
If you are travelling to Dover, simply stay on the A2 all the way to the coast. As long as the route remains accident-free it should be quicker, though you can still expect delays when Operation Stack is in progress.
Coastal routes are also an option, but it's easy to get caught behind a slow-moving combine harvester on the narrow roads.
The sat nav maker TomTom says that routes to the Channel ports can go from clear to jammed in an instant, especially when thousands of holidaymakers start trying to find their own diversions, which creates new hold-ups.
CONFLICTING INFORMATION
Highways England, transport companies and motoring groups all issue travel updates, but drivers have complained of being given conflicting information. Transport Focus, an independent watchdog for road users, has written to officials, criticising the information being given to drivers. "Trying to find out if and when Operation Stack is being deployed seems harder than it should be," wrote Anthony Smith, the chief executive of Transport Focus. "The Kent police website is helpful when the operation is live but this and other relevant websites… seem to be giving varying messages at any one time."
The latest information on Operation Stack can be found on the Kent police website at tinyurl.com/opstacked. Drivers who have found themselves lost on country lanes have blamed unclear diversion signs. Highways England said the signage was designed to be quickly installed and dismantled during short delays and that it was looking into upgrading it.
Eurotunnel is also planning to have clearer signs installed for drivers forced to use the A20.
---
Click to read car REVIEWS or search NEW or USED cars for sale on driving.co.uk
---