Google Glass for drivers: smart specs set to be allowed in cars
Aye aye: wearable sat navs ahead
---
Published 05 January 2014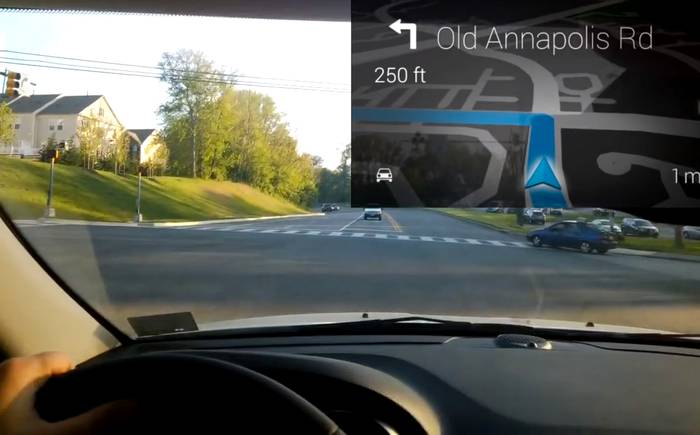 DRIVERS will soon be able to navigate using information beamed directly into their field of vision, after the government softened its stance on wearable satellite navigation devices.
Several technology companies and car manufacturers are poised to announce new software and hardware that will enable drivers to wear spectacles that show directions, such as right and left turns, as well as the car's speed and information from reversing cameras.
Ford and Mercedes-Benz are due to announce at the Consumer Electronics Show (CES), which begins on Tuesday in Las Vegas, details of their work with Google, the technology giant, to use its new "Glass". The device is a wearable computer that displays images in the driver's peripheral vision.
Manufacturers claim that the so-called smart specs will improve safety because information is superimposed on the road ahead, giving drivers information without forcing them to glance away at a screen. An added advantage, they claim, is that the specs will continue to provide route guidance right to the door of the driver's destination.
"At the moment, navigation stops when you park your car, but this will direct you on the last mile," says Katharina Becker of Mercedes-Benz.
The technology was given a significant boost in Britain by the Department for Transport (DfT), which has had an apparent change of heart about the legality of using devices such as Google Glass. Last summer it said it would ban drivers from using wearable sat navs. "We are in discussion with the police to ensure that individuals do not use this technology while driving," it said in July.
However, this weekend the DfT told The Sunday Times that it had held talks with Google about ways of legally using the device. "We have met with Google to discuss the implications of the current law for Google Glass," it said. "Google are anxious their products do not pose a road safety risk and are currently considering options to allow the technology to be used in accordance with the law."
Google Glass headsets are already able to display navigation information, which they receive wirelessly from a user's smartphone. The information is relayed in numbers and symbols that are designed not to obstruct the driver's vision — though they can be a distraction (see below).
The headsets will also be able to display information from the car itself, using apps that link them wirelessly with the car's computer and the user's smartphone.
One of the first apps specifically designed to be used with Glass will be shown in Las Vegas by Harman, a technology company that has been working with BMW and Alfa Romeo.
When downloaded to a smartphone, the app will manage information from the car's computer and GPS systems and relay it to the Glass headset. Data on the car's speed will be shown, in addition to sat nav guidance and — in future versions — a feed from the reversing camera.
The app will also be able to transmit alerts from the car — such as warning the driver if the car is drifting out of its lane, about to crash, or if they are driving too close to the car in front.
Other manufacturers, including Audi, Kia and Hyundai, are expected to announce at CES that their cars will in future be able to relay information to Google Glass wearers.
Nissan is developing its own rival to Glass, called 3E, a headset that will display vehicle data while driving.
The apparent eagerness of car makers to prepare for the use of driver headsets is at odds with the fact that nobody yet knows when the consumer version of Google Glass will be released — although it is expected to be this year — and how much it will cost. Neither does anyone know the answer to the really important question: will anyone want to wear them?
Ok Glass, get us to the airport without distracting me
Mark Harris dons the specs and jumps behind the wheel to test Google's vision of 21st century driving
Please enable Javascript to watch this video
Motoring and safety organisations are worried that Google's wearable computer could cause accidents as drivers get distracted by its multimedia display.
Google Glass comes packed with features for motorists, including satellite navigation, voice-activated search and hands-free calling. It will also allow drivers to check emails, surf the web, watch videos or even play games behind the wheel.
There is growing concern that it would be one more gadget in the increasingly crowded modern car. A study published last week in The New England Journal of Medicine found that motorists already have their eyes off the road for 10% of the time. Teenagers who had recently passed their test were most likely to crash or have a near-miss as a result of being distracted, the study showed. The findings were based on cameras installed in 150 cars.
Legislation in the UK forbidding drivers from using handheld phones was drawn up in 2003, when head-mounted displays and voice-controlled gadgets were the stuff of science fiction. It outlaws drivers only from using any device that has to be held. Google Glass, by contrast, can be controlled entirely with head gestures, touch-sensitive panels and spoken commands — making it potentially exempt from the law on mobiles, though distracted users could be prosecuted for driving without due care and attention.
"The government at the time didn't envisage glasses with a heads-up display," says Kevin Clinton, head of road safety at the Royal Society for the Prevention of Accidents. "All the research shows that even hands-free phones are distracting. These glasses are just as distracting and increase the risk just as much as any other hands-free device."
The Institute of Advanced Motorists (IAM) wants companies such as Google to prevent phone calls and messages arriving on gadgets while users are driving, or at least to oblige users to override such restrictions manually.
"Once you start putting 'Joe's Diner three miles' or Facebook updates in a driver's field of vision, distraction creeps in," says Tim Shallcross, head of technical policy at the IAM and a Sunday Times contributor.
The Sunday Times took Google Glass for a test drive in the US city of Seattle. Getting started with Glass is easy. The device links wirelessly to an Android smartphone, using its GPS sensor and mobile broadband connection to pinpoint locations and download maps and other data. To wake up Google Glass, you lift your head or gently tap the side of the frame. This activates a tiny colour display hovering above and to the right of your line of sight. The system springs to life when you say "OK Glass".
For in-car navigation, you simply say "Get directions to the airport" or speak an address. Google Glass then shows a map and provides a quick overview of your route. When you drive off, the display shows an arrow and directions, just like a full-size sat nav. There is also a female computer voice reading out distances to the next turn.
On Seattle's streets, navigating with Google Glass feels easier and more natural than with a normal sat nav. The voice instructions are clear and checking the route visually takes no more than a split-second glance upwards. Directions arrive in plenty of time and the display switches off when there are no turns approaching.
One criticism is that it  lacks information that you would find on most standalone sat navs, such as your speed and nearby petrol stations or landmarks, although car manufacturers are working on their own "feeds" (see main text).
When a text or email arrives on the phone, Google Glass chimes but does not automatically wake up or show the message unless you tap the frame. An incoming phone call, on the other hand, wakes the screen and displays the caller ID.
Drivers in the US are already facing legal challenges to using Google Glass. A court in California will rule this month on whether the gadget falls foul of the state's distracted-driving laws, and politicians in several states would like to ban computers with head-mounted displays from cars altogether.
More than 10,000 prototype units, each costing £1,000, have been sold so far — mainly to software developers in the US. A cheaper version of Google Glass aimed at consumers is likely to arrive this year.