Formula E electric racing series charges ahead with pre-season testing
Hey, Bernie, it's a real buzz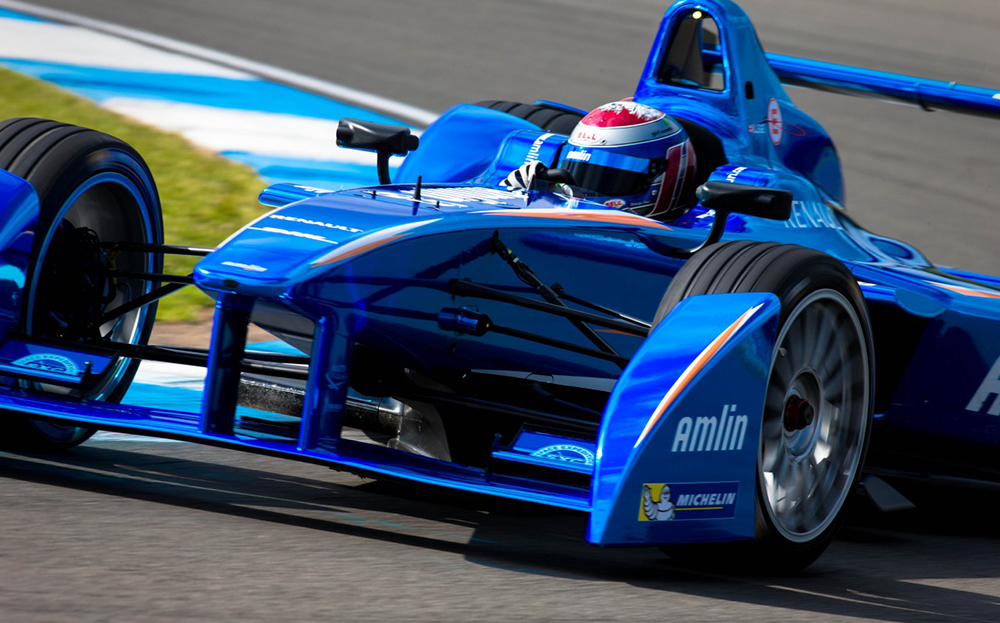 WHAT ON earth would Bernie Ecclestone have made of it? The Formula One ringmaster complained when rule changes this year made engines quieter. So he would certainly have been underwhelmed by the lack of cacophony when a swarm of Formula E cars sped off the grid at Donington Park for its pre-season test session.
Instead of the thunder of combustion, there was the Blade Runner whine of brushless electric motors. Organisers of an electric racing series billed as the future of motor sport invited a coterie of journalists to the racetrack in Leicestershire this month to see its battery-powered cars in action for the first time.
Within minutes the questions were answered: not only did they work; they worked a little too well
After months of expectation, the trackside atmosphere was febrile: would the racing live up to the billing? Would the cars even work? Within minutes the questions were answered: not only did they work; they worked a little too well.
Cresting a rise through Donington's fast Craner Curves, a racing car driven by Karun Chandhok, a former F1 driver, tore towards the Old Hairpin. Chandhok slammed on the brakes, but they locked up, sending smoke and a squeal of tyres around the circuit.
---
Search for and buy your next car on driving.co.uk
---
The car slid sideways as Chandhok, visible in the cockpit, desperately tried to regain control. Seconds later the slide ended in a sickening crunch as the electric car smashed into the makeshift barrier, sending shards of carbon-fibre bodywork into the air like confetti.
It was probably not the start that Formula E wanted. But the crash did more to highlight what spectators can expect when the series gets under way in September than any number of dry presentations or go-slow demonstrations.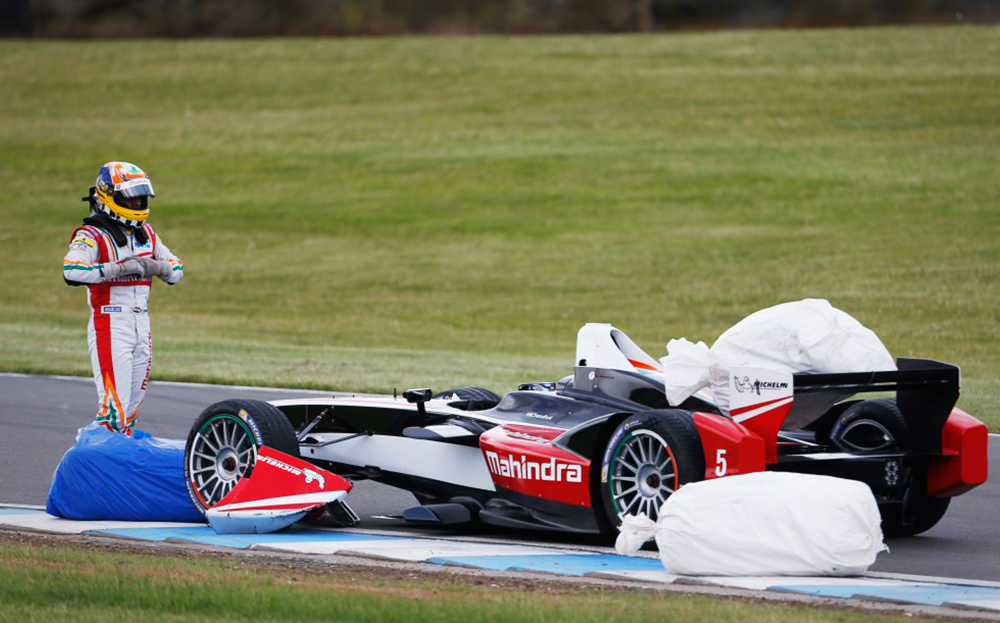 The first thing it revealed was that these battery-powered cars are quick: they can hit 140mph and accelerate from standstill to 60mph in less than three seconds. Not quite as hair-raising as F1 cars, but no slouches either.
The second thing Chandhok's expensive mistake demonstrated was that spectators will be able not only to watch the action unfold, but also to hear it as never before. Because the cars' motors are so quiet, every wheelspin, brake lock and skid can be heard, adding a strangely intimate feel to the race. Even from the grandstand every gearchange is audible as the mechanicals mesh behind the driver.
Ridiculed as "F1 lite" and "Scalextric for grown-ups" when it was first mooted three years ago, Formula E is finally revving up for action. The demonstration at Donington was intended to show just how ready it is, but the real action will start in the autumn on the streets of Beijing. This will be followed by nine other street races in cities including Miami and Berlin. The season will culminate in a race in London next summer; the route is yet to be confirmed but it is likely to be in either Battersea Park or Hyde Park.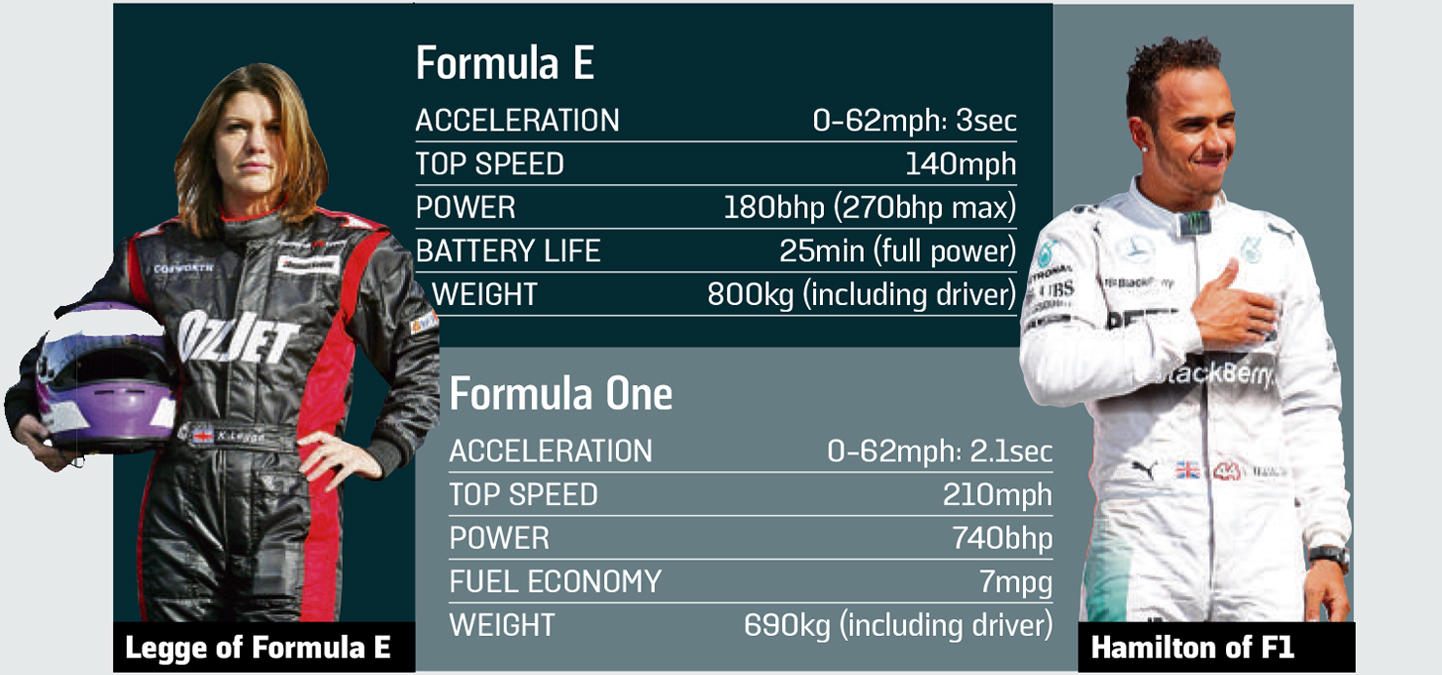 This is where the quietness of the cars comes into its own. The din of conventional racers would make such sporting events impossible in most cities. Electric racing is far less likely to offend.
The cars have provided a fresh challenge for engineers. "No one had ever designed an electric single-seater with this kind of performance, manufactured in short production runs and developed according to a tight deadline," says François Champod, technical director and Formula E co-ordinator at Renault Sport Technologies. "We are sure that it will prove to be a stand-out single-seater in motor sport history."
Even so, from the outside you would be hard pressed to tell the difference. Like F1 cars, the electrically propelled racers have a wide front wing, a narrow nose, a recessed cockpit and another big wing at the back doing its best to stick the car to the road.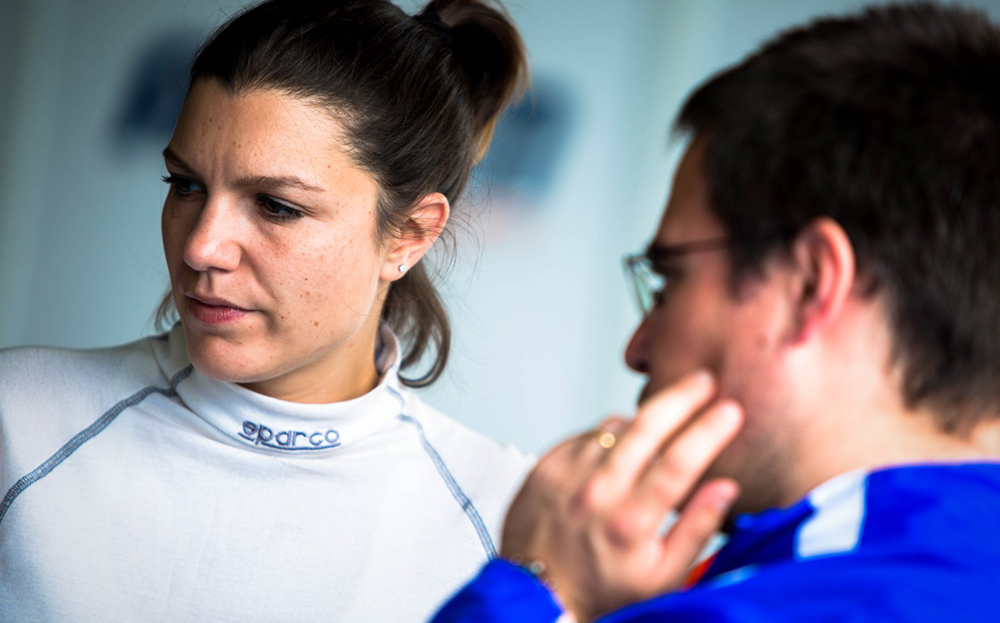 The drivers themselves will tear up the motor sport rulebook. There are 10 teams, each with two drivers. Each competitor has two cars and has to change car halfway through the race. As well as Chandhok, the racers signed up for the series include Katherine Legge of Britain (pictured above), the Italian former F1 stalwart Jarno Trulli and — recreating a classic F1 rivalry — Nicolas Prost (son of Alain) and Bruno Senna (nephew of Ayrton). One big difference from F1, in which the V6 soundtrack drowns out everything else, is that thumping music will be played at the start of Formula E races, at the finish, during pit stops and when crashes occur.
The organisers will invite fans to vote via social media to give their favourite driver a power boost
Taking a leaf out of Nascar's book when it comes to spectator engagement, the organisers will invite fans to vote via social media to give their favourite driver a power boost. Under this system, the three most popular pilots will be awarded a "push-to-pass" power boost, increasing the car's output by 50%. It's an innovation that is bound to keep the crowds talking and tweeting all year.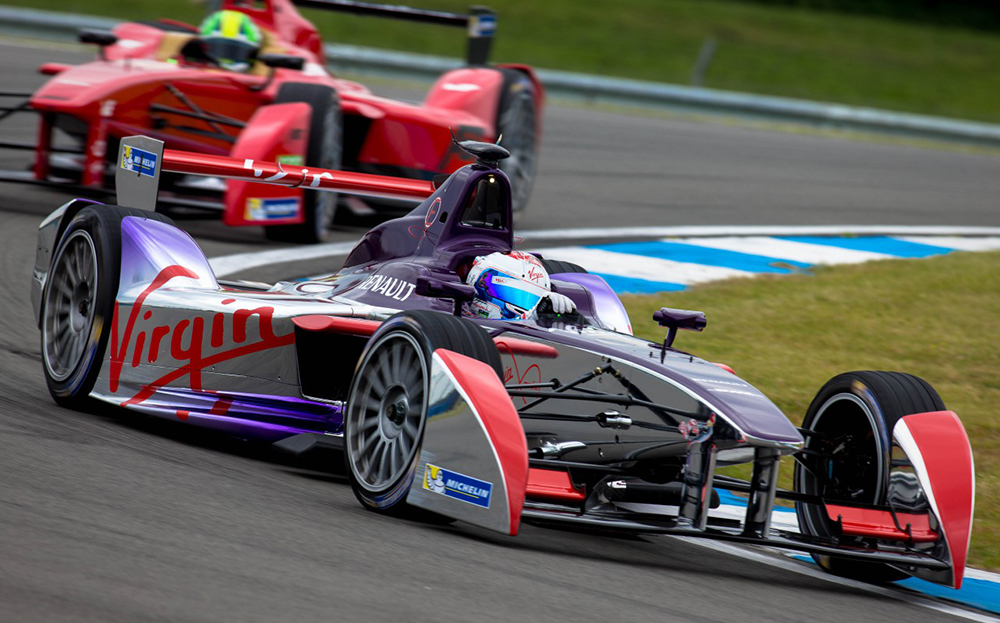 At Donington, after a few teething problems and interrupted sessions while the drivers got used to how the cars handled, lap times started to tumble to respectable levels.
"Our goal is to have more electric cars on the streets of cities around the world,"says Alejandro Agag, Formula E's chief executive. "The change to electric cars is too slow — with Formula E we want to accelerate the change."
If the first test is anything to go by — one crash notwithstanding — Agag's plans are right on track.
Five teams to watch

Audi Sport ABT: Backed by Audi, ABT has an advantage after hiring Lucas di Grassi, the development driver for Formula E
e.dams Renault: Co-owned by Alain Prost, the four-time F1 champion, the Renault-backed team was on of the fastest in recent tests

Mahindra Racing: The Indian company owns the maker of the less cutting-edge G-Wiz electric car. Its drivers are Bruno Senna, Ayrton's nephew, and Karun Chandhok, a former F1 driver.

Virgin Racing: Sir Richard Branson's car will be driven by the Briton Sam Bird, who has tested in F1 for Williams. He is joined by Jaime Alguersuari, a former F1 driver with Toro Rosso

Venturi: This team, backed by actor Leonardo DiCaprio and the electric car maker Venturi, plans to build its own Formula E racer using technology Venturi is developing to set a new electric land speed record of 435mph.
Bright sparks: FIA Formula E in detail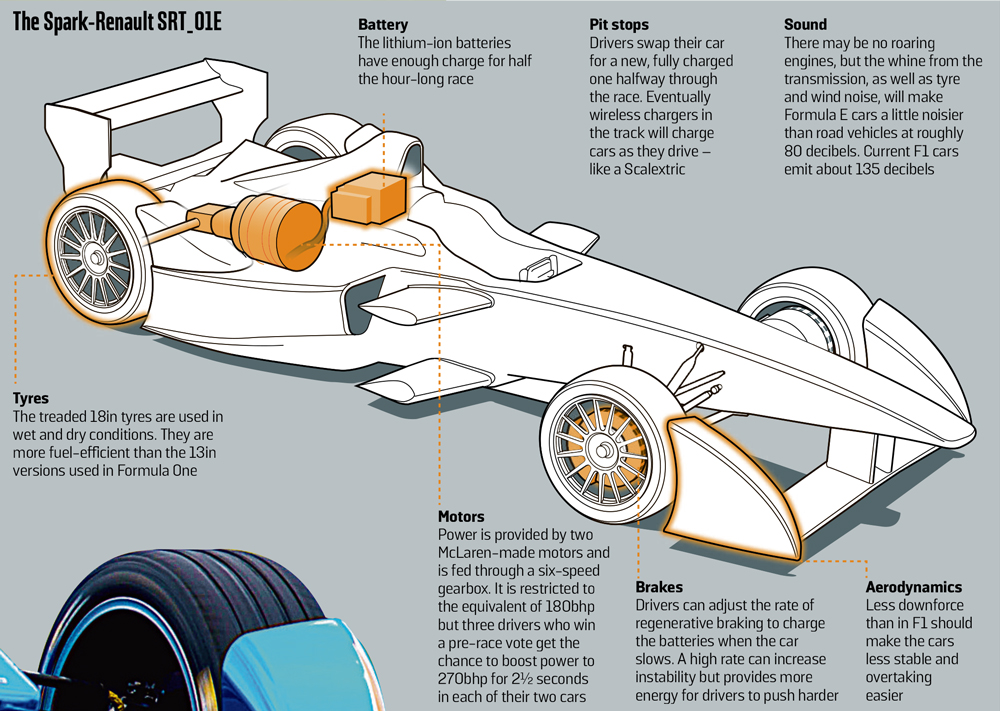 From hundreds of explosions a second to a single spark: Formula E is attempting to turn motor racing on its head.
The electric cars accelerate from standstill to 62mph in about three seconds and reach a top speed of about 140mph. That makes them a little slower than F1 machines (which can make the 0-62mph sprint in just over two seconds and hit 210mph) but spectators are unlikely to notice on the tight city circuits, where short straights provide few opportunities to hit high speeds.
Despite the relative quietness of the cars' motors, organisers say the racing is no snore-fest. The 20 cars on the grid are mechanically almost identical, ensuring plenty of wheel-to-wheel action.
The carbon-fibre and aluminium chassis has been through the same crash tests as Kimi Raikkonen's F1 Ferrari, from which he walked away after a 150mph crash in the British Grand Prix last weekend. The two motors that power each car are made by McLaren and are uprated versions of the units used in the P1 hypercar. They are restricted to a total of 180bhp for most of the race but three drivers, chosen by an online popularity vote, will get 2½ seconds of boost per car, where power is lifted to 270bhp (each driver uses two cars per race). A six-speed gearbox is needed to manage the massive and instant torque.
The 200kW lithium-ion batteries, supplied by the engineering division of the Williams F1 team, support about 25 minutes of racing, at which point the drivers need to make a pit stop. Instead of slick sub-three-second F1 stops, you'll see the drivers leap from the cars into their second ones to finish the race, which lasts about an hour.
Formula E is more advanced than F1 in other ways, though. There will be at least two female drivers on the grid come the first race in September: Katherine Legge and Michela Cerruti.
All charged up: Formula Student goes electric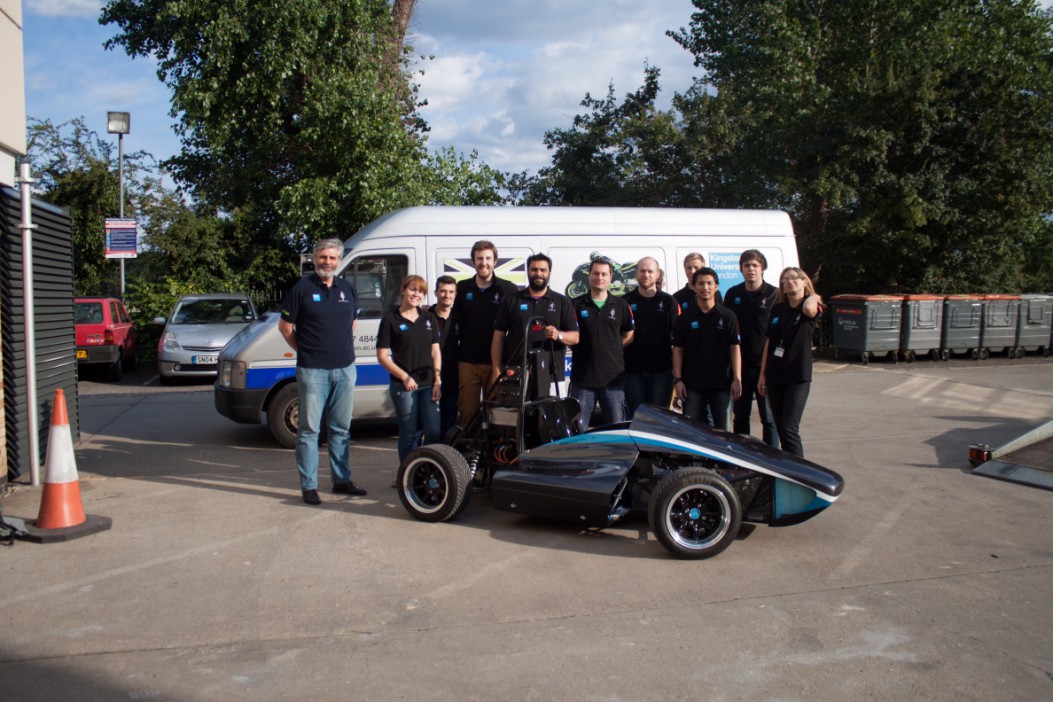 Formula E may not have a monopoly on electric racers for much longer. This weekend the race cars of tomorrow have been in action at Silverstone in the annual Formula Student challenge and a record number of the machines were powered by batteries.
The competition is a breeding ground for racing engineers, and the trend towards alternative power was clear. "We have had twice as many electric entrants this year as last year," said Dan Hearn, a spokesman for the event. "It is definitely the technology of the future."
One of the electric entrants has been built by students from Kingston University, London. "We have entered an electric car before and were all but alone," says Hugo Valencia Reyes, the team leader. "This time there is a lot more competition, but we think we still have the edge. The performance you get out of electric cars compared with petrol power is totally different: instant torque, brilliant acceleration."
Formula Student, run by the Institution of Mechanical Engineers, challenges universities across the world to design, build and race a single-seat racing car in one year. The cars are judged on speed, acceleration and endurance; the teams are tested on their design, costing and business presentation skills. Entrants from 38 countries are competing, including from 37 British universities, and the winner will be revealed this afternoon.
---
Search for and buy your next car on driving.co.uk
---