Former Top Gear trio make triumphant return at Clarkson, Hammond and May Live
And they were joined by a new, old "Stig"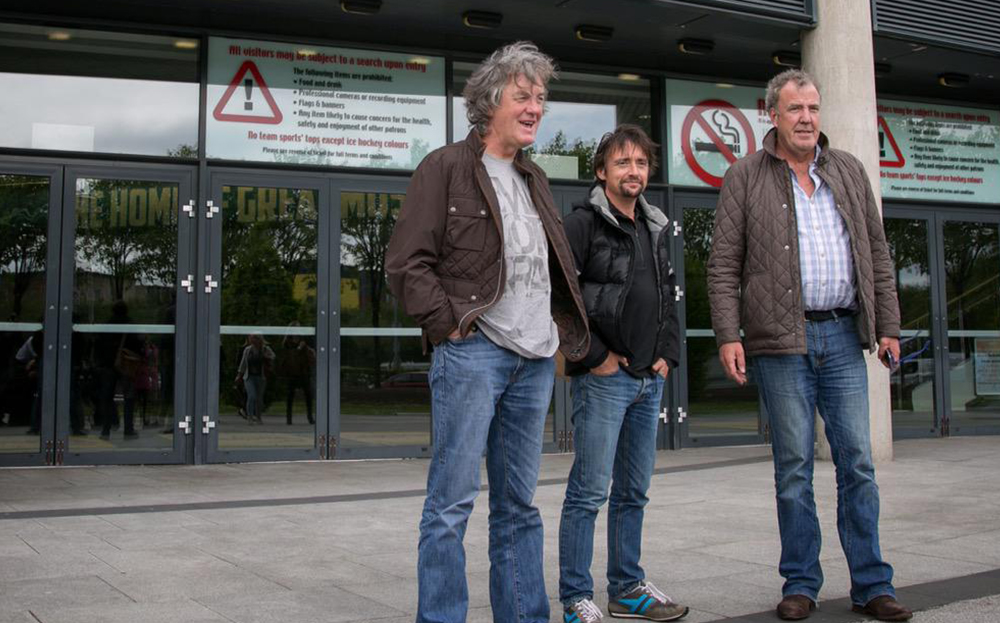 THEY ARE no longer performing under the Top Gear name but Jeremy Clarkson, James May and Richard Hammond turned it up to 11 in classic style on the first night of their "new" live tour.
---
Browse the new and used cars for sale on driving.co.uk
---
The show, which is now called Clarkson, Hammond & May Live, kicked off tonight at the Belfast Odyssey Arena. It was the first time the former Top Gear trio had performed together since Clarkson was suspended by the BBC over a "fracas" with a producer of the TV show in March.
The show opened with Hammond and May roaring into the arena on motorbikes before Clarkson joined them on a hovercraft. Clarkson described hovercrafts as "brilliant" but Hammond was less than impressed, recalling the less than successful customised Transit van hovercraft from series 20 of Top Gear.
"Ah, but for legal reasons none of that ever happened," said Clarkson in a playful reference to the fact that the three are currently not working for the BBC.
He continued: "Nothing we've done has ever happened … in fact we've never met."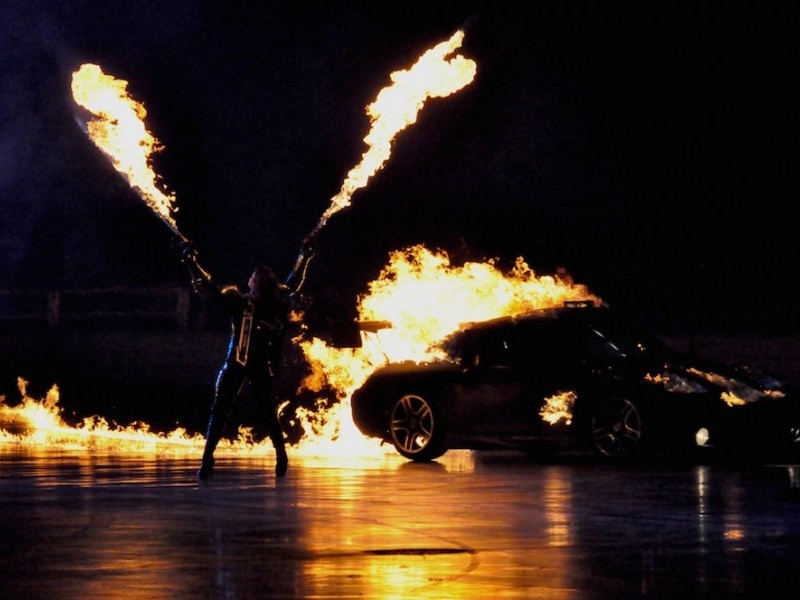 The show was littered with such references along with typically risqué quips. In one sequence the three men came up with "a new idea for a TV show" in which they drive fast cars and say, "Powerrr!" – because "there is no such programme on TV at the moment".
Their deliberately lacklustre attempt at such a TV programme, filmed last month for the live show and involving a Chevrolet Corvette Z06, Porsche 911 Turbo and Mercedes-AMG GTS, could be interpreted as a vision of the future of Top Gear without them.
The video concluded with Clarkson saying: "And on that bomb explosion, back to the arena."
"Why did you say that and not, 'And on that bombshell'?" demanded Hammond.
"Legal reasons," came the reply.
Perhaps the highlight of the night was a second part of the Corvette, Porsche and Mercedes-AMG head-to-head, in which a former Stig turned up to put the three cars to the test properly.
The footage showed a "tame racing driver" character living as a homeless vagrant in a pit garage. The driver, dressed in scruffy white overalls, was described as someone who "claimed to have worked on a car programme in the past" and was named as "the Ben Collins" – the real name of the driver most associated with the man in white Nomex – and not the Stig, to which BBC Worldwide owns the rights.
Collins, who is now a stunt driver for the James Bond movies, was famously axed from Top Gear after revealing his identity in an autobiography. He was the second Stig, appearing in 2003-10.
Other highlights of Clarkson, Hammond & May Live involved a parade of exotic supercars collectively worth £3.4m, and a race between a Nissan GT-R and the British champion heptathlete Louise Hazel.
The show concluded with a crowd-pleasing game of "car lacrosse" (the traditional "car football" was off for "for legal reasons").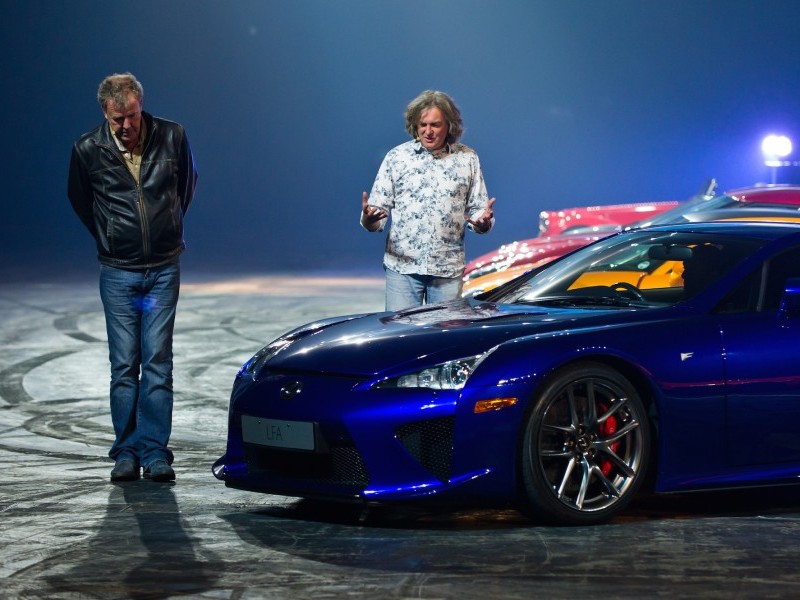 Clarkson, Hammond and May will perform two more shows tomorrow and a further two shows on Sunday before moving to Sheffield on June 5-7. The show then heads to Johannesburg, South Africa, on June 12-14, Stavanger, Norway on June 19-21, Perth and Sydney, Australia, on July 18-19 and July 25-26 respectively, and Warsaw, Poland, on October 24. The tour then concludes back in England at the London O2 arena on November 28-29.
More info and tickets can be found at clarksonhammondandmaylive.com