First look at the new 296bhp Mini Countryman John Cooper Works
We hope you like red and black...
---
Published 09 November 2023
Mini wants to be an all-electric manufacturer by 2030, and that process is already well under way. But there's still time for some exciting internal-combustion-powered models before then, and here's the latest: it's the new Countryman John Cooper Works (JCW).
It's the most potent petrol version of the third-generation Countryman crossover-SUV, although this time around it's going to have to contend with an equally-as-quick electric relation: the Countryman SE All4.
Petrol JCW going out with one last bang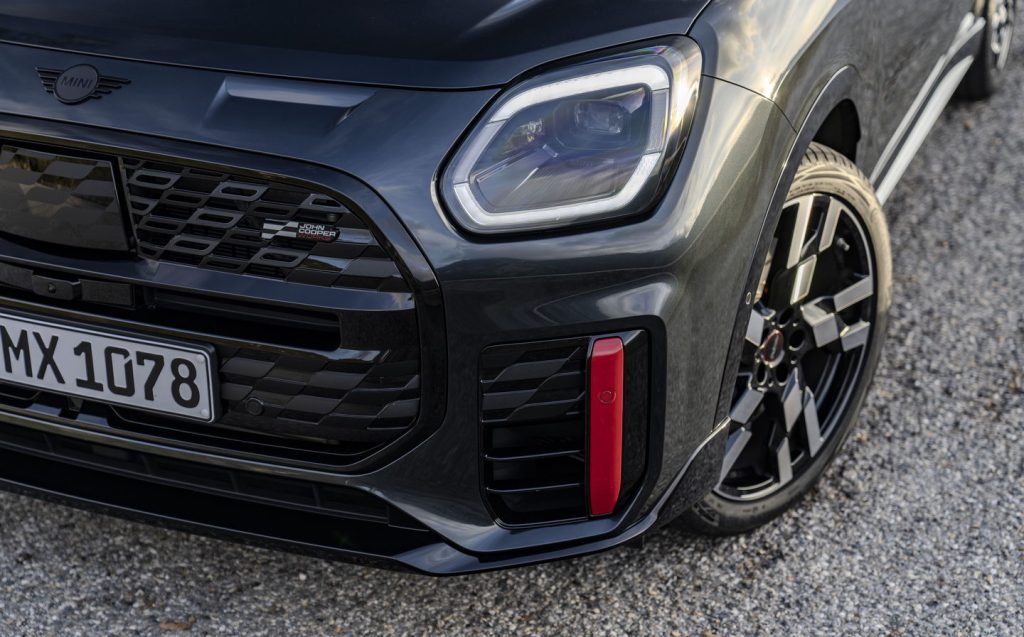 In order to give the JCW a fighting chance up against its zero-emission sibling, Mini has fitted the hot Countryman with a strong 2-litre turbocharged four-cylinder petrol engine. It makes healthy outputs of 296bhp and 295lb ft.
Unsurprisingly, performance is admirable in the new car. It runs 0-62mph in 5.4 seconds, with the top speed limited to 155mph. Mini has already confirmed the electric Countryman SE All4 will have a 309bhp electric motor and a 5.6-second 0-62mph time, so the JCW petrol model is quicker on paper.
Power goes to all four wheels through an automatic transmission — Mini hasn't explicitly confirmed as much yet, but this is certain to be the eight-speed dual-clutch unit seen on the outgoing JCW.
Much is made of the noise the JCW will make, an area where it clearly has the edge over the electric alternative. Its exhaust has active flaps in it to make it sound noisy when you want it to be and more refined at other times, while a JCW-specific enhancement package boosts the engine's sound at start-up.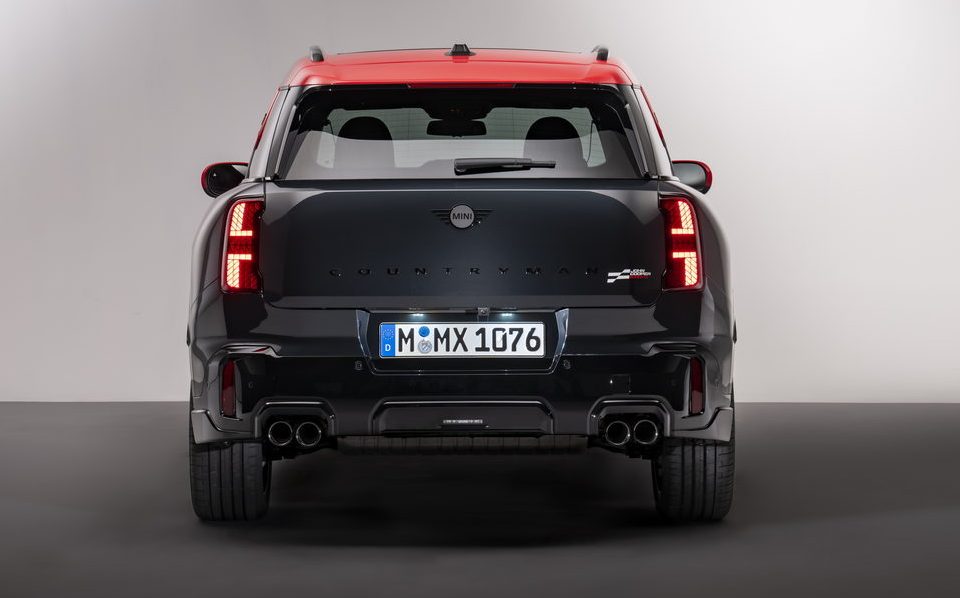 Chassis upgrades designed to help the Countryman JCW cope with its immense power include a bespoke tuning of its All4 system and high-performance brakes denoted by red callipers.
Mini also says the tyres for the 19in and 20in alloys are wider than they were before, theoretically giving the car greater grip and therefore ability in the corners.
New JCW logo makes its debut
Externally, the flagship petrol Countryman sports the new John Cooper Works logo. Finished in red, black and white, the traditional colours associated with this fabled nameplate — a nod back to Paddy Hopkirk's 1964 Monte Carlo Rally-winning Mini Cooper S — the emblem has a more clear-cut appearance than it did before.
Other signifiers of the JCW's intent include signature LED lights, front and rear, as well as vertical reflectors in the front air intakes, a contrast-colour "floating" roof — it appears detached at the point just behind the rear doors — a high-gloss black radiator grille, enhanced lower body proportions and quad exhaust pipes.
Inside, Mini delineates the cabin into upper and lower sections with a solid horizontal line round the doors and main fascia. In the upper area are strong vertical details, such as the door handles and the air vents.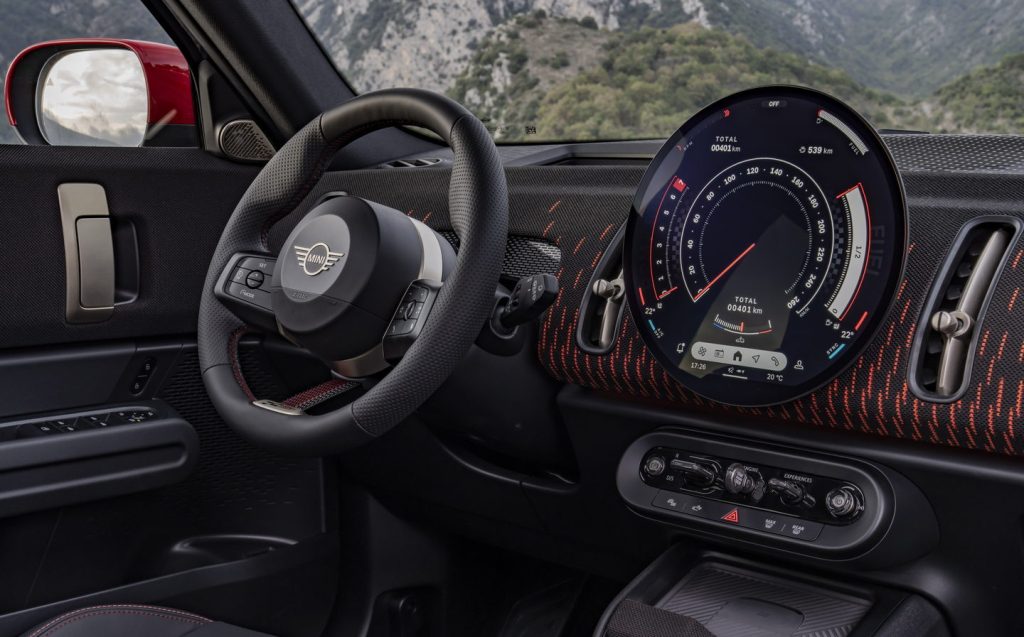 The dashboard, again finished in red and black, is made of recycled polyester and is dominated by a large, circular OLED touchscreen, which will contain most of the Countryman's major controls. A bank of toggle switches below does at least preserve some physical switchgear.
Practicality looks good, with the rear seats able to slide forwards and backwards by up to 130mm. A 460-litre boot is available with all seats in the car in use, rising to 1,450 litres with the second row folded away.
Exit ahead: no last-second cut-ins
It's not just in-car technology which promises to be impressive, but the advanced driver assist systems (ADAS) on the Countryman JCW is advanced too.
Mini claims Level 2 autonomy for the car, as it has two new features that will help out with highway and motorway driving.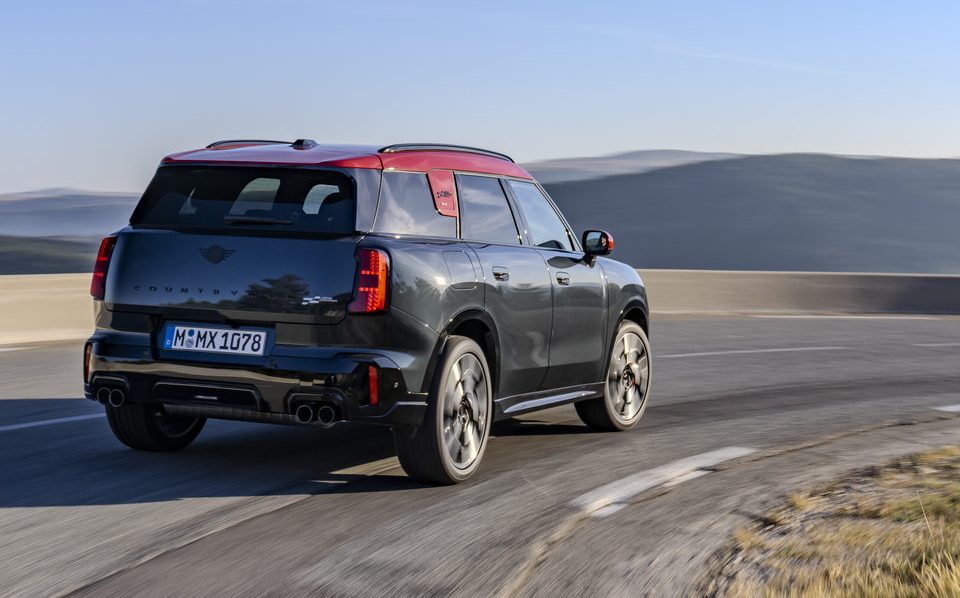 If fitted with the optional Driving Assistant Professional package, the JCW can assess gaps in traffic as you're approaching your motorway exit, and then match the cars speed to them accordingly before helping you to change lanes to get off the road.
And at speeds of up to 37mph, the Mini Countryman JCW driver can even take their hands off the steering wheel completely and let the car take control — as long as they keep an eye on things and sit ready to intervene when necessary.
Pricing and on sale date
The new Countryman JCW is available to configure now on the Mini UK website, with pricing starting at £41,520. The entry-level petrol model, the Countryman C, costs from £29,325, while the electric variants start at £42,080. First customer deliveries are expected early next year.
Related articles
Latest articles