Unique ex-Stirling Moss racing car, driven by Kirk Douglas in movie The Racers, to star at Classic & Sports Car Show
Arguably an unsung hero
ALTHOUGH motor sport geeks will have heard of it, the "Stovebolt Special" — which will be headlining this summer's Classic & Sports Car Show — is arguably one of motoring's unsung heroes.
Its extraordinary history takes in glamorous worldwide locations, famous racing drivers, life-long competition glory and Hollywood fame. It was the car that launched racing legend Stirling Moss's career, and was driven by film star Kirk Douglas in a 1955 movie.
Designed and built in 1950 by HWM (Hersham & Walton Motors), a homespun British team, it was originally created to compete in Formula 2 — an open-wheel racing series that featured smaller, lighter, and cheaper cars than those used in Formula One.
---
Browse NEW or USED cars for sale
---
Although HWM was a small Surrey-based team, operating on a shoestring budget, the outfit made a name for itself by humbling the likes of Ferrari and Maserati in any race they could get to, all around Europe.
They also had an eye for talent, apparently; the Stovebolt was one of three cars run by HWM in 1950, all of which were driven that year by racing legend Stirling Moss in what was his first paid drive, aged 20, marking the start of his professional career. Moss went on to race with great success in Formula One, winning 16 races, and took victory at other famous events such as the epic Mille Miglia, in 1955.
Following its early racing career the HWM car found fame of a different kind. After being shipped to Hollywood and painted red, it featured in The Racers, a big screen drama starring Kirk Douglas. The actor, whose son Michael also became a celebrated movie icon, drove it in the film, crashing it spectacularly at Monaco.
Kirk Douglas stars in 1955 movie The Racers
 (Twentieth Century-Fox)
After The Racers was released in cinemas, Seattle resident Tom Carstens, who at the time was unhappy with the Allard that he was racing, called the movie studio to see if Douglas's little red car was for sale.
Current owner Simon Taylor, a racing writer, publisher and commentator, who is putting the finishing touches to a definitive history of HWM, explains: "The props man told him, 'What do you think we are, a secondhand car dealer? We have two Ferrari things and two Maserootis [sic], and that one… if you want it, you'll have to buy the lot, and I won't take a penny less than $3,000'."
What a steal; $3,000 in 1954 equates to less than $30,000 (£21,000) in today's money.
Carstens bought all the cars and sold the Ferraris and Maseratis, then rebuilt the HWM into what became known as the "Stovebolt Special".
Taylor stuck a picture of the Stovebolt Special on the underside of his school desk … it was a childhood dream come true when he was able to buy it, some 43 years later
The rebuild was quite radical. The original 4-cylinder, 2-litre twin-cam Alta engine, fitted and modified by HWM to comply with Formula 2 regulations in 1950, was "binned" and replaced by a brand new V8 from Chevrolet. Taylor says his car was the first circuit racer to use the small-block Chevy V8.
The car was also fitted with disc brakes and made competition ready. It has been racing ever since, according to Taylor.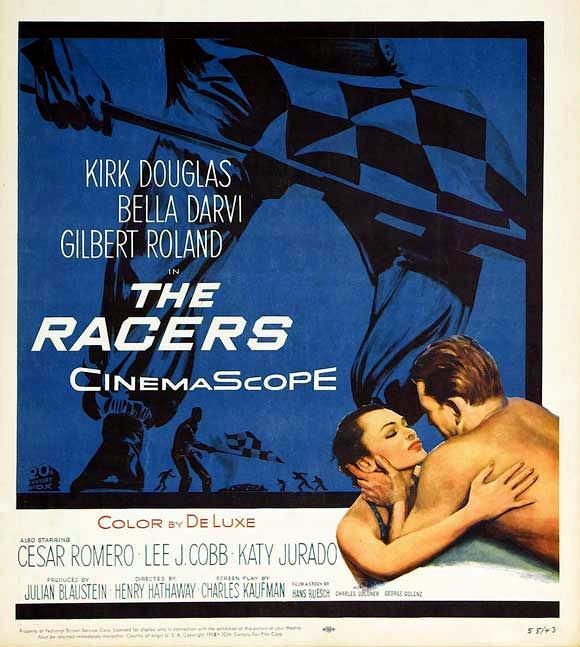 If you're wondering why it's called the Stovebolt Special, a stovebolt is the American name for a large bolt typically used in the manufacture of boilers. Chevrolet used this type of bolt to secure some metal plates on the side of its straight-six cylinder engine.
So why, when Taylor's car has a V8 engine that never used stovebolts, is the car thus named? Taylor says many Americans at the time associated Chevrolet with the stovebolt engine to such a degree that the names Chevrolet and Stovebolt became interchangeable. It was this confusion that led to a magazine, which featured the HWM car on its cover, running the headline "Stovebolt Special". The name stuck.
In an amazing twist of fate, Taylor remembers that magazine cover vividly.
"When I was about 11, incarcerated in a ghastly English boarding school, my parents used to assuage my tears by sending me car magazines. One of them, which had come from America, had this headline on the front saying 'Stovebolt Special', with a colour picture showing this great car on the front.
"I thought it was amazing-looking, and stuck it on the underside of my school desk, so every time I got out my maths book, I could see this wonderful car."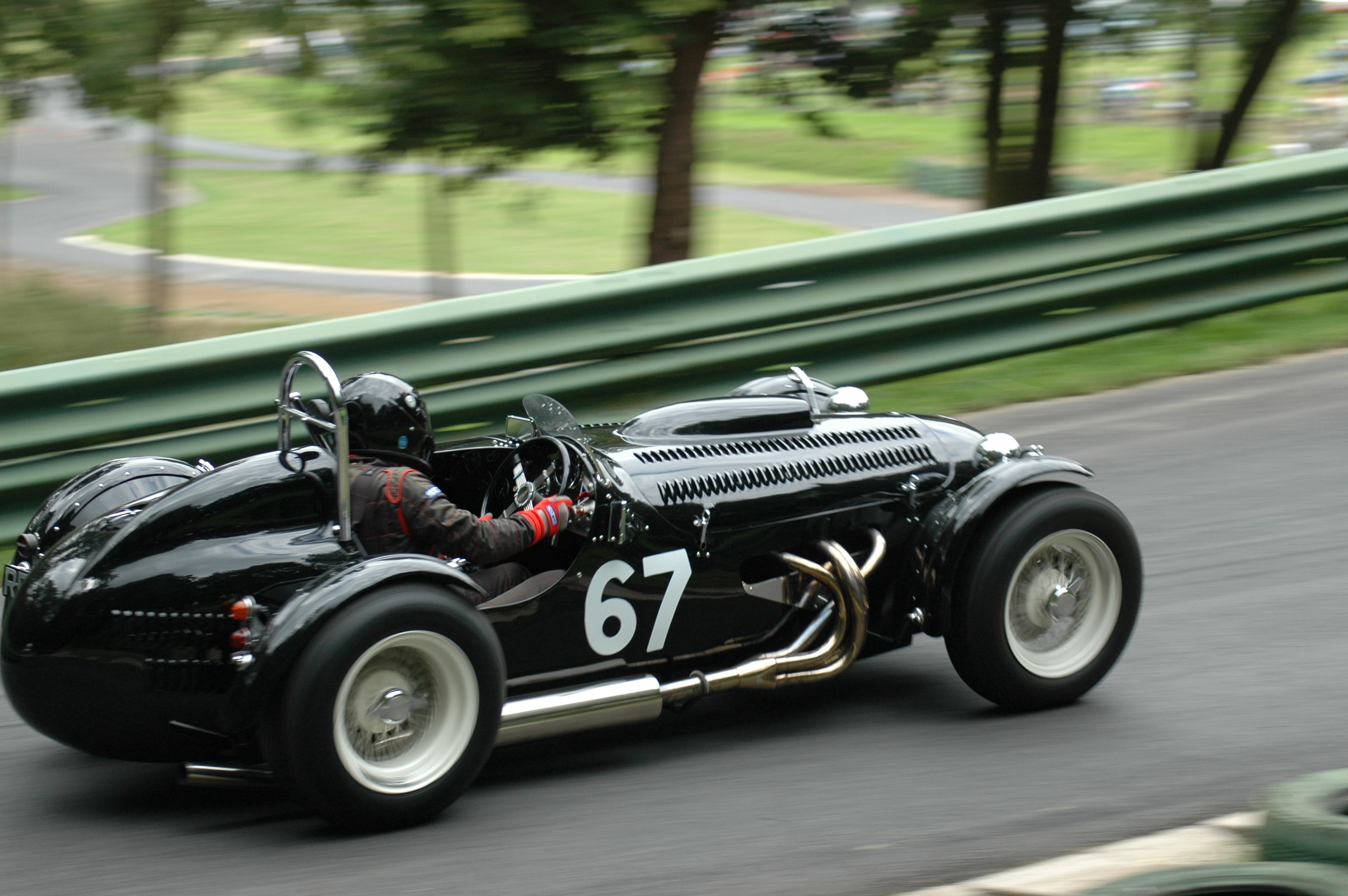 Taylor says it was therefore a childhood dream come true when he was able to buy the HWM, some 43 years later, in 1999.
Asked how much he paid for it at the time, Taylor volunteered, "Less than six figures – but only a little bit." He estimates that it could be worth seven figures today, if you're talking dollars.
Despite its value, Taylor says he'd never sell it. He's raced it all around the world, including in Australia and at Laguna Seca in California, its old stomping ground.
---
Browse NEW or USED cars for sale
---
These days he mostly uses it for hill climbs, which are less demanding for him as a driver but also suit the Stovebolt, which is light, nimble and compact, and has around 400bhp. He also drives it to the events ("trailers are against my religion"), and estimates he has covered over 40,000 road miles with it.
Taylor competing in a hillclimb event with the Stovebolt Special
"It's absolutely part of me. I've lusted after it since the age of 11, was lucky enough to get it at the age of 55 and have owned it for 20 years or so.
"I'd like them to bury me in it, actually."
The HWM Stovebolt Special will be taking centre stage at the Classic & Sports Car Show in association with Flywheel, which takes place on June 23 & 24 at Bicester Heritage, Oxfordshire. The event is a collaboration between Classic & Sports Car magazine and the Flywheel Festival, and combines classic road car and bike displays and competition with vintage aircraft demonstrations, period fairground rides, live music performances, shopping and food stalls.
Main image credit: Tim Clark Images via Simon Taylor