Elon Musk urged to stop criticising media after Tesla Model 3 reviews highlight problems
Tech entrepreneur takes to Twitter
TESLA boss Elon Musk has been urged to stop criticising media organisations and focus on building cars, after the tech entrepreneur appeared to react angrily to independent tests that highlighted faults with the new Tesla Model 3 electric family car.
This week, Musk accused large media organisations of "holier-than-thou hypocrisy" for "sugarcoating lies" about his firm.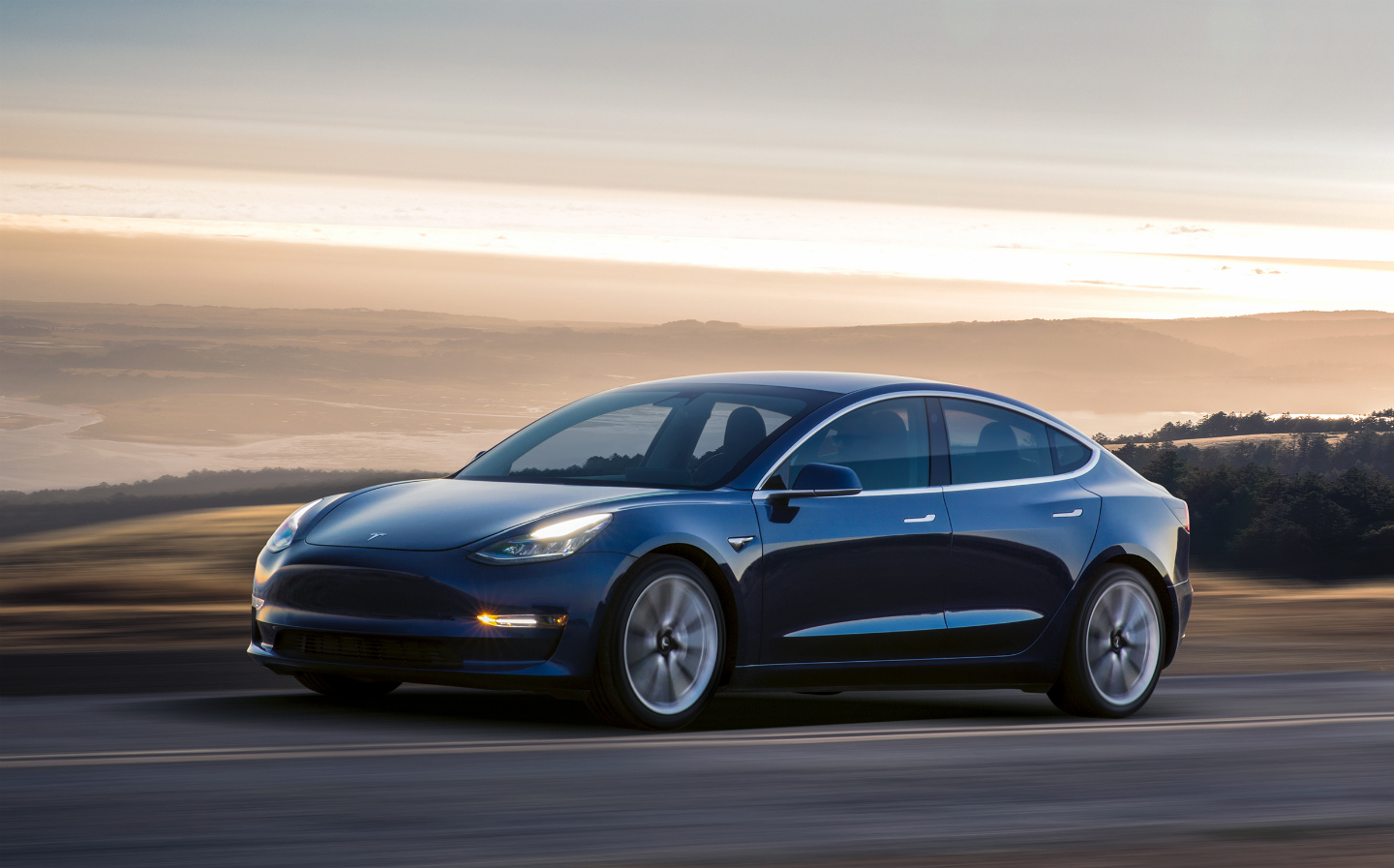 The outburst followed the announcement by America's influential Consumer Reports, a non-profit consumer organisation that boasts more than six million members, that said it could not recommend the Model 3 family car, due to poor braking performance and controls that were difficult to use.
---
Browse NEW or USED cars for sale
---
In testing, during emergency stops, Consumer Reports said the car took 152 feet to come to a halt from 60mph, on average — 7ft more than a Ford F-150 full-size truck needed and about 20ft longer than the average for other cars comparable to the Model 3.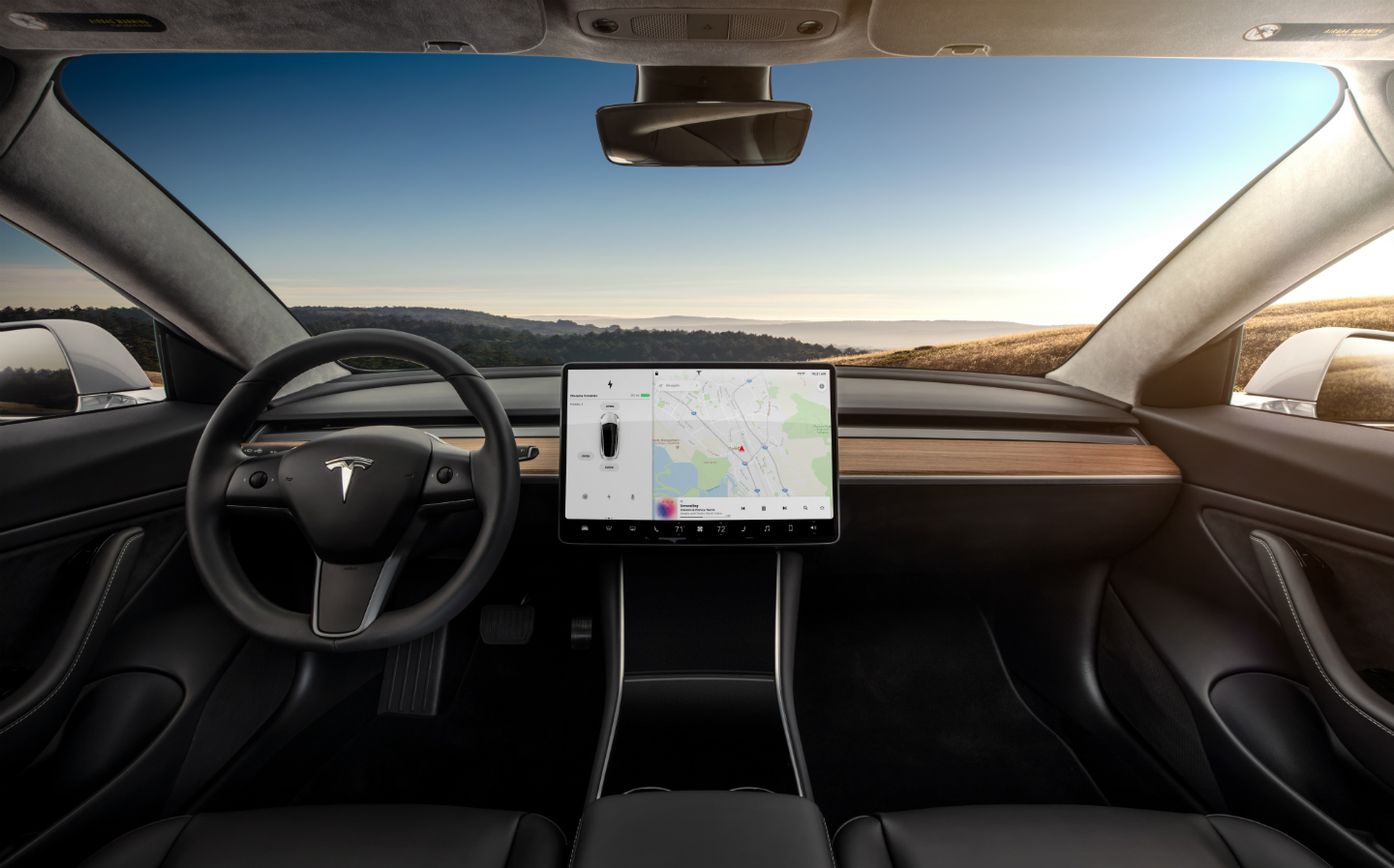 It also criticised the car's touchscreen, which operates nearly all functions for the vehicle, saying "complex interactions with a touch screen can cause driver distraction because each act forces drivers to take their eyes off the road and a hand off the steering wheel."
"There are gaps in Mr Musk's understanding of journalism. It is to get at truth, which by its nature is often inconvenient" — The Times
However, the testers went on to praise the electric car's driving range, which achieved 350 miles on a single charge – a record for Consumer Reports, and described the roadholding as excellent. UK customers who have placed a deposit on the £35,000 electric car are expected to take delivery of their Model 3s from next year.
Other reports of problems
Another influential American car magazine, Car & Driver, also reported inconsistent braking performance, with one stop from 70mph taking 196 feet.
Musk told Consumer Reports that Tesla was already investigating the issue and working on a fix, for both drivers who have taken delivery of a Model 3, and models still to be built.
He later took to Twitter to express his annoyance with media organisations, accusing them of hypocrisy and publishing lies.
The holier-than-thou hypocrisy of big media companies who lay claim to the truth, but publish only enough to sugarcoat the lie, is why the public no longer respects them https://t.co/Ay2DwCOMkr

— Elon Musk (@elonmusk) May 23, 2018
Alistair Weaver, editor-in-chief of American motoring website Edmunds.com, then defended automotive media, calling on Musk to "fix the car not the media", saying: "We bought a Model 3, tell it as it is (good and bad) and millions of consumers respect us for it."
Dear @elonmusk . I'm editor-in-chief @edmunds . I'm paid by @edmunds to put the consumer first. We bought a #Model3, tell it as it is (good and bad) and millions of consumers respect us for it. We paid you @Tesla, not the other way around. Fix the car not the media. pic.twitter.com/LnxyGNCFi0

— Alistair Weaver (@AlistairWeaver) May 23, 2018
Edmunds recently revealed a catalogue of errors that it claims the electric car had suffered. Over the past month, its Model 3 test car has reportedly suffered issues including:
The keycard is not always recognised, preventing Drive or Reverse being engaged
The reversing camera screen would not appear when reversing
Navigation screen "went haywire, zooming, pinching, pixelating all at once"
Audio system would turn on by itself and play at full volume, even when the Model 3 was parked and locked. The screen's display would also leap about when in operation.
Random error messages, including 'Cannot maintain vehicle power. Car may stop driving or shutdown.'
Other writers reported issues, too, with one describing being stranded on a mountain for four hours with his wife and a photographer after the car didn't recognise the key.
Tesla owners strike back
However, some owners of the Model 3 leapt to the car's defence. One complained of bias against Musk: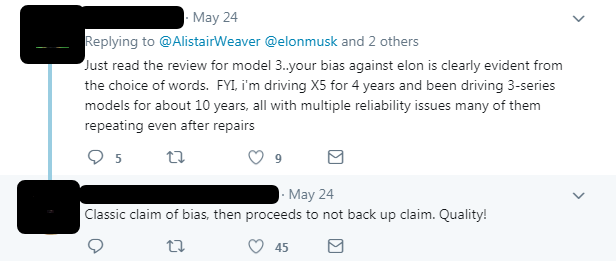 Another owner said he considered his car "a masterpiece of technological achievement" and accused media organisations of using "issues with Tesla" as clickbait.
Weaver defended his publication's reporting, calling it "honest".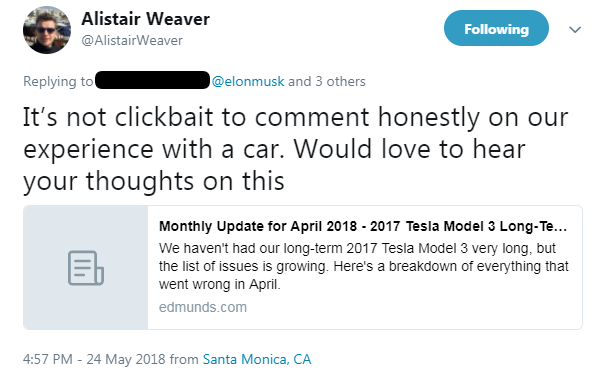 Musk's plan to rate media credibility
Amid the furore, Musk tweeted that he was planning to launch a website that would allow the public to rate publications and writers for "credibility".
Going to create a site where the public can rate the core truth of any article & track the credibility score over time of each journalist, editor & publication. Thinking of calling it Pravda …

— Elon Musk (@elonmusk) May 23, 2018
Today's Times newspaper believes Musk has better things to do.
"Few journalists know much about electric powertrains. Equally, there are gaps in Mr Musk's understanding of journalism. It is to get at truth, which by its nature is often inconvenient. This can require patience, bloody mindedness and the sort of resources available to 'big media companies', like the one that owns The Times.
"Serious journalism has to fend off plenty of baseless but damaging attacks as it is. The thin-skinned Mr Musk has better things to do than add to them just because he is going through a rough patch."
Tesla owners to get servicing on their doorstep
Today, Tesla announced a new mobile service team that it hopes will be able to complete 80% of servicing or warranty repairs at a location of the customer's choice, such as at home or work.
A fleet of 10 Tesla Model S mobile service vehicles, and 10 further vans, will travel the UK and owners will be able to schedule an appointment through Tesla's mobile app – and even see the expected time of arrival.
Will soon enable Tesla owners to request service from their phone with a few taps. Tesla Ranger will come to you to take care of your car. No need to bring the car in yourself & zero paperwork.

— Elon Musk (@elonmusk) May 20, 2018
Tweet to @squarejames Follow @squarejames