Drug driving: How the law has finally caught up with doped up motorists
One whiff of a spliff and you could be in chokey
FROM ONE minute past midnight tonight, police will be able to pull over motorists and ask them to take a roadside test for cannabis or cocaine. New legislation allows police forces to use a mouth swab and a portable drug analyser — dubbed a "drugalyser" — not much bigger than a pen. It is the first time that roadside tests have been used in this way and brings Britain into line with Germany, Finland and Switzerland.
The new law also introduces limits on permissible blood levels of both illegal and prescription drugs for drivers, similar to those that apply to alcohol. The penalty for drivers found to be over the limit for any of the 16 substances tested for is a 12-month ban plus a fine of up to £5,000 and up to six months in prison or both.
The government says the law change will make it easier to tackle drug drivers in England and Wales because they will be prosecuted regardless of whether their driving appears to be impaired or not. Previously the police had to prove that a driver was impaired through drugs in order to bring charges.
The legislation has been welcomed by road safety charities, which say drug driving is one of the hidden killers on British roads. Officially, drug use was recorded as a contributory factor in 31 fatal road accidents in 2013 (or 2% of the total). This compares with 128 (9%) in which drinking was reported as a contributory factor. According to one government report, drug driving could be a factor in as many as 200 road deaths every year.
Although aimed primarily at people who get behind the wheel while under the influence of illegal drugs such as cannabis, cocaine and ecstasy, the law also bans high levels of over-the-counter prescription drugs such as diazepam, the tranquilliser also known as Valium. Morphine is also included, so drivers who take codeine — a common pain reliever — could fall foul of the law, if they took enough of it, because morphine is produced as a by-product when the body processes the drug.
The levels acceptable for illegal drugs are virtually zero — just one puff of cannabis could put a driver over the limit — but not so low that, for example, someone who has trace amounts in their body from passive smoking could be prosecuted. The levels for medicinal drugs are higher to take account of the fact that many people may be using the drugs as prescribed by their doctor or pharmacist with no adverse effects on their driving ability.
However, according to some experts, a loophole in the law will mean that it will be hard to secure a conviction for drivers found with higher levels of medicinal drugs in their system. "There is a very clear defence for people prosecuted for having higher levels of prescribed drugs in their bodies, called the medical defence," says David Barton, a motoring lawyer. "Under the law, if a driver claims that he has been prescribed the drug for medical reasons and that he took only the prescribed amount and followed the instructions, then he has a defence.
"Once the driver raises this defence, then it is up to the prosecution to disprove it. I think it will be very difficult to prove when someone took a drug or that they didn't follow instructions, because even if the levels are very high, everybody's metabolism is different."
There are other problems, too. Greater Manchester police (GMP) have taken the unusual step of refusing to implement the new law. They say they only received the green light to use the roadside drug testing kit — the Dräger DrugTest 5000 — on Wednesday from the Home Office and don't have time to train their officers in how to use the device or to properly establish a legal case.
Chief Inspector Mark Dexter of GMP said: "We have taken the decision not to make use of the legislation while we satisfy ourselves that the legal and procedural issues involved in prosecuting these cases can properly withstand legal scrutiny. This will be a temporary delay while we ensure our equipment has the right certification and our officers have the right training and understand the required procedures.
"We are mindful that if we get this wrong then a significant amount of court time and public money could be wasted. There are issues that have not been resolved."
Manchester police said that they would still operate a zero-tolerance policy on all drug drivers under existing legislation that makes it a crime to drive while one's faculties are impaired by drugs.
Manchester isn't alone in struggling to meet tomorrow's deadline. According to the Police Federation, which represents rank and file officers, several other forces will not implement the new law immediately, partly because officers have not had sufficient training.
"The picture is patchy across the country," says Jayne Willetts, a spokeswoman for the federation. "Some forces are fully prepared, with training programmes in place, others are not. The Home Office only approved the device in January, which has given forces limited opportunity to purchase them. We would have liked more time to prepare and train our officers."
Dtec, the distributor of the Securetec DrugWipe devices — see panel, above — says all forces who ordered them will have them by tomorrow. Couriers delivered 10,000 kits around the country last week after the first shipment arrived from Germany. Dtec refused to say how many forces had not ordered them.
After 20 years of campaigning, I've finally made them take notice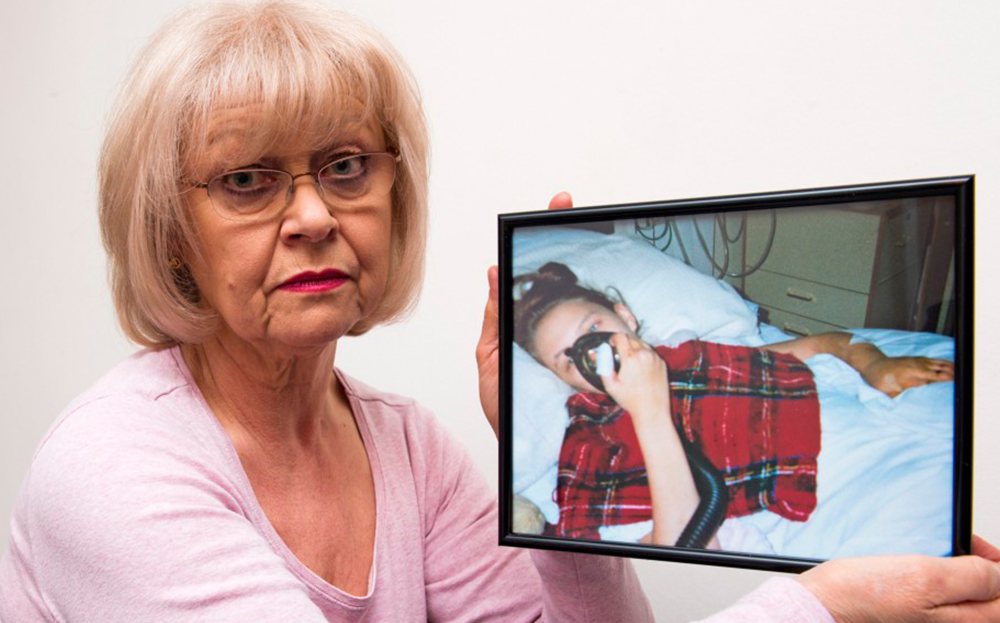 The new drug driving legislation can't come soon enough for Diana Buckley, who has been calling for a change in the law for almost 20 years after her daughter Amy nearly died at the hands of a drug driver.
The accident occurred on the way back from a Liverpool nightclub in 1996. After a night of dancing, at 4am Amy had returned to her friends' car to get some sleep on the back seat. When her companions returned later, they didn't wake her or buckle her into her seat before setting off.
While travelling along the M53 at speeds of up to 70mph, the driver fell asleep at the wheel. The car drifted off onto the hard shoulder and hit a tree before rolling down a 40ft embankment. In the collision, Amy was thrown out of the back window and rolled with the car, her head hitting the front bumper with such force that it wrapped around her skull. The car came to rest on its roof with Amy trapped under the bonnet. Miraculously she survived.
All other occupants of the car had been wearing seatbelts and sustained only minor injuries. Police attending the scene initially assumed the driver was simply dazed but soon realised there was more to his condition. He was arrested and taken for a blood test, which proved positive for amphetamines and ecstasy.
"In court the magistrate asked him why he had taken drugs when he knew he'd need to drive," Buckley says. "He said that classic thing you used to hear with drink drivers: 'I'm a better driver when I've taken drugs.'
"I went to court hoping he'd be slammed in prison, but even after admitting the offence, all he got was a year's driving ban and the maximum fine that could be dished out — just over £200. I don't even think he got community service. This is what made me decide to start my campaign."
For Buckley the change to the law that comes into effect tomorrow is a vindication of all her effort. "It's about time; it is still a huge problem. You see people driving along with joints in their hands. I still think politicians haven't completely grasped the idea. Everybody in this country knows about drink driving but I'd be amazed if everybody knows about drug driving. You really need to hammer home a message before it sinks in."
Don't lose sleep over it: prescription drugs are OK
Police forces are being equipped with two new devices for use at the roadside that can detect drug use. The more widespread, the Securetec DrugWipe 3 S, uses a saliva test to produce results in three to eight minutes, according to the manufacturer.
A positive reading is when either of the pale blue lines corresponding to the two drugs turns red. In the event of a positive reading, officers will take the motorist to a police station for a blood test, which will be used in any prosecution.
The DrugWipe and a similar gadget called the Dräger DrugTest 5000 will be used to detect cocaine and cannabis. If the test is negative but police still suspect the driver is under the influence, they can carry out a "field impairment test". If the driver fails this, a blood sample will be taken at a police station and tested for 14 other substances. The limit for illegal drugs is almost zero. The limit for medicines is far higher to reduce the risk of people who take them legitimately failing the test.
The 16 drugs with set limits
Prescription drugs
Clonazepam (treats seizures and panic disorders)
Diazepam (anti-anxiety)
Flunitrazepam (insomnia). Also known as Rohypnol and sometimes called the "date-rape drug" because of its sedating properties
Lorazepam (anti-anxiety)
Methadone (heroin substitute)
Morphine (pain relief)
Oxazepam (anti-anxiety)
Temazepam (insomnia)
Banned drugs
Cocaine (plus a metabolite that stays in the bloodstream for longer)
Cannabis
Ketamine
LSD
Crystal meth
Ecstasy
Heroin
Field impairment tests involve: 
An examination of the eye pupils. Some drugs cause the pupils to shrink or enlarge and this can be checked against a card
Romberg test. Stand still, tilt head backwards, close eyes and count 30 seconds. Analyses balance and time judgment, both of which can be affected by drugs
A heel-and-toe test that involves walking nine steps then turning and coming back. Checks
balance
One-leg stand test. Driver must balance on one leg while counting
Finger-to-nose test. Tilt head back and with eyes closed touch finger to nose. Tests co-ordination