Drop the top and show some muscle: Audi TT RS v Mercedes-AMG SLC 43
The hot versions of two old German rivals square off against each other. Can Audi's four-wheel-drive sports roadster beat the classic appeal of Mercedes's souped-up SLK replacement?
---
Published 22 December 2016
Audi TT RS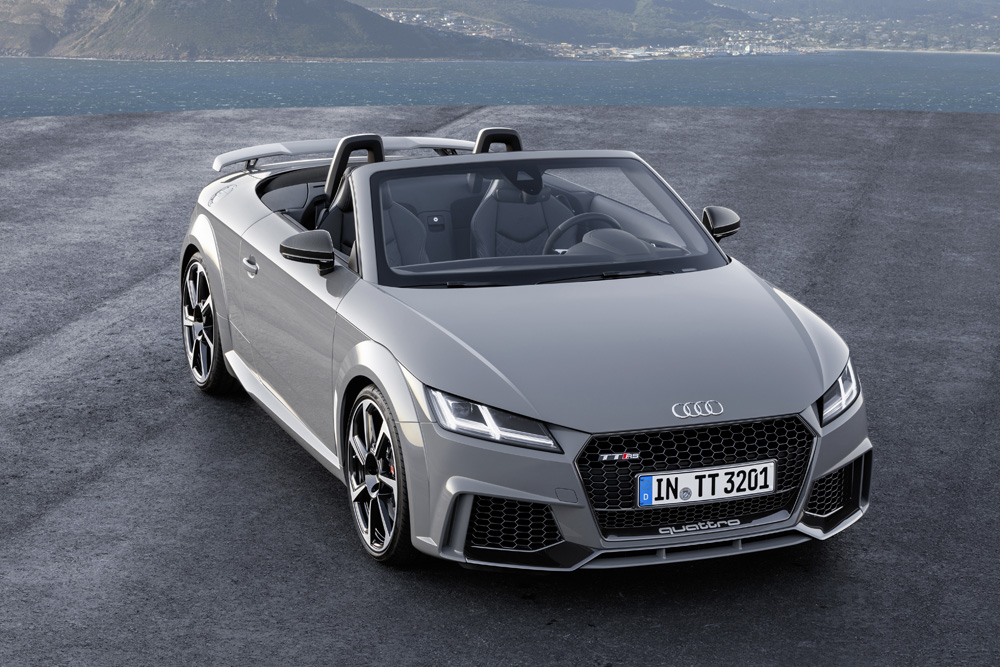 Words: Nick Rufford
THE OBVIOUS time to drive a convertible is in summer, but the best time to drive one is in winter. There's no better cure for short days and dark evenings than a blast of bracing air and winter sun.
The type of car that doesn't hang about is best, and the Audi TT RS is one of those. Jab the throttle and it'll give you a shot of adrenaline strong enough to revive you from cryogenic freezing. Not that it will need to: the heaters are powerful enough that you can lower the roof without feeling the chill.
---
View the Audi TT cars for sale on driving.co.uk
---
You still have an excuse to wear one of those sheepskin flying jackets, the kind beloved of hardy sports car drivers of yesteryear. That's because, on the road, this car has the feel of an old-style British rag-top. For all its German Vorsprung it is remarkably untamed, harking back to an era when men push-started their Triumph TR6 sports cars outside the Huntsman & Hounds pub before racing home in the dead of night, string-backed driving gloves gripping the steering wheel.
For a start, the soft top (which lowers in less than 10 seconds and at road speeds of up to 30mph) retracts fully, so you are properly in the open air. The current fad for folding hard tops on roadsters can leave drivers with the impression that they're in a car with a sunroof rather than a full convertible.
The Audi is also a pure two-seater in contrast to its coupé sibling, which can accommodate four people.
"On a scale of engine noises, the howl of its turbocharged five cylinders is right up there with the best"
Best of all, though, is the souped-up, turbo-assisted 2.5-litre engine. With a 0-62mph time of 3.9 seconds it'll outsprint a BMW M2 or even a Porsche 911 Carrera S. On a scale of engine noises, the howl of its turbocharged five cylinders is right up there with the best. It doesn't quite match the bellow of a V8 Ferrari through an Alpine underpass but, roof down, it'll give you a thrill through the Dartford Tunnel.
The TT RS's claimed top speed, which isn't possible to prove on British roads, is 174mph, though that is a £1,600 option; the top speed is otherwise electronically limited to 155mph. For a car as compact as this – it's barely longer than an old MGB roadster – that's fast.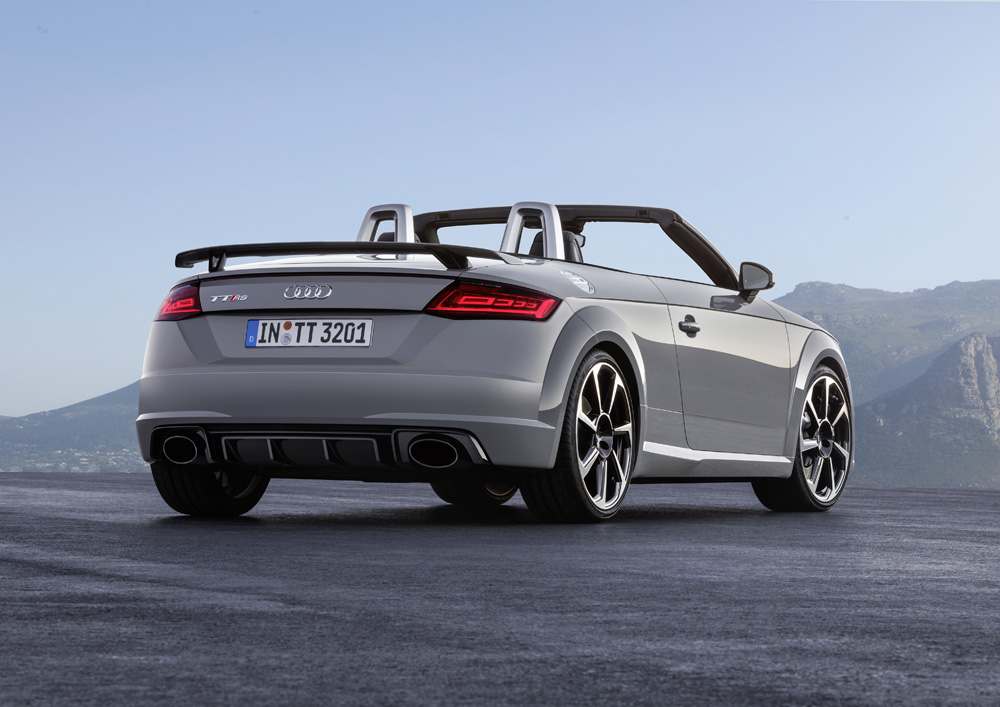 But wait … What of the TT's  – whisper it softly – less than macho reputation? Jeremy Clarkson described the original TT, launched in 1999, as a car for BA stewardesses that was so gender-specific it was Jane Austen with windscreen wipers. Audi has done its best to change that perception by giving the new generation of TT a stubbier shape and more masculine look.
The new TT RS takes things a step further with jutting aerofoil and science-fiction touches. The honeycomb grille resembles something from Tony Stark's kitchen, and the dashboard is futuristic without feeling as though it will fall to bits in a few thousand miles.
Traditionalists will tell you that being four-wheel drive disqualifies it from being a bona fide sports car. The power should all go to the back wheels, they'll say. This is for poseurs cruising along Bond Street, not true drivers. But the quattro system, which distributes power between all four wheels to maximise grip, makes the TT RS sure-footed even on dark and slippery country lanes. Hard as you might try to get it to misbehave, it won't, which may be a minus to track day enthusiasts but should come as music to the ears of most drivers.
The car is lighter than the original TT, with more aluminium in its engine and body, and a new chassis (known catchily as the MQB platform and also used in the Audi A3 and Volkswagen Golf) gives it sharper reflexes and a sportier ride.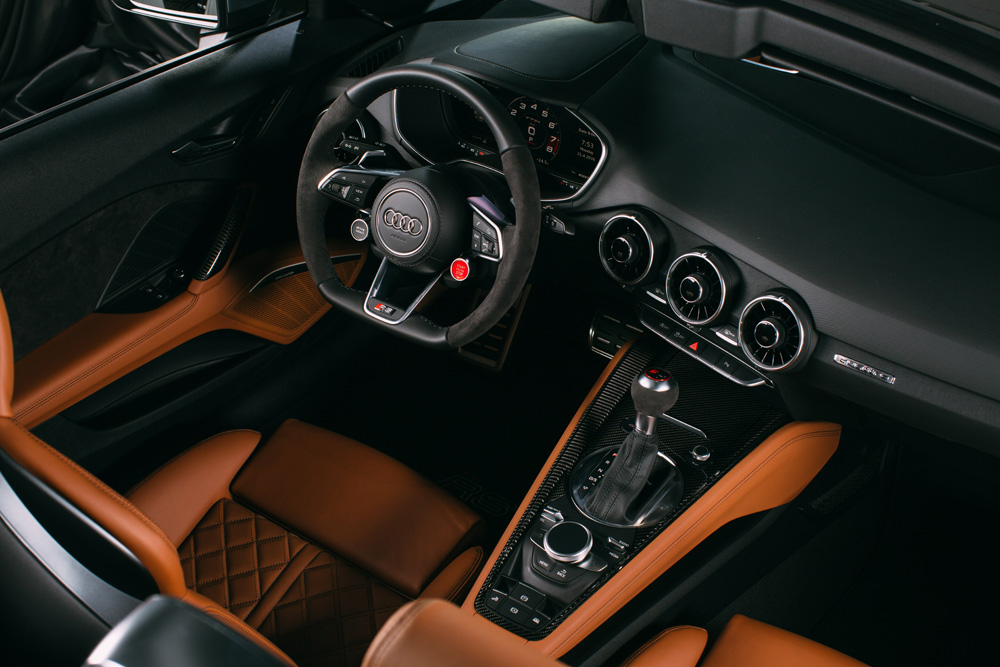 With all this in its favour, there must be a glaring fault, you're thinking, and there is.  The tyres are so low profile they're practically paint-on. When combined with a ride height 10mm lower than in the standard car, they make the TT RS unsuited to the potholes and speed bumps that city-dwellers have to contend with. There is no Audi-approved option for higher-profile tyres and it advises against retrofitting them.
The other drawback is the price. As tested, the car is £57,000 – twice the cost of an entry-level TT. There's no justification for spending that much, unless … Wait a moment… Christmas presents don't have to be sensible, and this is what you wanted all along, no?
2016 Audi TT RS roadster specifications
Costs
Release date On sale now
Price £53,550
Fuel 34mpg
CO2 189g/km
Under the bonnet
Engine 2480cc, 5 cylinders, turbocharged, petrol
Power 395bhp @ 5850rpm
Torque 354 lb ft @ 1700rpm
Transmission 7-speed automatic, 4-wheel drive
Performance
0-62mph 3.9sec
Top speed 155mph
Weight 1,530kg
Dimensions
Height 1,346mm
Width 1,832mm
Length 4,191mm
Rating ★★★★★
---
Mercedes-AMG SLC 43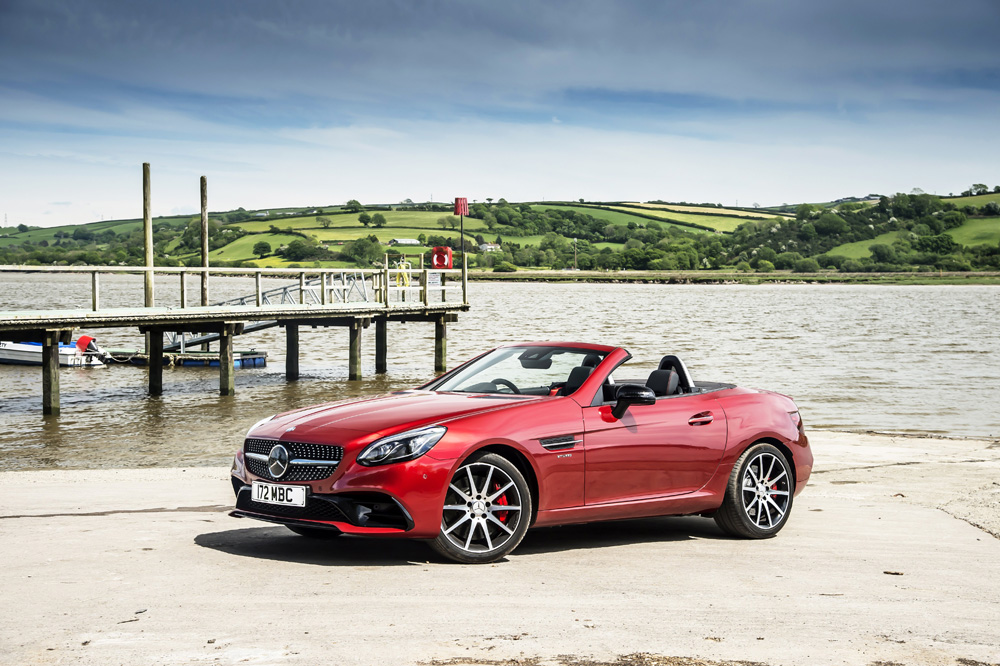 Words: James Mills
I THOUGHT the V6 SLC 43 would run rings round the Audi. AMG, the tuning division of Mercedes, has a habit of fitting preposterously overpowered engines to the normally sober cars that Mercedes builds. The TT RS would be left trailing in its tyre smoke …
However, it turns out that with the introduction of the SLC, which replaced the SLK this summer, AMG turned dreadfully sensible and fitted its two-seater with a smaller engine. That's like a Texan saying they'd like a smaller gun.
---
View the Mercedes-Benz SLC cars for sale on driving.co.uk
---
The last AMG SLK was a tearaway with a 5.5-litre V8 engine. Driving fast could have you guffawing with laughter through one corner and shrieking in fear at the next bend. But the SLC 43 has only a 3-litre V6, which creates a much more sober personality.
It tries oh so very hard to be a rounded roadster, the sort of car that on the one hand can be driven to dinner in town without the driver having to slip off her high heels, and on the other is a stealthily fast sports car that can hold its own in a traffic light grand prix.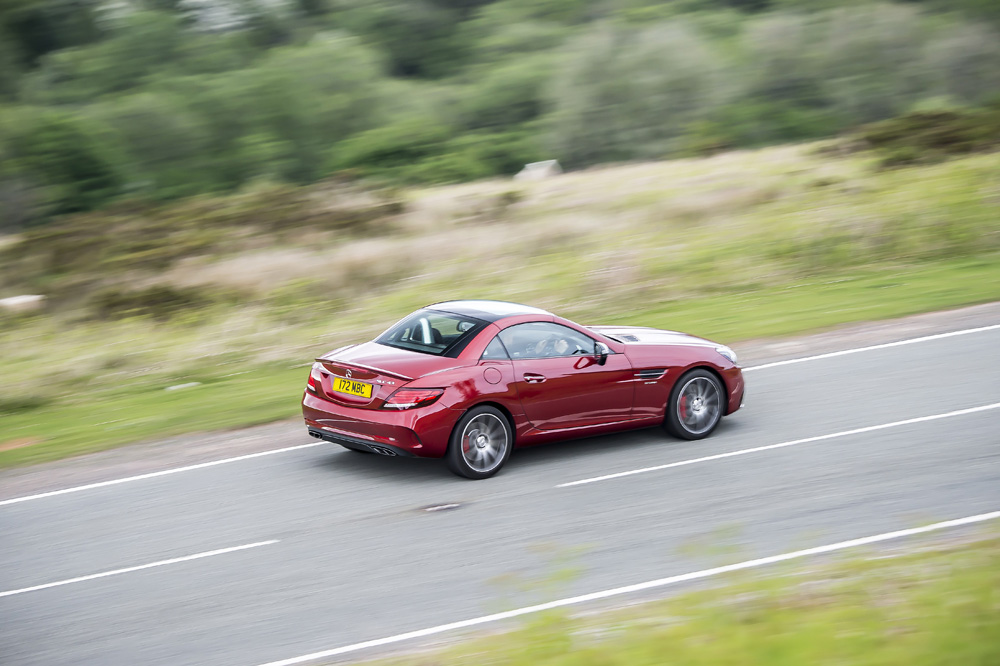 Alongside the TT RS roadster, the SLC 43 looks rather puny. The wheels are small, the bodywork barely ripples and the wings and spoilers are a little apologetic. But I rather like that; it's not crying out for attention like the Audi.
The interior looks clunky but feels robust, and has lashings of optional, expensive carbon fibre and soft nappa leather of the sort that German car designers dream of at night.
"With its ingenious folding glass roof, the SLC offers style and performance without resorting to willy-waving wings"
Because the solid roof has a panoramic glass section,you can still enjoy the effect of owning a roadster when the heavens open, whereas the Audi becomes as dark and dingy as the inside of a briefcase with the roof up. You might say the SLC boasts the best roof this side of Wimbledon's Centre Court.
If the engine sounds timid when started, the exhaust makes up for it by bellowing like thunder when the road, and throttle, opens up. There are various driving modes, ranging from Eco – ha-ha, as if – to Sport+, and if you don't leave it in the latter, the car feels half asleep.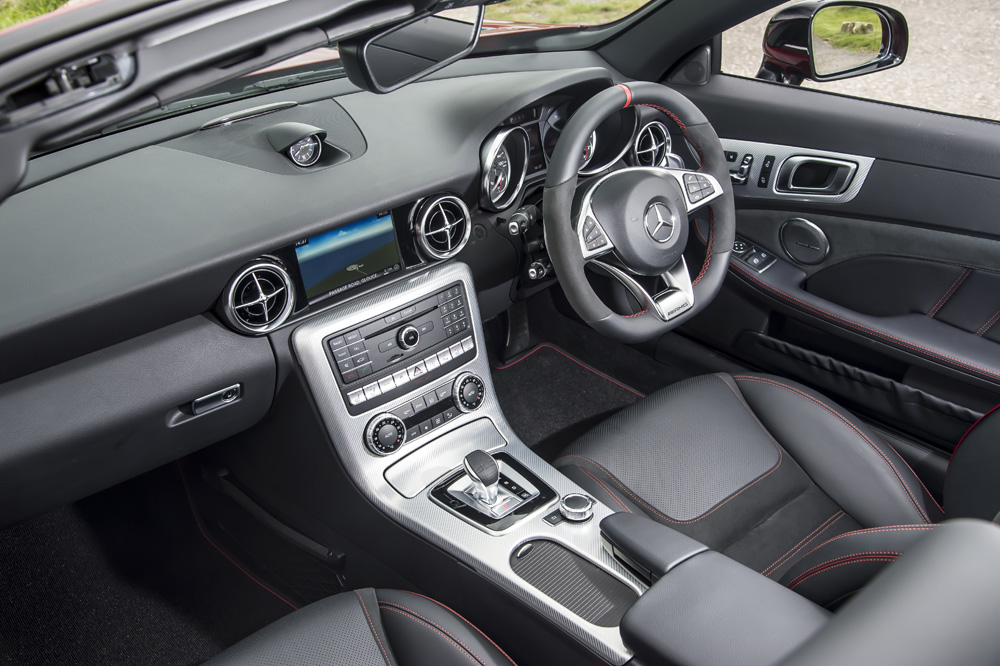 Winding along a country lane, this roadster feels middle aged. The steering is lifeless, the suspension dampers set the bodyshell trembling and the whole shebang feels flabby and out of shape. But it's plenty fast enough for most drivers, and the stability control system has a Sport setting, which is in effect a naughty button that lets the driver indulge in the occasional skid. You can't do that in the four-wheel-drive Audi.
Neither of these cars is perfect. Drivers who wear Porsche anoraks could probably pick faults in them until the cows come home.
However, with its ingenious folding glass roof, the SLC offers style and performance without resorting to willy-waving wings. It's the perfect roadster for a gentleman to raise the temperature on a bone-chilling day.
2016 Mercedes-AMG SLC 43 specifications
Costs
Release date On sale now
Price £46,950
Fuel 36.2mpg
CO2 178g/km
Under the bonnet
Engine 2996cc, V6, twin turbo, petrol
Power 362bhp @ 5500rpm
Torque 384 lb ft @ 2000rpm
Transmission 9-speed automatic, rear-wheel drive
How fast?
0-62mph 4.7sec
Top speed 155mph
Weight 1,595kg
Dimensions
Height 1,474mm
Width 1,829mm
Length 3,996mm
Rating ★★★☆☆