Drivers go back to basics to defeat hi-tech thieves
A bit of old-school heavy metal to thrash the thieves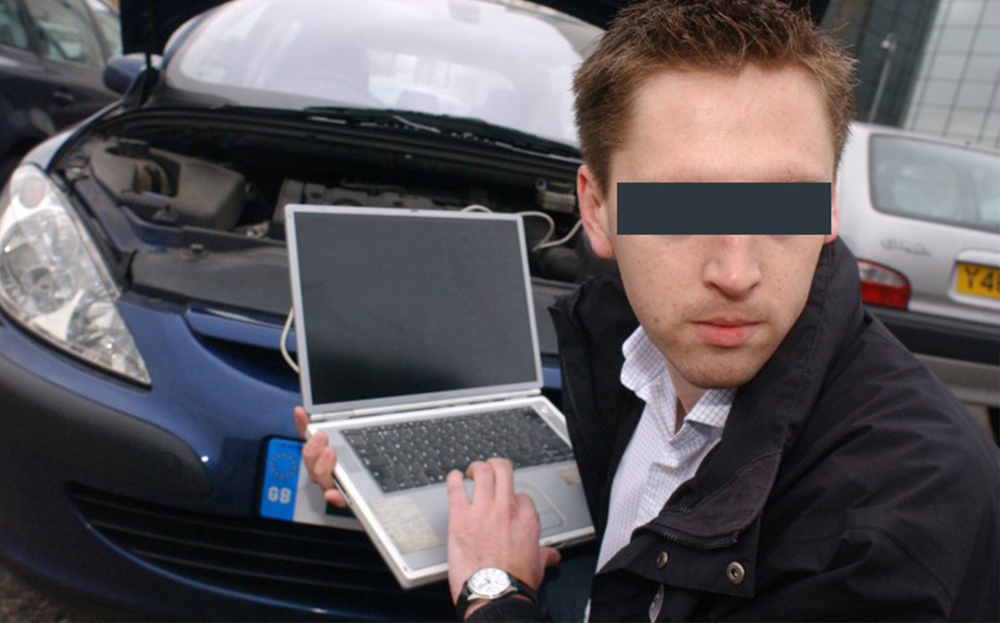 INTRODUCING THE latest weapon to combat the rise of hi-tech car crime: the crook lock.
Drivers are being urged by police to go back to basics and fit separate steering wheel locks to their vehicles as criminals find new ways to bypass sophisticated electronic security systems used in many modern cars. The warning comes after a spate of thefts of luxury cars in which criminals have hacked into the onboard computer, bypassed the security settings and driven off in a matter of seconds.
Steering wheel locks were popular in the 1980s and 1990s, a time when car crime was so prevalent that it even spawned its own name — Twocking (taking without owner's consent). Advances in car security were thought to have made them redundant, especially for expensive cars bristling with hi-tech security codes and electronic immobilisers.
---
Click here to search for used cars on driving.co.uk
---
Last week, however, after a wave of thefts of high-priced cars, including Range Rovers, Land Rovers and BMW X5 and X6 SUVs, from the wealthy London borough of Kensington and Chelsea, police sent letters to owners advising them to go back to basics. "It is recommended that you consider additional means of securing your vehicle such as through the use of a simple steering wheel or gearstick lock, which are effective in preventing theft of your vehicle."
Other London boroughs offer similar advice to residents, and West Midlands police, which has set up a unit to combat hi-tech car theft, is unequivocal: "The best thing is a crook lock," says its vehicle crime officer, Superintendent Andy Beard. West Yorkshire and Merseyside police also advised drivers to use a steering wheel lock.
Insurance companies are increasingly saying the same: "It sounds bonkers going backwards to something that was popular years and years ago. But they are proving very effective," says Royal & Sun Alliance.
The advice reflects concern among police forces that car crime, after years of decline, could be about to rise again as thieves adapt to the new technology aimed at deterring them. They are increasingly targeting vehicles such as Audis, BMWs and Range Rovers, which are often fitted with keyless entry systems. This allows drivers to start the car with the press of a button as long as they have an electronic key fob that emits a code that the car recognises. Criminals, however, have discovered a way to clone the key fob, allowing them to bypass the immobiliser system and to start the car.
Typically, the thief plugs a device into the car's diagnostic port, which is usually found at the side of the passenger footwell. This is used to reprogram a blank "key", essentially a piece of plastic with a transponder inside. The car can then be driven away. To gain access to the vehicle in the first place, thieves can block the locking signal from the fob, fooling the owner into thinking the car is locked.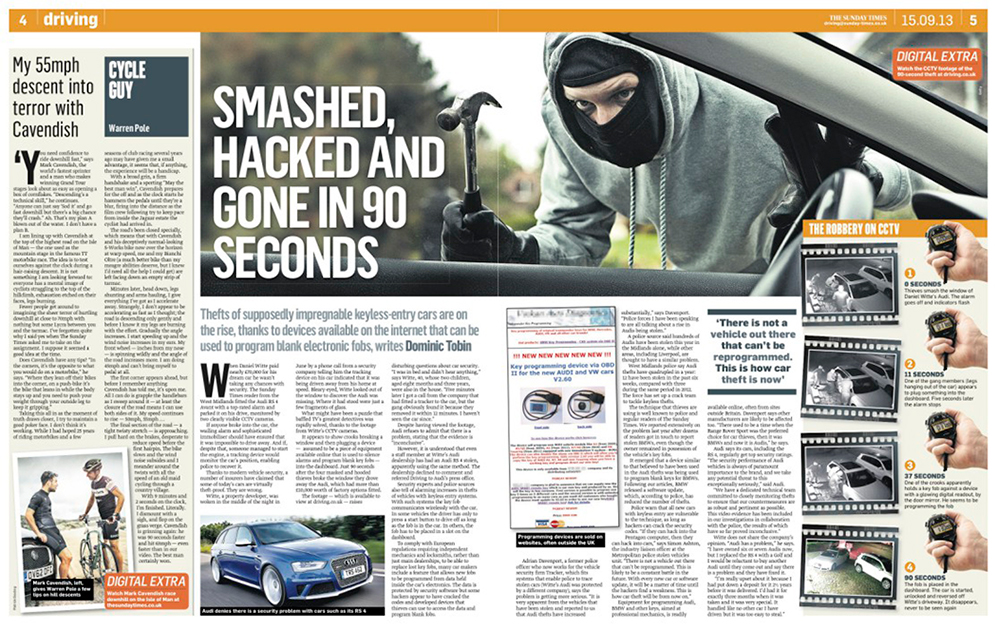 The security flaw was reported by Driving more than a year ago, but at first car makers denied that there was a problem. Now, the Metropolitan police says that half of all car thefts in the capital (about 900 in May alone) are carried out with reprogrammed digital key fobs. "Using specialist equipment to gain access to cars, organised criminals are able to make a key that starts the car. This whole process takes them less than a minute and does not activate the car alarm," the Met said in a statement.
"This is a consequence of car criminals being organised and using increasingly sophisticated methods to steal vehicles. The criminal networks will constantly seek new ways to steal cars."
Recent car-crime reports suggest that thieves are targeting more expensive models. According to the Association of Chief Police Officers' vehicle crime intelligence service, BMW and Mercedes were third and fourth in the list of most stolen car brands in England and Wales last year, behind Ford and Vauxhall, although there are far fewer of them on the road and they are more likely to be parked in garages or in upmarket areas.
In the West Midlands, BMW was second behind Ford for the year to the end of May, while Mercedes climbed from seventh place, in 2013, to fourth. The Ford Transit van was the most stolen vehicle.
Land Rover is also suffering. In April the car security firm Tracker flagged up a sharp rise in thefts in London of Range Rovers, and while no figures were available from the Met, anecdotal evidence among other vehicle security firms put the number well past 100. Antony Noto, from the alarm supplier Secure My Car, says he has fitted 20 alarms to Range Rovers bought to replace ones stolen in London this year.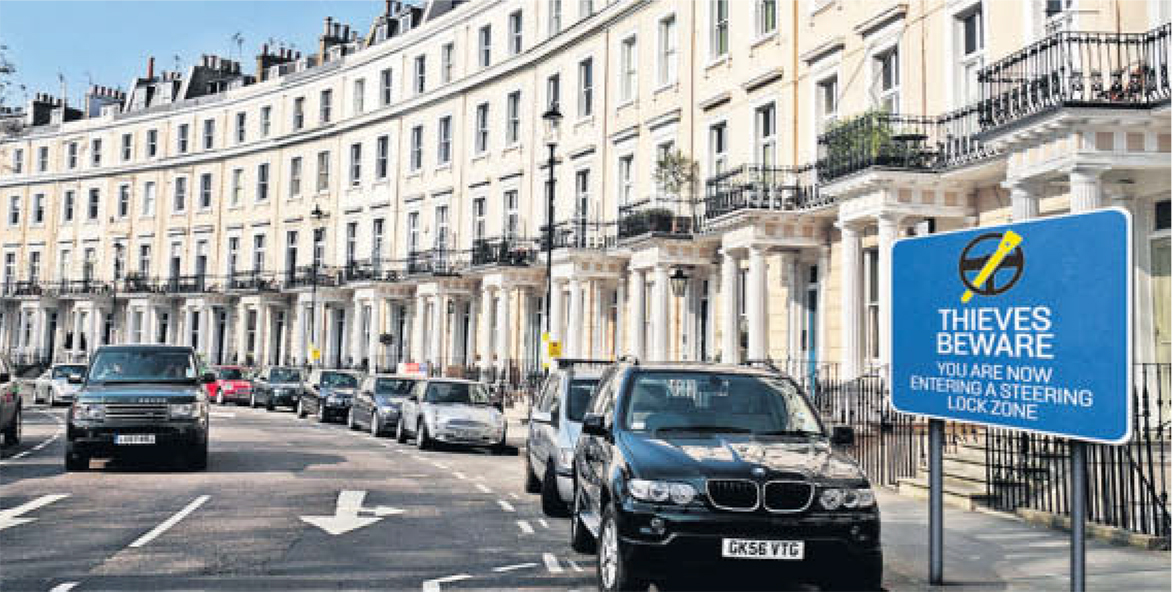 Richard Nelson, a company director from Notting Hill, has had his Audi A8 broken into three times in the past two years. Although the car was not stolen, the thieves ransacked its contents with ease although it was locked.
"I have lost two sets of golf clubs and on one occasion six Christmas presents," Nelson says. "But I feel lucky in some ways: other people who live on my street and drive similar cars regularly have them stolen. It's almost a daily occurrence. The chap who lives opposite has had two go off his driveway.
"I agree with the police — people should return to basic car security because car thieves have obviously become too clever and are ahead of the car makers."
According to Thatcham, a research centre set up by motor insurers that assesses car security, the problem lies with legislation governing modern vehicles. Under EU rules designed to prevent them from monopolising the aftermarket business, all manufacturers selling in Europe must make their servicing and repair information available to independent garages. This means a manufacturer must also release security information on how to access the car and reprogram keys into the wider market.
"It's a constant battle with the thieves. We're in a race," says Mike Briggs, Thatcham's vehicle security research manager. "We challenged [the law] six years ago along with the Home Office and the Department for Transport, but at that time people weren't stealing cars with this method and we weren't successful."
Thatcham is working on a fix. It wants to remove communication between the diagnostic port and the car's computer, so that no reprogramming can be done without the original key in place. It says several manufacturers are looking into this idea, but points out that it would then be far costlier if a driver lost their key.
Audi says that stringent checks are applied to its own dealers to make sure that sensitive information is not leaked; however, it cannot guarantee the same outside its dealer network. "It's the law and we have to abide by it, but you'd have to say the risk comes from outside our own network," the company says. "The onus is on independent services and locksmiths, and that is where the weakness lies.
"We believe our systems are among the very best. We're not behind the curve."
BMW was one of the first manufacturers to be targeted after offering push-button start in its cars from 2005. It says an electronic security patch has secured those early cars, while new models built from September 2011 are far less vulnerable, although no car is impregnable. "We're constantly updating our technology. We are confident our customers don't need a steering lock."
Land Rover takes a similar line: "We are aware of the number of thefts of premium products, particularly in the London area. The current Land Rover line-up continues to meet the insurance industry requirements," it says. "Nevertheless the company has taken this issue very seriously and our engineering teams have been working to understand the risks fully. We will continue to evolve the technology in our vehicles as organised crime develops."
Until then, owners may wish to rummage about in their garage and dust off their trusty old steering-wheel lock — just in case.
It's a steal: the crook lock reborn
They are not sophisticated, but lockable lumps of metal can be the best deterrents even on a car with modern immobilisers and alarms, writes Dave Pollard. Here are our three favourite low-tech systems.
Bulldog Centaur wheel clamp, £182
Not pretty and, at 19kg, a faff to put on, especially if it's dark and raining. But the Centaur is well made, with a heavy-duty lock. Moreover, it makes quite clear from a distance that the owner of the car is taking security seriously — often enough of a deterrent in itself. Three sizes are available; the CA2000 will be the right one for most cars. The only time you'll be happy to see your car clamped.
Disklok steering-wheel lock, £85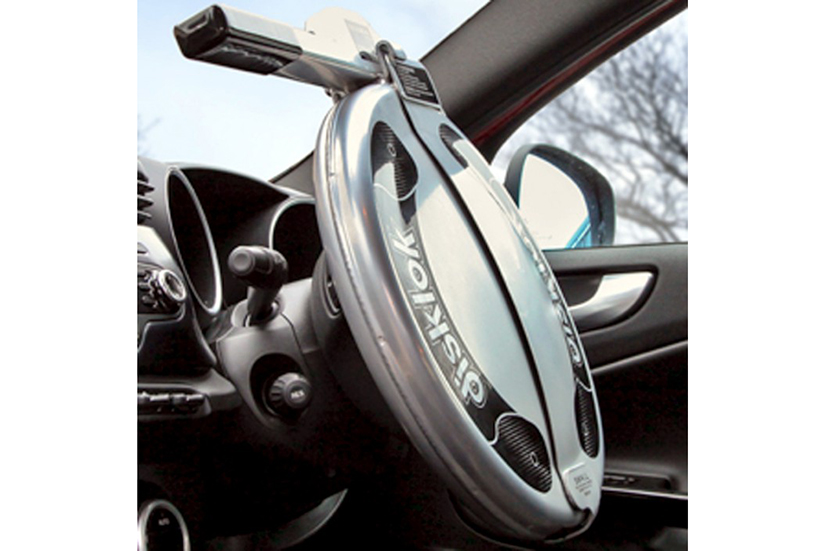 The Disklok is well engineered from heavy steel and fitted with a top-quality lock. Highly visible, it spins around the wheel when in place, preventing the thief from smashing the vehicle's steering lock. It takes a couple of minutes to get out of the boot and fit but is far more secure than traditional bar locks, which typically cost about £40. Well worth the extra expense.
PedalBox, £120
Designed originally for vans but suitable for most cars, this sturdy metal box with a locking lid encloses the pedals. With the lid shut, the car is impossible to drive. When not in use, the box can be unhooked from under pedals and stored in the boot. Like the Bulldog and the Disklok, this is a bulky solution, but it is quick and easy to fit, is painted bright yellow as a visible deterrent and, as a bonus, is big enough to house your sat nav, mobile phone and other valuables. A low-tech solution to a hi-tech problem.
---
Click here to search for used cars on driving.co.uk
---