Diesel 'doubles risk of dementia'
May be responsible for a fifth of cases worldwide
---
Published 28 February 2017
NEW EVIDENCE has emerged to show that diesel pollution can double the risk of getting dementia and may be responsible for as many as a fifth of cases worldwide.
It adds to the growing list of medical conditions linked to air pollution and comes as the government faces legal action for allowing nitrogen dioxide levels repeatedly to breach EU limits around the country.
Poor air quality has previously been more associated with health conditions with sudden onset, such as heart attacks and strokes. The new research shows the consequences of this pollution could be far more long term.
---
View the electric cars for sale on driving.co.uk
---
Researchers at the University of Southern California (USC) analysed health data collected over a decade from 3,647 women across America aged between 65 and 79.
It found that those exposed to levels of air pollution above US legal limits were 81% more at risk of global cognitive decline and 92% more likely to develop dementia-related diseases including Alzheimer's.
If the scientists' findings are replicated in men and women of all ages, air pollution could also be responsible for about 21% of dementia cases, according to the study, published in the Nature journal Translational Psychiatry.
"Air pollution is a global public health issue," said Jiu-Chiuan Chen, lead author of the paper. "It is well known that outdoor air pollutants kill people and increase the risk of asthma and heart disease. Our study greatly strengthens the emerging evidence that the hazards of air particles extend to brain health, including the dementia risk."
Dementia and Alzheimer's have overtaken heart disease as the biggest killers in England and Wales, according to ONS figures released last year.
---
Air pollution in London
PM2.5 refers to air pollution particulate matter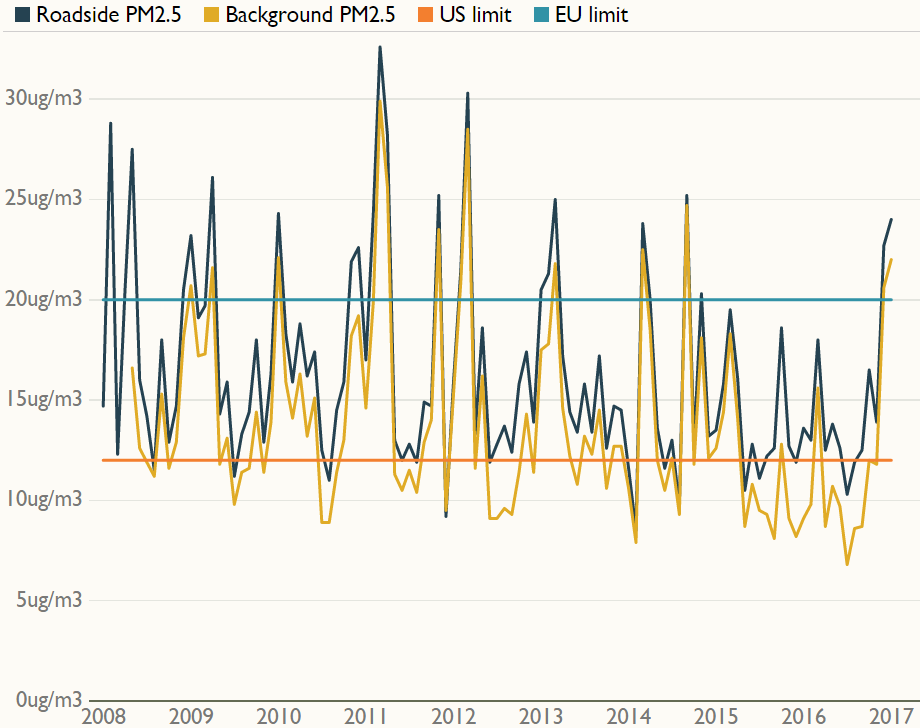 ---
The USC study focused on the smallest particles in air pollution, called PM2.5s. Scientists say these are the most dangerous, as they are small enough to cross from the lungs into the blood and then travel around the body, lodging in organs such as the heart, liver and brain.
The paper prompted concerns from British scientists, who found air pollution levels in London last month were worse than in the notoriously smog-prone Chinese capital, Beijing.
The UK capital's air pollution levels are so high that in the first week of January they breached EU limits so many times that they exceeded the quota for breaches allowed for the entire year
Readings from the air quality index on January 23 showed 197 micrograms of particulate matter per cubic metre of air (µg/m3), compared to 190µg/m3 in Beijing.
The UK capital's air pollution levels are so high that in the first week of January they breached EU limits so many times that they exceeded the quota for breaches allowed for the entire year.
The continued breaches led to the European Commission issuing the government with a "final warning" last week, threatening to launch a case in the European Court of Justice if air pollution levels were not substantially reduced in the next two months.
Last week the London mayor, Sadiq Khan, announced a £10 "toxicity charge" to be introduced on October 23 for drivers of the most polluting vehicles.
The fee will be on top of the £11.50 congestion charge, and will affect up to 10,000 vehicles in the capital that do not meet Euro 4 emission standards.
Rosamund Kissi-Debrah, a south London mother who plans to sue the mayor's office for failing to achieve safe pollution levels after her daughter died from a severe asthma attack, said she was unsure how effective the policy would be.
"The £10 charge is great, but from my point of view if you look at what Paris and Madrid are doing, we're miles behind," she said.
"I don't know how many people are going to be deterred by the charge. As long as they continue to produce diesel cars, people are going to buy them."
Kissi-Debrah's nine-year-old daughter Ella died four years ago this week, after repeated asthma attacks and seizures brought on by a lack of oxygen left her in a coma.
The pathologist at Ella's inquest said her death may have been due to airborne particles. Her mother believes the capital's illegal levels of air pollution are responsible.
This weekend, Kissi-Debrah said she was asking for Great Ormond Street Hospital to examine her daughter's remains to determine what levels of pollution particles were in her body.
---
Browse NEW or USED cars for sale on driving.co.uk
---
"It's incredibly hard. It's been four years and still we've had no answers. The doctor in Ella's case has now retired, but it's always going to be hanging over me until these questions are answered," she said.
"Scientists say thousands of people die due to air pollution. The problem is, all these people in the studies are faceless, but Ella is a person.
"She wanted to know why she was having such bad attacks, and we promised we would find an answer for her."
Jonathan Leake and Josh Boswell
This article first appeared in The Sunday Times