Death roads, breakdowns and arrested for spying in Iran. . . one 70-something couple's amazing road trip
43C, no air-con, having a lovely drive in Iran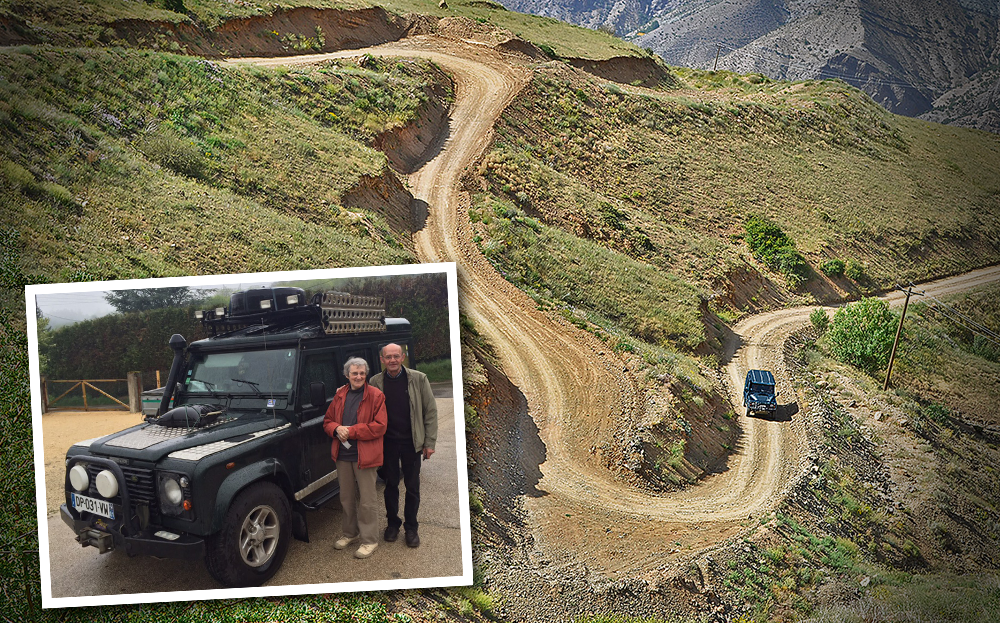 IF YOU are contemplating abandoning your holiday plans because of French ferry workers blockading the roads around Calais, take a lesson from my in-laws. Both in their seventies, and both incorrigible when it comes to the perils of travelling abroad (as only seasoned veterans of their generation can be), they recently made an 11,732-mile odyssey that is an example to us all.
---
Click to read car REVIEWS or search NEW or USED cars for sale on driving.co.uk
---
Spurred on by the thought that their years of independent travel might be drawing to a close, they decided to go for broke. They had long wanted to see the ziggurats of Chogha Zanbil in Iran, and the 6th-century palaces of Persepolis. If not now, when?
Equipped with a few supplies loaded into a beaten-up Land Rover — already with 175,000 miles on the clock — they set off from their home near Bourg-en-Bresse in eastern France on an overland epic through Italy, across the Balkans and Turkey, carefully skirting trouble in Syria en route to a country that to just about everyone's surprise has become a comparative safe haven in a region ravaged by war — Iran.
The ayatollahs haven't exactly gone soft, but a new nuclear deal with the West has made the prospects for European visitors to Iran a little more appealing, or so they thought. But as they were to discover, there are still perils aplenty awaiting foreign motorists in a country on the verge of reopening to the West after a long ideological hibernation.
Before issuing the necessary visas, the Iranians insist on payment of a refundable cash deposit, equal to the value of the vehicle. Their aim is to prevent foreigners from driving cars in and selling them to locals. If you don't leave in the car you arrived with, you lose your deposit.
Luckily, Dominique and Marie Deroche have a long-wheelbase, desert-equipped Land Rover Defender that is 10 years old, and their deposit was pegged at a manageable £5,000.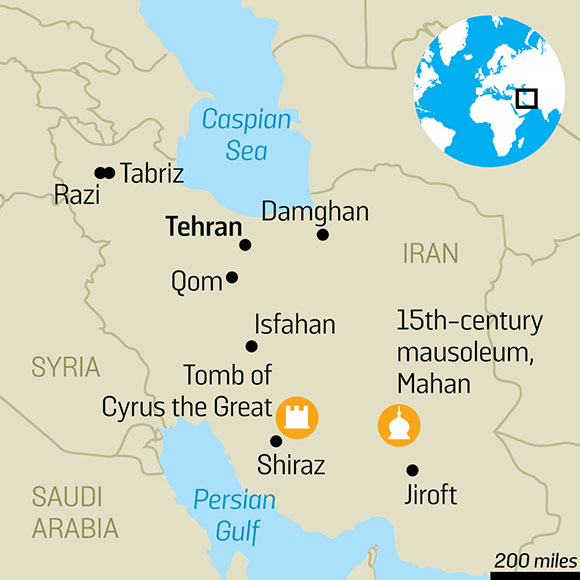 Dominique, 71, and Marie, 73, departed for Iran on May 1 this year, with one spare wheel on the back and another on the roof. Accompanied by another Defender-driving couple with a similar taste for adventure, they were equipped with tents, cooking gear and a few tools and spare parts that they hoped would get them through any but the most serious breakdown.
It took 13 days of steady driving to reach Iran's northwestern border with Turkey, and the two-car convoy crossed at Razi without a trace of official concern. They were making camp on their very first evening close to the farming town of Khoy when a local Iranian family arrived carrying a gift of fruit and almonds.
It was the start of a remarkable outpouring of kindness from a population long starved of foreign contact. "The greetings were fantastic," recalled Marie. "People were constantly helping us and inviting us to meals. We never felt unsafe."
The two Defenders stuck to minor roads where possible, trying to avoid the urban motoring madness that puts Iran among the most dangerous countries in the world for driving.
At one point Dominique became so rattled by traffic mayhem that he telephoned my wife, Sylvie, and asked her to search the internet for Iranian rules of the road. He had been trying to decide who had right of way at roundabouts but couldn't work it out from observing the locals, whose only rule, he concluded, was: the biggest vehicle with the loudest horn wins.
Sylvie couldn't find an Iranian motoring code but she did find this blog post: "Iran has the world's worst drivers. They kill themselves, their families, their friends, their colleagues and they kill pedestrians and other drivers."
The tourism part was everything my in-laws had hoped. For the best part of a month they wallowed in ancient Persian glories, from Tabriz to Shiraz, Isfahan and Qom. The Defenders enabled them to escape to rarely visited desert treats such as the tomb of Cyrus the Great at Pasargadae and the 15th-century mausoleum at Mahan.
It all came juddering to a frightening halt in a desolate spot about 200 miles from the Afghan border. On a sharp climb through the mountains a few miles from Jiroft, the engine coughed to a halt and a red warning light glowed. Uh-oh, thought Dominique, who tinkered a bit under the bonnet and then got out his satellite phone and called a Land Rover dealer in France for advice.
The long-distance diagnosis was a blown gasket. There was almost certainly no way of repairing it in Iran, where they had learnt from one Land Rover fan that after years of sanctions blocking the importation of spare parts, there are only 43 Iranian-registered Defenders still running on local roads.
Evidently, they had strayed into a sensitive area, and police hadn't got the memo about making European tourists welcome. "We tried to keep smiling, but we were getting worried," said Marie.
My in-laws sat in the desert for three hours, playing Scrabble as the engine cooled. They then limped into a garage in Jiroft. It wasn't a gasket, the mechanic concluded, but the air-conditioner was malfunctioning, causing the engine to overheat.
"Don't use the air-conditioner. It should be fine," the mechanic said. Dominique and Marie looked at each other. The temperature outside was 43C.
Worse was to come. Heading for home, the two couples drove north towards the Caspian Sea on what their map indicated was another minor road. They came to a sign that read in English: "Local military entry barred persons illegal." The two Defenders turned around but the four travellers were promptly arrested by military police, on suspicion of spying.
They were escorted to the northern town of Damghan, where they were grilled for 2½ hours about everything they had done in Iran. An officer went through all the photographs on their cameras and wrote down the numbers they had called from their phones. Evidently, they had strayed into a sensitive area, and police hadn't got the memo about making European tourists welcome.
"We tried to keep smiling, but we were getting worried," said Marie. They became even more worried when a policeman observed sourly that Marie was not wearing proper Islamic attire. But their stories added up, their papers were in order and eventually the police let them go. They returned home a couple of weeks ago, via Armenia, Georgia, Greece and the Adriatic coast.
So, I asked Marie last week, is this a trip you would recommend? Is Iran ready for tourists driving around the country? "Yes! One hundred per cent!" she said. "The drivers are terrible but the roads are mostly good and the sites we visited were extraordinary. We were free as birds to go where we liked. Why go on a tour and be stuck on a bus or plane?"
Don't they think, as both of them are over 70, that it might be wise to rein in their motoring ambitions? Perhaps their next trip should be to St Tropez, where there are comfy deckchairs on the prom.
"We'll leave St Tropez to you, Tony," Marie retorted. "Next we are driving to Mongolia."
Road roulette: driving in Iran
Iran's association with terrorism has made it seem a dangerous place for westerners, but another danger is its motorists, whose kamikaze disregard of such niceties as Stop signs and traffic lights turns the roads into death traps.
A 2013 study by the World Health Organisation of the countries with the highest rates of road fatalities ranked Iran fourth behind the Dominican Republic, Thailand and Venezuela.
Reckless driving and lax law enforcement are blamed for the annual death toll of more than 20,000 in a population of 77m. By contrast, fewer than 2,000 of 64m UK residents were killed on the roads last year.
---
Click to read car REVIEWS or search NEW or USED cars for sale on driving.co.uk
---