Codemasters gets back to winning formula with Grid: Autosport
British games developer has spent a year creating hundreds of updates to all aspects of Grid series.
YOU COULDN'T accuse games developer Codemasters of not listening to its fans. Just a year after launching Grid 2, it is about to launch a successor that addresses their criticisms of it.
Officially, Grid: Autosport is a chance for the developers to take care of some unfinished business and incorporate a number of exciting updates before the leap to next-generation racing games. However, there is an inescapable impression that Codemasters may have realised it got things a bit wrong with Grid 2; namely the game's clear move from the near-real handling experience of its predecessor Race Driver: Grid, the first game in the trilogy, towards an arcade-style game primarily aimed at fans of drift racing.
Having sampled Grid: Autosport this week during a visit to Codemasters' headquarters in Southam, Warwickshire, Driving.co.uk can confirm the new game performs a dramatic handbrake turn and feels much closer in feel to the original Race Driver: Grid game.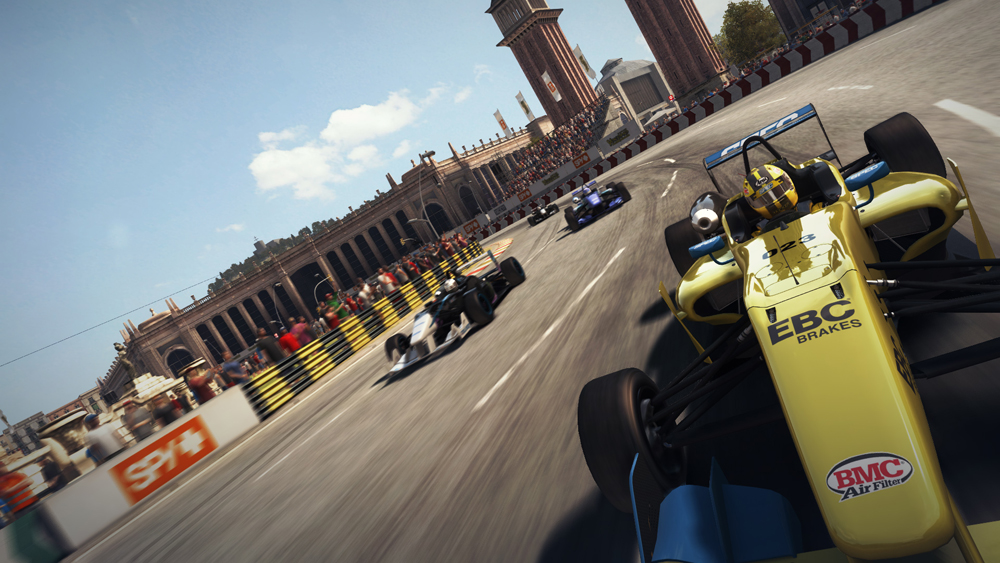 Single-seater opponents behave differently from touring car rivals, and will prefer to back out of a corner rather than get involved in an accident
"We've responded to what our community and fans told us about Grid 2," James Nicholls, chief games designer, told us. "We've shifted the series back to a more authentic motor sport style. It's still not a full-blown simulator, but it certainly feels much more like how you'd expect real cars to handle."
That may be music to the ears of Grid-series fans, some of whom have been following the company's work faithfully since the first Toca Touring Car games for the original Sony Playstation took the world by storm in the late 1990s. These die-hards, who lapped up Race Driver: Grid, were a little surprised to find Grid 2 had shifted so far away from near-accurate replication of a car's handling characteristics.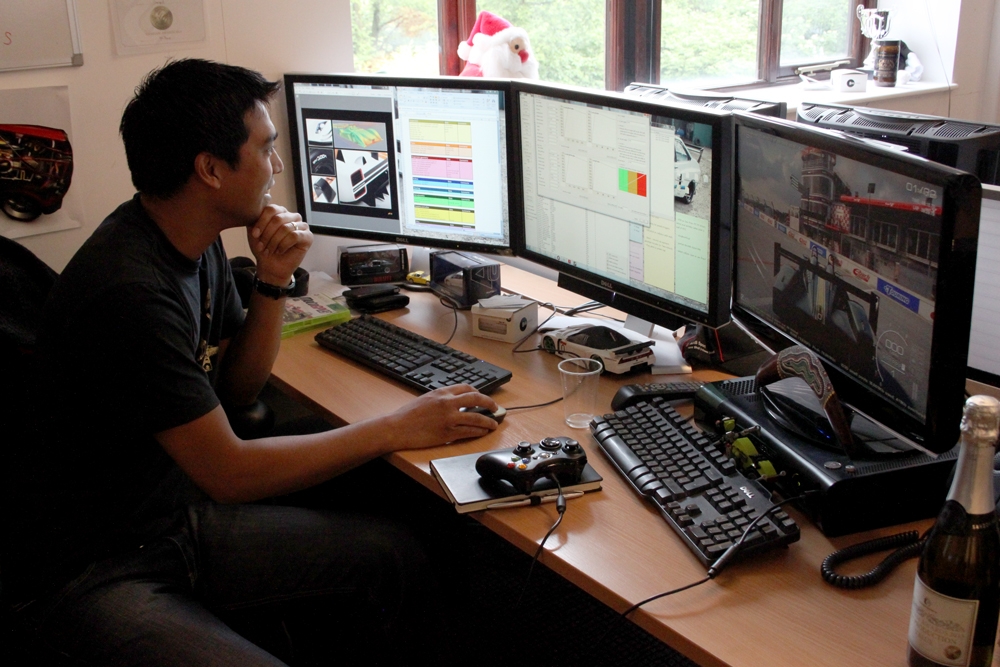 Around 400 staff work at the Codemasters office in Southam, Warwickshire. The car handling designers have worked particularly hard to bring back a more accurate feel to racing in Grid: Autosport
Officially, of course, Grid 2 wasn't a misstep.
"Grid 2 was aimed at a different audience," said Clive Moody, senior executive producer. "We wanted to find a broader audience outside our traditional heartland. Inevitably, we did upset some of those guys who had been with us a long time and loved the original Grid. From my personal perspective, it felt there was some unfinished business; that we should be delivering an experience that we knew our heartland would love."
The case against Grid 2 could be built on the official sales figures. According to VGChartz.com, Grid 2 sales peaked at a level around half that of its predecessor, while total sales of the two games across PC, Xbox and PS3 amount to 2.21m for Grid versus just 570,000 for Grid 2. Given the sequel took five years to create and had a ready-made fanbase eagerly awaiting its arrival, that could be seen as a little underwhelming. This could explain why Grid: Autosport is being released just 12 months after Grid 2. And why Codemasters is keen to go back to the core values of the original.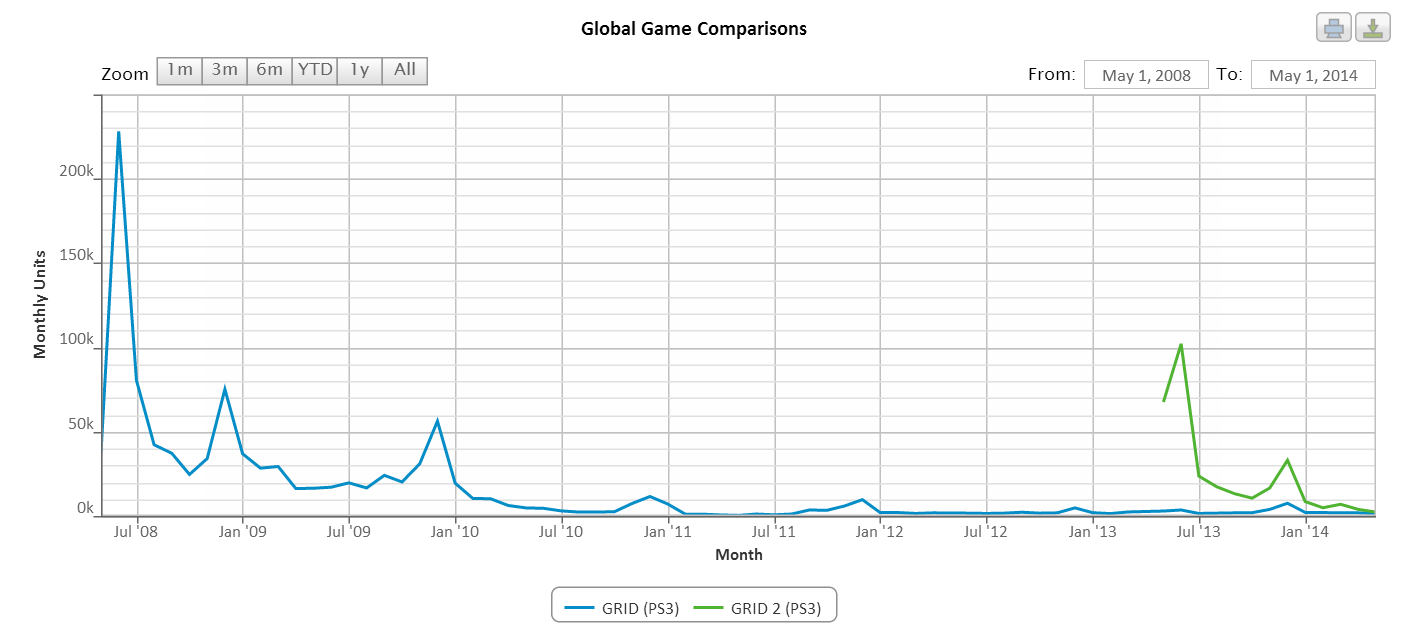 Grid sales versus Grid 2 on PS3 (data from VGChartz.com)
"What we're trying to get back is that feeling of proper motor sport and proper racing," said Moody. "We're getting rid of the fluff, if you like, and putting the focus back on what's important in a racing game."
Since November last year Codemasters has also been working closely with a select community of fans, car industry experts, racing drivers and motor sport writers. In case you were wondering, Nicholls says the name Grid: Autosport was not derived from Autosport magazine, but given the title he did involve the publication within the feedback community.
"We told them what our plans were and what we were hoping to do with the handling model, but we also wanted to hear from them what they liked and what they expected," said Moody. "We gave them blind tests and so on."

Touring car races are intense, paint-rubbing affairs. But be careful – there are 24 'strength boxes' on each vehicle that will crumple realistically on impact, affecting performance and handling, making crossing the finish line a challenge in itself
"There were a couple of great things that came out of those sessions," continued Nicholls. "Firstly there was the way the tyre grip was very binary in Grid 2. Traction sort of fell off a cliff as the tyre degraded, which made it very quick to lose control of the car. So we worked on making that a much smoother progression. That's not about making it a simulator; it's about giving you that window to know how to adjust your driving style.
"One of the other really great bits of feedback was about the audio and other mechanics that let you know you're losing traction. The guys were saying, 'Audio-wise, this particular car is giving me a much better indication that it's about to go [into a spin]', so we applied that to other cars and it gave the cars more of an organic feel than we even had in the original Grid game."
"What we're trying to get back is that feeling of proper motor sport and proper racing. We're getting rid of the fluff, if you like, and putting the focus back on what's important in a racing game."
The audio is cleverly engineered in Grid: Autosport. While Gran Turismo is perhaps criticised for creating cars that look and handle brilliantly yet sound like washing machines, Codemasters has much more accurately reproduced real engine noises, right down to the pop and crackle of exhaust over-run. Up to 16 microphones were attached to the real cars in order to record the sounds, with specialist equipment being used to avoid the mics near the exhaust melting. Changing camera angles affects the tone of the engine, and Codemasters claims that a hole in the windscreen after an accident will mean in-car views become louder and wind noise is audible.
Another improvement, again based on feedback from fans, was to simplify the elaborate menus and step-by-step tasks in the career mode. Though visually and narratively appealing, gamers found it actually formed a barrier between them and the real fun of the game – the races.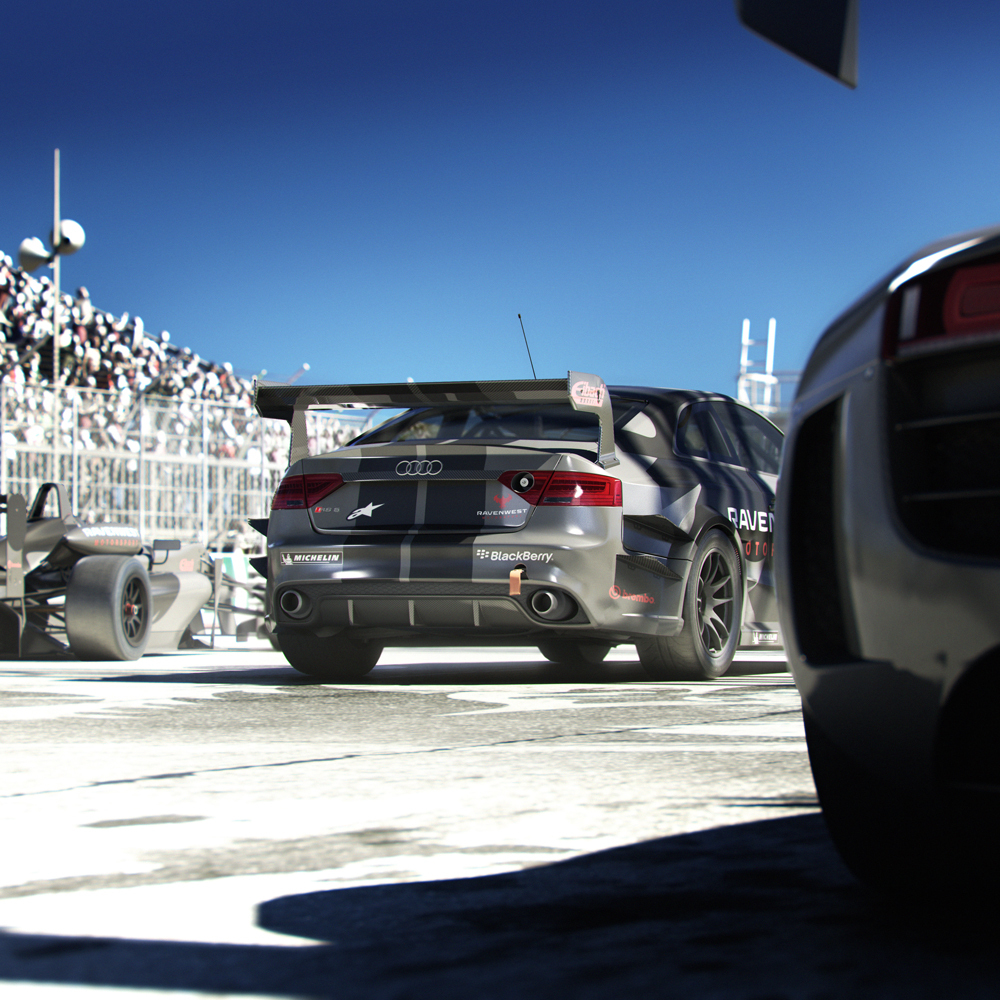 The developers say there's more to the Grid series than graphics, but these screengrabs prove the cars and tracks are crisp and detailed
"Some fans didn't feel the career mode let them get to what they wanted to do soon enough," explained Nicholls. "They had to jump through hoops that we'd set them, basically, but I think that side of things came much more as a natural result of us trying to shift back towards making sure we have much better coverage of contemporary motor sports. As soon as you start to do that, the last thing you want to do is to layer on an artificial story."
That said, the career mode on Grid: Autosport is still what Nicholls describes as "huge", with an eye on creating "the ultimate fantasy racing driver's career". There are five distinct strands of racing: Touring Cars, Endurance Racing, Open Wheel Racing, Street Racing and Drift Racing. In each of these strands there is progression from the lower, national racing up through international series.
As before, there are different fictional teams to race for; around eight in each discipline, all with different levels of ability, and with Ravenwest still the cream of the crop across all of them. As players progress in each discipline they have a chance to drive for better and better teams, in tougher championships, with harder goals to achieve and against tougher opponents.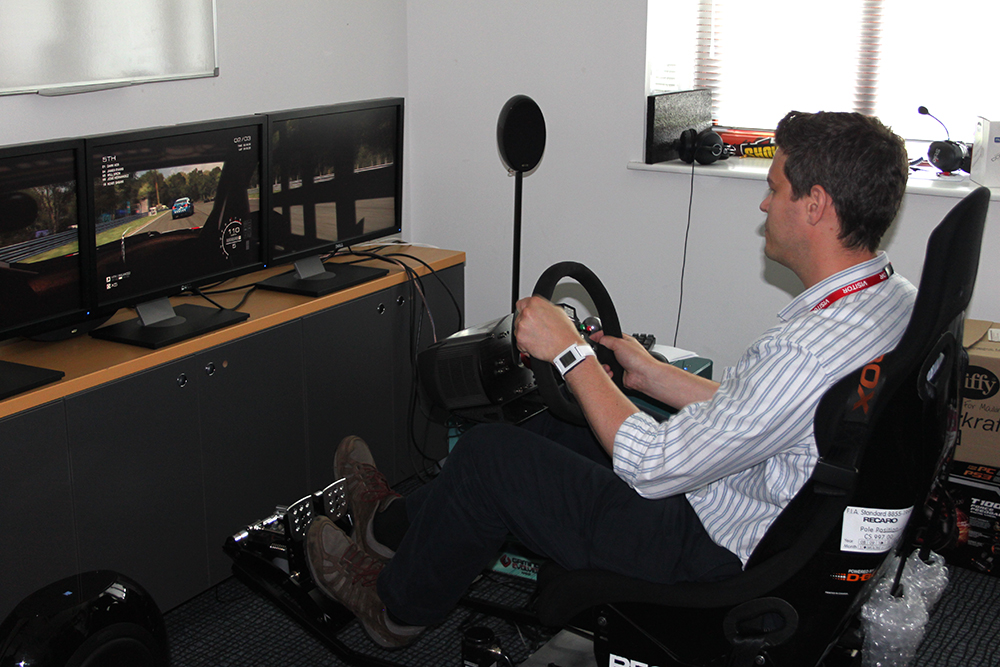 A turn in the simulator revealed accurate handling and feedback, exciting race action and intelligent computer opponents… as well as the limits of our talent
Nicholls and Moody are also particularly proud of the work their team has done on the AI (Artificial Intelligence) of the computer-controlled opponents since Grid 2.
"Our AI on Grid: Autosport is something we're massively proud of," says Nicholls. "I genuinely think it's the best AI there is in terms of recreating rivalries on track. You genuinely feel the guy next to you is racing you for points, rather than just going round and round, repeating the same patterns."
The improvements are down to no single, large-scale change but a number of tiny tweaks such as the way rivals pull out to overtake, and the way they defend their positions in the braking zones.
"Our AI on Grid: Autosport is something we're massively proud of. I genuinely think it's the best AI there is in terms of recreating rivalries on track."
A race in each discipline on the Codemasters simulator reveals that AI opponents can have massive crashes in front of you. At one point, an LMP2 endurance car flipped and rolled half a dozen times right in front of Driving, while without a doubt, the Touring Car racers are more aggressive than the open-wheel drivers. Much paint work was exchanged in Driving's BTCC (British Touring Car Championship) round at Brands Hatch.
More than that, the introduction of a new reverse grid rule for Touring Car events, mimicking real-life BTCC events, presented a challenge for the AI coders.
"Whereas in previous Grid games, Ravenwest cars would generally start at the front of the grid and be one step ahead of the rest of the pack, for Autosport we had to train the AI to be able to fight through the field and get to the front before the chequered flag. Overtaking manoeuvres have made a really big step up; it's a brand-new feature we've worked on since last year."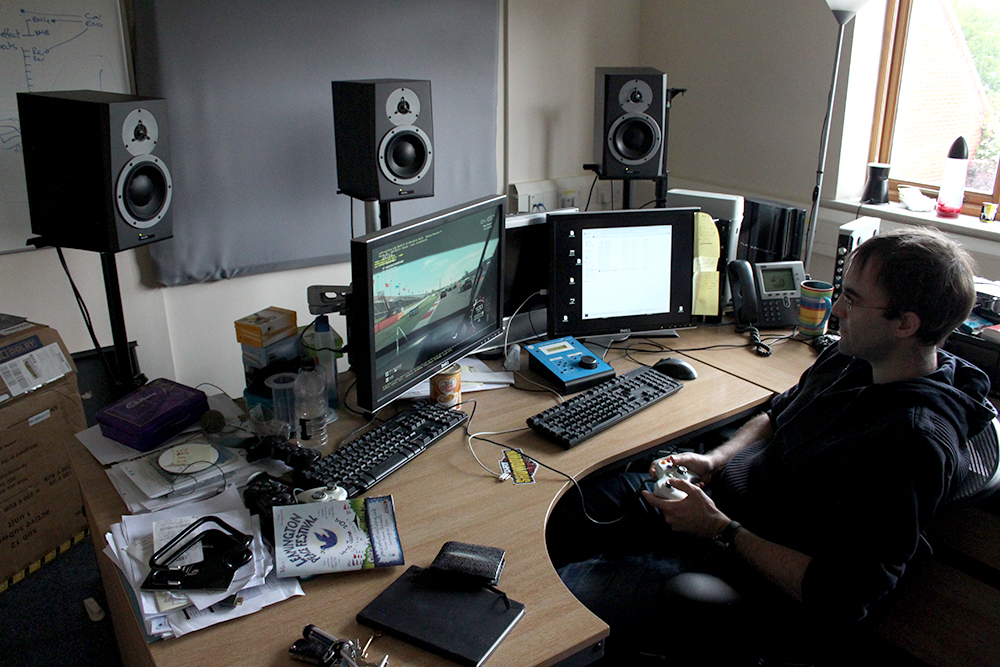 The sound design includes crowd reactions, wear to the drivetrain, and pops and crackles from the exhaust over-run. It all adds to the immersive experience
"One of my favourite updates is the ability to pass on orders to your teammates," said Moody. "A lot of the goals in the games are team based, so we've created a control system that allows you to ask your teammate to push harder or slow the field up if you need to catch up, for example. But the AI is smart enough to know the inexperienced teammates from the experienced ones, and if you're constantly asking an inexperienced driver to push harder, there's more risk that they're going to make more mistakes. Balancing tactics is a layer of depth we've never had before."
"Whereas some other games concentrate on how shiny the car is, we're more focused on the drivers, the competition and the act of racing itself," added Nicholls, in a thinly veiled swipe at the likes of Gran Turismo and Forza.
So, what's next? Is Codemasters now working on a Grid title for the next-generation Xbox One and Playstation 4 consoles with improved graphics? Not immediately, Nicholls told us, as it's more complicated than just making the visuals more realistic.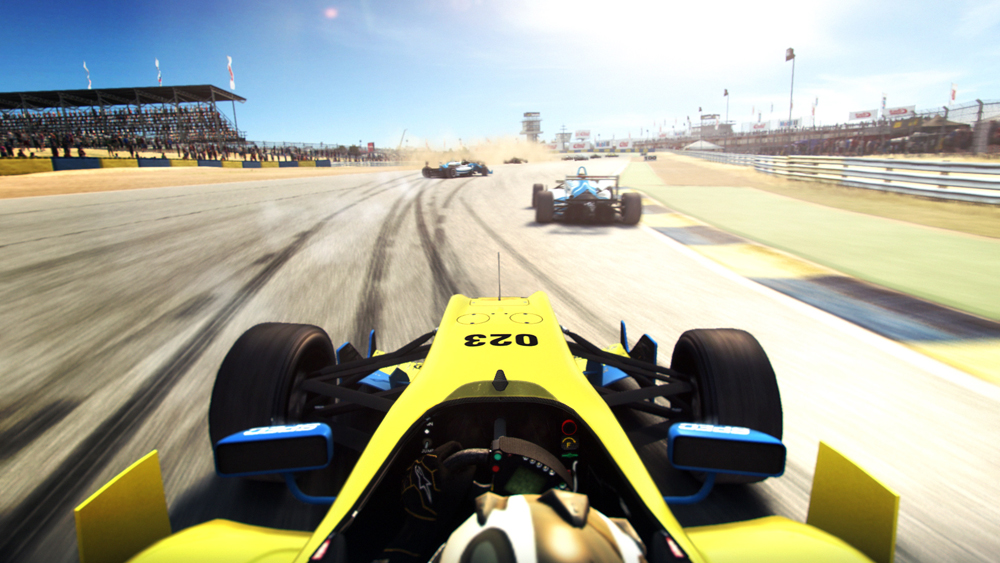 Players can issue team orders, but push an inexperienced teammate too hard and they may not finish the race at all
"If people just push on in terms of graphics, you haven't really moved the experience on, and what people really want to do is experience something they haven't before. I think there's been a bit of disappointment at the first round of games to come out on the next-generation consoles. The experience isn't different enough from what gamers already experienced on the current hardware.
"So, for us, it's going to be about how we push on in helping our players feel more like a racing driver, and adding those human experiential elements in terms of the motor sport and the competition with rivals. There's so, so much more we can do in that area. But for now, Grid: Autosport is a good step in the right direction, and at the moment we're all about closing this game and making it all it can be."
Grid: Autosport is released on June 27, 2014. Visit gridgame.com for more information.