Move over WRC: Rallye Monte-Carlo Classique is the true successor to the original event
I've caught the historic rallying bug
---
Published 11 February 2019
THERE AREN'T many things more incredible to behold than a World Rally Championship front-runner at work behind the wheel, hitting 100mph-plus on compressed snow before braking hard into 90-degree corner, executing a faultless Scandinavian flick and flooring the accelerator to power towards the next turn.
Because they're competing against the clock, a small mistake can cost the second or two that could lose them the stage win. Go a fraction beyond the limits and they're not just out of contention, they're in the trees or rolling down a mountainside. What's more, their mistake has been live-streamed on the internet and will be trending on social media before they've even unbuckled their safety harness.
Contemporary competitive rallying is hardcore and for Sébastien Ogier, the six-time WRC champion who claimed his sixth consecutive Monte-Carlo Rally victory a couple of weeks ago, his latest win (over Thierry Neuville in his Hyundai i20 WRC) after nearly three and a half hours of racing was by a mere 2.2 seconds — the closest Monte finish in history.
But as explosive as the 2019 WRC season opener was, look back to the Monte-Carlo Rally's inception in 1911 — the work of Prince Albert I and the Automobile Club de Monaco (ACM) — and I can't help but think the official event may have lost its way.
In those early years, road cars were adapted to take part in competitive eventing, rather than heavily developed specifically for the task. "Health and safety" was smoking a pack of Gauloise and packing a warm coat, and the amount of ground covered was far greater , with competitors choosing from a number of starting points including Oslo, Athens, Paris and Lisbon, to converge in Chambery and continue en-masse to Monaco.
Thankfully, classic car enthusiasts have preserved this golden era of endurance motor sport by re-creating the original format. In the 1990s, the annual event was revived as The Monte Carlo Challenge by the former head of the Classic Rally Association (CRA), Philip Young, who is often credited for jump-starting the historic rally movement.
"Drivers have no chance to practice, no service crew, no mechanical ants on every mountain that dump spare tyres, no helicopters, radios or team managers. This is a battle of self-sufficiency," he determined after the first Monte Carlo Challenge.
Of the 100 cars that took part that year, including an Austin Healey, a Sunbeam Rapier, and a Ford Zephyr, there's one that particularly stands out for me — and not just because it was the winner.
Piloted by Ron Gammons, with Paul Easter navigating, the hot red 1960 MGA Roadster — known as Frisky, thanks to its "FSK" numberplate suffix — belonged to my late grandfather, Raymond Greenway. Restored by Gammons himself just before the event, it took victory in Monte Carlo in '91 with a four-second lead over an Austin A40.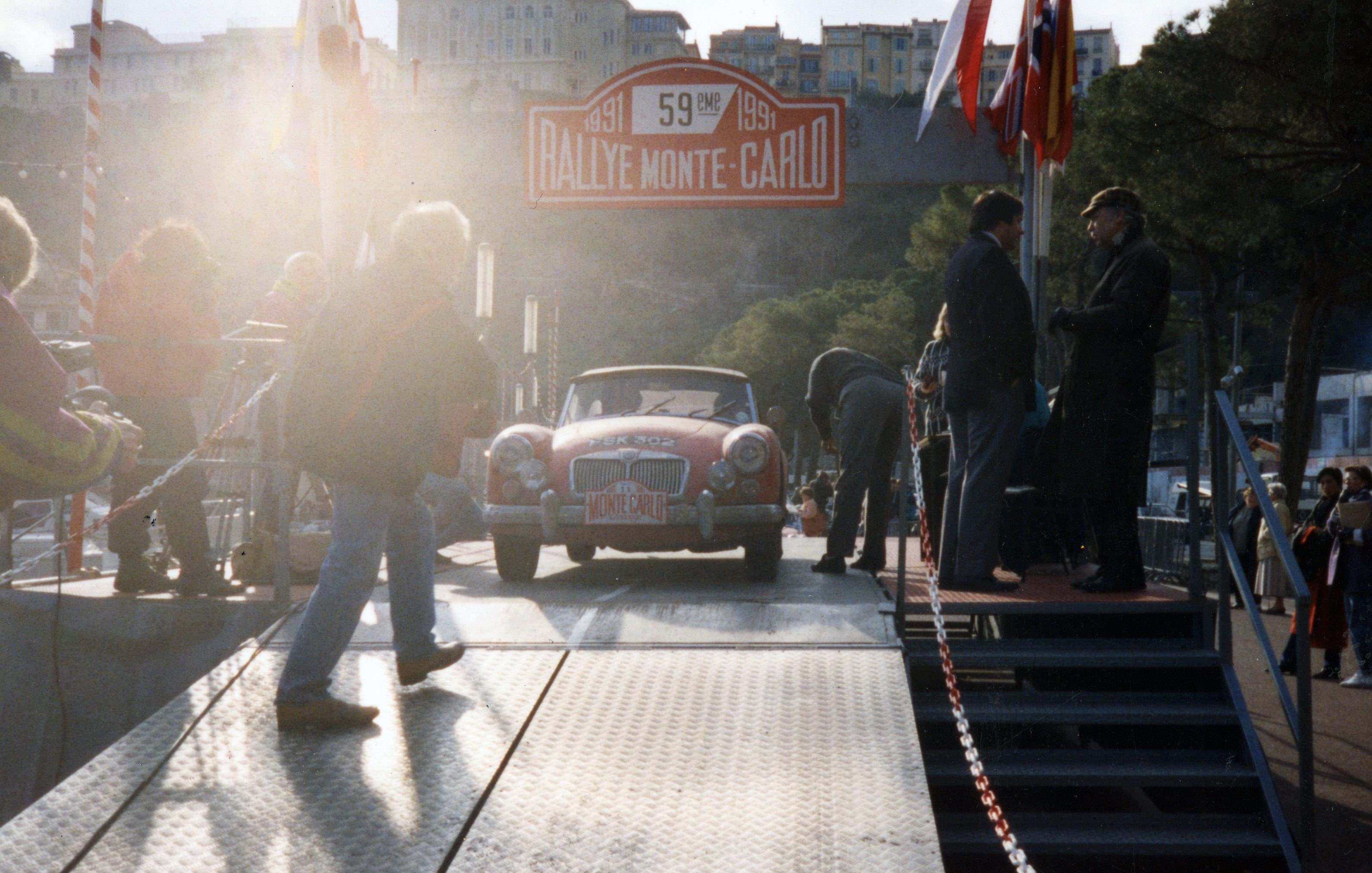 The conditions were treacherous, Ron tells me. Hit one unexpected patch of ice and the car could easily slide into a snow bank, and when it happened, the only way out was to dig — and hope that a local farmer might arrive in his tractor to help.
Crews wore a uniform of leathers and hats — a helmet if they fancied it — while fire extinguishers were strapped within easy reach. Cans of self-heating food were stowed out of the way in the boot.
Motoring for up to 36 hours at a time, over 2,000 miles were covered (as opposed to 849 for the modern event). It included four regularity trials in which an average speed between 40kph and 50kph had to be maintained.
I'm delighted to learn that Gammons, a rally veteran, considers his victory in Frisky his finest.
"We would come down from the mountains after an all-nighter for a few hours in bed, only to start the mountain loop that evening," he says. "We'd continue into the early hours of the next morning."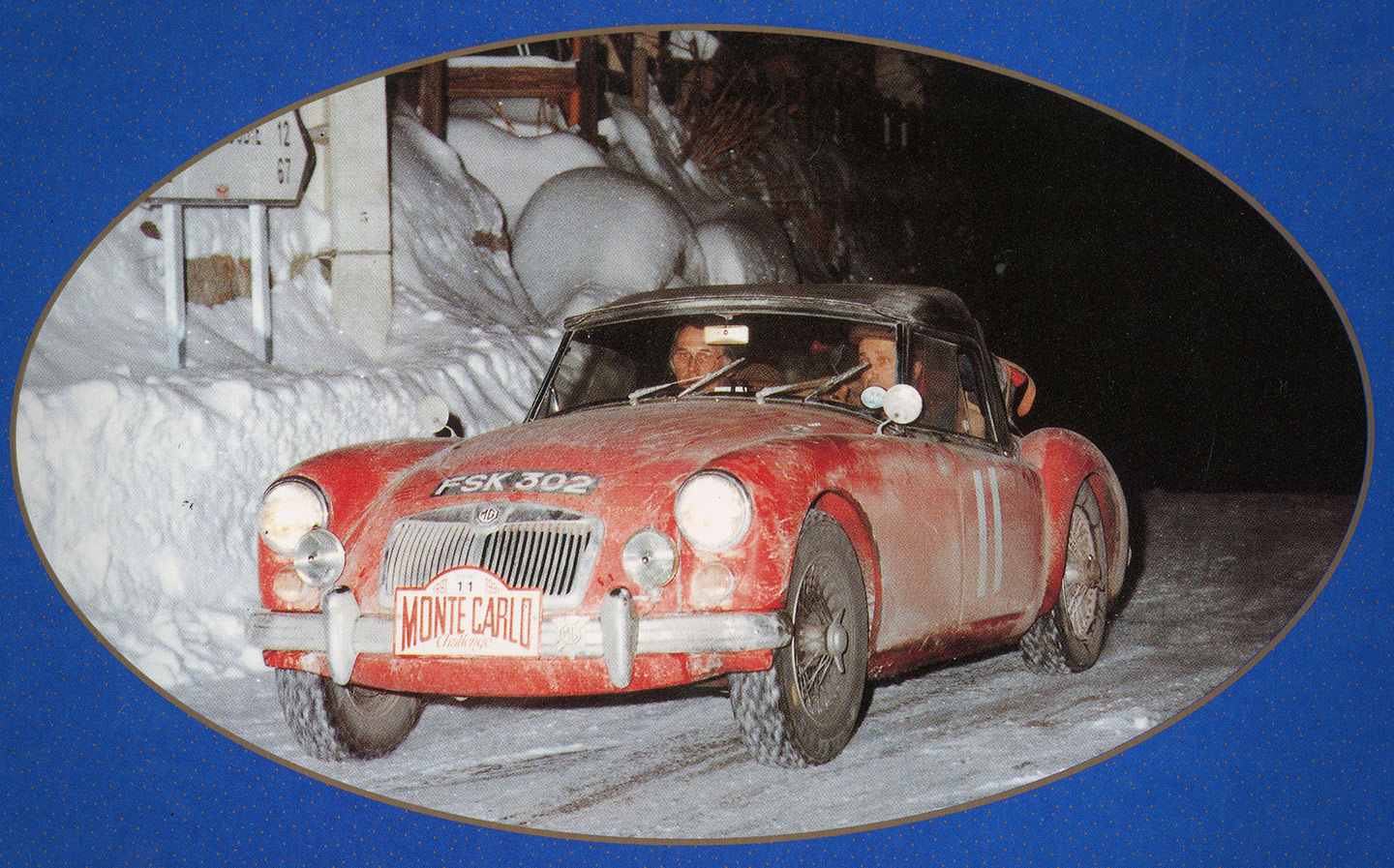 When Dodo, as I called grandpa, passed away, I was lucky enough to be handed Frisky's keys (read more here). She turns turns 60 in 2020, and although the Monte Carlo Challenge has been discontinued, I'm determined to travel the road back to Monte Carlo in an historic rally, in honour of my late grandfather, and Ron's achievement.
However, as a total novice, I fear the magazine articles and documentary I've unearthed are not going to prepare me adequately for what might lie ahead. That's why I visited the harbourside finish of this year's Rallye Monte-Carlo Classique, one of two official ACM Monte Carlo rallies aimed at road legal cars built between 1911 and 1965, to join the largest team as they took their turn on the finishers ramp.
"The rally was set up to be difficult," said John Lomas, managing director of Blue Diamond Riley Services Ltd. Lomas is responsible for bringing together a six-strong entry for this year's Rallye Monte-Carlo Classique, comprising five Rileys from the 1930s – two of them driven by American crews and another that competed in the Monte Carlo Rally in 1936, finishing 68th – as well as an MG TC from 1949. Four of the vehicles were prepared for the 1,300-mile journey at Lomas's workshop at Bicester Heritage, Oxfordshire.
His Rileys are particularly cherished. "These are pre-war cars, the only ones on the event," he enthused. "We left with six cars, and all six made it from start to finish, that's a 100% success rate; it's staggering.
"This is the kind of team that Riley would have put together during the war. For me, it was all about getting the cars here."
The Rallye Monte-Carlo Classique's crews are not just in it to reach the finish line; they strain every sinew to adhere to the control point check-in deadlines, driven by the passion to compete.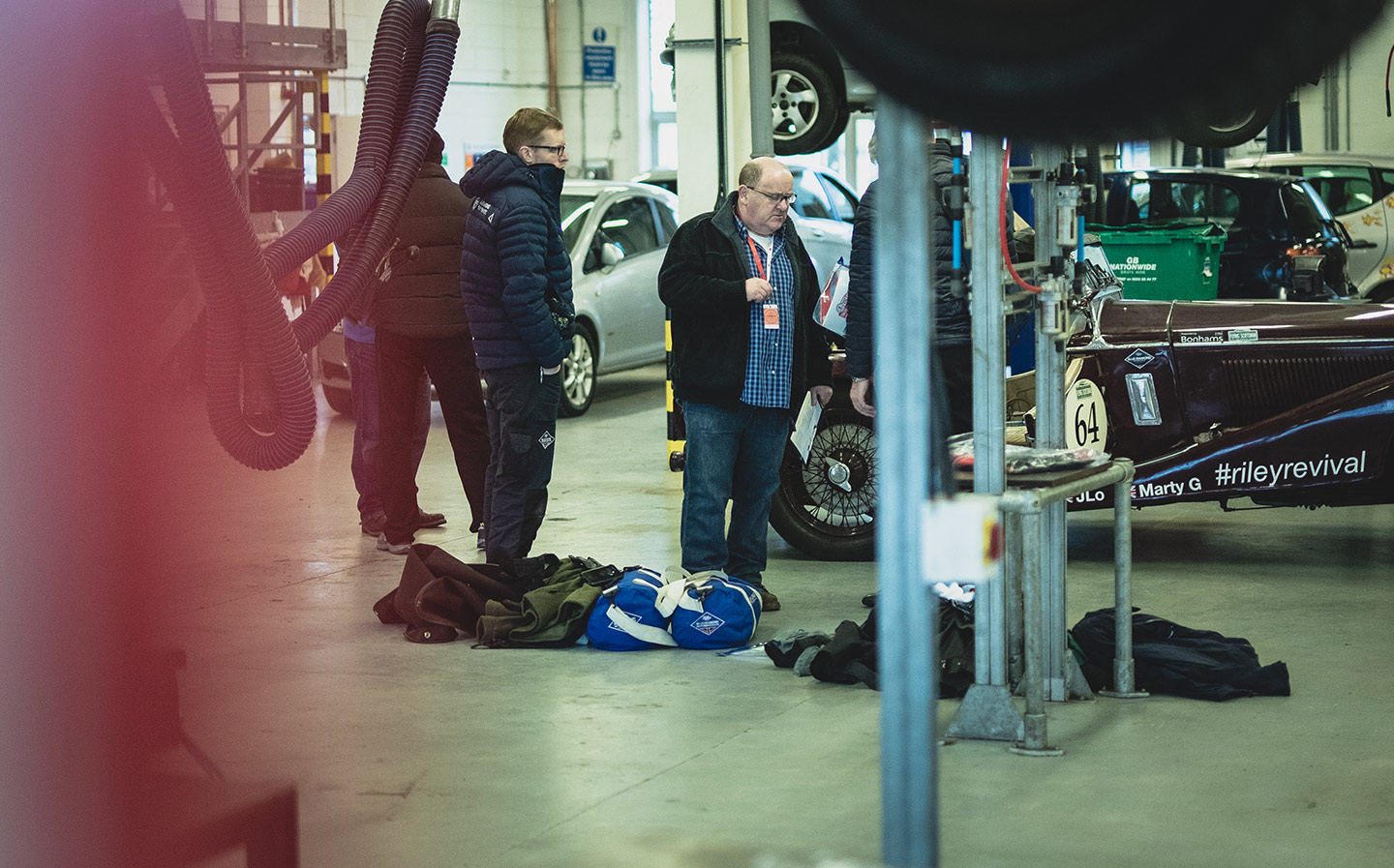 "In terms of the prep for the cars we worked to our usual policy of thorough preparation ahead of the event," Lomas said. "This means giving them all a thorough check over, highlighting any issues. Components are then stripped and replaced, or refurbished as required."
Modifications are limited: "The Kestrel was fitted with a heater to try and keep the crew warm. The only other extra was on the Sprite — a Brantz rally trip meter and timer. However, this was done for the Flying Scotsman [a vintage motor rally that in April this year runs from Windermere to Gleneagles] and wasn't actually a requirement for the Monte.
"Then we tested, tested and tested. Having said that, the Kestrel had completed 300 trouble-free miles before the start of the event, then developed two new faults the day before and day of the start! We worked on the car (in the hotel car park) until 4am on the morning of the Monte start, then again from 7am, and it was only properly running 10 minutes before the flag dropped in Glasgow."
The other official ACM Monte event is the Rallye Monte-Carlo Historique (RMCH). This is restricted to road-legal vehicles that competed in the Monte-Carlo Rally from 1955 to 1979. It is a fully competitive event with fourteen test stages.
This year, both the Historique and Classique set off from the same European cities — Athens, Barcelona, Bad Homburg, Glasgow, Milan, Monte Carlo and Rheim — converging in Buis-les-Baronnies, France, before continuing to Monaco, where evidence of the ordeal coats each vehicle. The muck that's been picked up, and flicked up, from the road gives every wheel arch a mud eyelash.
Between gulps of champagne, crews embrace and there's genuine joy, but also a vague look of shock on their faces as the reality of actually making it still sinking in. Anyone only familiar with the reliability offered by new cars will struggle to conceive of the achievement in making it all the way to the end of the event, but an achievement it is.  It's a marvellous and moving sight. Viewing from the outside in only creates an ardent desire to be part of the collective; to be in the moment.
I'm told that gallons of bad coffee and camaraderie is a winning formula, and first-time competitor Reverend Adam Gompertz, who has raised over £4,000 for OCD Action, the Obsessive Compulsive Disorder charity, shared his advice: "Take every step, every checkpoint, gather your thoughts, but don't think about the whole thing because you'd never start. Just go for it."
It was in the shadow of the mountains, where the wet turns to ice and snow, that Gompertz, and his co-pilot Craig Callum, director of the National Transport Design Centre, experienced their scariest moments.
The subzero fog was so thick, they were trapped in a total whiteout. As the ice refused to shift from their windscreen, they ploughed on with their heads hanging out of the windows. When woolly socks and a few garments of clothing with battery powered heaters are as hi-tech as it gets, this sounds like no picnic.
If one photo captures the toil of the rally, it's one showing Lomas lying on the ground, next to his car.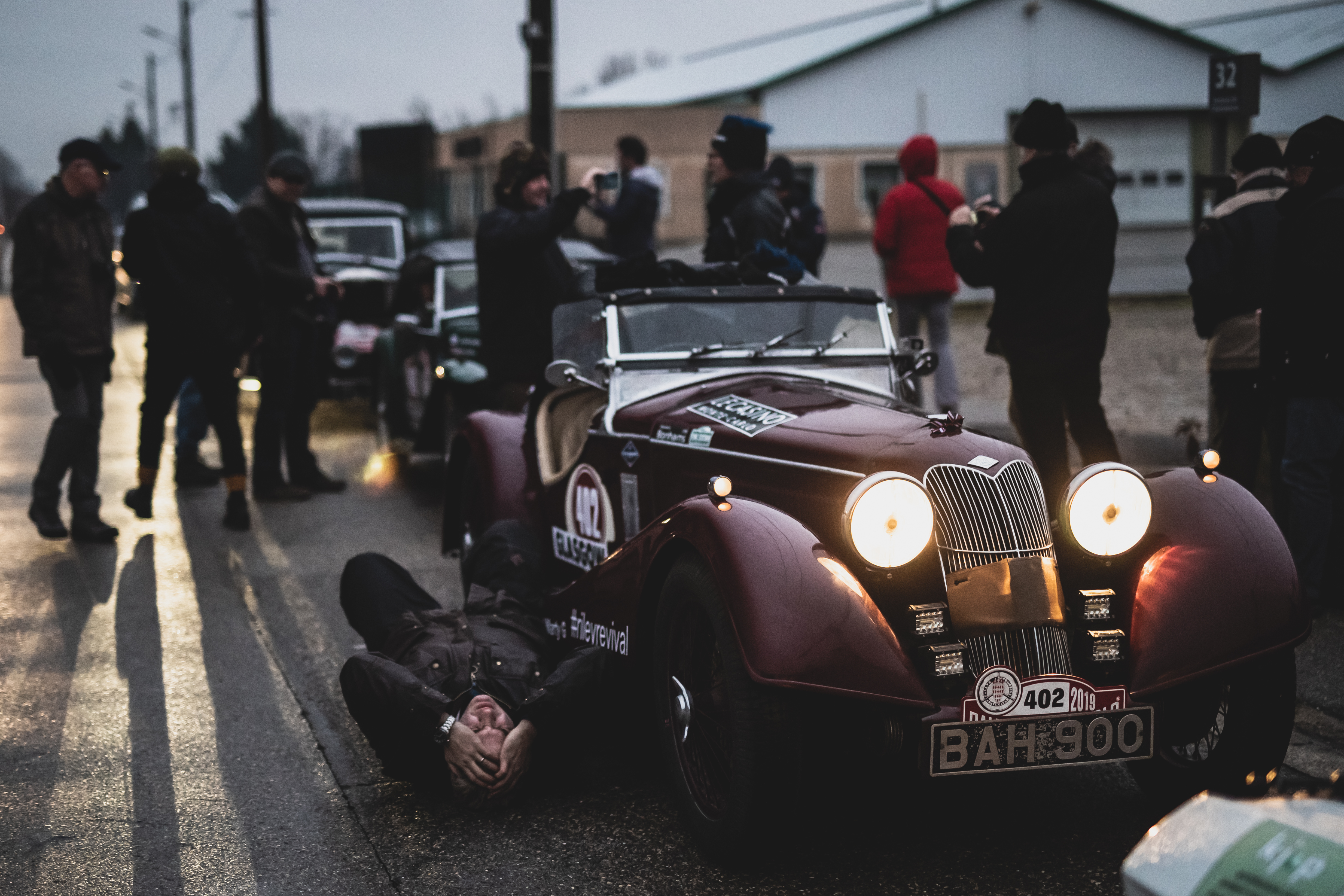 "It totally captures the raw emotion, physical and mental exhaustion from the 3rd day," he told me over email.
"At this point I'd just driven over 600 miles, having been awake for 24 hours. We still had around 140 miles to go and another 10 hours left. So in total we covered around 740 miles and were awake for 34 hours, all in a 1936 car with no heater, side screens and a canvas hood."
But such challenges are one of the reasons the event is such a kick, according to Lomas. "I'd do it all again in a heartbeat. What a car. What a team."
Callum was also lucid in the appeal of the rally: "I can say it's a good idea because I've done it. When you arrive in a village, which is normally pretty quiet, to thousands of people cheering, camera flashes going off and people asking for your autograph, suddenly you're awake again.
"Then you see your team — the familiar faces you're driving alongside — and you just want to give them a hug. You're hammering your poor little car, but it's the people that keep you going."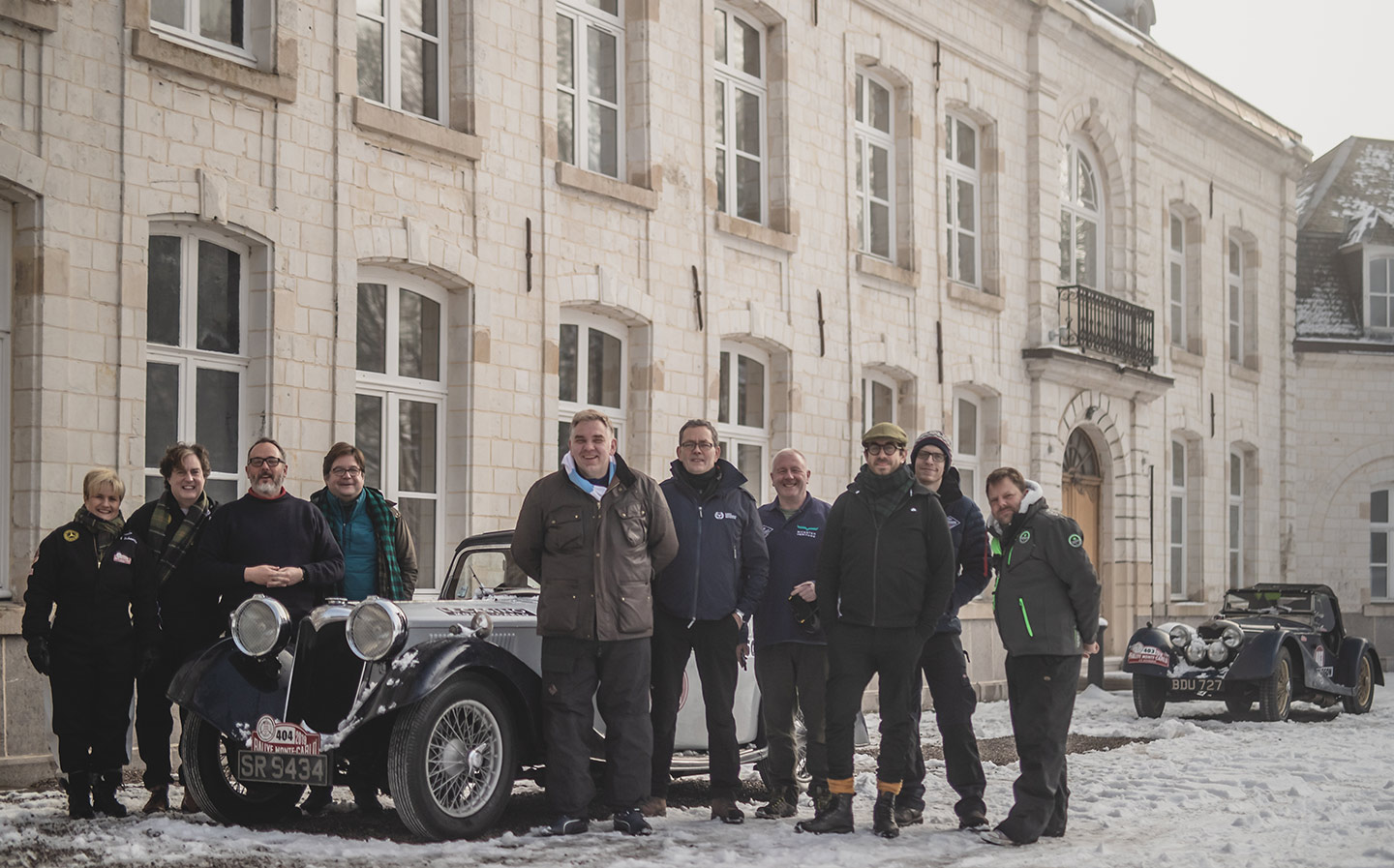 Tiffaney Perlino, Automobile Club de Monaco's representative for the FIA Women in Motorsport Commission, got a taste for rallying with her husband and is keen to get more women involved in these classic rally style events.
"The female presence at the RMCH this year has been very strong, with 12 pilots and 54 copilots," she said. "I would be delighted to see even more behind the steering wheel. I encourage anybody with a taste of adventure and a passion for the automobile to give it go. You won't regret it.
"When I got behind the wheel myself, there was no going back. I drive a Lancia Fulvia 1972 HF 1.6. It's bright banana yellow, and I now rally with a very good girlfriend of mine, Harriet Ross. Sitting for five days in the car with someone, you need to choose your partner well! I have recently started to race with my stepdaughter Michelle, too."
I've started my journey at the finish line, and I've heard firsthand how vicious the eventcan be, but everyone I met swore they'd do it again because the moments that make it worthwhile come as frequently as the changes in driving conditions.
"My dad always says the worst two words in the English language are 'if only'," said Lomas, who is keen to sign up more women for his 2020 team.
"You've got to do it. As the team came down into Monte Carlo and we went over the Col De Turini, I thought, yeah, this is worth it — this is what it's all about. I'm envious of someone doing it for the first time, because that first experience is like nothing else."
See you at the start line next year?
Tweet to @charlottevowden Follow @charlottevowden

Images: Will Broadhead Photography