Chevrolet Corvette Stingray vs Porsche 911 Targa 4 GTS
Eins, zwei . . . go for your guns, cowboy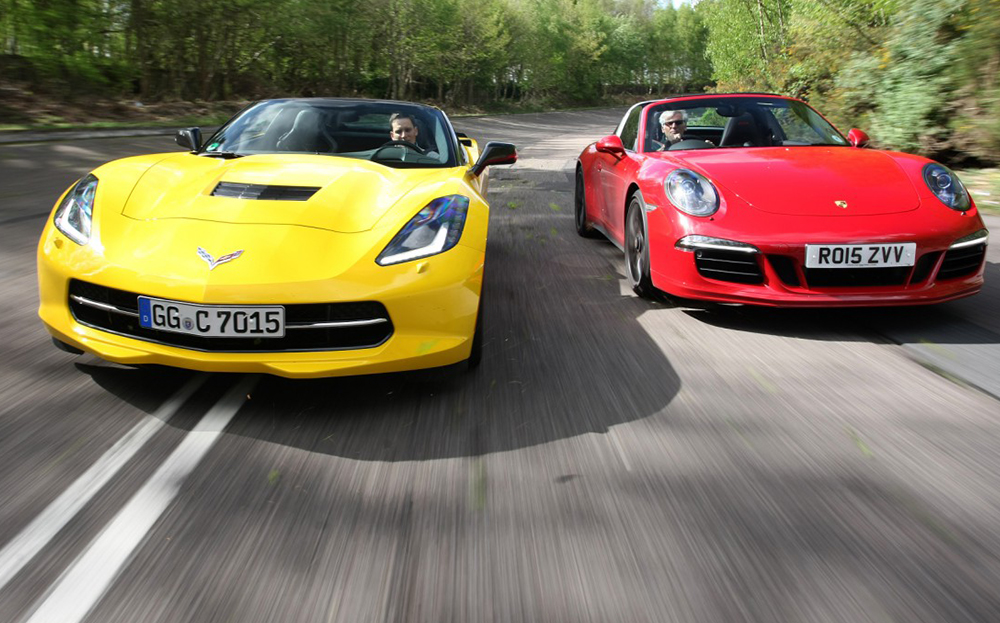 THE 2015 Chevrolet Corvette Stingray is beefier, faster and cheaper than the Porsche 911 Targa 4 GTS. Does that mean it's better? Driving goes wheel to wheel — and roof to roof — to find out.
2015 Chevrolet Corvette Stingray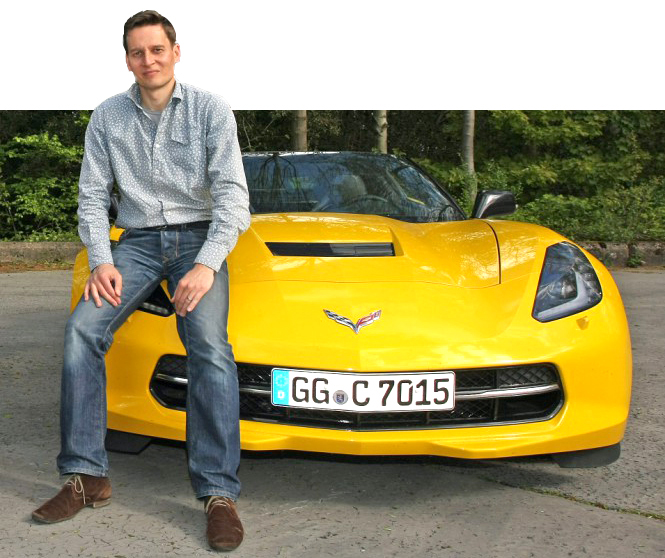 Words: James Mills
OH DEAR. Not another Porsche 911. They pop up more often than boybands on The X Factor. This wouldn't be a problem, but unfortunately some of the most boring people in the world drive 911s. They are popular with dentists, accountants and architects, and their owners will bore you to tears on the advantages of placing an engine over the back wheels and are expert at telling one variant from another.
---
Search for and buy your next car on driving.co.uk
---
The fact is, all Porsche 911s look the same and give off the same message: the driver is having a midlife crisis but isn't quite bold enough to buy a real sports car. Over time the 911 has gone soft, metamorphosing from a small, responsive machine into a large, comfortable cruiser. By contrast, the Chevrolet Corvette has blossomed, transforming from a car that was only comfortable racing on straight roads to one that could effortlessly tackle the Col de Turini mountain pass in the Alps.
This is the seventh generation of America's other favourite muscle car (when the most popular is the Ford Mustang, no one's going to knock you for finishing second). Any car snobs reading this should stop mocking the 'Vette for being a crude, clumsy brute; despite having a socking-great 6.2-litre V8 under its bonnet, it has an aluminium chassis and at 1,539kg is lighter than the 911 tested here.
Admittedly, only by as much as a 10-gallon hat but, in the face of preconceptions, it's a significant victory — and, as we'll discover at the track, one that brings performance advantages.
It's a super-looking car, as capable of swivelling heads from 50 yards as anything to come from the stables of Ferrari, Lamborghini or Porsche
If you're still not convinced the 'Vette is technologically advanced, scrolling through its computer shows how far its gadgets have come since the Speak & Spell-like efforts of the C4 Corvette of 1984, the fourth generation of the car and the first to feature digital instruments. Now, sensors allow drivers to see when the tyres are sufficiently warmed through so that easing the throttle to the floor won't kill them.
Another display shows how much G-force is being generated through corners (answer: a lot), and with a choice of five driving modes the car's behaviour can be transformed from docile one minute, when you want to take the 'Vette to brighten up a Monday morning school run, to thigh-slappin', foot-stompin', yeehaw-we-got-a-live-one the next.
It's a super-looking car, as capable of swivelling heads from 50 yards as anything to come from the stables of Ferrari, Lamborghini or Porsche. There aren't any back seats, but try sitting in the Porsche's; anything larger than a chihuahua will find its head is pressed against the rear windscreen.
Granted, the interior lacks the class and robust feel found in the 911 — think Texan ranch house compared with Bauhaus — but it's easier to use, with fewer buttons strewn about the place, an excellent driving position and great seats.
There's also a head-up display that, according to the driver's preference, can show different information on the windscreen. With a car that's almost capable of breaking the national speed limit in second gear, that's a very good thing indeed.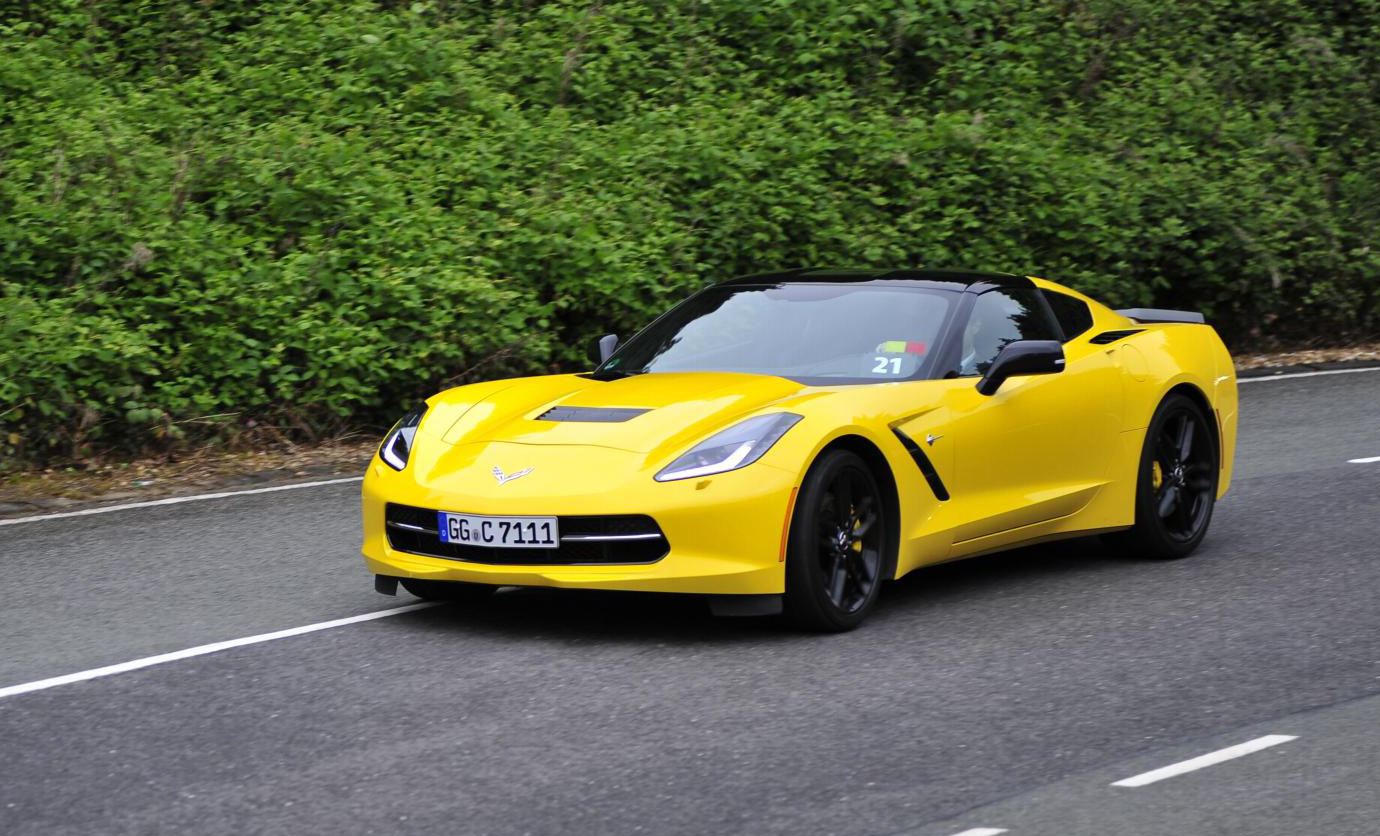 There's another thing all Stingrays come with: a Targa-style roof. It's a simple affair that harks back to, er, the original 1966 Porsche 911 Targa, although Corvettes had a similar arrangement in the 1980s. It is made from carbon fibre and lifting it calls for drivers to roll up their sleeves and use a bit of muscle — nothing too taxing, mind — and after the release of three levers the roof lifts out and stores in mounts in the boot.
It's a good arrangement, leaving plenty of boot space for a weekend away with a cowgirl or cowboy friend. But there's quite a lot of wind noise with it off and even when it's back in place the seals are noisy.
Still, since when did anyone expect a Corvette to be anything other than a sports car that's proud to be loud? And just look at those four huge exhaust pipes. It seems the V8 engine swallowed up a brass band section and now has its instruments permanently lodged in its backside.
The engine hauls from 1000rpm in seventh gear and as the speed builds and revs increase, it emits a glorious, deep rumble that will make residents of sleepy villages think they're on the set of Days of Thunder.
Yet it's not entirely childish. The V8 can shut down half its cylinders to cruise more efficiently and in practice the system works remarkably well.
With more power and torque than the GTS, it has the edge on it in terms of straight-line speed. And gone are the days when pushing a Corvette to the limit was a little like turning up a bucking bronco to full speed. This seventh- generation model is impressive at speed and its sophisticated active damping system for the suspension handles broken British country roads with aplomb. Switch off the driver aids on a track and it's a hoot.
There's a problem, though. Unlike the new Ford Mustang, Chevrolet doesn't offer a right-hand-drive Stingray and the car's servicing will have to be carried out at Ian Allan Motors, in Virginia Water, Surrey. That could be tricky if you live in northern Scotland. But before setting your sights on the Porsche, take a look at the Stingray's price. It's almost £35,000 cheaper than its German rival — even if the oil prices double overnight, that leaves a pretty penny in the bank to fuel the V8 and set the brass section to work.
2015 Chevrolet Corvette Stingray LT1 specifications
Engine: 6162cc, V8
Power: 459bhp @ 6000rpm
Torque: 464 lb ft @ 4600rpm
Transmission: 7-speed manual
Performance: 0-62mph in 4.2sec
Top speed: 180mph
Fuel: 23.5mpg (combined)
CO2: 279g/km
Road tax: M (£1,100 for first year; thereafter £505)
Price: £69,810
Release date: On sale now
2015 Porsche 911 Targa 4 GTS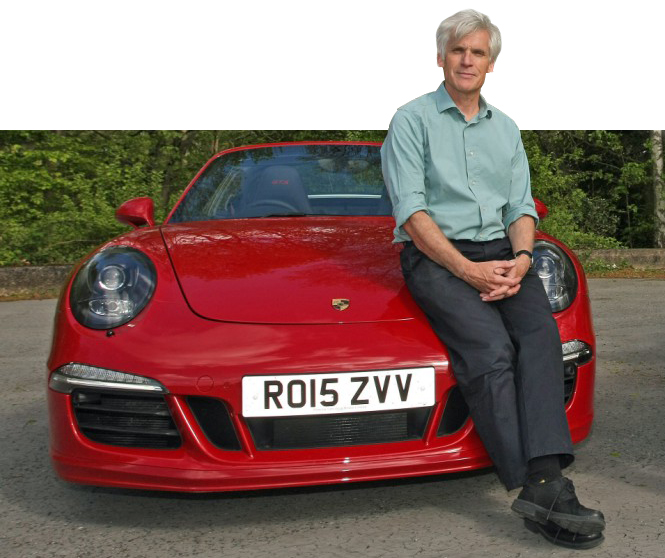 Words: Nick Rufford
HOWEVER cool it may seem to own a banana-yellow American sports car, it's hard to come to terms with the fact that when the heavens open, you will have to find somewhere to pull over and go through a Carry On Camping routine of running round to the boot to fetch the removable top that's stashed there, then fiddling with roof catches and trying to line up the clips. It's a bit like dressing to look suave only to have your trousers fall down.
---
Search for and buy your next car on driving.co.uk
---
Luckily, when we did our comparison test, James's efforts to stay composed while stowing the Targa-style top of his Corvette were captured on film, so you can judge for yourself whether this makes the Corvette Stingray the loser. It's funny, even before you watch it speeded up.
By comparison, when you watch the balletic precision of metal and glass unfolding as the Porsche roof lowers, it tells you most of what you need to know about the Targa 4 GTS — and about the 911 itself. It has been honed and improved to be as elegant and efficient as it can be.
Positioned below the GT3 and Turbo versions of the 911, the GTS is aimed at drivers who don't want to have to wear racing boots and driving gloves every time they climb behind the wheel. It's a bit more powerful and sporting than a Carrera S, but won't scare your rear passengers — yes, unlike the Corvette, it has two seats in the back — in the way a Turbo or GT3 could.
Steve McQueen was wooed by General Motors to drive a Corvette but rejected the offer in favour of Porsches. He spent his own money — and risked looking unpatriotic — by buying three 911s in succession
The engine is naturally aspirated, generates 424bhp and goes one better than the Corvette by comfortably breaking the national speed limit in second gear. GTS models have distinct 20in wheels with a centre-lock nut — like a racing car — and Porsche Active Suspension Management, a lowered ride height and a Sport Chrono pack, which includes dynamic engine mounts, a sports exhaust and a lap timer.
It's worth remembering that Steve McQueen was wooed by General Motors to drive a Corvette but rejected the offer in favour of Porsches. He spent his own money — and risked looking unpatriotic — by buying three 911s in succession, all in slate grey. Around the twisting canyon roads of Malibu, California, they easily outperformed the best that American car manufacturers could offer.
True, the Corvette has raised its game and is a tad quicker than the 911 in a straight line, but after driving the Porsche, going round corners seems suddenly like hard work and it gives the sensation that the screws haven't been properly tightened.
On the Chobham test track in Surrey, with stopwatch running and tyres smoking, the Corvette and the Porsche were about as evenly matched in performance as two such dissimilar cars can be. But that is missing the point, really. This is not just a contest of speed but of how effortlessly they turn heads and how easily they allow the driver and passengers to experience the real joy of sports cars: driving with the roof down.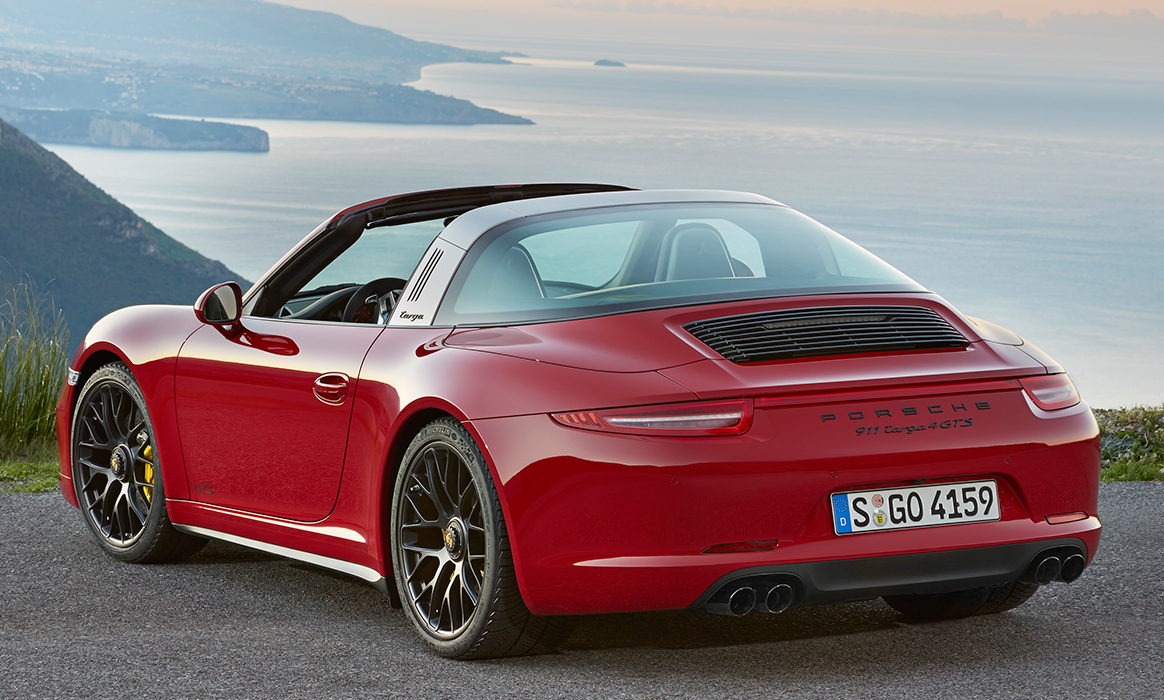 Both offer the appeal of a removable roof panel for when the sun shines or you want to be seen on the King's Road. The roof mechanism in the GTS takes 20 seconds to perform its party trick — and what a trick. The back of the car opens like a giant clam shell, swallows the roof panel beneath the rear window and then closes again.
There are no buttons for drivers of the Corvette; it's a manual-labour operation. You can understand why American engineers opted for this. It saves cost and weight and the weather in many US states is so predictable you're unlikely to be caught out by a passing shower. You could stow the roof in the garage in the summer and put it back on in the winter with minimal inconvenience. In Europe, and Britain in particular, we know that won't do.
And let's talk about fuel consumption for a moment. If you run a Corvette, and aren't a member of the Ewing family, the fuel bills will be crippling. Chevrolet claims 23.5mpg but I know that by the end of a week's driving, James had averaged just 21mpg. The Porsche didn't live up to its official 28.2mpg figures either; the best I could get on a long run to the south coast was 25mpg — but that's still 19% better than the 'Vette.
I will concede that even after pressing the "loud" button to amplify the Porsche's exhaust, the Corvette still had the edge in terms of engine soundtrack. Nothing can quite match the burble of an all-American V8. And that £35,000 price difference is a tempting inducement. What else gives you that much bang for the buck? But for all the Corvette's character and bravado, mixing a damp road with a rear-wheel-drive sports car that has the power to snap a driver's head from his shoulders when the throttle is pushed to the floor isn't exactly reassuring.
The Targa 4 GTS, on the other hand, has four-wheel drive. Once round the Chobham track is enough to convince you that it is as sure-footed as the Corvette is slide-prone. Even if the 'Vette wins this popularity contest by virtue of its rarity in Britain, that single fact trumps all other considerations.
And it's why the only beads of sweat you'll see on the Porsche driver's forehead will be from the sunshine.
Porsche 911 Targa 4 GTS specifications
Engine: 3800cc, flat-6 cylinder
Power: 424bhp @ 7500rpm
Torque: 324 lb ft @ 5750rpm
Transmission: 7-speed manual
Performance: 0-62mph in 4.7sec
Top speed: 188mph
Fuel: 28.2mpg (combined)
CO2: 237g/km
Road tax: L (£870 for first year; thereafter £490)
Price: £104,385
Release date: On sale now
---
Search the used Porsche 911s for sale at driving.co.uk
---