Caterham Tracksport report #2: Six lessons I've learned so far
I've teamed up with The Sunday Times: Driving to take part in the Caterham Tracksport Championship. These are the six biggest lessons I've learned so far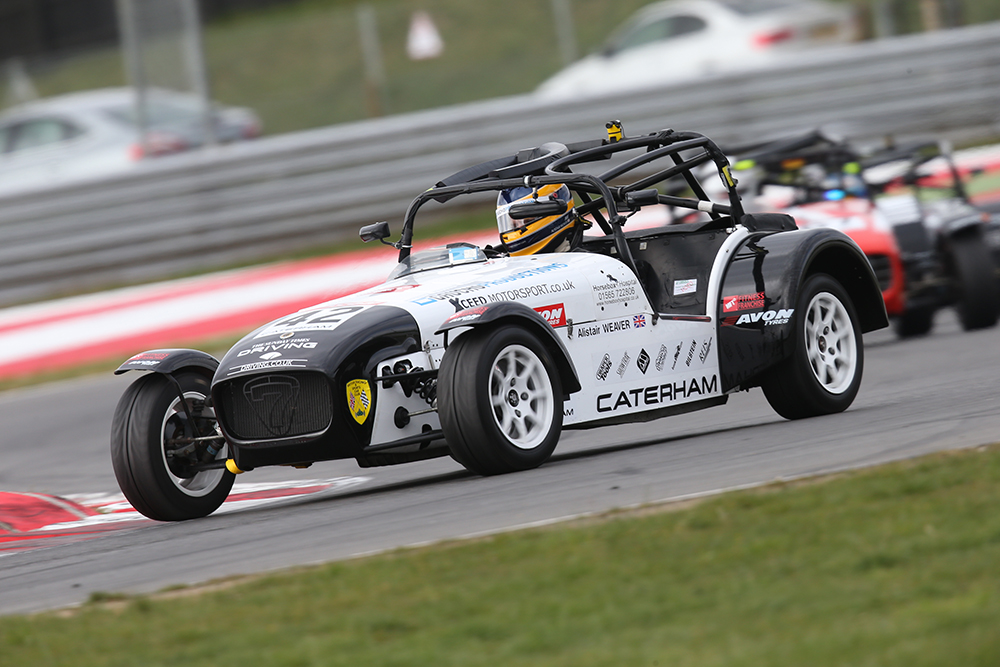 I'VE TEAMED up with The Sunday Times: Driving to take part in the Caterham Tracksport Championship. Over the next few months I'll be bringing you the inside story on what it's like to compete in one of the UK's most popular amateur racing series.
Last month I explained my motivation, and described what's required before you even set foot in a racing Caterham. Since then, the season has started for real. It comprises seven race weekends, each encompassing two half-hour races. The first weekend was at Snetterton and the most recent, at Donington.
So far, these are the six biggest lessons I've learned from my experiences:
Lesson 1: Caterham racing is super competitive
Be in no doubt: Caterham 7 racing is extremely close fought. In qualifying for the second round at Donington Park, the top 19 drivers were separated by less than 1.5sec around the full 2.49-mile Grand Prix circuit. To put that into context, the top nine drivers in final qualifying for the recent Formula One Spanish Grand Prix were separated by 2.2sec.
In common with most of my competitors, my car is fitted with a Racelogic VBOX system that uses GPS technology to record and analyse my lap performance. It tells me how I'm doing when I'm out on the circuit, then allows me to review the action back in the pits. The clip below compares two of my faster lap times and shows how little margin there is for error if you want to succeed. At Donington I was 1.27sec off pole, but that put me down in 15th place.
See the qualifying laps with full telemetry:
Lesson 2: Starts are an adrenaline rush
Before the start of every race, you're called to an assembly area where you must sit in qualifying order and wait to be called onto the circuit. Then you complete a "green-flag lap" before taking your place on the grid. The red lights go out and you accelerate as hard as you can to the first corner, in common with 24 other identical cars.
This is the most anxious moment for every driver. At the first round at Snetterton I could actually feel my heart beating faster. Everyone is fuelled by adrenaline and everyone is determined to make up some places, especially if they've qualified poorly. There's normally an incident somewhere in the field and you have to make sure you're not involved.
"Everyone should be a little nervous before a race; it's natural," says Jon Reynolds of MFT, the military training expert who's studying my progress. "But it's important to be able to control your nerves in order to perform. If you can work out in your head what you'll feel like when racing, you can visualise yourself overcoming it. That's why so many F1 stars can be seen shutting their eyes in the minutes leading up to a race or qualifying."
See the start:
Lesson 3: Breaking down is no fun
Mechanical failures are all part of racing, but they're no fun. In my first race at Snetterton, the electrical relay controlling the fuel pump decided to leave home. It fell out just five laps into the race and I was left stranded at the side of the track while everyone raced by. Rubbish.
You start race two from where you finish race one, so if you break down or crash in the first race you're hit with a double whammy. It's tough, but it's part of the game.
See the breakdown:
Lesson 4: Crashing is even less fun
Round two at Donington Park. I'm in a fight with a couple of other cars and we all accelerate out of the Melbourne hairpin together. The driver in front misses a gear and I've nowhere to go (see video). The accident breaks my car's nose cone and radiator, forcing me out of the race. Moreover, I now have a repair bill of £439. If you're going to go racing, you have to accept costly moments of misfortune.
See the crash:
Lesson 5: Racing in the wet is a whole new world
After crashing in the first race at Donington, I was looking forward to gaining experience in the second, but then someone did a rain dance. The downpour was so torrential the race start was delayed, and we had to start behind a safety car.
For me, this was a whole new world. On a circuit, the normal racing line gets covered in fragments of rubber from degrading tyres. This is an advantage in the dry but in the wet it becomes treacherous, so you have to find an alternative line that offers more grip. Then you have to cope with a loss of traction and the fact that you can barely see where you're going.
I'd never driven the car in the wet before and it took me almost half the race to start to feel any sort of confidence. Then I started to pick up speed and enjoy myself. Once you've got your head around it, racing in the wet is great fun.
Watch the wet race:
Lesson 6: Practice makes perfect
In such a competitive series, there's no substitute for time spent behind the wheel. You need to practice, which is why track days and test days are so important. Bookatrack does a great job of organising circuit time at a decent price. It will also rent you a Caterham, which is a great way of finding out whether hurtling around a circuit in an aluminium bathtub really is for you.
Looking ahead…
I might not yet have the experience of most of my rivals, but I am learning fast. Caterham racing is tremendous fun and although the championship is tough, the atmosphere in the paddock is terrific and everyone's determined to have a good time. Now I can't wait for the third and next round in Zolder, Belgium, on the weekend of June 7-8.
With thanks to Gaucho Productions for videos and SnappyRacers.com for picture stills
Useful contacts: