Car buyers continue to ditch diesel in favour of petrol and hybrid/ electric
"The anti-diesel agenda has set back progress on climate change"
CAR BUYERS are continuing to turn their backs on diesel amid uncertainty over its future, with figures for May, released this morning, showing a 23.6% drop in sales compared with the same month last year. It's the 14th consecutive month in which diesel sales have fallen.
Despite this, the UK new car market actually grew by 3.4% last month on the back of a rise in sales of petrol cars (+23.5%), and hybrid and plug-in vehicles (+36.1%).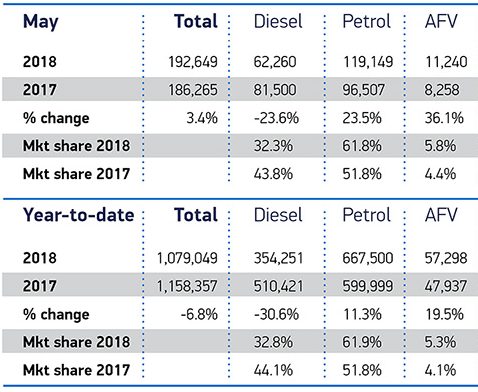 Demand for these alternatively-fuelled vehicles (AFVs) grew to 11,240 units, according to the Society of Motor Manufacturers and Traders (SMMT) data, accounting for a record 5.8% of the market.
---
Browse NEW or USED cars for sale
---
Plug-in hybrid cars like the Mitsubishi Outlander PHEV and VW Golf GTE were the biggest driver of growth, up a massive 72.7%, while "self-charging" hybrids like the Toyota Prius and Lexus NX rose 22.6% and pure-electric car sales grew 18.7%.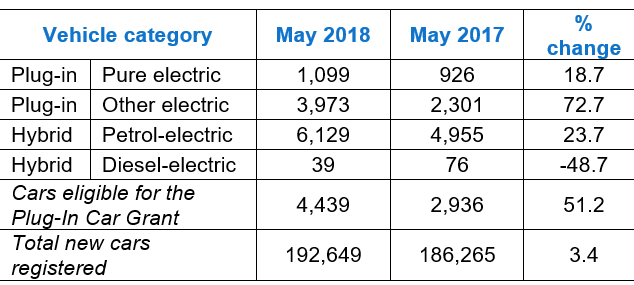 The growth follows a substantial -8.5% decline in the previous May when demand was impacted by the dual effects of VED pull forward and buyer hesitancy ahead of June 2017's general election.
The most popular types of car in May were superminis (+6.0%) such as the Ford Fiesta and VW Polo, small family (+1.6%) like the Ford Focus and VW Golf, and what the SMMT calls "dual purpose" but everyone else calls "crossover SUV" (+19.2%).
The new car market also seems to be attracting enthusiasts, with demand for specialist sports cars up 12.7%, according to the figures, while the hottest May on record is credited for an increase in demand for convertibles — up 11.7% year on year.
The outlook is less sunny when you consider the entire year to date, with new registrations having fallen -6.8% on the same period in 2017. The SMMT blames economic and political uncertainty for the impact on demand.
Mike Hawes, SMMT Chief Executive, said: "May's growth, albeit on the back of large declines last year, is encouraging and suggests the market is now starting to return to a more natural running rate.
"To ensure long-term stability, we need to avoid any further disruption to the market, and this will require sustainable policies that give consumers and businesses the confidence to invest in the new cars that best suit their needs.
"Fleet renewal is the fastest way to improve air quality and reduce CO2, and this applies to hybrid and plug-in technologies as well as the latest low emission petrol and diesels which, for many drivers, remain the right choice economically and environmentally."
---
Browse NEW or USED cars for sale
---
The SMMT's 17th annual new car CO2 report showed that average CO2 emissions for newly registered cars rose by 0.8% in 2017 to 121g/km – the first rise since 2000. It said the shift away from diesel is in part responsible for the increase and that, although there is increasing demand for AFVs, their uptake is not enough to "fill the gap".
Hawes said: "The anti-diesel agenda has set back progress on climate change, while electric vehicle demand remains disappointingly low amid consumer concerns around charging infrastructure availability and affordability.
"To accelerate fleet renewal, motorists must have the confidence to invest in the cleanest cars for their needs – however they are power. A consistent approach to incentives and tax, and greater investment in charging infrastructure will be critical.
"Now, more than ever, we need a strategy that allows manufacturers to invest, innovate and sell competitively, and which gives consumers every incentive to adapt."
Andrew Hooks, COO of car buying site carwow highlighted new emissions testing rules from September onwards, which will have further tax implications for drivers purchasing new cars.
He said: "The introduction of these new tests, referred to as 'WLTP' or Worldwide Harmonised Light Vehicle Test Procedure, is yet another source of confusion for consumers. Alongside the demonisation of diesel, the industry has been innovative in a bid to maintain the market.
"However, until there is greater guidance from the government on diesel and plans for the future electric car charging infrastructure, the industry will continue to face pressures. Buyers are more confused than ever and therefore hesitant to commit to a purchase."