Can GT Academy find UK's real racing talent among Playstation hopefuls?
Forget the cash – show us the talent

WHERE WOULD sport be without the fairytales? The footballers, athletes, boxers who have climbed out of the dirt and desperation of desolate poverty, in ugly, suffocating cities and found glory, happiness and fame.
These are the stories that make sport so compelling. The reason we believe that talent, determination and sacrifice will inevitably succeed over money, social class and nepotism in the arena of high level sporting competition.
Of course that's not strictly true. And in motorsport it's plain nonsense. Sadly, if you want to get to F1 or become a top-level sportscar racer at Le Mans you need money – and lots of it. A season in Formula Ford, a proven training ground for F1 champions including Senna and Jenson Button, costs around £85,000. Step up to British F3 and you'll need more like £350,000. The F1 feeder series, GP2, requires a budget of somewhere around £1.5 million… and unless you're a Hamilton or Alonso you'll need to bring a few million in sponsorship to any prospective F1 employers who might like the look of you, too. It's all rather depressing.
It's all smiles and optimism on a sunny Tuesday morning at Silverstone, though. Gathered together are 24 excited young drivers who are competing for the chance to become a racing driver – without having to pay for so much as fireproof overalls.
We're here for the British final of the Nissan Playstation GT Academy. Now in its fifth year, the competition seeks out the best virtual racers in the world and turns them into real racing drivers. They haven't been karting since they could crawl and none of them are carrying their wallet in a wheelbarrow as far as anyone can tell. What they are is enthusiastic, determined and pretty damn good at a Playstation game called Gran Turismo.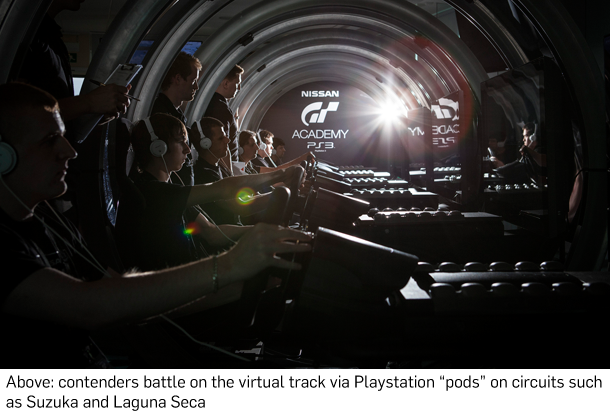 Back in 2008, the idea that gaming ability translated to an actual racing circuit with real tarmac, real cars and very real walls might have seemed like an almost absurd premise. But since then, two GT Academy winners have stood on the podium at Le Mans and one might, just might, eventually make it into an F1 car. No wonder the finalists are smiling. This could be their shot at the big time. The parents are smiling too, mainly because they haven't had to sell their house or internal organs to get them here.
The 24 contenders have already fought off tough competition. They are the fastest of 148,000 British hopefuls who entered by setting a lap time on Gran Turismo during qualification rounds. The British final will set them a series of virtual and real challenges to whittle them down to six hopefuls who will go forward to a Race Camp, where they will go up against competitors from around Europe to win the big prize: a full season racing a very real Nissan GT-R Nismo GT3 on some of the best circuits in the world.
The first is a simple time trial on Gran Turismo 5 at the Suzuka circuit in Japan where six bow out early. Then, the slowest 12 that remain must race against each other on the Laguna Seca track, where any mistake carries a high price: the bottom six are eliminated.
With 12 hopefuls left, the serious business begins: a rigorous fitness test, an autotest-style shoot-out in a Nissan Juke Nismo and a Q&A session with the assembled press.
The youngest contender is Ben Spurge, who is barely 18 and looks as if he could pass for 12. Of the 745,000 gamers across Europe who entered the GT Academy online challenge, Ben was seventh fastest and the quickest UK contender. Like any would-be racer, he's confident and very clear-headed about this opportunity.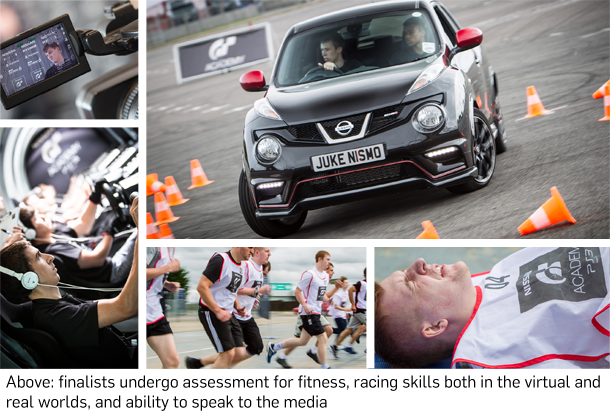 "Nothing else can offer what GT Academy does – a season of world-class racing and beyond that, if you show the speed, a career as a professional racing driver," he explains. "I'd like to get to F1 and I believe I'm quick enough – but the truth is that I don't know that. How could I? Without money you just can't get prove it and that's frustrating."
Ben isn't the only one to recognise that the GT Academy offers a unique platform for success. Many of the finalists were here last year too, and have worked hard to make the cut again. For some, winning the GT Academy has become a way of life, none more so than 28-year old Shane Green.
"I was here last year and I did well in terms of the gaming and the driving… but the physical side really let me down," he begins. "So I've changed my lifestyle – started cycling to work, going to the gym five days a week. This is what I want and I've done everything to give myself the best chance."
You might have heard weepy X-Factor contestants saying this sort of thing before, but Shane really means it. He's lost four stone since the final in 2012 and has a steely determination. If he doesn't make the cut I wouldn't fancy telling him.
It's a good-humoured affair but bubbling just beneath the surface is real tension and the contenders push themselves incredibly hard during the fitness test.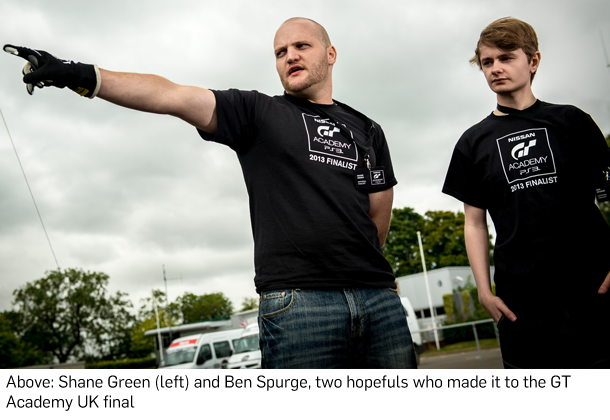 The actual driving part of the day is revealing, with some of the contenders initially not at all comfortable pushing hard in a car that's made of more tangible stuff than computer pixels. However, after just a few practice runs tackling the tight course marked out by cones on one of Silverstone's huge tarmac carparks, the speed starts to come.
For proof, look no further than Jann Mardenborough (pictured top), who won the GT Academy in 2011. Ever since his life has been one of the truly great sporting fairytales. He's scored podiums at endurance races across the world, achieved pole positions and race victories in the British GT Championship and incredibly also finished third in the LMP2 class at the Le Mans 24 hours. Such is his talent that Nissan is even supporting a new phase of his career away from its own motorsport programme in a VW-engined single-seater in the European F3 series. It is quietly hoping that one day this super-talented 22-year old will make it to Formula 1. What a story that would be.
Even if the class of 2013 doesn't unearth a talent as extraordinary as Jann's, the point has been made: virtual racers aren't too shabby in the real world, either.
GT Academy 2013 winners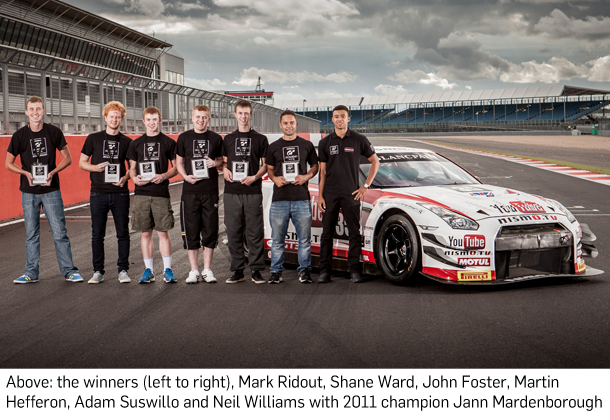 Sadly Ben Spurge and Shane Green didn't make the final six, but both have vowed to be back in 2014. Congratulations to Adam Suswillo, Shane Ward, Mark Ridout, Martin Hefferon, John Foster and Neil Williams who have made it to Race Camp, where they'll have intensive driver, race craft and fitness training.