Buying a Rolls-Royce Silver Shadow for £10,000
All you need to know to buy a Silver Shadow and drive in style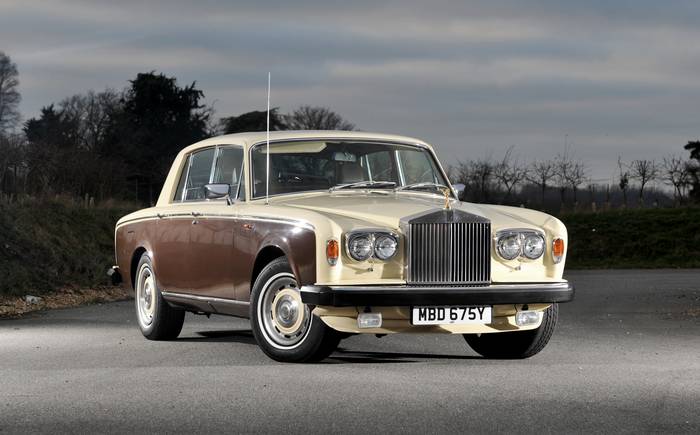 A period house in the country with Wilton carpet and all the trimmings will set you back around £2.5m but for just £10,000 you can have its automotive equivalent: a Rolls-Royce Shadow II with all the deep-pile carpet, rich wood and polished silverware you could wish for. It will have a few miles under its cumberband but assuming it's been properly cared for it will be just as regal, imposing and individual as it was 30 years ago.
Today's cars spoil you with their eagerness to serve. Their controls "fall readily to hand", engines go about their business tirelessly and efficiently, steering and suspension provide earnest, occasionally unwelcome, feedback. But a Shadow…  Discrete, reassuring and beyond reproach ‒ here's a motorcar which, like that great butler Jeeves, truly understands what it is to serve.
Just such a vehicle is for sale at Blue Dragon Cars in Witham, Essex. The 1982 Shadow II (it was exported in 1978, before being imported and registered in the UK four years later) is finished in ivory and walnut, with brown leather and ivory piping interior and detailing by Jack Barclay Cars. It has covered 102,000 miles. Stephen Hanks, of Blue Dragon, invites me to try it.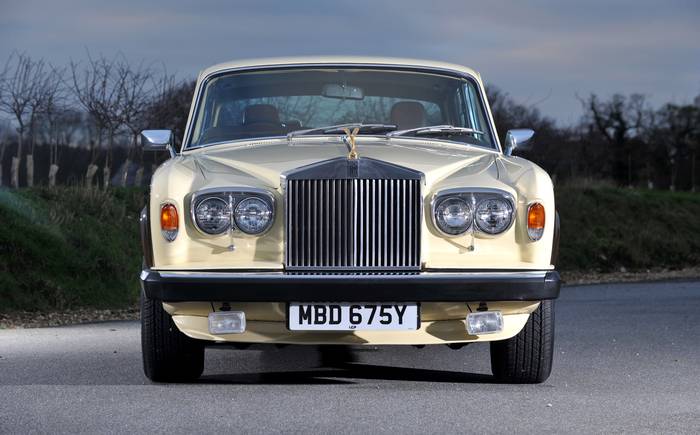 I grasp its polished handle ‒ not a thin metal flap but a shaped billet of cold, chromed steel ‒ and draw open the door. You sit on, rather than in, the Shadow's richly leathered and deeply sprung driver's seat. From this vantage point you are master of all you survey with a clear view of the car's vast bonnet concealing a 6.75-litre V8 of undisclosed power, tapering to the best view in all England: that classic radiator and the Spirit of Ecstasy crowning it.
I familiarise myself with the Shadow's assorted dials and controls which include a bank of 10 warning lights that signal vital system failure as demanded (fortunately, they're all clear on this occasion), grip the large, spindly two-spoke steering wheel and turn the ignition key. Somewhere in the distance the V8 cranks into life before settling to a barely audible tickover. Move the three-speed column change selector to Drive, release the "umbrella" handbrake located under the fascia and, as Rolls-Royce likes to say, we proceed.
It's the perfect word. The Rolls doesn't so much move off as gather up its considerable skirts and float away. Acceleration is occurring because the speedometer indicates as much. We're moving because the leather in the cabin is creaking, expensively. Out in open country I call the engine  room for more power and the Shadow responds politely, piling on the revs slowly but surely until it's time I applied the brakes. They work well: a little too well-mannered at first but with real bite once they grasp your intention. Equally surprising is how agile the 2-ton, 17ft Shadow is and how controlled the ride is over undulations. Later, I have to execute a three-point turn – the big Shadow's turning circle would embarrass a London taxi.
It's usual in a story such as this to say that there's never been a better time to buy a Silver Shadow, or at least a good Silver Shadow (£10,000 is the bare minimum for a decent car; anything less and you should budget at least another £5,000 for repairs and refurbishment) but the fact is, the market is just ahead of you. After a sustained period of falling prices, values are picking up as enthusiasts and collectors pile in. With its rack and pinion steering the Shadow II is the better car to drive but enthusiasts prefer the Shadow I's more generous lashings of chrome. Think £15,500 for a properly warranted and prepared Shadow II from a specialist although on the strength of my brief acquaintance with it, Blue Dragon's car would appear to be a sound purchase, too.
But there is a better-value alternative to the Shadow – its successor from 1980 to 1998, the Silver Spirit. This car is where the Shadow was five years ago: relatively plentiful and to collectors' eyes, when the old Silver Cloud was once all the rage, not quite so desirable. But this won't always be so and as Shadows become scarcer and more expensive, so the Spirit's time will come. Buy a good one now (London-based specialist Hanwells has a 1986 C-plate Spirit I with full service history for £10,650) and in a few years it may well have risen in value.
Enough to pay for the car's upkeep? Hanwells charges £570, including parts and labour, for a service. The car's pressurised suspension needs to be recharged every three years at a cost of £170. Buying the right Shadow or Spirit to begin with will help ensure any additional running costs remain reasonable. For example, the aluminium bonnet, doors and boot react with the steel fittings and can rust, so check around hinges and handles for telltale paint bubbling. Interior damage is, naturally, expensive to repair. An extended test drive should expose potentially expensive mechanical issues but it's worth having the car inspected by an engineer as well, especially if you're buying privately.
Join a club such as the Rolls-Royce Enthusiasts' Club which can provide advice and competitive insurance though Richardson Hosken Insurance. For a 52-year-old male living in south-west London wishing to insure a £10,000 Shadow II they quote £178 fully comprehensive, with an annual limit of 5,000 miles. The premium includes UK and continental breakdown cover.
So, as Rolls-Royce celebrates 10 years building cars at Goodwood, why not buy your own £10,000 Roller, motor down to visit the factory and show them how the craftsmen and women used to make them in Crewe? Should be a memorable day.