Britain's drivers buying fewer UK-made cars
Domestic demand down by almost half
ONCE UPON a time many of Britain's drivers would choose a new car because it was built in the UK. Those days appear to be over. Production for the domestic market has fallen by 47% in a year, meaning nearly nine in ten cars built here are for export.
The industry body said that car manufacturers were facing a 'perfect storm', with falling consumer confidence, tough new emissions and fuel economy tests and the looming summer holiday season pushing down demand for domestically built cars by nearly half, in June.
"This is massive by any terms," said Mike Hawes from the motor trade body the SMMT, adding that the industry was "surprised at the severity" of the fall in volume.
More than one million people work direct or indirectly for the UK car industry.
Sales of cars in the UK are predicted to drop by 6% on last year's 2.5m total, following a 5% fall on the previous year. By contrast, Europe as a whole has grown by 2.7% in the first six months of the year.
Hawes warns bumps in the road remain for UK car makers, as Brexit and the threat of a tariff-driven trade war between the US and Europe could cause more pain still. "We can't afford to lose just-in-time production," he said, referring to the time-sensitive manufacturing supply chain that could be affected if car parts are delayed crossing borders.
Bosses at Jaguar Land Rover have been leading calls for clarity over Brexit.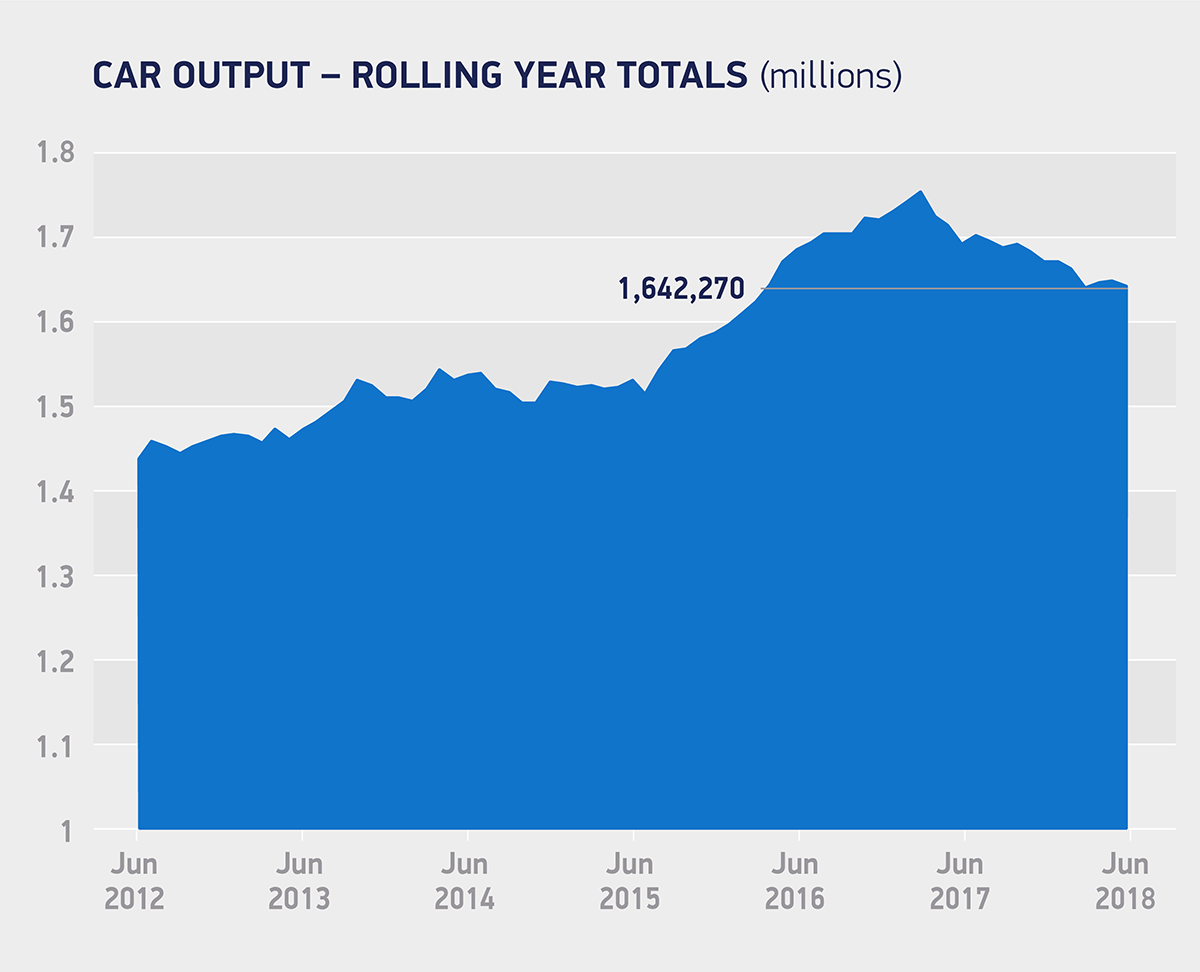 However, on a more positive note, overall UK manufacturing fell by 3.3% in the first half of 2018, to 834,402 vehicles. And the number of new cars exported grew by 6%.
The 47% drop compared with last June is attributed to bottlenecks in new EU emission tests. The Worldwide Harmonised Light Vehicle Test Procedure (WLTP) is aimed at more accurately replicating real driving conditions and giving drivers a realistic indication of how economical a new car will be, as well as being used to assess emissions and associated tax. Hawes said the industry expects sales to bounce back after September.
Hawes talked of a "cataclysmic fall in consumer confidence", due to messaging over diesels, but insists newer diesel models still present the best option for many buyers. "The death of the diesel is a little premature." And says he sees no evidence residual values for secondhand diesels have gone down.