Brooklands reborn: the man rebuilding British racing history, brick by brick
Putting the wow back into Brooklands
---
Published 27 February 2015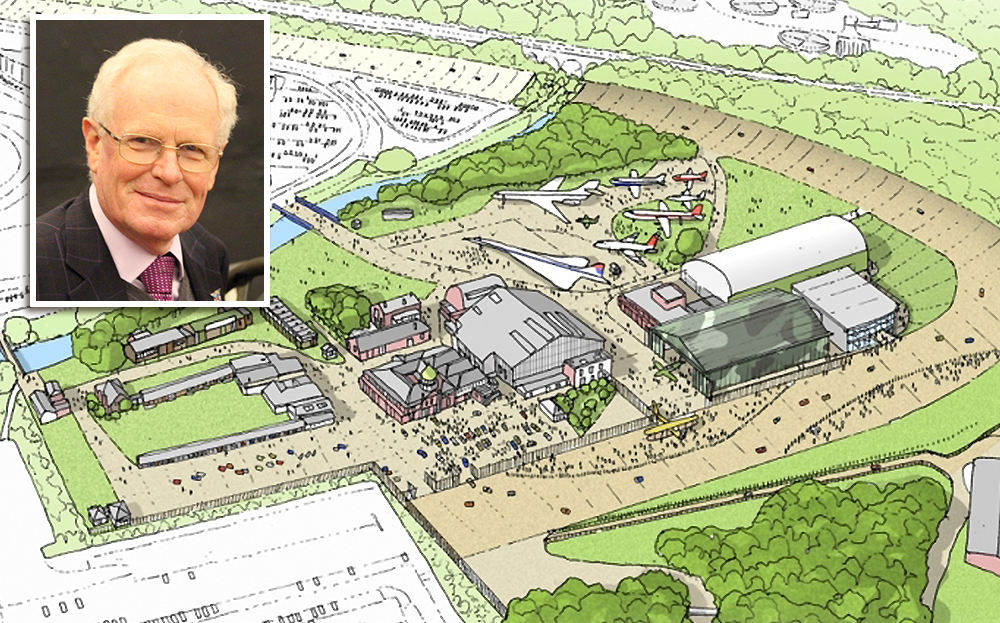 IT'S ENOUGH to have the daring drivers of the early 20th century applauding from their graves: Brooklands, Britain's oldest purpose-built racing circuit, has been awarded a £4.86m grant by the Heritage Lottery Fund (HLF) which will help breathe new life into the famous track.
---
Search for and buy your next car on driving.co.uk
---
The grant is the culmination of six-years of hard work that has seen Brooklands convince the HLF that its rich heritage should be protected, celebrated and shared for future generations, says Allan Winn, Museum Director.
It comes as Brooklands has achieved record levels of donations from charities, trusts and private individuals. To date, £1.7m has been raised, says Winn, edging the project close to its target of generating a total fund of £7m. Approximately 20% will be spent on maintaining the racing circuit and introducing spectacular new attractions and events for visitors.
Situated in Weybridge, Surrey, the 2.75-mile oval track features banking that in some places reaches 30ft (9m) high. Able to host up to 287,000 spectators, it has staged numerous landmark motor racing and aviation events since it was opened in 1907.
Two years later, the first public demonstration of powered flight took place there; in 1913, Percy Lambert became the first driver to travel over 100 miles in one hour; and in 1926 the inaugural British Grand Prix was held on the site.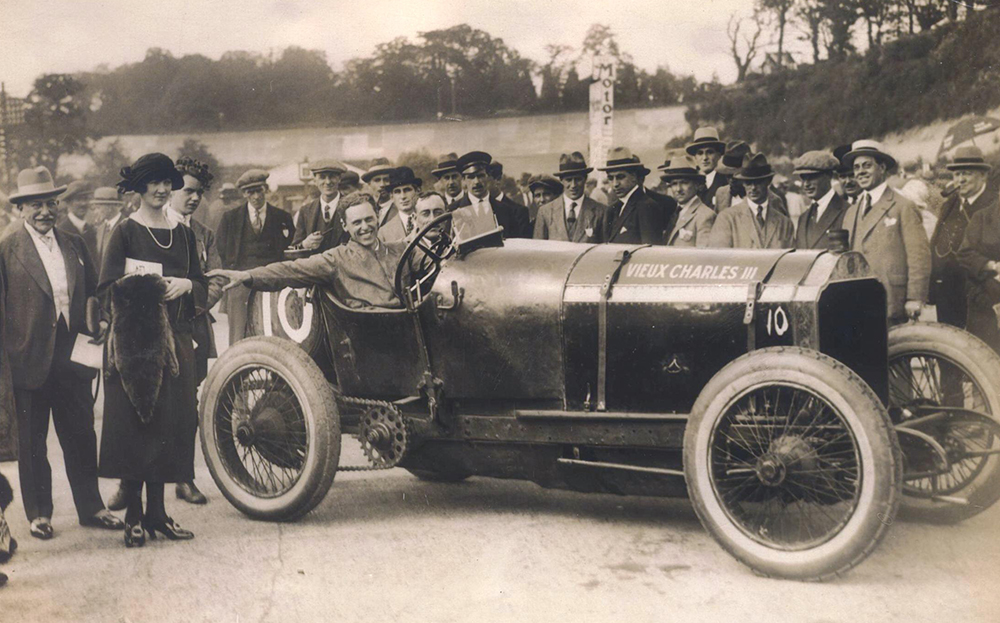 A. Ellison after winning BARC 100 miles long handicap in Vieux Charles III, 1923 (credit: Brooklands Museum)
"We [Brooklands] won the first round HLF application process in January, 2013, which was for under 10% of the whole project," says Winn. This dealt with feasibility and confirmed that the project should move on to basic design work, and the second stage of the HLF application was submitted last October and the grant was awarded in January.
Winn believes the grant will allow large parts of the racing track to be restored to their former glory. "We have never had the money to do significant work – only urgent patching to stop it disintegrating. The track outside the hanger is in pretty poor condition, with a variety of surfaces and intersecting roads," says Winn.
Stuart McLeod, Head of HLF South East says it was felt that the Brooklands site had played an important role in the country's history: "Today's glitzy Grands Prix and state-of-the-art airliners can all be traced back to innovation that took place here. The Heritage Lottery Fund's investment in this remarkable site will help the Museum create a unique experience for visitors, helping them understand the pivotal role that the UK has played in the field of engineering."
One of the main improvements that can be made to the racing circuit is the relocation of an historic, Grade II listed aircraft hangar, which presently sits on the start and finish straight of the track. Moving it will allow track repairs to be made and will create a new public display and events area, spanning approximately 400m x 35m.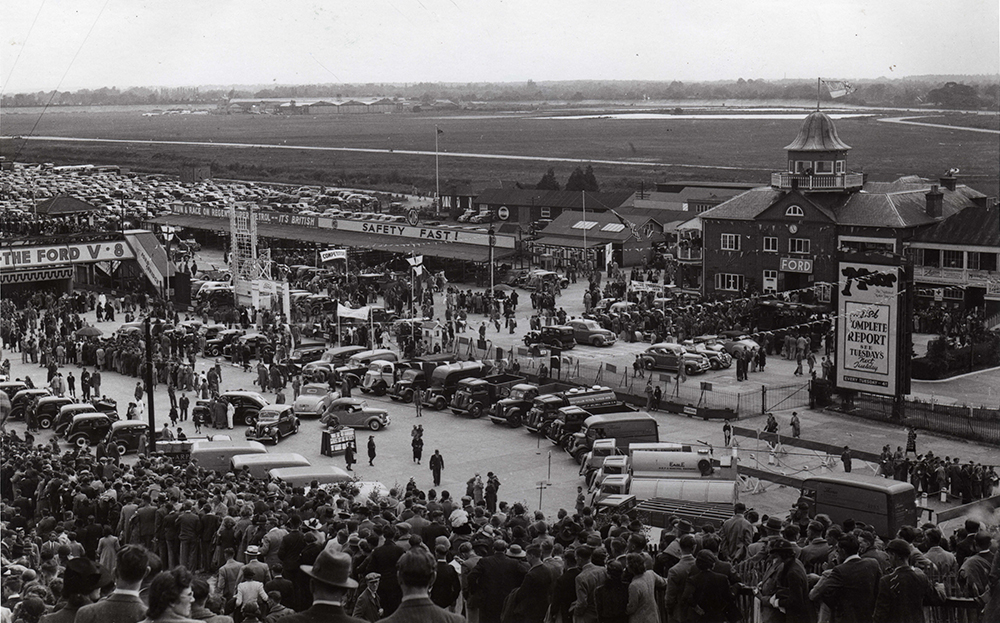 The finishing straight and paddock as it was at the 1939 Ford Gymkhana (credit: Brooklands Museum)
Known as a Bellman Hangar, it was built in great haste in 1940, after a devastating raid by the Luftwaffe crippled production of aircraft built by Vickers-Armstrong at Brooklands.
"The Bellman Hangar was designed to be a temporary, portable structure. It's like a giant mechano set, so fortunately we can take the corrugated iron off the outside and then take it down to ground level and that makes it a quick job to clean, repair and repaint any sections," says Winn.
The Bellman hangars were created by N. S. Bellman, a structural engineer working on behalf of the Air Ministry Directorate of Works, and were devised to be assembled on existing hard-standing areas. They had an internal height of 25ft so they could accommodate Vickers Wellington bombers.
Once relocated, Brooklands will restore the start/finish straight and then stage aircraft demonstrations, motoring autotests and car shows on the area. Winn is excited about the prospect of planes such as the Sopwith Camel, Vickers Vimy biplane and Hawker Huricane being started and allowed to taxi on the restored straight. Just don't expect the venue's Concorde to do the same.
There are plans for soapbox racing and lessons in driving a pre-war car, but Winn concedes that anything faster than an autotest – essentially a test of a car's agility and the driver's memory – will be held next door, at Mercedes-Benz World's handling circuit.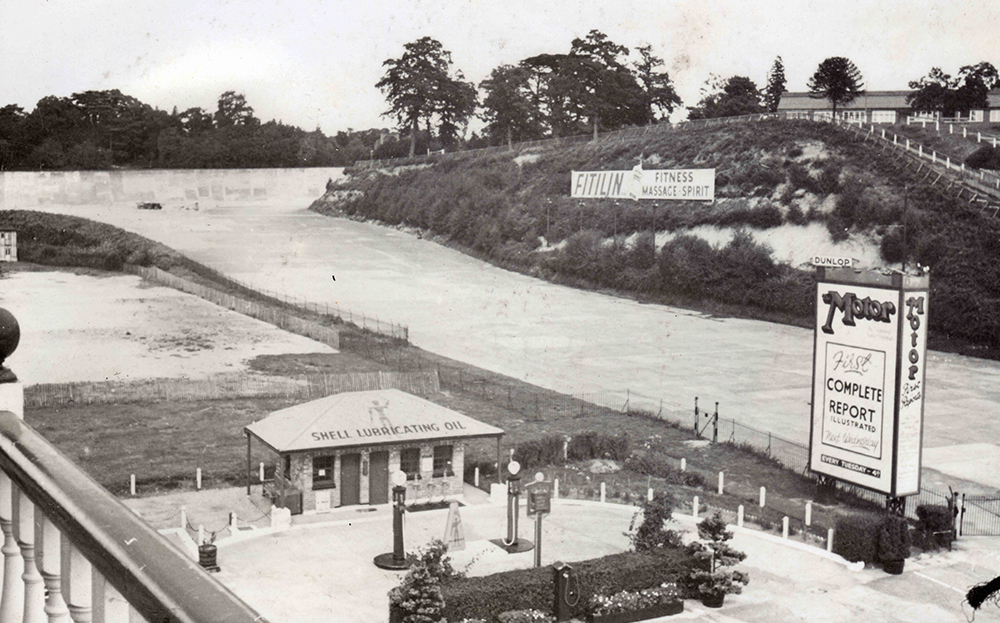 A view of the finishing straight from the Brooklands clubhouse in 1939 (credit: Brooklands Museum)
Winn believes Brooklands is a place that "gets under people's skin," and points to the private donations from members of the Brooklands Trust as well as the hard work of more than 700 volunteers.
"We're trying to keep the spirit alive," he says, and suggests that the objective is to keep things authentic: "We're doing things as they were done in period."
Classic cars and aircraft are restored on site, and Brooklands welcomes volunteers and new members of the Brooklands Trust. If you'd like to lend a hand and help keep preparations on schedule for the 2016 completion date, visit the website and sign up. Those pioneers from a century ago will be grateful.
Video: Campbell Trophy racing at Brooklands in 1937