AC/DC's Brian Johnson drives "Cars That Rock" (video)
Hell's bells! I'm in love with a 50‑year‑old rock'n'roller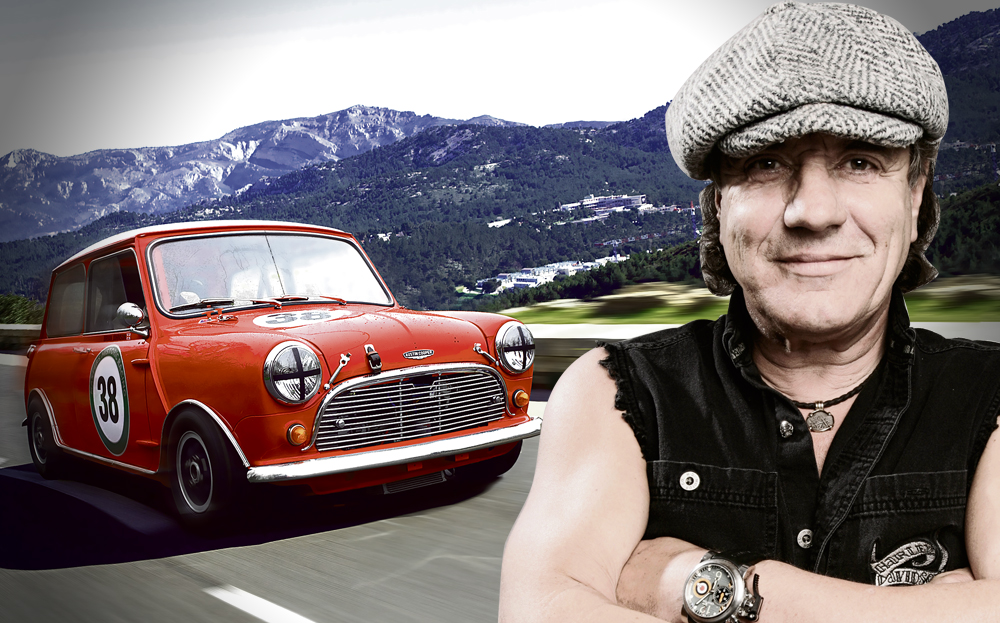 A FEW years ago AC/DC did a gig at the Nürburgring racetrack in Germany. There were 119,000 people gathered on the hills and stands. It was wonderful to stand up there with the band, but when I was on stage singing I thought: I wish I could drive this track.
If someone had asked me when I was a teenager whether I wanted to become a top driver or the lead singer with one of the world's biggest rock'n'roll bands, I'd have said driver. I always imagined myself as Stirling Moss or Graham Hill.
Luckily the music worked out and has meant I can live the dream of racing. I am often asked to compare the two. When you are strapped into a car hurtling towards the first bend, the adrenaline has to be greater than it is when you're on stage. Maybe that's because the risk of hurting yourself or worse on stage is not the same as in motor racing. I was once racing a Porsche when the engine of the car in front blew up. Driving through a wall of smoke, with oil all over the windscreen, I couldn't see a thing. At times like that you wonder if you will emerge alive.
Now I count myself as a lucky man in that I get the opportunity both to sing and to drive. A few days ago I was in New York and Billy Joel asked me to get up on stage and perform You Shook Me All Night Long with him. A matter of hours later I got a call inviting me to the launch of the new David Brown Speedback in London. It has a Jaguar powertrain and is a mix of the best of British design and engineering. Now I am filling in for Jeremy Clarkson to share a few stories from a TV car show.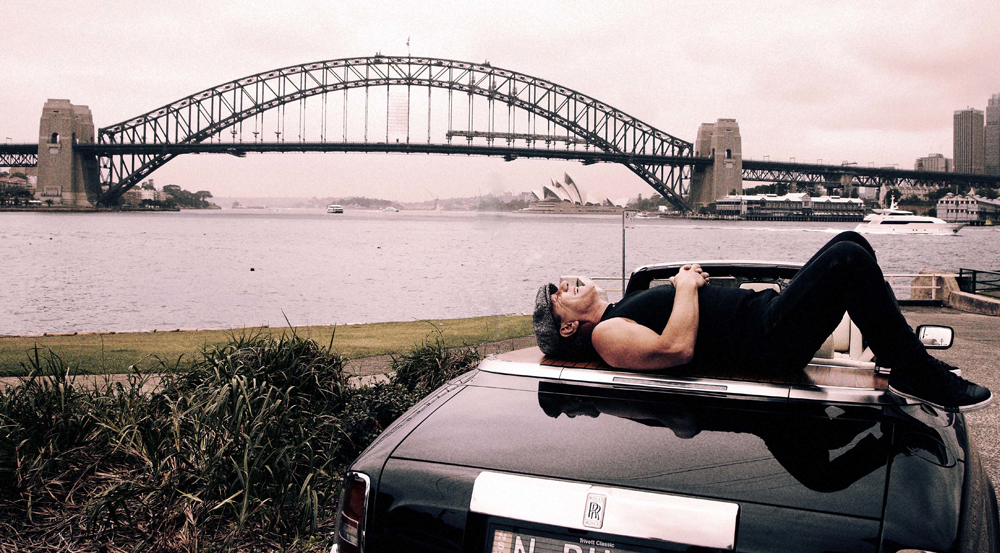 Cars That Rock with Brian Johnson is on this month on a channel called Quest. The idea started when a TV producer read my book Rockers and Rollers and thought: "Rock'n'roll and cars — let's give it a shot." I was quite amazed because, apart from fronting a few fun short films about racing in America, I had not really done any presenting.
They said to me: "Brian, can you pick six makes of car from the past 100 years that have made a significant impact on automotive history?" Of course there are dozens, but I could pick only six. It was difficult, because I knew people would disagree with some of them.
It ended up being Lamborghini, Bugatti, Porsche, Mini, Bentley and Rolls-Royce. I was looking for individual genius: men who, through their inventiveness and design skills, changed the face of motorcars: Ettore Bugatti, Ferruccio Lamborghini and WO Bentley, for example.
The founding names are long gone but when I went to the factories the thing that struck me about all the people I met, from the workers to the management, was how passionate they were about the cars they made. Of course the three British companies I visited in this series are all German-owned: Bentley by Volkswagen and the other two by BMW.
The Germans are possibly the most passionate people in the world when it comes to automobiles (with the exception of us, of course)
Despite the popular image of the Germans being fabulous engineers but dispassionate about cars, nothing could be farther from the truth. The Germans are possibly the most passionate people in the world when it comes to automobiles (with the exception of us, of course). Without the Germans we wouldn't have Minis now, we wouldn't have Rolls-Royce and we wouldn't have Bentley. In fact, it is the same for Lamborghini and Bugatti. Neither would be here without the Germans. But the characters of the brands remain.
Going to Rolls-Royce or Bentley is like going to the Church of Motorcars. At Lamborghini it's more like visiting a big Italian family. Everyone is laughing and smiling, and when we went for lunch, everyone else stopped for lunch too. At Mini the fun of the original car is still alive and they love showing off the car. We asked to film me driving a car off the production line. It turns out the delay of just a minute or so cost the plant £26,000.
It was so exciting being asked to do this series because I knew I would get the chance to drive some of the most exciting cars in the world. I am fortunate. In my garage I have some amazing motors, such as a Ferrari 458 Italia, a 4.5-litre Bentley, an MG TF and a Rolls-Royce Phantom, but everywhere I went I was invited to drive some priceless automobiles.
At Brooklands they were wonderful and said I could drive Tim Birkin's 1931 Bentley — if I could start it. Having my own 4.5-litre Bentley at home helped, and eventually I fired it up to drive on what's left of the old banking.
Things like that made this whole series a joy. In the same episode I was on another banked track, this time a complete one called Millbrook, in a modern Bentley Continental GT. In the passenger seat was one of my favourite drivers, the five-time Le Mans winner Derek Bell. He asked me to go to the outside lane, the top of the track. The steepest section.
"Can you do 100mph, please?" he asked. "I know you can because I saw you do 208mph on the banking in the Daytona 24 Hours." So I did as he asked. Then he said:  "Now, Brian, would you like to join an exclusive club?"
"Always," I replied.
"Take your hands off the wheel." I did as I was told. This car did not waver. In fact it was so solid that I turned round to talk to Derek as we were doing the ton, a few inches from the barrier.
At Lamborghini they said: "Brian, we want to take you to Imola. We 'ave a surprise for you." Imola is one of the most challenging racetracks in the world. It is where Ayrton Senna died. I thought they were going to take me for a ride in an Aventador but, no, they wanted to let me loose in their racing car. I do a fair bit of racing, but they don't let just anyone drive their racing car. I was not exactly prepared. I had a pair of cowboy boots on. They gave me a helmet, which was nice of them, but Imola is considered by many as downright dangerous. Did I care? Of course not. I was living the dream.
Filming with Paddy Hopkirk was one of the highlights of the series. Winner of the 1964 Monte Carlo Rally, he was a childhood icon of mine. We met on a deserted airfield in Oxfordshire with a 1960s Mini just like the one from the Monte. Hailstones were coming down, as they do in summer in England. Here, alongside me, was this lovely man, now 80 years old but just as sharp as he was when he won the Monte half a century ago. He turned to me and said: "Brian, this is all a little boring. Shall we spice it up a bit?" I asked what we should do. "Get the speed up to 60 miles an hour, Brian. Would you do that for me, Brian?" He had a twinkle in his eye.
So we got up to 60 and he said: "Now I want you to pull the wheel around as fast and as violently as you can."
I said: "Oooh, won't we . . . won't we . . . roll over?"
"Don't you trust me, Brian?" he replied. So on the count of three I yanked the wheel and he pulled up the handbrake and we did a 360. I whooped with delight. "Don't get cocky, son," he told me. "Now let's do it backwards."
It seems odd, after driving a Bugatti Veyron, Lamborghinis and old and new Bentleys and Porsches, that the Mini was the car that captivated me more than any other in the series. Maybe it was my childhood coming alive again. I lost 35 years just getting into the car. It's a time machine, the Tardis of motors. It took me back to Newcastle as a teenager.
So we got up to 60 and he said: "Now I want you to pull the wheel around as fast and as violently as you can."

I said: "Oooh, won't we . . . won't we . . . roll over?"

"Don't you trust me, Brian?" he replied.
The second car I had was a Mini 850. Like all kids, I put spacers on, to make the wheels look wider, and go-faster stripes on the doors. The royal family drove Minis, movie stars had to be seen in them, the Beatles had them. But so did your father, your aunt. Everybody wanted a Mini. It shows how inspiring Alec Issigonis's design was. Some of the best cars are down to one man's genius. That's what I was trying to show in the series.
The best experience was when I was offered a 1964 Mini of the same type as Hopkirk's and a chance to race at Brands Hatch, one of the most challenging tracks on the planet. Ron, whose car it was, warned me that the guys I'd be racing against didn't take prisoners.
The 30-minute race included Lotus Cortinas and the like. I started about 25th and finished 8th, which I was pleased with. My jaw was aching with smiling. I have never had so much fun racing as in that Mini. I thought it was going to be hellish, being a little sardine in a can. I had never before been round a corner three abreast.
At the end I said to the owner: "I have to buy this car." When he told me how much it was, I said: "OK, maybe I have to buy this car." Anyway, I have, and I am so excited. I have never driven a car in which you can have a four-wheel drift and feel so safe on a corner such as Paddock Hill, which is like a blind bend off a cliff.
I guess that explains why the Mini captured my heart.
Thanks to brianjohnsonracing.com
Johnson on stage with AC/DC
You can listen to Brian Johnson's exclusive Sunday Times playlist at spoti.fi/brianjohnson; or, if you're not on Spotify, visit thesundaytimes.co.uk/playlists