Arnold Schwarzenegger and his tank: "I like crushing things"
Arnold Schwarzenegger's decision to start flattening things in a tank reflects a love of bruiser cars that could make even his macho film characters tremble. But he tells Gill Pringle there's no need to be afraid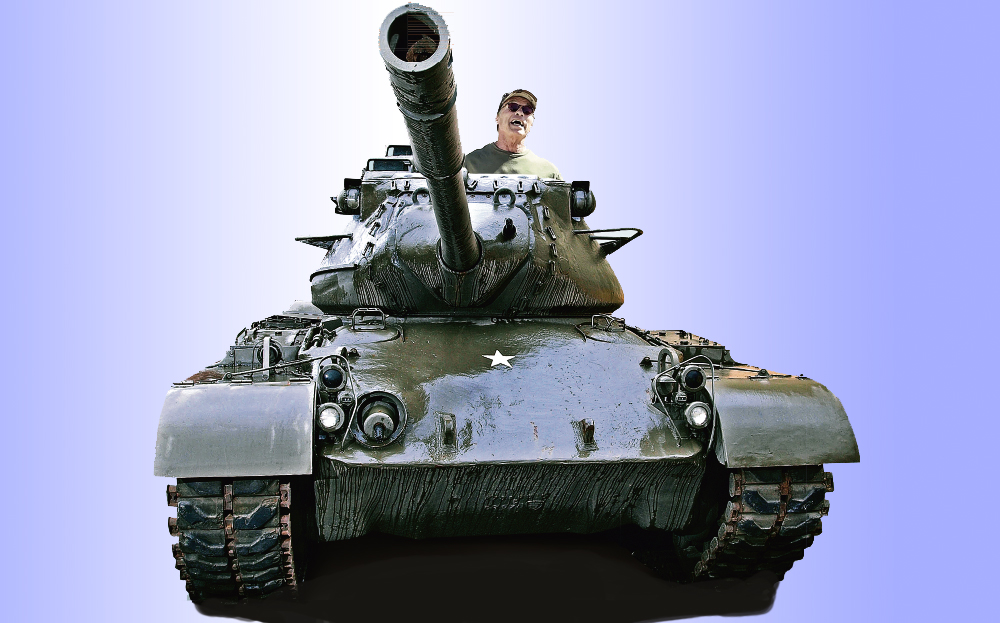 AT 66 most pensioners are getting ready for their slippers and corduroy trousers and a weekly trip to the supermarket in a sensible Nissan Micra. Not Arnold Schwarzenegger.
Sitting in a Beverly Hills hotel room, the movie action man and former governor of California — a state that, if it were a country, would have the 12th largest economy in the world — looks like an extra from This Is Spinal Tap. His hands glitter with a chunky silver skull ring and a big silver chain bracelet embellished with stars and stripes. Beneath his stonewashed jeans are a pair of crocodile-skin cowboy boots hand-stitched with the word America.
He doesn't drive a sensible shopping car, either, but a 50-ton M47 Patton tank. "I really like crushing things," he explains disconcertingly in his distinctive accent.

People seem to like watching him crush things too. Videos of the father of five at the controls of his tank (which he has owned for 20 years) squashing all manner of items, from a sofa to a taxi and a piano, have become viral hits since he started posting them online in aid of his pet project, After-School All-Stars, which provides after-school programmes for underprivileged children. He says: "It's simple. We crush things with the tank and we say, 'You want to crush some things with me? Come on out. Send in $10 and you can be part of the draw.' We raised over a million dollars this way."
Charity notwithstanding, if crushing things with tanks sounds like the sort of thing a bored teenager might do, then that's because, in part, it probably is. After a life that has seen Schwarzenegger progress against the odds from being a penniless Austrian emigré in London, to being crowned Mr Universe, to becoming one of the highest-grossing film actors in history, to one of the most powerful men in America, you get the impression he has run out of challenges.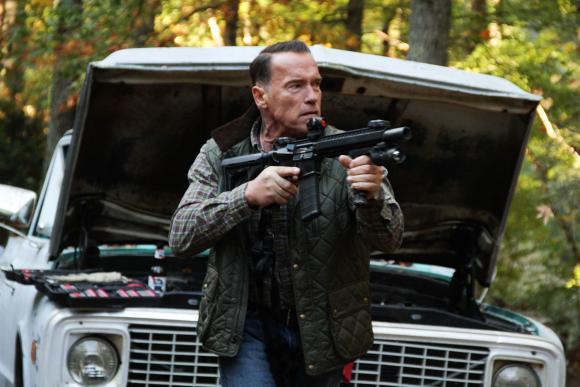 "I enjoy what I do. I enjoyed it when I was in the gym five hours a day working out and becoming Mr Universe. But then you grow out of that stage, and then show business was the most important thing and then you grow out of that stage and then you want to do something different. You get involved in politics and become a public servant and then that time is over — not because you want it to be over but because the law says it's over. And then you just move on.
"The ultimate job, which is the presidency, is not available for me," he says, referring to the fact that people born outside America cannot run for the highest office. "So there's nowhere to go."
Perhaps that is why he has thrown himself back into the movie business. In the past three years he has made six films, and his latest, Sabotage, sees him back on familiar turf, playing the leader of an elite Drug Enforcement Administration (DEA) taskforce, driving an armoured truck in a raid on a vicious drug cartel.
"At 66 I probably shouldn't be on the back of a truck in the middle of a shootout. But I don't get on the truck and say to myself, 'OK, be careful that you don't fall over because you're going to break your hip.' Injuries you can get no matter how old you are," says Schwarzenegger, who is dating a 38-year-old physiotherapist, Heather Milligan, his 25-year marriage to the Kennedy blueblood Maria Shriver having been terminated shortly after he left office.
When he's not at the controls of a tank, he drives an enormous Hummer around the streets of Los Angeles — albeit one that has been converted to run on biofuel, which he gets from cooking oil used in his house. But the love affair with military hardware started far earlier.
"When I went into the Austrian army [as part of his national service] I first drove motorcycles and then cars and then trucks and then huge trucks. I got the licences for each one of them before I was able to go to tank-driving school and drive tanks. I drove everything — the biggest vehicles you can imagine.
"I still do this today. When I was in Iraq to visit the US troops, they let me drive their hugest vehicles."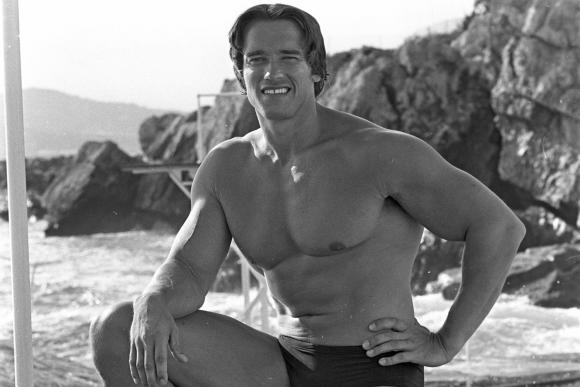 The first car he owned was an Opel Kadett, which he bought in Munich as a young man after he left the army. Today, he is hard-pressed to name his favourite wheels. "I drive everything. I drive four-wheel drive, I drive Hummers, Bentleys, Mercedes, Volkswagens. I like to switch things around. I don't like to have the same vehicle all the time." When he leaves, I notice he is at the wheel of a large GMC Yukon SUV.
Despite his gas-guzzling fleet, he is a champion of green causes, he says. In 2005, during the first of his two terms in office, "the Governator" signed a law providing $6.5m to build the California hydrogen highway network, a project that threatened to stall before being kicked into action by Governor Jerry Brown, his successor.
He is also a supporter of Elon Musk, the Tesla electric car founder, who plans to build a network of fast-charging stations for electric cars and a California high-speed rail system, known as the hyperloop. The tycoon is involved in space travel, too.
"Musk is a very innovative guy and whatever he wants to build, I wish him good luck. He's doing a great job with the electric cars; he's doing a great job with the space programme and he's doing a great job with coming up with new ways to commute.
"I think we have to think outside the box in order to move ahead. You have to have vision. Because the politicians have no vision, absolutely none — and I can guarantee you that, because I have spent enough time with them. Therefore we have to totally rely on the private sector and hope that the politicians are smart enough to stay out of the way so that the private sector can go and actually make their visions a reality."
Tell him British petrol prices are about £6 a gallon (around $10, against the average cost in America of $3.50 a gallon) and he makes a surprising admission: "I wish we in America had higher prices on fuel so they can take some of that money and build infrastructure, because right now the US is not building much infrastructure at all and I think eventually we are going to feel the pain of that, because economic power is how fast you can move people and goods around."
Schwarzenegger in Monaco in 1977 (Steve Lewis)Schwarzenegger in Monaco in 1977 (Steve Lewis)
You can take the actor out of politics but you can't take the politics out of the actor. He says he used his experience of drug cartels gained while running California to help him with his role in his latest film. He also spent time training with DEA officers at the insistence of David Ayer, the film's director, though initially he could not see why.
"I told him, 'Why do I need weapons training? I've shot more people than anyone in the industry and I've killed more people than anyone, so why do I need to go to weapons training?'"
But what really upset the actor was the director's insistence that he dye his hair grey. "It was grey already but I dyed it brown, but then they had me go grey again. It was pitiful. I wore a hat all the time I was off set because people would say, 'Jesus, you look weird.'"
He is due to reprise his most famous role this year with a Terminator prequel, Terminator Genesis. "I'm looking forward to it," he says. "We're starting in April down in New Orleans."
The question on every fan's lips is whether he will also be reprising his most quoted catchphrase, "I'll be back".
He stares at me for a second. "I don't even know sometimes why certain phrases become popular," he says, looking puzzled. "When I said, 'I'll be back,' I didn't have the foggiest idea that it would become the most quoted line in movie history. I think it's just how you say it. Like the line, 'Get to the chopper.' I sometimes visit a university to do a speech and people are screaming, 'Get to the chooooper!' and then they ask me to say that in the microphone, in my way, with my accent. I mean, what's funny about that?"
It's hard to stifle a laugh at this point but Arnie is serious — and now he's on a roll about his accent. "When I wanted to go from body-building into the movie business, the thing that agents and studio executives always told me was, 'You will never, ever become a leading man because of your accent.' But I didn't accept that. As Nelson Mandela said, 'It always seems impossible until it's done.' I made it possible."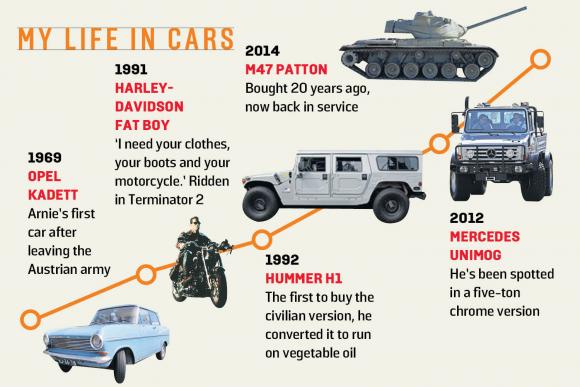 Sabotage is released on May 9