A day in the life of a supercar supersalesman
Wake up, son. Supersalesmen don't get jetlag
---
Published 16 February 2015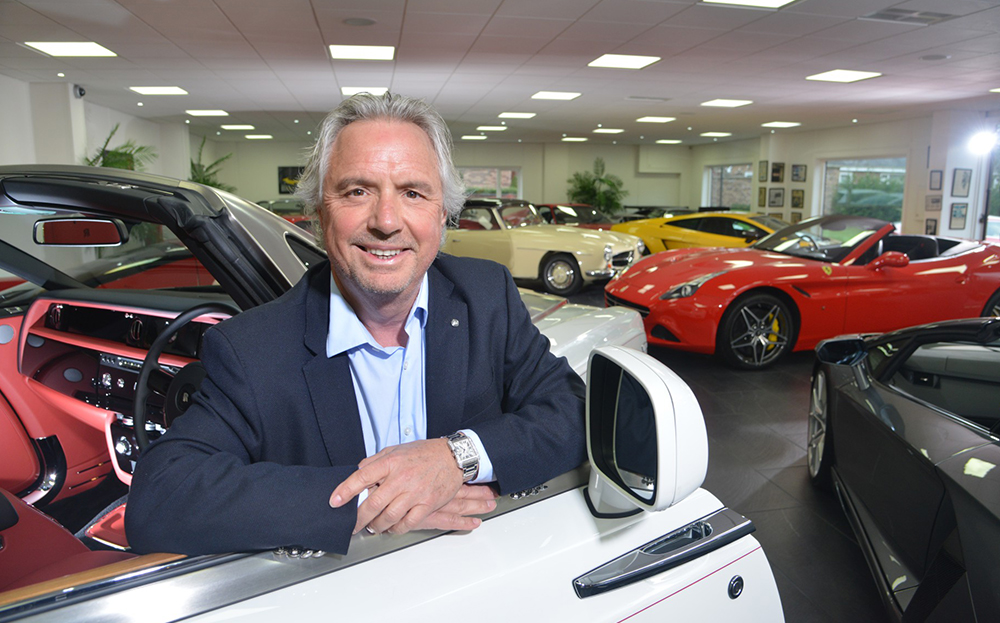 I AM standing in the middle of a group of cars usually seen together only in a pack of Top Trumps: two Ferraris — a £1m Enzo and an £850,000 F40; a pair of Lamborghinis — an Aventador roadster and a Gallardo; a Mercedes SLS; and an Aston Martin Vanquish. On the showroom's forecourt is a row of Porsche 911s and more Lamborghinis.
I should feel as if I'm in Wonderland but, in truth, I'm nervous. Standing in one of Britain's best-known supercar dealerships, I'm about to find out whether I've got what it takes to fill a rare vacancy that has opened up — an opportunity to join the sales staff.
---
Search for and buy your next car on driving.co.uk
---
On paper, it's a dream job. It involves jetting around the world, buying, selling and driving the world's most exclusive cars. And it comes with a salary that would allow you to buy your own Ferrari after a year.
I shine the tips of my shoes on the back of my trousers, straighten my collar and head for the office of Tom Hartley, the Derbyshire-based international supercar dealer who is looking to hire. It's like The Apprentice. But better.
I step into an office the decor of which has a distinctly 1980s feel — a bit like the man behind the desk. He looks me up and down. I'm not relaxed.
"Have you seen Wall Street?" he asks. "Working for Gordon Gekko is far easier than working for Tom Hartley. I'm looking for someone to take on board who is hungry enough and who has the desire to succeed with total loyalty."
I grin like an idiot but I must have made a good first impression. "You're here on time and you look smart," says Hartley. "Staff are representing me, so I like them suited and booted."
He makes it clear that this is not a job in the nine-to-five sense, but a commitment: "You're on call 24/7."
Even at the weekends? "Twenty-four, seven," he repeats.
At night? "Twenty-four, seven."
My wife's birthday? Hartley sighs. "It's 24/7. You go home when the phone stops ringing and if your mobile rings when you're at home then you answer that too. You might have to jump on a plane to meet a client in Hong Kong, Australia, America or Edinburgh. I'm not interested in what commitments you have. I want the commitment to be to Tom Hartley. There will be holiday, but I will dictate when that will be."
The reward for giving up leisure time, hobbies, perhaps even a family, is the thrill of being around supercars and, yes, the loot. If I somehow make it through my trial day, persuade Hartley that I have what it takes and beat all the other candidates, I will start at a not-inconsiderable salary of £150,000 a year. When bonuses are taken into account, I could earn more than £250,000.
It sounds a hefty amount, but then I would be rubbing shoulders with royalty from around the world, who fly in to the showroom's helipad; Manchester City footballers and their entourages; and celebrities as diverse as Rod Stewart and Sue Barker. Naturally, I would need to be attired accordingly. No more Topman working for the top man, I fear — an expensive trip to Jermyn Street for a tailored suit followed by a trip to one of Soho's top barbers is called for.
Yet that's assuming I get through the day — and a buyer has arrived to check out the Aston Martin Vanquish. The man looks round the car and appears happy, but doesn't like the style of leather stitching. I start to nod in agreement — the customer's always right, of course.
Hartley interrupts. "I quite like it," he says, gently explaining why the colour co-ordination works well with that particular marque. I hang back, deferring to Hartley's encyclopedic knowledge of prices, performance statistics, body styles, colour options, trim levels and countless other details. I note that he's careful never to patronise or overwhelm the customer with detail, but is gently reassuring and encouraging up to the point of negotiating price, when he's firm and unequivocal.
"Your personality is good," Hartley tells me afterwards. "You would get on with a wide variety of people, but I sense you're not aggressive enough to negotiate. I'm docking you a point."
Hartley has been working at this for a good while longer than me. He sold his first car in 1973, at the age of 12, after hearing that a friend of his father was looking for a Range Rover — the cars were in short supply. He arranged to buy one from another of his father's friends for £2,000 — using a loan from his dad — and sold it to the other man for £2,200.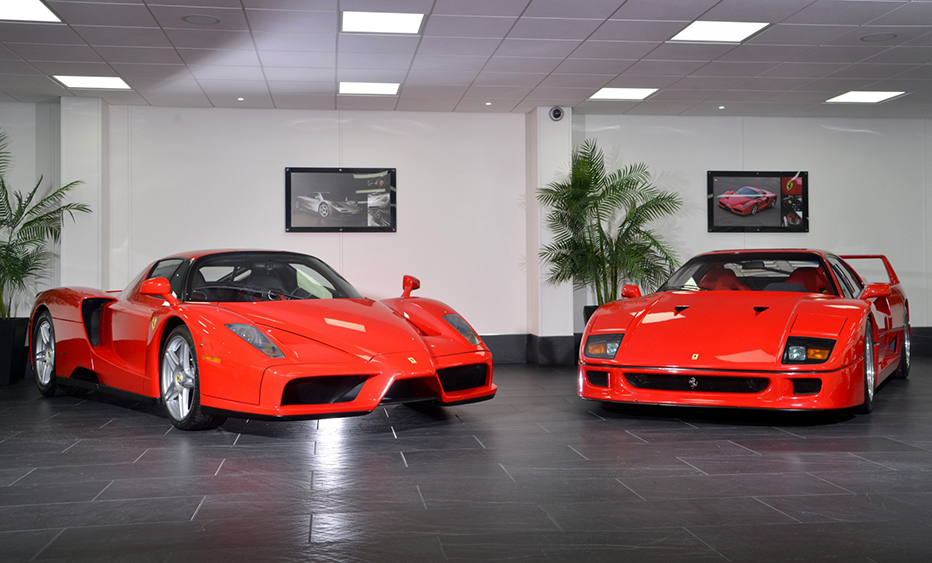 By the time he was 14, Hartley had left school and was earning enough to employ a chauffeur to drive his Rover SD1, as he continued trading in Range Rovers. In 1977 he spotted a gap between limited supply and huge demand for the new Rolls-Royce Silver Shadow II. All the time he was expanding his contacts and he moved into the supercar business, setting up in Derbyshire in 1980.
He has bought a Ferrari in a sauna — after seeing it outside a hotel, he tracked down its owner to a spa — and a Porsche on a plane, after meeting the owner over a drink in the aircraft's first-class bar.
Now the company, co-owned with his son Carl, continues to obtain rare and limited-edition cars and sell them for a premium. BMW i8s are going for £10,000 above their list price. The LaFerrari commands a £500,000 premium. "I sold a LaFerrari in this country before the UK dealers had even had their first one," says Hartley.
Then there's the white Rolls-Royce Phantom Drophead in the showroom that Hartley says he bought from the richest person in China (whoever that might be — Hartley's not saying). Why would anyone buy this second-hand Rolls-Royce for £300,000 when they could get the company to make a new one to the same specification for £420,000?
Hartley looks at me as if I'm a lunatic. "Because they can save £120,000," he says. "These people don't get rich by wasting their money." He points to a letter about the sale of a Jaguar XJ220 to Andrew Lloyd Webber in 1992. "He could have bought it full price from Jaguar for £415,000 but he came to me instead, because I could save him over £100,000."
A currency trader who has flown in from the Caribbean arrives to look at the Rolls-Royce and I'm given a chance to shine. I begin recounting the tale of when I drove a Phantom last year — the ride quality, the refinement, the luxury interior. Carl Hartley cuts me off: "Let's take it for a drive." The buyer gets into the driver's seat and they head out, planning to stop for lunch before taking the scenic route back. This is not the two-minute crawl around an industrial estate outside a typical dealership.
"You're talking too much," Hartley Sr gently chides me as they leave. "Just answer the question. You can oversell and talk someone out of a deal. We're here to make sure the customer has all the information they need."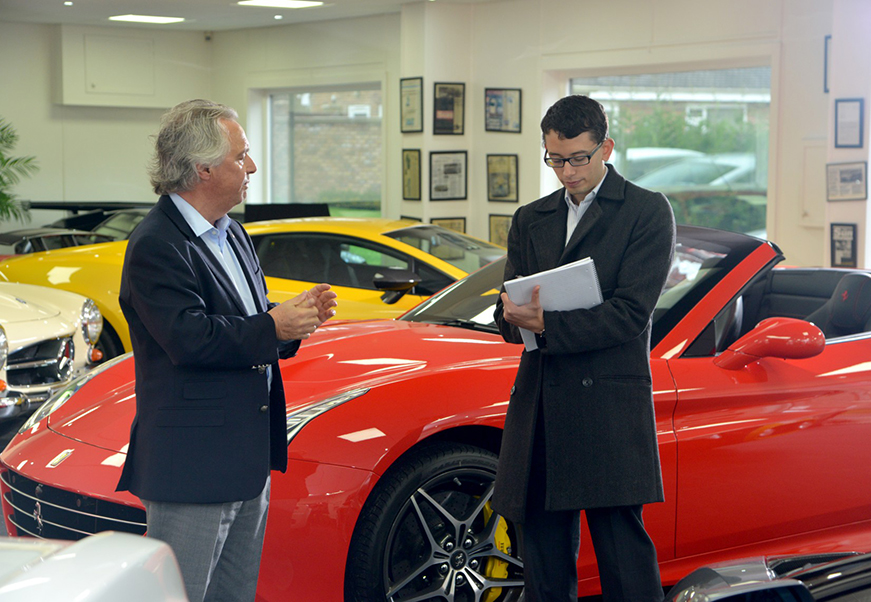 I practise some spiel about the Enzo Ferrari, but get its year of manufacture wrong. "That's a big mistake," he says. "Unforgivable. If that happened with a customer they would think you didn't know what you were talking about."
Attention to detail is everything. Hartley has a word with the man vacuuming the showroom before we take pictures — he wants extra attention paid to the mat at the front of the building, which bears his name: not a speck of dirt. He's also keen on ensuring that the showroom is stocked with everything a buyer might need — and everything has a price. A few days after I leave, he sells his wife's Range Rover to a man who had come to look at a Ferrari but took a shine to the 4×4. Hartley doesn't own a car but generally drives any Roller in stock. "Can't beat a Rolls-Royce," he says. "Luckily there's always at least one around."
Despite starting out in the era of Arthur Daley, Hartley shrinks in his chair when he hears the name. He's not in the used car business; he's more like a confidant to the stars. The salesman vacancy has arisen because he is expanding: this month work began on a three-storey showroom with glass floors, glass lift and floor-to-ceiling windows, to enable buyers to see their potential purchase from all angles. The showroom will also feature a dining room and a spa. Hartley says that the wives of some male buyers can get bored, so they'll be able to have a treatment while they wait.
They can also eat in an adjoining dining room, where a chef will prepare a meal whenever a client visits, which can be any time from breakfast to midnight. The new showroom is being built close to the existing one on the family's 40-acre estate, which includes Hartley's home. The area is covered by a security system, which includes lasers to detect intruders. A Channel 4 documentary will show more detail later this year.
Hartley says his business has grown every year for 42 years. Records filed at Companies House show the firm increased revenue by 3½ times between 2010 and 2013. Hartley says the company turned over more than £200m last year and that he has been offered £250m to sell the brand name. He refused. "What would I do without my name?" he asks.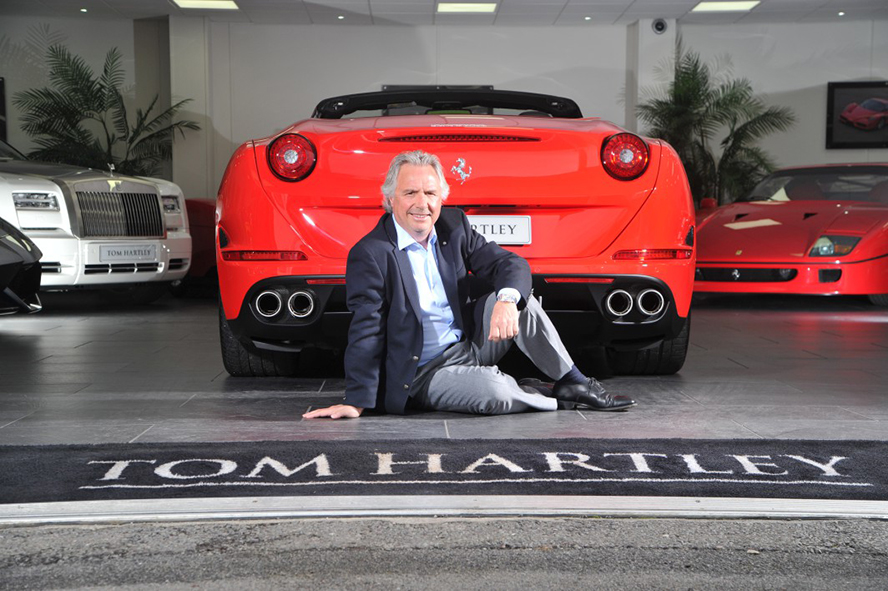 Hartley puts his success down to a willingness to do a deal for 5% profit rather than the 17.5% he says other dealers work on, as well as his ability to adapt to the market: "In a downturn we just buy and sell for less." One thing he won't adapt to, however, is computers. His wood and leather-lined office features newspaper cuttings, car magazines and models. And no computer. His staff write down the names of everyone they speak to during the day, which he reads through each evening. His little black book of VIP contacts is an A4 pad of the sort you can buy for £6 in any stationer's. He doesn't allow me so much as a peek at it.
I leave mid-afternoon without having made a single sale, as Hartley starts returning the calls I've made him miss. At 9pm he texts me: he's sold a Mercedes SLS, a Porsche 911 Carrera 4, an Aston Martin DB2 and an Enzo Ferrari. He's bought a Ferrari 458, a Pagani Zonda and a Ferrari F12.
I wait anxiously for my phone to ring. Surely I'll get a second interview. I recall Hartley's parting words: "You've done well and undoubtedly you've got talent. I hope your time spent with me was useful." It's someone else's dream job — Hartley's still looking for applicants.
Selling 24/7
A typical day for a junior salesman
7.30am Meeting with Tom and Carl Hartley to discuss schedule for the day
8.30am Research history of a classic Mercedes Pagoda in stock
10am Call customers who may be interested in a Lamborghini Miura coming into stock
11.30am Test drive with potential buyer of a Bentley Continental GTC, stopping for lunch at a restaurant
2.30pm Call to finalise sale of a Ferrari 458 Italia. Update bosses on progress
3pm Arrange the car's dispatch
3.30pm Run through the list of customers booked in to visit the showroom to check why they are coming, the stock they are interested in and their credentials
5pm Take calls from customers in America interested in a McLaren F1 that is for sale in the US
7pm Another progress report. Go home
8.30pm Receive a phone bid for the McLaren F1. Arrange to fly to America the next morning to seal the deal
12am Client from Australia calls about a £100,000 Lamborghini Aventador
Tom Hartley in numbers
£100,000 Average value of each car sold
100 Calls from customers and sellers per day
12 Hours in average working day
£24m Record sum fetched for a Ferrari 250 Testarossa sold by the firm last year
42 Years in business
25 Staff on site
£20m Minimum value of stock
---
Search for and buy your next car on driving.co.uk
---