Ready to rumble: 2018 Aston Martin Vantage takes on the Porsche 911
Turbo tech for best-seller
---
Published 21 November 2017
ASTON MARTIN has launched a new Vantage, replacing one of the longest-serving sports cars on the road following 12-years of distinguished duty.
The new Vantage goes on sale immediately, priced from £120,900, and brings a twin-turbo V8 engine and a new level of technology to the popular Porsche 911 rival, which has proved to be Aston's best-selling model to date.
Its design takes styling cues from the DB10, the car that was specially commissioned for Spectre, the James Bond blockbuster.
Beneath the surface of the two-seater, Aston's engineers have adapted the Mercedes-AMG 4-litre, V8 twin-turbo engine for use in the front-engined, rear-wheel drive machine. It develops 503bhp at 6,000rpm, and 505Ib ft from 2,000 rpm to 5,000rpm.
It comes with an eight-speed automatic gearbox and a electronic rear differential that is said to give the car outstanding roadholding.
The standard Vantage is said to be capable of accelerating from 0-62mph in 3.5seconds and has a top speed of 195mph. Its CO2 emissions are 245g/km and it can return 26mpg on the combined fuel economy cycle.
Aston claims the 1530kg car has 50/50 weight distribution. It is built around a bonded aluminium structure, technology that helped keep the car company in business, after it was first introduced with the Vanquish, in 2001.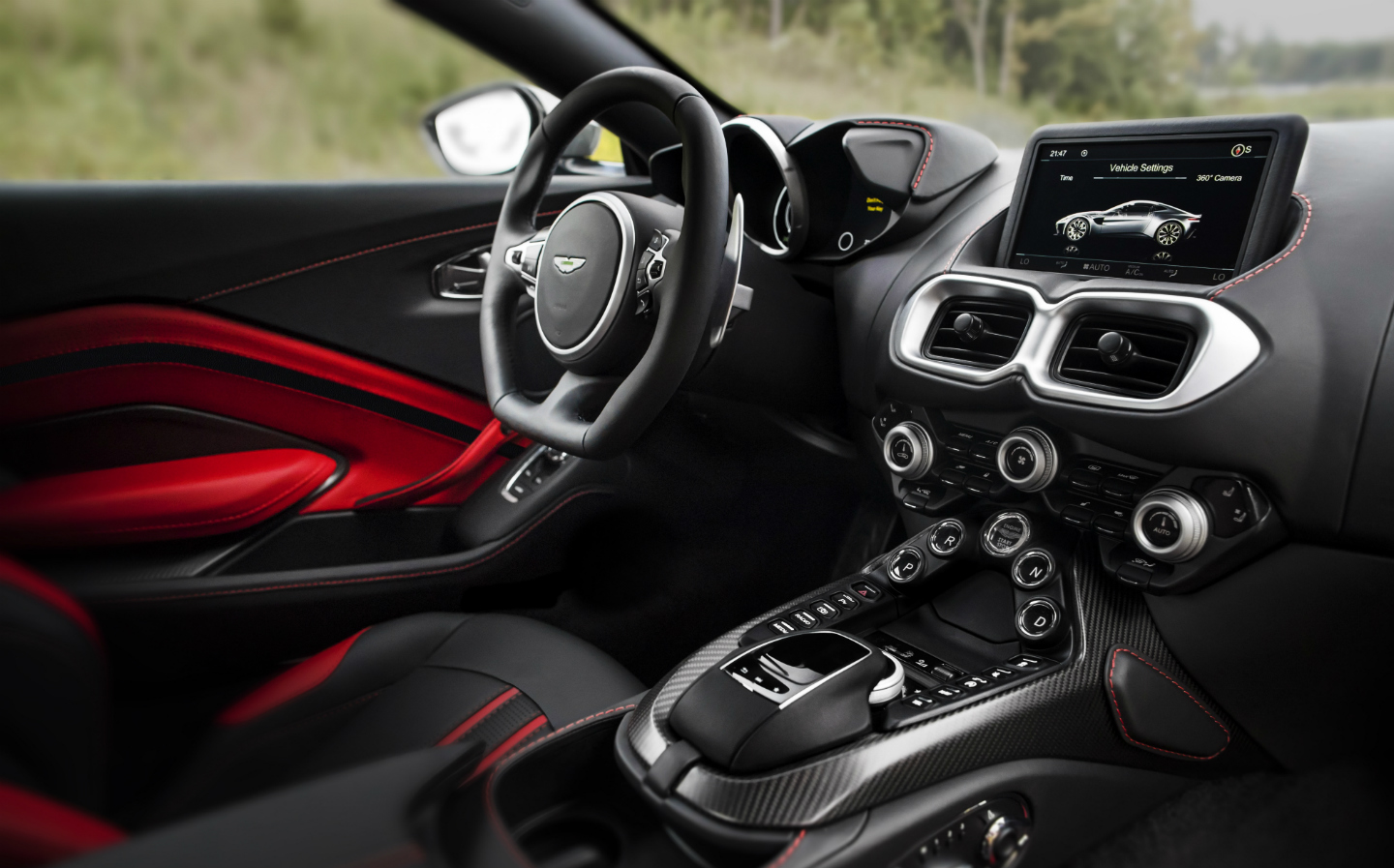 As well as the electronic rear differential, the sports car comes with torque vectoring, adaptive damping and electric power steering, and offers a choice of three driving modes: Sport, Sport Plus and Track.
All models will come with keyless start/stop, tyre pressure monitoring system, park assist and front and rear parking sensors. Naturally, leather and Alcantara upholstery are included, and a wide range of personalisation will be offered. The infotainment system is controlled via a centrally mounted 8" LCD screen.
The boot offers 350-litres of cargo capacity, maintaining the Vantage's position as the everyday Aston. A V12 version is expected to be offered later; the last Vantage V12 attracted rave reviews.
Andy Palmer, Aston Martin Chief Executive, said: "It speaks volumes for the outgoing Vantage that it is the single most successful model in Aston Martin's history. Creating a worthy successor has been a challenge to relish and a huge source of motivation."
Tweet to @squarejames Follow @squarejames