2013 Frankfurt motor show – the view from press day
The stars and the cars on the Frankfurt show floor
---
Published 12 September 2013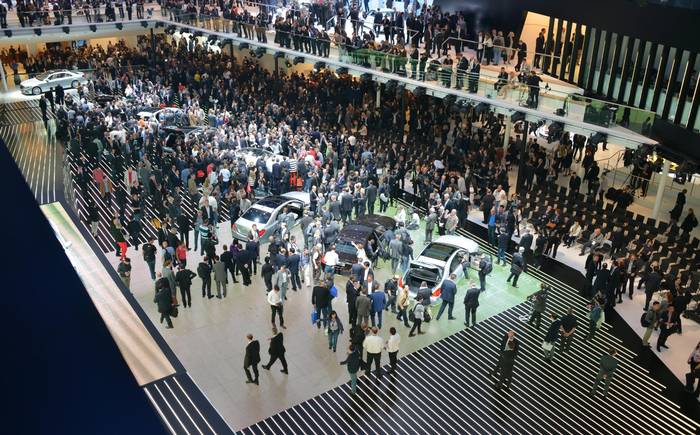 There is no motor show in the world the itinerant hack loves to hate more than Frankfurt's. If you thought bigger meant better only in America, the Germans beg to differ.
Once every other year they throw open the gates of the Frankfurt Exhibition Grounds, revealing a show unrivalled in scale, stature and self-congratulation. It makes the Geneva show look like a local trade fair; Detroit, a quiet little backwater. The once mighty Tokyo show might as well be a noggin 'n' natter in the local by comparison, while even the rising stars of the East – Beijing and Shanghai – cannot put on a show the size of Frankfurt. Not yet, at least.
Where some shows exist within a single hall, in Frankfurt the VW Group alone needs two: one for Audi in its own right and another for all its other brands, from Skoda to Bugatti. BMW has a hall to itself as, naturally, does Mercedes (see Merc's bustling stand in the main photo above). This is corporate one-upmanship on a scale unprecedented even in the bloated motor industry. Walk from one end to the other and you'll put a mile of highly polished white flooring under your feet. Spend a day seeing all there is to see here, and you'll cover a dozen or more with ease.
Such is the show of power from the German brands on display in Frankfurt that few have the nerve to try to upstage them, usually preferring to peddle their wares on neutral turf in Geneva each spring. Jaguar is the exception. Last time around, in 2011, it stole the show from under the locals' feet by exhibiting a stunning coupé whose concept status and "C-X16" name fooled no-one at all. This was the F-type by another name. Two years on and it has tried it again with the Jaguar C-X17 concept. The name may be one number removed but the car could scarcely be more different. Jaguar's first SUV will go on sale in 2016, complete with an all-new aluminium architecture that can grow or shrink in size according to the model it is intended for. We'll see it first in a new small saloon.
The C-X17 didn't leave show-goers gasping, as did its predecessor, but SUVs rarely do, except for all the wrong reasons, like last year's Bentley EXP 9F and Aston Martin's 2009 Lagonda concept. I thought the Jag looked competent, conservative and designed not to frighten the horses or make promises the production car would not be able to keep. Reassuringly, it looked like a Jaguar.
The gasping therefore was left for Audi which managed that rarest of rare feats these days by actually unveiling a car at a motor show that the entire world had not already been reading about for months. The diesel-powered Audi Nanuk supercar concept was not quite a show-stopper because there's no suggestion that it or anything quite like it will ever make it into production. But in its low roof, high waist, wedge shape and new 5-litre V10 diesel with 544bhp, it provides a clear insight into at least some of Audi's thinking for the next R8.
But of genuinely new supercars you can actually go out and buy, there was little sign. Porsche and BMW showed production-ready versions of their already familiar 918 Spyder and i8 hybrids but anyone expecting a crowd pleaser like a Ferrari LaFerrari would leave Frankfurt disappointed. With the entire production run sold, the Italian marque instead showed the new Ferrari 458 Speciale, with 600hp, a 0-62mph time of just 3.0sec, a top speed of 205mph and a price tag likely to crest £200,000. Weighing some 90kg less than the standard 458, this is the true successor to the much loved 430 Scuderia and 360 Challenge Stradale.
But this being Germany, all these cars were delivered to their stands with the straightest of straight bats. In Detroit I've seen cars driven through walls and dropped from the ceiling, but here in Frankfurt, save a few beach volleyballers shivering in a sandpit outside the Smart stand, it's just business. There were no celebrities and no impromptu performances by pop stars flown in for the day to keep us entertained.
Nor was there any need. It was the work of a day simply to cover the ground and of the 10,000 accredited media, few who were there actually to earn a living had time to stop and dawdle. For the truth is that while there was something interesting to see almost everywhere, for genuinely new and saleable product, this was one of Frankfurt's thinner efforts. Another German brand probably did best with the reveal of the Mercedes GLA crossover and a Mercedes S-class coupé concept, described as over 90% close to next summer's final production car.
It is strange that this land, where efficiency is all, should play host to the least efficient show on the calendar. The reason none of us had time to stop and dwell on the merits of each stand is not because there were such overwhelming riches of new products to see but, more prosaically, that the next new product could be half a mile away.
At the exit I asked a random sample of colleagues for their feelings as they departed the show halls. A desire to remove their shoes topped the list by some distance.
For a full gallery of photographs, visit our Facebook page.
Published September 12, 2013