Goodwood Revival's cutest race? In reality the Settrington Cup is seriously competitive
Pedalling for grandpa at the world-famous historic motor racing event
---
Published 15 September 2023
I realised I was taking it all too seriously around an hour after I started Googling "best shoes for pedal cars" and, perhaps more usefully, "karting shoes for children". Before this point, the possibility of my nine-year-old daughter winning the Settrington Cup, Goodwood Revival's world-famous pedal car race, hadn't really entered my mind — we'd be there partly for a bit of fun, and partly for family reasons that I'll come on to. But I'd been looking for the ultimate pedal car shoes for a whole hour. I put down my phone and had a little word with myself.
I had sworn I wouldn't become that guy… the competitive dad; the sad bloke going full Adrian Newey on what is, to all onlookers, a fun sideshow to the proper car races at the Revival.
But my stepmum had kindly offered to pay for some work on our family Austin J40, so that our 1958 car was working as well as it could, and I found that I had managed to secure the services of probably the best guy in the country for that job: Geoff Kirkman. And his work was stunning – retaining all the original parts but straightening axles, removing camber, eliminating any play in the hubs – and from there it had steamrolled a little. Why not have a look at other ways to maxmise our chances, I reasoned.
On Kirkman's advice, I'd bought a new set of tyres as he'd spotted that the ones on the car were too small in diameter, and would therefore result in a lower top speed than the other cars on the grid.
The custom stickers for the car, including the race number and driver name, added to the mounting bills, and I'd also had to buy all the electrical components as the race regulations require the lights and horn to be working. I even purchased an Austin patch for Eva's boiler suit (period-looking race overalls are required for the drivers). I don't want to think about the total amount spent on getting everything ready to take part.
---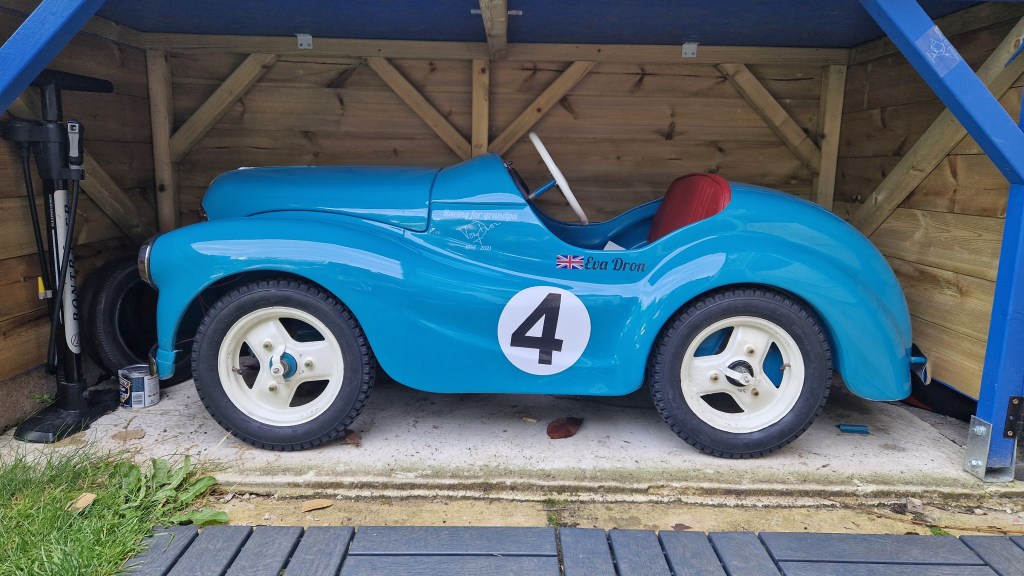 The Dron J40 (almost) ready for the Settrington Cup.
---
It had started as a relaxed project; a fun way to get a Dron racing at the Revival again. My dad, Tony Dron, was a regular competitor at the event in the late 1990s and early 2000s, and won several times as a paid driver. The highlight was probably a hat trick of wins in the Sussex Trophy, from 2001 to 2003, behind the wheel of a beautiful Ferrari 246S Dino that still competes today (though had to settle for second in that race this year).
So the Settrington Cup gave us an opportunity to get our name back on the list of drivers at the Revival once more — an experience for the family, and hopefully some wonderful memories for Eva of when she took part in what many consider to be the world's finest historic motor racing event.
Our J40 has been in the family for nearly 40 years. It was bought for my older sister Amy and me by our mum around 1984, though it was not in mint condition at that time and probably came from a fairground ride (many ended up on carousels).
---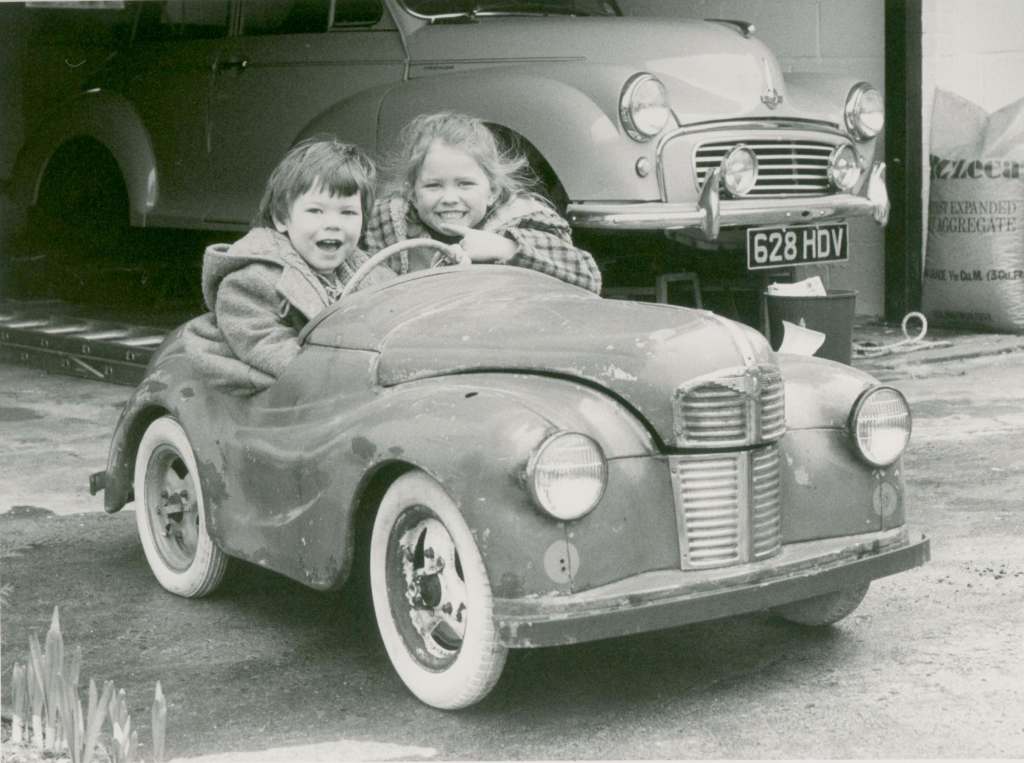 ---
Once I'd grown out of it, the poor thing was stuffed into the back of a garage and fell into even more disrepair. But a few years back, knowing the values had risen dramatically (good ones cost upwards of £4,000 these days) and perhaps with one eye on seeing his grandchildren in the Settrington Cup, my dad paid for the body to be restored professionally, using R Ransley Vehicle Restorations, who had done a fine job on his Austin Seven.
I tinkered with the hubs a little myself at that stage, with new parts from the then newly formed J40 Motor Co. (now the Austin Pedal Car Company), and got it running well enough. So I asked Eva if she'd like to write to the Duke of Richmond, owner of the Goodwood Estate and mastermind of the Revival, to ask for a place in the race. She did so without hesitation.
It's when His Grace wrote back saying that we'd been allocated a spot in the race that I found myself firing off an email to Kirkman to secure his engineering services. If it could be made easier for Eva to drive, and improve her chances of a good result, why not? And I knew dad would want the car to be properly "sorted", if possible; he was a perfectionist.
It all came together relatively late. I picked up the tuned running gear a couple of weeks ahead of the event and reassembled the car, and then battled to get the electrics working (curse you, horn circuit!). The car was ready to go only the day before scrutineering.
---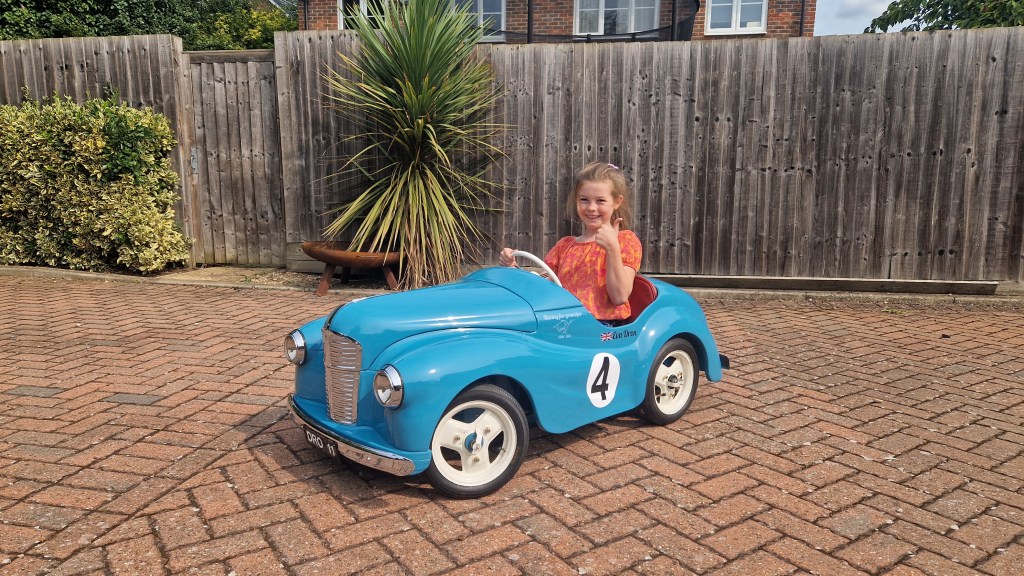 Kirkman's engineering efforts received the thumbs up from Eva during pre-Goodwood testing.
---
I'd like to think the people who originally built our little pedal car some 65 years ago would have got a kick out of how much care has gone into it. The Austin J40 was built using off-cuts from the Austin car factory at a dedicated facility in Bargoed, Wales, between 1949 and 1971. The scheme was hatched as a means for disabled coal miners, whose lung diseases meant they could no longer work down the pits, to continue gainful employment.
It was a noble endeavour, and even more poignant for the Drons as dad had to retire from racing in 2011 due to chronic obstructive pulmonary disease (COPD), specifically emphysema, and could no longer manage a lap of a circuit without gasping for breath. In 2021, his body finally gave up and he died in November that year. So while it was all a bit of fun at first, I suppose the notion that Eva would be competing in his honour began to weigh heavy.
---
Clockwise from left: Tony Dron pictured in his racing days; Tony celebrates a hat-trick of wins in the Ferrari 246S Dino at Goodwood Revival in 2003; a sticker on the family J40 dedicating Eva's Settrington Cup effort to Tony.
---
After Kirkman had agreed to do his part, I went from nonchalant to competitive alarmingly quickly. In the run-up to the Revival I continued to tell Eva, "We're not there to win; it's just about soaking up the atmosphere and enjoying the experience," but in my head I had become Enzo Ferrari — focused on providing her with a car that could claim victory.
I'm not the only one, it turned out. At a champagne reception for Goodwood Revival drivers, hosted at Goodwood House on the Thursday before the event (and to which even the Settrington Cup participants were invited), one other dad semi-joked, "Good luck, everyone. But not too much luck because my girl's going to win!"
---
The Drons made plenty of friends in the Settrington Cup paddock and thoroughly enjoyed the atmosphere, but when it came to the racing everyone took it seriously.
---
Part of the appeal of the Settrington Cup, I discovered, is the camaraderie among the families taking part — and we'll remain good friends with many of them — but there's very definitely an undercurrent of competitive spirit.
The organisers take it seriously, too: just as with the full-sized racing cars, all J40s are scrutineered to check that no modifications have taken place to give the car and driver an unfair advantage. Extending the cockpit to allow taller drivers to take part is a big no-no, while adding non-original rose-joints or lightweight components are also banned. I was amazed to discover the scrutineers use templates to make sure the axles are properly set up, and not geared to increase top speeds.
---
Scrutineering for the Settrington Cup is comprehensive, and some cars do fall foul of the rules.
---
The Settrington Cup involves two races, taking place on the Saturday and Sunday mornings. It has a Le Mans-style start, with cars lined up along each edge of the track and drivers standing in the middle, facing their vehicles. Grid positions are determined when the drivers turn up and "sign on", by pulling a number out of a hat, and that position is reversed for the second race. When the flag drops the children run to their car, jump in and pedal like hell.
It's open to any J40, even those built after 1966, and though it's thought as few as half of the 32,098 cars built during the 24-year production run have survived, that still means a considerable number of eligible contenders are out there, and rotten ones are now being rescued and restored due to their surging values. Goodwood allows as many to take part as possible, making it the busiest grid of the whole Revival weekend; 70 cars raced this year.
It was also quite daunting for me, let alone Eva. Making sure we got through scrutineering was tense enough, but the competitors, I had noticed over the years, tend to be children from much more famous racing families. When the list of entrants was sent through I saw that Eva would be up against former F1 driver Karun Chandhok's son, and other names stood out: Fisken; Franchitti; Turner; Buncombe; Verdon-Roe.
---
The busy grid included the young Kushant Chandhok, son of former F1 driver turned pundit Karun (left), and Luca Franchitti, whose parents are racing driver Marino Franchitti (pictured with Luca, right) and Holly Mason, daughter of Pink Floyd drummer Nick Mason. Luca was the overall winner of the 2023 Settrington Cup.
---
I was also fully aware Eva might feel under pressure, so we took part in the official test day (yes, there's a Settrington Cup test day) at one of Goodwood's Breakfast Club meetings. That definitely helped settle her nerves and allowed her to meet some of the other competitors, a few of whom became friends and Eva looked forward to seeing them again over Revival weekend. As it was a busy event she also got a taste of what it's like to pedal in front of spectators.
At the Revival itself, the races were most definitely lively, with crashes, pile-ups and dodgy driving. Eva showed a surprising level of determination, with a sprint pose before the flag dropped and teeth gritted right to the chequered flag.
---
The racing may not have been fast but it was certainly furious.
---
How did she get on? From 64th on the grid in race one she made it up to 41st, despite a slow start and being held up in a jam at the chicane, half way along the course.
In race two she had a much better shot at a podium, starting from seventh. This time she made a clean getaway and was in a three-way fight for second place before having to yield at the chicane, and then found it impossible to get past the weaving number 110 car, who ended up claiming third, with Eva just behind.
As Eva's mechanic I was back at the startline and hadn't seen what was going on up the track, but other members of my family – and a few spectators, too – were spitting feathers at the injustice of the alleged blocking that had taken place.
---
In race two Eva couldn't find a way past the driver running in third, who used every bit of road to keep her behind.
---
Watching the replay I was also a little cross, I have to say, though according to the man in charge of Settrington Cup driving standards, "Weaving is allowed; it's just when they go 'full Verstappen' and there's contact that we get involved." Plus I'm not sure how I'd have felt about a serious protest against another child's behaviour… after all, what did we expect?
The overall result, though, is a combination of the race times from the two heats, and Eva was ranked 14th out of the 70 cars, which we deemed a terrific effort.
---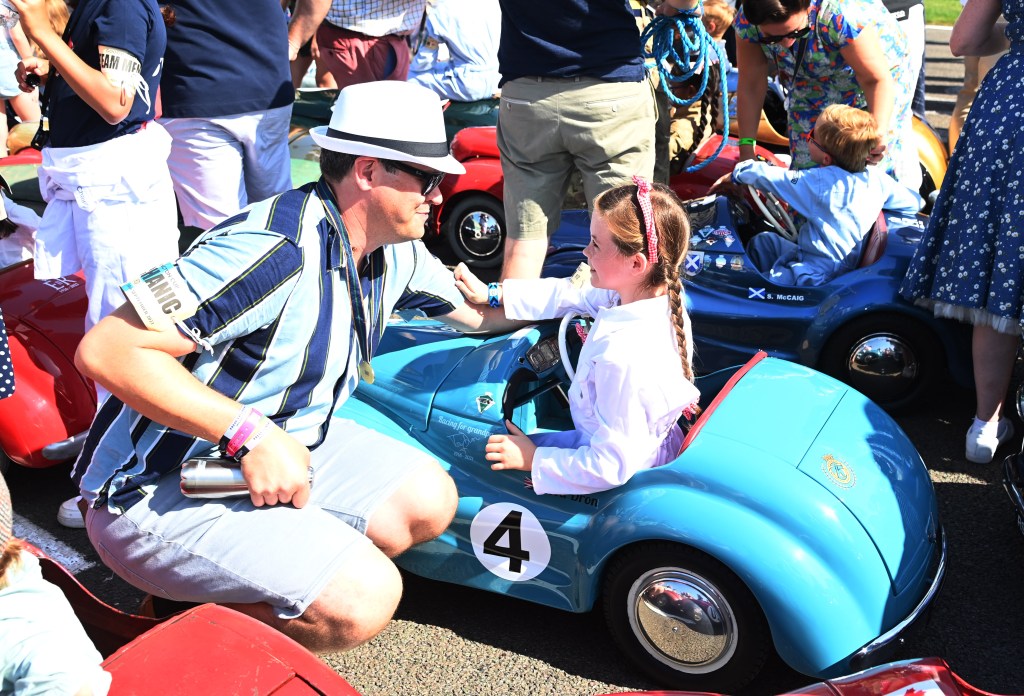 Every parent of a child in the Settrington Cup can be rightfully proud of completing the race, in whatever position they finished.
---
What's more we do have wonderful memories to take away, if not silverware. When the dust settled we were just so pleased to have been involved, happy that our J40 is now in such great fettle, and deeply proud of our little girl. We know her grandpa would have been beaming, too. This one was for you, dad.
Follow @wdron
Tweet to @wdron
Photos: © Alex Goy; Peter Tarry; Jeff Bloxham; Beki Matthews; Will Dron; Tony Dron
Related articles
Latest articles