VW Golf GTI Mk 7 review (2012-on)
The Golf GTI needs no introduction. Oh all right, then: this is the seventh generation of the mature driver's hot hatch, launched in 2012.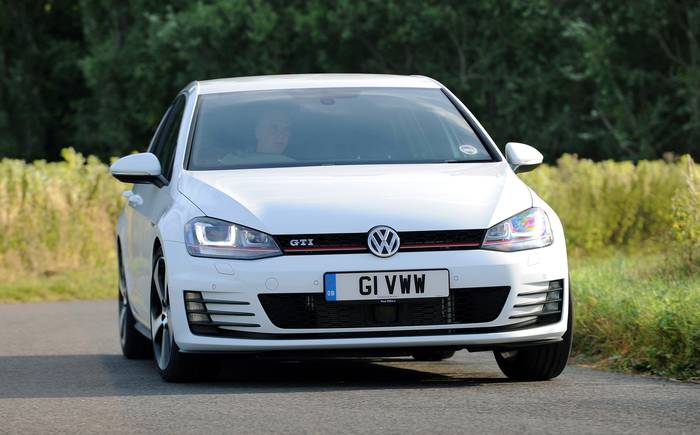 What is the VW Golf GTI?
The Golf GTI needs no introduction. Oh all right, then: this is the seventh generation of the mature driver's hot hatch, launched in 2012. It shares its new, lighter but stronger platform, codenamed MQB, with other mid-size models in the VW Group: the Seat Leon, Audi A3 and Skoda Octavia.
---
Search for and buy a used VW Golf GTI on driving.co.uk
---
There is one engine: a turbocharged 2-litre TSI producing 217bhp. However, for an extra £980 you can buy your GTI with the Performance pack, which brings an additional, and rather useful, 10bhp. So useful that VW, has seen fit to add larger brakes and an electronically controlled limited slip differential that improves traction in extremis by feeding power to those wheels with the most grip, handy when you enter a damp corner a little too briskly.
There's a choice of six-speed manual and six-speed automatic DSG transmissions, the latter offering normal and sport modes, and quick-acting flappy paddles on the steering wheel. And, this being a Golf, you can have it with three or five doors.
The Golf GTI has never been the extrovert's hot hatch, which is why this new version wears its shouty character lightly but stylishly. There are smart 18in wheels (19s are a £985 option), discreet red GTI badges on the wings, red brake callipers and twin tailpipes. There's a short, roof-mounted rear spoiler and the car sits a little lower than other Golfs, too. The Mk 7's chiselled lines, and LED lights front and rear, lend the whole a dramatic look. However, if it's an OTT body kit and pumped-up wheelarches you're after, you'll need to look elsewhere.
The drive

Other hot hatches, namely the 265bhp Renault Megane coupé Renaultsport may, just, be able to shade the Golf's 0-62mph sprint time of 6.5 seconds, but away from the ruled paper and out on the road, you'd be pushed to know. Full throttle, the Golf, especially in Performance guise, never feels less than seriously quick all the way to the redline which arrives, thanks to the engine's smooth-revving nature, all too soon. At such times, the engine howls intoxicatingly, while the exhaust pipes rasp away behind, occasionally popping, too, if you back off the throttle suddenly.
The DSG 'box is so effective, it's hard to see why you'd want the manual, unless it's to save a not inconsiderable £1,415, and a little bit at the fuel pumps. You certainly won't change gear half as fast with the stick-shift (an important consideration given the trace of turbo lag that can blunt initial pick-up should you be out of the blower's power zone), although you might enjoy the higher level of interaction.
Via the display screen you can choose a comfort or sports set-up, or mix 'n match the steering, ride and performance to suit your own tastes. The ride is still firm but a tad more forgiving in Comfort mode, a little harder-edged, though never harsh, in Sport. The distinction really is that fine. In fact, Comfort is a great compromise regardless, and worth sticking with. The brakes are strong and progressive, but the steering, while impressively weighty, feels a little too remote from the wheels to provide genuine driver involvement and feedback.
And for all the popping and howling at full chat, the car is so competent and secure you'd need to be doing something really stupid, or be on a race track, to unstick it and have some fun. The fact is, it's a hot hatch for grown-ups; one that can power through bends like a missile, and devour miles like a starship. For unrestrained Fun, you'll need to look elsewhere.
The interior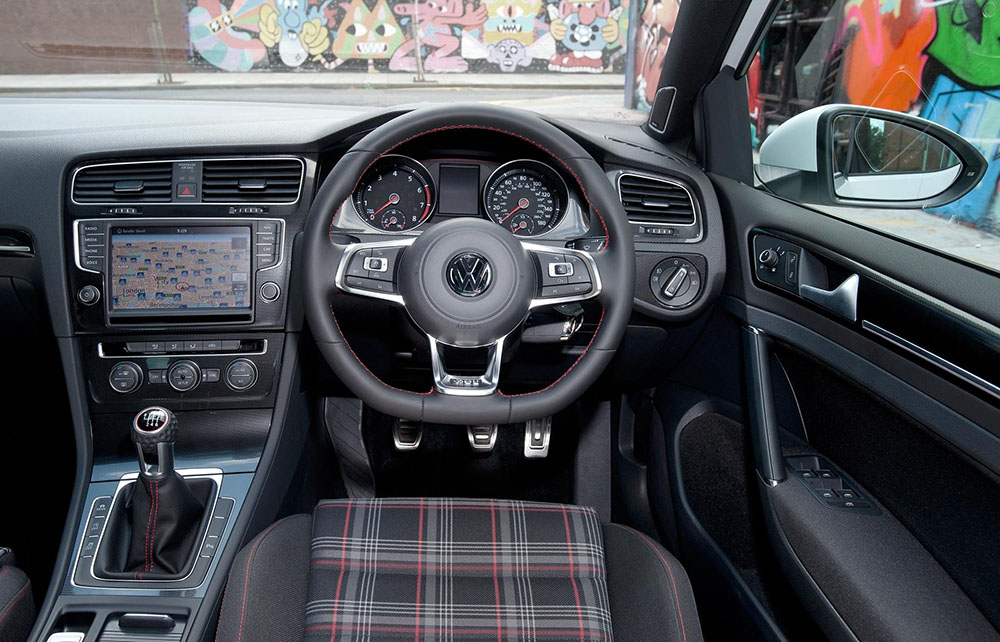 This is why you want a Golf. The doors close like a Bond villain's safe, the seat fabric (a tartan tribute to the Mk 1 GTI) is tough and child proof, and the trim feels anchored for all time. That trim needs to be well-anchored, by the way, because the 100kg reduction in weight, compared with the previous model, that VW has managed to engineer into the new Golf may have come at the expense of a degree less tautness than previous generations. The car can really thump into potholes, shaking the cabin in a way an Audi A3, for example, would resist.
The fascia is well organized: 5.8in multi-function display screen (there's an optional 8in version) with DAB tuner and climate controls to the left, two large dials (revs and speed) separated by additional driver information straight ahead, VW Group parts-bin rotary light switch lower right.  The switch-count on the steering wheel (they include volume, cruise control and mode selection) is well into double figures but there's no confusing which does what. What doesn't work, however, is the mode selection button ahead and to the left of the transmission lever. It's an absurd oversight in an otherwise clear and well-ordered cabin. Space-wise, there's room aplenty, front and rear, while the back seats fold to create a level floor and an Ikea-friendly 1,270 litres of load capacity.
The one to buy
VW Golf GTI 2.0 TSI DSG 5dr (Performance pack)
Factfile
Price:

£29,175 (correct at first publication)

Engine:

1984cc, turbocharged, 4 cylinders

Power:

227bhp @ 4500rpm

Torque:

258 lb ft @1500rpm

Transmission:

6-speed automatic DSG

Acceleration:

0-62mph in 6.5sec

Top speed:

151mph

Fuel:

44.1mpg (combined)

CO2:

148g/km

Road tax band:

F 

Dimensions:

L 4268mm, W 1799mm, H 1442mm
VW Golf GTI used car rivals for similar money