Volkswagen Touareg Mk1 review (2003-2010)
Nimble, comfortable and safe

What is the Volkswagen Touareg?
Volkswagen's big SUV was co-developed with the Porsche Cayenne; it's styled more like a traditional 4×4 than a high-riding sports car, however, and has been offered with a different engine line-up — including, in the first-generation range, an utterly outrageous 5.0-litre V10 diesel. It's good value second-hand — and it's less in-yer-face than a Range Rover, Q7 or Cayenne, though perhaps a little too low-key for some SUV buyers.
---
Search for and buy a used Volkswagen Touareg
---
The popular 2003-10 Touareg proved to be a credible rival for the likes of the BMW X5 and Mercedes-Benz M-Class, and even stole a few sales from the Range Rover and Land Rover Discovery: a strong all-rounder with a refined road ride, it is also a competent off-roader, thanks to low-ratio gears, a locking central differential, high ground clearance, short front and rear overhangs and, in higher-end versions, adjustable self-levelling suspension.
The range included entry-level 3.2 V6 petrol and 2.5-litre diesels as well as relatively economical 3.0 V6 TDI BlueMotion versions and rather less frugal 4.2 V8 petrols, plus that phenomenally torquey V10 TDI (313bhp in "standard" form, 345bhp in its ultimate incarnation as the R50). In real-life, the five-cylinder 2.5 TDI is actually absolutely adequate for most needs, though the 3.0 V6 TDI is a good compromise between manageable running costs and more rewarding performance; the V6 petrol is nothing special.
The second-generation Touareg, launched early 2010, is roomier and much-updated inside; its cabin is thoroughly modernised and feels more upmarket than ever, and the new series of engines offer improved economy. Petrol-preferrers can opt for the 3.0 V6 TSI Hybrid, with electrical assistance to squeeze out 34.4mpg, though this model's price (over £58,000 new) will surely negate any fuel savings; the improved 3.0 V6 TDI (201bhp or 242bhp) is the mainstream choice, with the 4.2 V8 TDI (335bhp) an enjoyable performance upgrade.
All versions can tow up to 3500kg and are adept off-road, but the Escape 4xMotion models are the ones with low-range gears, locking centre and rear differentials, and extra underbody protection, in addition to hill descent control and ESP with trailer stability control.
Where the Touareg really scores, however, is in its on-road agility: it is surprisingly nimble to drive, despite its bulk, and easy to manoeuvre. Ride and refinement is excellent — to a luxury car level — even with the standard suspension, and smoothed out further by the self-levelling air suspension. Equipment levels are suitably generous, with many Touaregs accessorised to the hilt with the latest in in-car entertainment and communications systems, and the seats are all supportive and comfortable for the longest of journeys.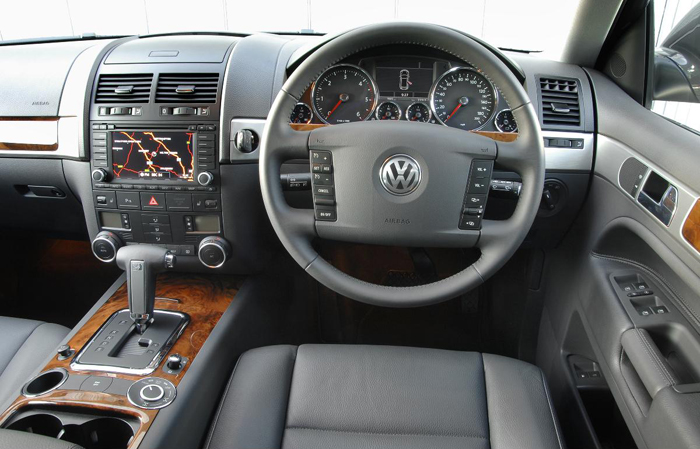 The Touareg's safe, too — five stars in the EuroNCAP crash tests — and about all you can pull it up on is that the central rear seat is a little narrower and shorter on legroom than the rest, and that there's no seven-seat option.
What to look out for when buying a used Volkswagen Touareg
The first-generation model was recalled for a faulty wiring loom, poor welding on a rear seat console and for extra earthing on the fuel tank, for faulty seatbelt locks, and for a rear spoiler which could become detached. The Mk1 Touareg has suffered some of the wider Volkswagen Group problems such as faulty ignition coils in the pre-2007 petrol engines, and further known issues subject to technical service bulletins include transfer box problems and poor rear wheel alignment.
Further frequently reported problems include propshaft failure, failure of the air suspension, wear in the automatic gearbox, and water pump and turbo failures in the 2.5 TDI; owners have also noted failure of the keyless entry system, battery failures, air conditioning failures, airbag sensor faults and a few other electrical glitches.
The Touareg is rated very poorly in the Warranty Direct Reliability Index (vehicles with an average age of 4.35 years) due to high repair costs as well as for breakdowns, and Volkswagen as a whole is 24th out of 35 manufacturers in this survey. Owners report that Volkswagen dealers are not always helpful when problems arise, which is reflected by a 13th place (marginally above average) in the 2012 JD Power/What Car? dealership satisfaction survey.
The one to buy
Volkswagen Touareg 3.0 V6 TDI
Specifications
Engine:

2967cc, 6-cylinder

Power:

201bhp @ 3200rpm

Torque:

332 lb ft @ 1250rpm

Transmission:

8-speed automatic

Acceleration:

0-62mph in 8.5sec

Top Speed:

128mph

Fuel

40.4mpg combined

CO2:

184g/km

Road Tax Band:

I

Dimensions:

L 4795mm, W 1940mm, H 1732mm
Volkswagen Touareg rivals