Volkswagen Scirocco Mk 3 review (2008-on)
It's not often that concept cars keep their original form when they make production. Volkswagen managed it with the latest version of the Scirocco.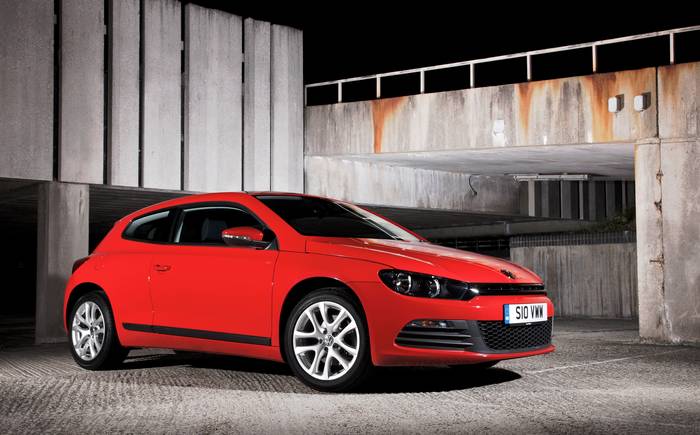 What is the VW Scirocco?
It's not often that concept cars keep their original form when they make production. Volkswagen managed it with the latest version of the Scirocco. Still a stunning-looking car, the Scirocco offers seating for four adults, fun handling for the driver and a range of good engines for buyers to choose from.
---
Search for and buy a used VW Scirocco on driving.co.uk
---
Our pick would be the 2-litre TSI engine, in GT trim with a manual gearbox, which will ensure you're not left standing at the lights by a Golf GTI. The Scirocco's appeal is more than skin deep. Based around the Volkswagen Golf's mechanicals, it is as drivable and usable as it is stylish. With good refinement thrown in, it's hardly surprising that the Scirocco has been a hit with the Dinky (double income no kids yet) crowd. As well as that, the Scirocco holds its value on the second-hand market well.
Rivals include the Peugeot RCZ, another concept car that made production almost unaltered, and even that famous Volkswagen, the Golf GTI.
The drive

Although based on the VW Golf, the Scirocco is longer, wider and much lower than the hatchback. This means it has a lower centre of gravity, which enhances it handling. Combined with unique suspension settings it feels a lot more responsive than, say, a Golf GTI, and is more fun than a Peugeot RCZ.
It'll come out to play on a twisty road with the sort of enthusiasm you wouldn't expect of a car with such relatively humble roots. Yet on an A-road or motorway, where most of our motoring lives are spent, it feels comfortable. There are three engine sizes available: 1.4 turbocharged and supercharged 2.0-litre turbo and 2.0-litre TDI. All engines give lively performance but the diesel's rumble makes it the least suited to a sporty car like this. The 2.0-litre petrol sounds good and sprints from 0-62mph in 6.9 seconds, but better still it offers peak torque right across the rev range from just 1700rpm.
Top-spec R models come with adaptive chassis control that features comfort, normal and sport. It's actually a bit superfluous: normal is a perfectly adequate compromise for everyday life.
The interior

As with other VWs the cabin is beautifully built but has a slightly drab feeling to it that is more about functionality than setting the pulse racing. At least this means all the buttons and switches have a quality feel and are well laid-out and easy to operate. The driving position is adjustable, snug and feels agreeably sporty — being much lower to the floor than in a Golf GTI. Space in the rear seats is a squash and a squeeze for a couple of adults, particularly head room, but it's still more usable than a lot of 2+2s. And although boot space is tight, the rear seat back still folds.
In practical terms, probably the Scirocco's worst trait is rear visibility. The back window appears little bigger than a letter box and the tiny rear wiper clears only the central portion. Equipment levels are impressive with even standard models getting air-conditioning, electric windows, rain-sensing windscreen wipers and Bluetooth connectivity.

What to look out for
The Scirocco has fallen prey to some of the wider Volkswagen Group reliability problems of recent years, including the widespread ignition-coil flaws of the 2.0 TSI engine. Owners have also reported glitches in the DSG transmission, including a need for software upgrades to cure repeated stalling, and misfiring of the 1.4 TSI engine. Other complaints include electronics concerns, such as failure of the chassis control sensors, and sticking windows and tailgates have also cropped up.
The Scirocco has been recalled three times in Britain: first for a missing weld seam on its front suspension, next for the DSG patch, and most recently for fuel leaks in 2.0 TDI models.
Most owners appear to be very happy, though. The Scirocco topped the sports and cabrios category in the 2012 JD Power customer satisfaction survey, beating its 2011 second place behind the Mazda MX-5, and it emerged from the 2012 Auto Express Driver Power poll as best sports car.
The One to Buy
Volkswagen Scirocco GT 2.0 TSI
Factfile
Price:

£25,640 (correct at first publication)

Engine:

1984cc, 4-cylinder, turbo petrol

Power:

207bhp @ 5300rpm

Torque:

206 lb ft @ 1700rpm

Transmission:

6-speed manual

Acceleration:

0-62mph in 6.9sec

Top Speed:

149mph

Fuel

38.2mpg

CO2:

172g/km

Road Tax Band:

H 

Dimensions:

L 4256mm, W 1810mm, H 1404mm
VW Scirocco used car rivals for similar money
See prices of Audi TT
See prices of Mercedes E-class
See prices of Porsche 911