Volkswagen Passat Mk 7 review (2010-on)
If there is a car that oozes sense from every angle, it's the Volkswagen Passat.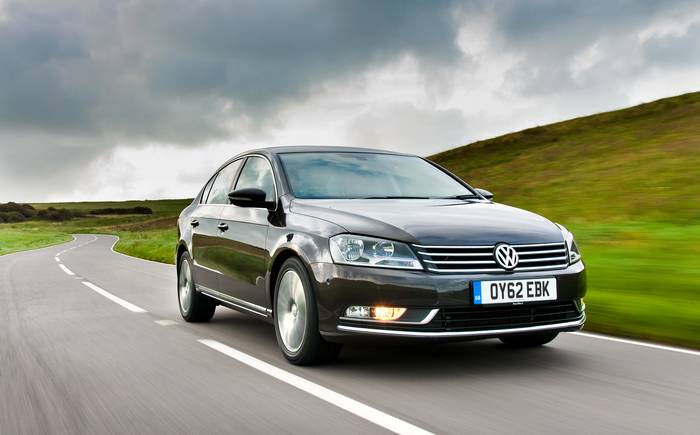 What is the Volkswagen Passat Mk 7?
If there is a car that oozes sense from every angle, it's the Volkswagen Passat. Available as a family saloon or estate, it is designed to be a posh alternative to the Ford and Vauxhall offerings in a market sector dominated by company cars, where being radical can bite you on the backside and being conservative seems to meet with sales success.
---
Search for and buy a used VW Passatt on driving.co.uk
---
Now in its seventh generation, the Passat, from a timid start, has evolved into a market leader over the years — if you discount the more prestigious and costly offerings from Audi, BMW and Mercedes-Benz. It is offered with a wide range of engines, from an improbably undernourished-sounding 1.4-litre petrol to the VW Group's excellent, all-purpose 2-litre diesel. Where the Passat really excels is as a no-nonsense cruiser, for it is comfortable, effortless and refined — all the qualities that people who hang their jackets in the back window and spend a lot of time on motorways look out for.
The drive
You don't buy a Passat if you're looking for wild thrills at the helm — not because it's in any way unpleasant to drive, but simply because it's a sensible product rather than a stimulating one and as such has no pretensions to sportiness. The buyers of this type of car want dependability, comfort and practicality above all, to minimise the stresses of their daily driving. They want to arrive at meetings in distant towns feeling fresh, relaxed and ready for business. The Passat allows just that with its quietness, refinement and supple ride and the strong, flexible performance of most of its engines, in particular the diesels.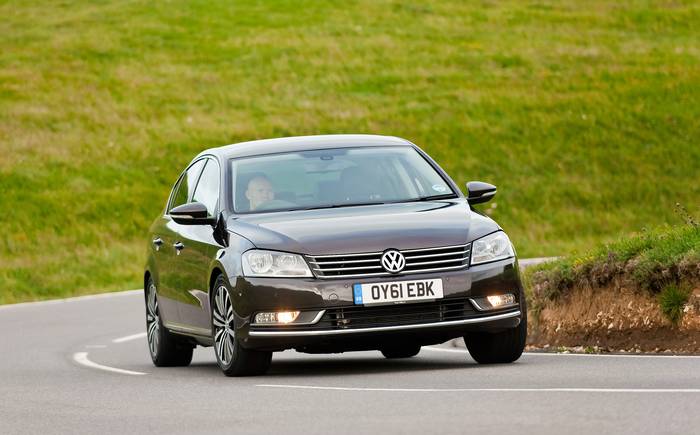 There's a choice of VW's clever 1.4-litre supercharged and turbocharged petrol engine, a 1.8 or 2-litre turbocharged petrol motor, or a 1.6 or 2-litre diesel. They come with a six-speed manual gearbox as standard, or an optional seven-speed automatic transmission. Most models can be specified with VW's BlueMotion fuel-saving technology. Our pick of the range is the muscular 2-litre TDI, which, with 138bhp and plenty of torque, is an unruffled performer and surprisingly economical with it.
The interior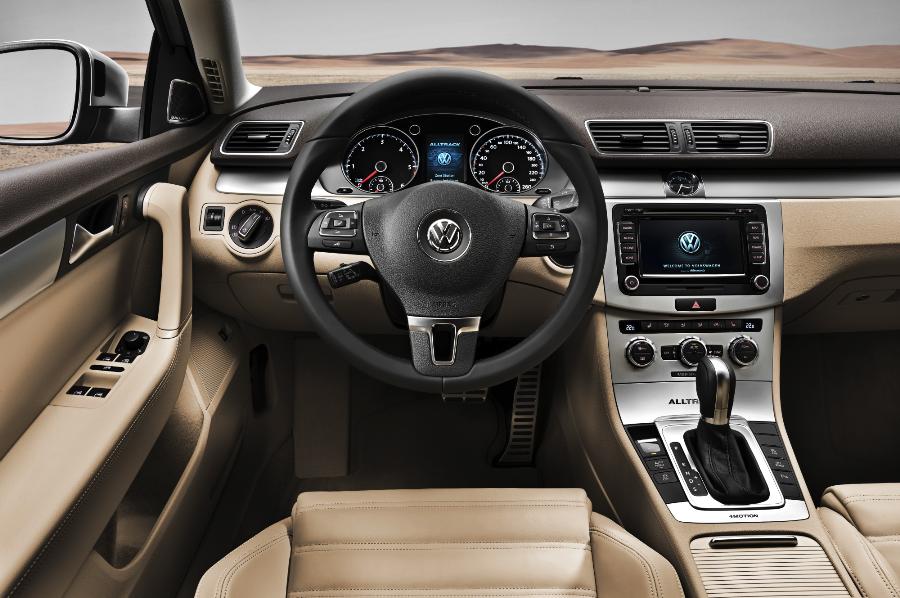 We've already established that anyone seeking dynamic excitement should be looking elsewhere, and much the same applies for motorists who are at their happiest in a flashy cabin, because they won't find one in the Passat, whose interior is designed with neat functionality foremost in mind. It is very smart, though, with a dashboard that is beautifully lit at night; whatever it may lack in artistic expression, it more than makes up for with excellent ergonomics, an elegant simplicity and high-quality materials. Even the standard S model gets a leather-trimmed gearlever and steering wheel (plus buttons at the wheel to control the sound system), as well as electric windows all round, air-conditioning and alloy wheels. The driving position is fully adjustable, and there's a lot of room in the back to accommodate a growing family, although the substantial exhaust tunnel running down the centre of the cabin can make life a little uncomfortable for the back-seat piggy in the middle. At a capacity of 565 litres, the boot is large; if you think you'll need it even bigger, there's always the excellent Passat estate, which has more than 600 litres of luggage space before the back seat is dropped.
What to look out for
Some of the Volkswagen Group's company-wide reliability issues of recent years affected the Passat, especially troubles with the diesel engines — mainly problems with the piezo-electric fuel injectors, particulate filters and oil pumps, but an extensive catalogue of common faults. Owners also complained of a range of serious electrical and electronic problems (including sticking automatic parking brakes) plus water leaks, turbo failures and general poor-quality fit and finish.
The post-2011 range should be less troublesome, though there are still concerns over the DSG transmission, and owners are already reporting minor build quality defects, electronic problems, and sat nav and audio system failures.
The one to buy
Volkswagen Passat 2.0 TDI BlueMotion SE
Factfile
Price:

£22,410 (correct at first publication)

Engine:

1968cc, 4 cylinders

Power:

138bhp @ 4200rpm

Torque:

236 lb ft @ 1750rpm

Transmission:

6-speed manual

Acceleration:

0-62mph in 9.8sec

Top speed:

131mph

Fuel

61.4mpg (combined)

CO2:

119g/km

Road tax band:

C

Dimensions:

L 4769mm, W 1820mm, H 1470mm
 
Volkswagen Passat Mk 7 used car rivals for similar money