Vicki Butler-Henderson's first drive review: Citroën DS3 Cabrio Racing
Find out why the DS3 Racing Cabrio is a blast from Vicki's past

Citroën DS3 Cabrio Racing, £29,305
THERE ARE few things we ladies look forward to more than a break from the routine of work, kids and husbands. A women-only spa day that's nowhere near the echoes of a school playground ranks pretty high on many wish lists. But not on mine. My dream day away from being a mummy and (goddess of a) wife is to be on my own, in control of something good-looking, powerful and racy.
This stems from my formative years as a journalist, in a world where publishing involved printing stories on paper rather than uploading them to websites, and car magazines provided a weekly fix for petrolheads. One of those magazines was Max Power, which I helped to launch.
Max magazine, as it became known, celebrated car culture and specifically the trend among young men — and women — for tuning and restyling standard vehicles, transforming them into attention-grabbing ballistic missiles. It began as a healthy hobby that brought people together — even if it was in the car park of an industrial estate with a 24-hour McDonald's on the corner.
The car of choice for any budding "modder" was the hot hatch — ideally the Volkswagen GTI or, for drivers on a budget, the Citroën Saxo. In standard form this family supermini was popular with suburban mums, who wanted an easy-to-handle runaround in which to nip to the shops and back. In souped-up form it provided about the most fun you could have on four wheels. No wonder it quickly earned the nickname "Maxo".
Two beefed-up versions were sold: the lukewarm VTR and the red-hot 1.6-litre VTS, which produced 118bhp. That may not sound much today, but back in the 1990s it was enough to make the car the weapon of choice for a whole generation of young petrolheads. In 1998 I ran a Maxo for a year. I couldn't get enough of the feisty little thing. No matter what the journey, I'd take the long way round so that I could spend more time wringing the engine's neck and making the tyres squeal. It was a hoot.
Max Power no longer exists: dwindling sales meant that it published its last breathless review of an imported grey Subaru Impreza with red decals in 2011, and of the 7,000 VTS Saxos once on the road, not many more than 1,000 are left.
The Saxo wasn't terribly durable. The body shell had all the strength of the burger wrappers littering the back seat.
One of the great things about the Saxo — and indeed any hot hatch — was that you could drive it with abandon. Jump behind the wheel of a Ferrari or a Porsche — and, trust me, I never passed up an opportunity — and things are very different. Yes, they may be faster and more powerful, but most people will find them too serious and expensive to drive with real gusto.
Unfortunately, what made the Maxo such a giggle — namely, that it weighed about as much as a plimsoll — proved to be its downfall. It wasn't terribly durable, and in the event of a crash the body shell had all the strength of the burger wrappers littering the back seat.
Max Power no longer exists: dwindling sales meant that it published its last breathless review of an imported grey Subaru Impreza with red decals in 2011, and of the 7,000 VTS Saxos once on the road, not many more than 1,000 are left. I've no idea what's happened to my car, but my memories remain intact.
So it was with great expectations that I found myself at the helm of Citroën's latest centrefold, the glamorous DS3 Cabrio Racing. It's the French company's most hardcore topless model and its name evokes Citroën's motor sport arm, which competes with a DS3 in the world rally championship. It took constructors' titles in 2011 and 2012 and has won countless races. To make this new road car, the Racing division whipped some standard cabriolets off the production line and upgraded key parts before spraying them matt grey and slapping on red stripes. So far, so Max Power.
If this is ringing any bells, that's because the fixed-top DS3 Racing came out in 2010, albeit with an orange roof and in greater numbers — 2,000, to be precise, of which 200 went to drivers in Britain. By contrast, 100 Cabrios have been made, with just 10 for sale here.
---
Search for and buy a used Citroen DS3 on driving.co.uk
---
With so few available in the UK, it's unlikely you'll come across one — even at a late-night McDonald's drive-through on the North Circular. That's a good thing for owners: imagine going out with Brad Pitt and bumping into his double on your local high street. You wouldn't feel so special then.
Its rarity is this car's strongest selling point and the reason Citroën feels it can demand the exceptionally high price of nearly £30,000. The DS3 Cabrio DSport, previously the range-topper, is almost £10,000 cheaper. Now, in my lottery-winning dreams I can spend £10,000 in the blink of an eye, not least on a night out with a Brad Pitt lookalike, but in reality it is nearly enough to buy the entry-level DS3 hatchback. So what has Citroën Racing done to justify the price?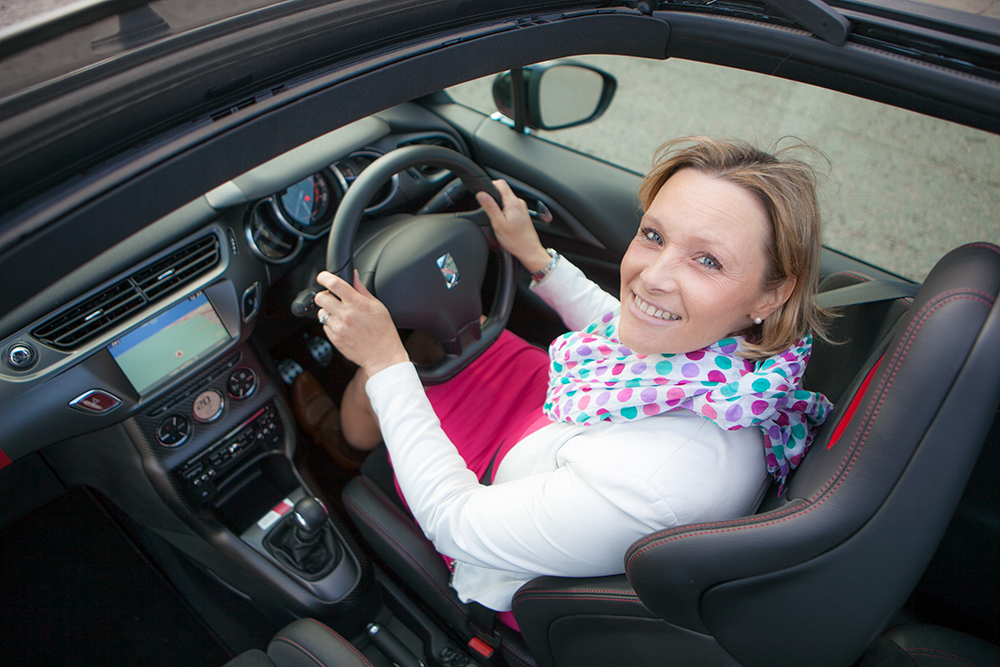 For starters, the 1.6-litre turbocharged engine has undergone surgery to increase its power from a medium-weight 154bhp to a more hot-hatch-worthy 204bhp. There's also more torque, which you experience when you stamp the throttle hard from a standstill and the front tyres scrabble about in search of grip while the steering wheel twists about in your hand like an impatient rottweiler. It's not the time to be exploring your nasal cavity.
It hits 62mph from standstill in 6.5 seconds and has a top speed of 145mph. Flat-out, it is a perfect match for its main rival, the Mini John Cooper Works convertible, but the French car beats the Brit in the sprint race by almost half a second. Citroën's offering is sprightly, lively and eager to please. The throttle has the response of a highly strung racehorse: a slight squeeze of your foot makes the rev counter rocket and you surge down the road.
The turbo engine has the pulling power of a school stud at the end-of-term disco.
On a stretch of smooth, open tarmac you'll find the tweaked steering a joy. The part-leather, part-carbon-fibre-effect wheel sits perfectly in the hand, and the six-speed gearbox has a confidence-inspiring throw. It's a fresh and frisky machine that reminds me of my first Saxo all those years ago.
The turbo engine has the pulling power of a school stud at the end-of-term disco.
Cabrios are naturally heavier than hard-tops because of the extra strengthening needed to function without a roof, but the suspension here is startlingly supple, with no sign of the firm ride that you might expect in a car derived from a rally machine. Yes, the chassis is taut, but there's none of the expected jarring on bumpy roads.
The thing everyone outside the car will notice is the colour scheme. But there is a problem here. I love the matt paint job, but for almost £30,000 I want the go-faster stripes to be sprayed on, lovingly and professionally. These are mere stickers — a crying shame.
Other niggles include the stereo, which has fussy buttons and unfriendly programming, a boot lid that opens only as wide as one eye after a heavy night on the sauce and wide doors that are enemies of tight car parks, particularly if you're long-limbed and need adequate room to unfurl yourself.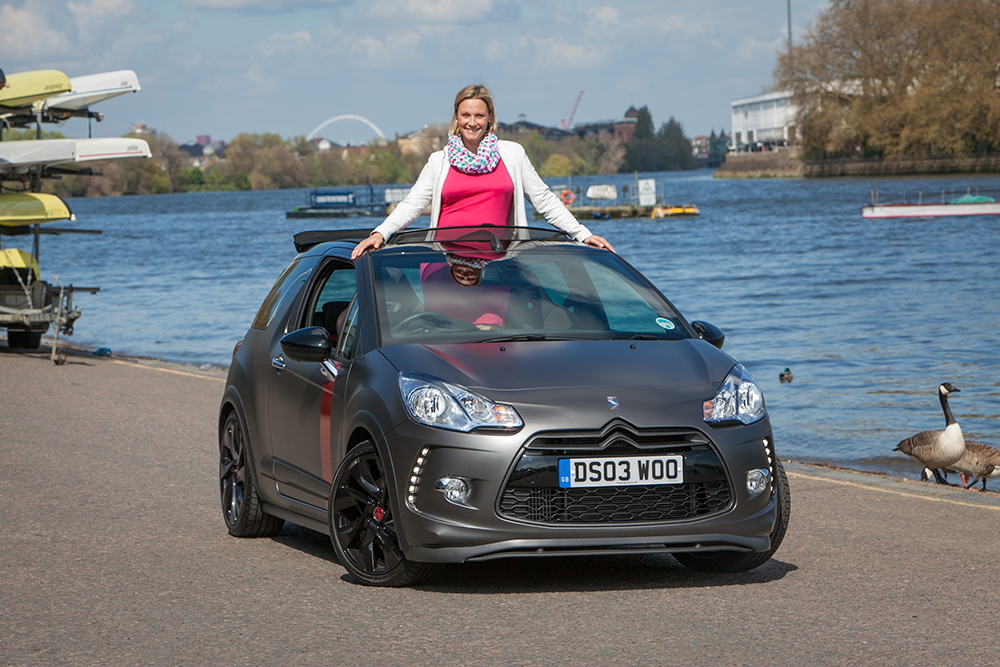 And then there are the 18in alloy wheels, painted in the shiniest black you'll see. They're so dazzling that you can't help but treat them as a bride does her freshly painted nails, in constant fear of chipping them.
The roof peels back like the top of a sardine tin, leaving the windows and rear screen in place — unlike in most convertibles — and can open or close at speeds up to 74mph, though what you would be doing playing with the roof at above the national speed limit is a moot point. It is not the best design: when it's open, the wind deflector masks any sound the modified sports exhaust might be making, and when it's closed, the road noise is a little too imposing.
It does have a couple of advantages, however: it makes you feel much more secure around town than a conventional convertible ever can, especially when you are driving alone. I even discovered that with the roof open I was able to lower my three-year-old into an Isofix seat without all the usual hassle of bending in through the front doors. Not what a hot hatch is designed for, admittedly, but perfect for the parent I am now. From Max Power to mum power.
Vicki's verdict ★★★★☆
A blast from my past
Citroën DS3 Cabrio Racing specifications
Engine 1598cc, 4 cylinders, turbo
Power 204bhp @ 6000rpm
Torque 203 lb ft @ 2000rpm
Transmission 6-speed manual
Acceleration 0-62mph: 6.5sec
Top Speed 145mph
Fuel 44.1mpg (combined)
CO2 149g/km
Vehicle Tax band F (£145 a year)
Price £29,305
Release date Only three left in UK — buy now!
---
Search for and buy a used Citroen DS3 on driving.co.uk
---