Vauxhall Insignia review 2021
Alan would be impressed
IT'S FAIR to say the Vauxhall Insignia hasn't always been regarded as the coolest saloon in the executive car park. Alan Partridge may have worked his way through Rovers and Lexuses (Lexi?), but some would say the buttock-clenchingly un-self-aware comedy character found the perfect match when he later turned to the Insignia SRi.
But despite the image problem, the Vauxhall Insignia has sold well – 300,000 in the UK alone, and over a million in Europe, since it was introduced in 2008.
The refreshed model for 2021, with and updated look, improved aerodynamics, tweaked interior and all-new more efficient engines under the bonnet, might still be a hard sell to drivers used to the BMW 5 Series, Audi A6 or Mercedes E Class (for it is almost as long as those), but it is better than the old model in every way, and actually a decent car to drive and look at. Plus there's a new, Nürburgring-tuned GSi version. Read our full Vauxhall Insignia review below.
2021 Vauxhall Insignia review: Design and rivals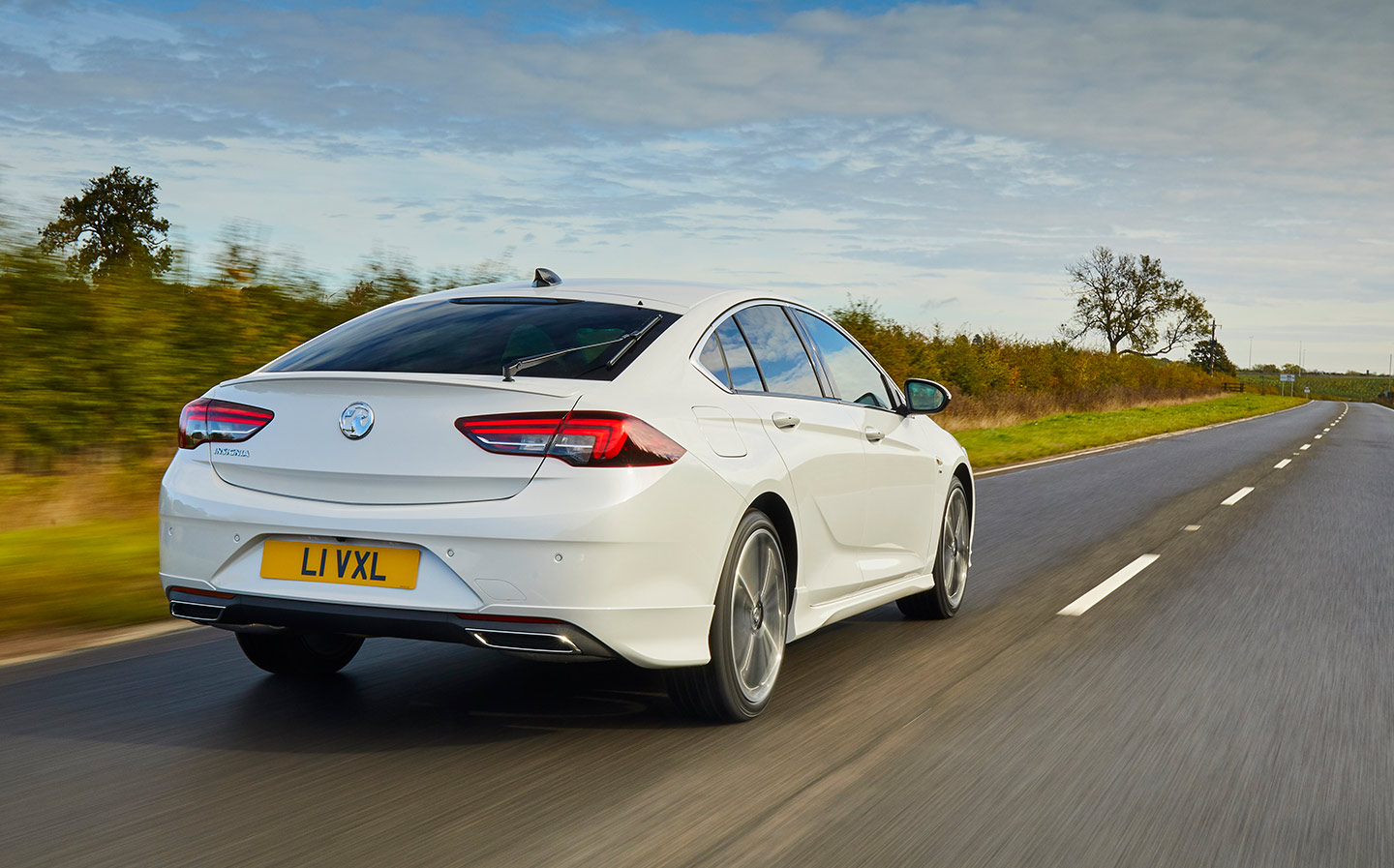 The new Insignia features an updated design with improved aerodynamics. In fact, Vauxhall claims it's the most aerodynamic vehicle in its segment. Some other car makers might contend that but the Vauxhall design team have definitely honed the aesthetics.
The grille is wider and now edged with chrome, and combined with a new headlight design and air inlet trim, the front of the Insignia has a more purposeful look than before. The creases in the bodyline draw the eye to a coupé-like, curvy rear end.
Our test car, in SRi VX Line Nav trim, gets sportier front and rear bumpers – shared with the range-topping GSi – than the SE and SRi Nav spec cars, and it was riding on big 20in wheels, which definitely improve the kerb appeal. If you want the most aggressive Insignia, the GSi adds a bespoke rear spoiler and alloys (though still 20in).
While the rivals mentioned in the intro are of similar size, the Vauxhall Insignia's more affordable (starting at £23,795 on the road) and not a match for perceived quality; buyers are more likely to also look at the Skoda Superb, Volkswagen Passat, Kia ProCeed and Ford Mondeo.
Interior and practicality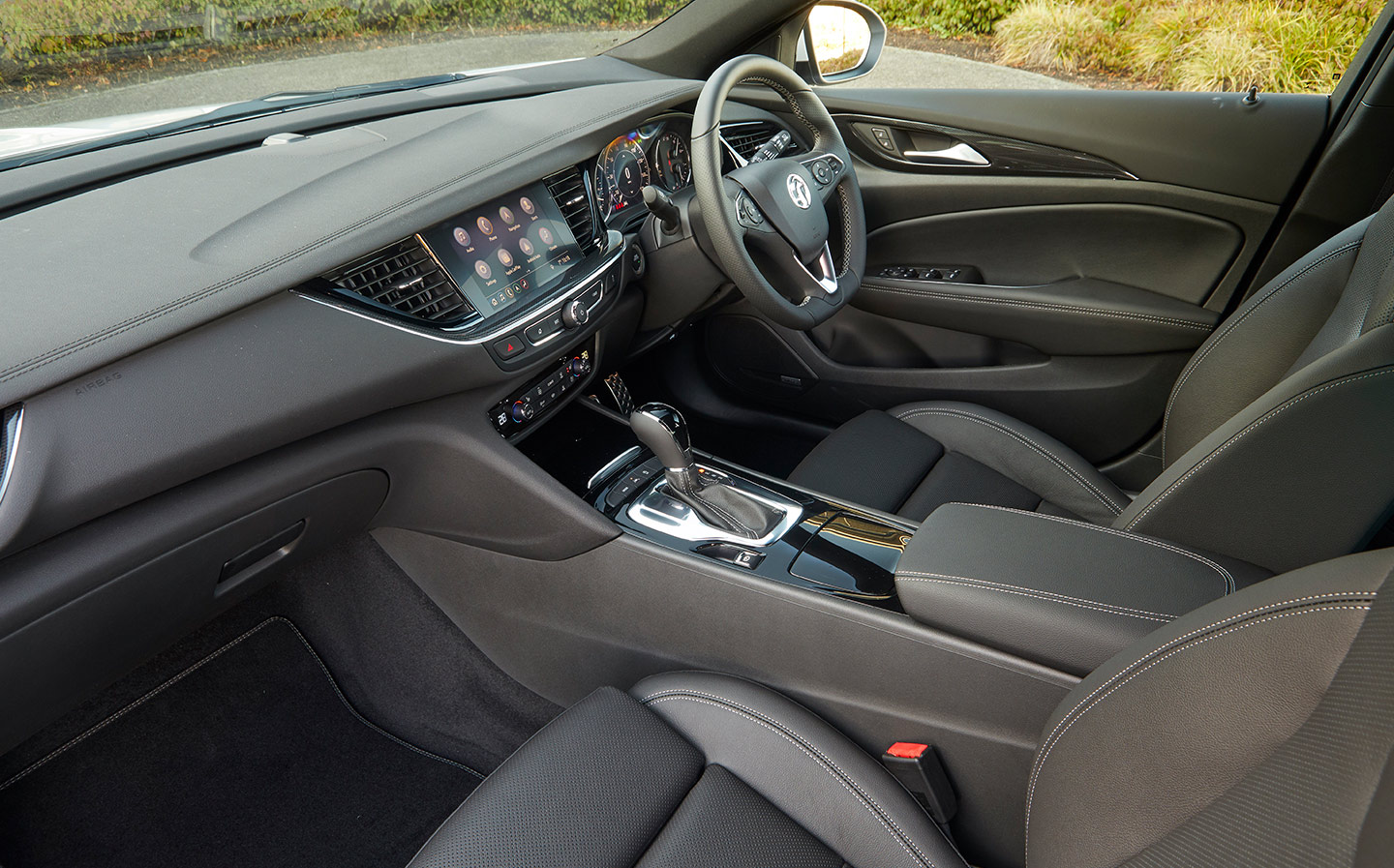 Climb inside and the new Insignia doesn't wow – it's the usual dark, plastic-y fare, with an underwhelming touchscreen (the upgraded 8in screen seems puny compared with what many of the rivals now offer, so much so that the surround air vents look oversized by comparison) and materials.
Vauxhall has tried to jazz it up with a bit of fake carbon fibre trim on the dashboard of higher spec models, and there's a gloss piano black plastic centre console and chrome around the gear selector. There's also some use of colour in the digital displays to help lift the visual appeal. But it's still a fairly dull environment.
The instrument binnacle is a particular disappointment when compared to the 3D fully digital driver displays from sister company Peugeot, but the digital-analogue mix may appeal to the hard-to-adapt. I'm not quite sure why Vauxhall feels the need to include a gauge for battery volts, though.
Perhaps more importantly, everything feels well screwed together and the controls are intuitively laid out, and comfort is good – important for long motorway slogs. The seats are electrically adjustable and nicely supportive. We didn't try the GSi model but its sports seat look the business.
It's not as stripped back as many new cars, with physical buttons still for the infotainment homescreen, music track select, heated and cooled seats (in our test car), and dials for the volume control and stereo volume. The heated steering wheel button is also on the steering wheel, sensibly, along with the cruise control and menu settings.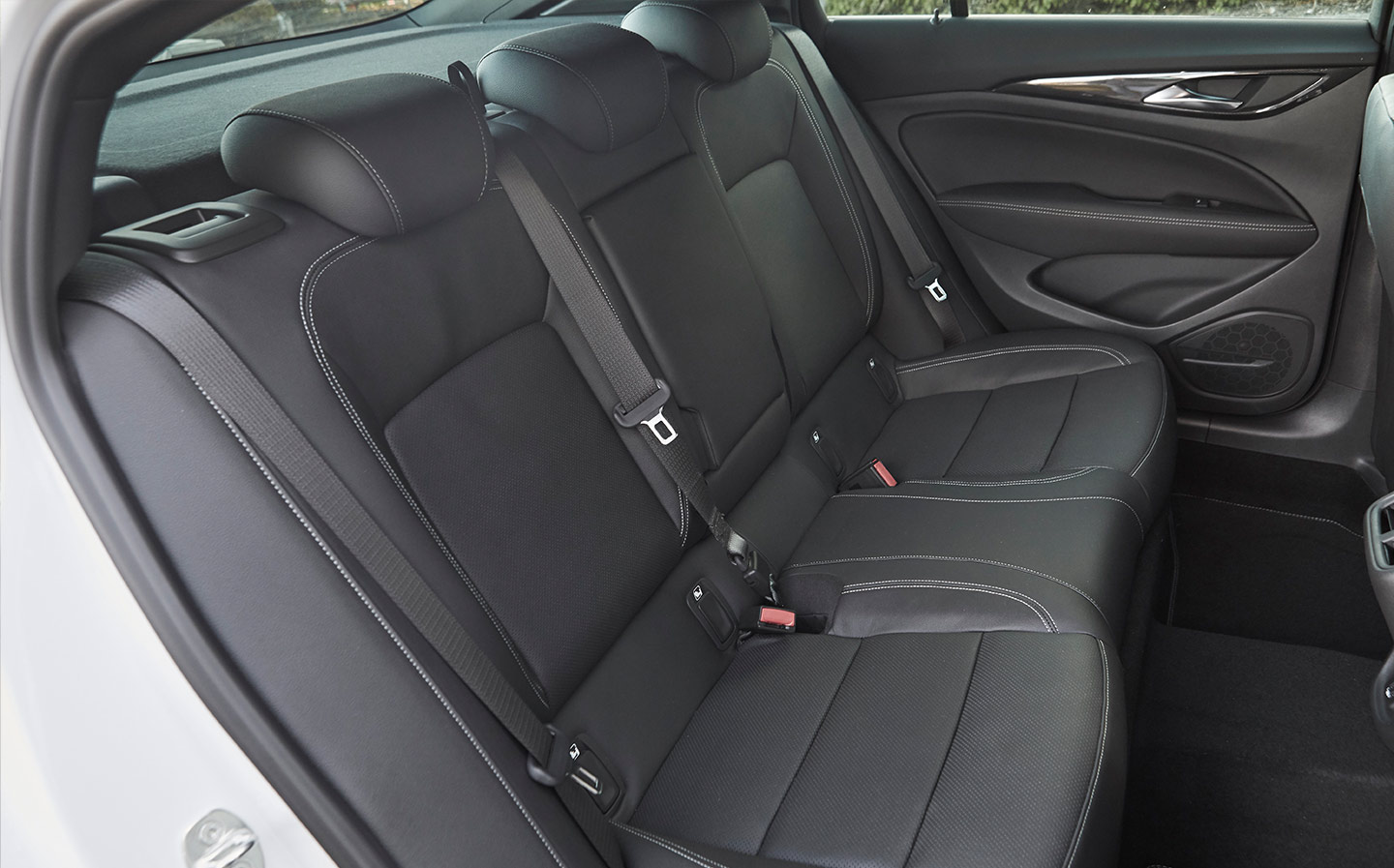 In the back, there's plenty of room for a couple of adults (or three children), with impressive amounts of kneeroom and decent headroom for taller passengers. the outer seats can be heated, too.
And the boot is very deep, and wide behind the wheel arches, with 490 litres of space up to the luggage cover, or a maximum of 1,450 litres with the rear folded.
Technology and safety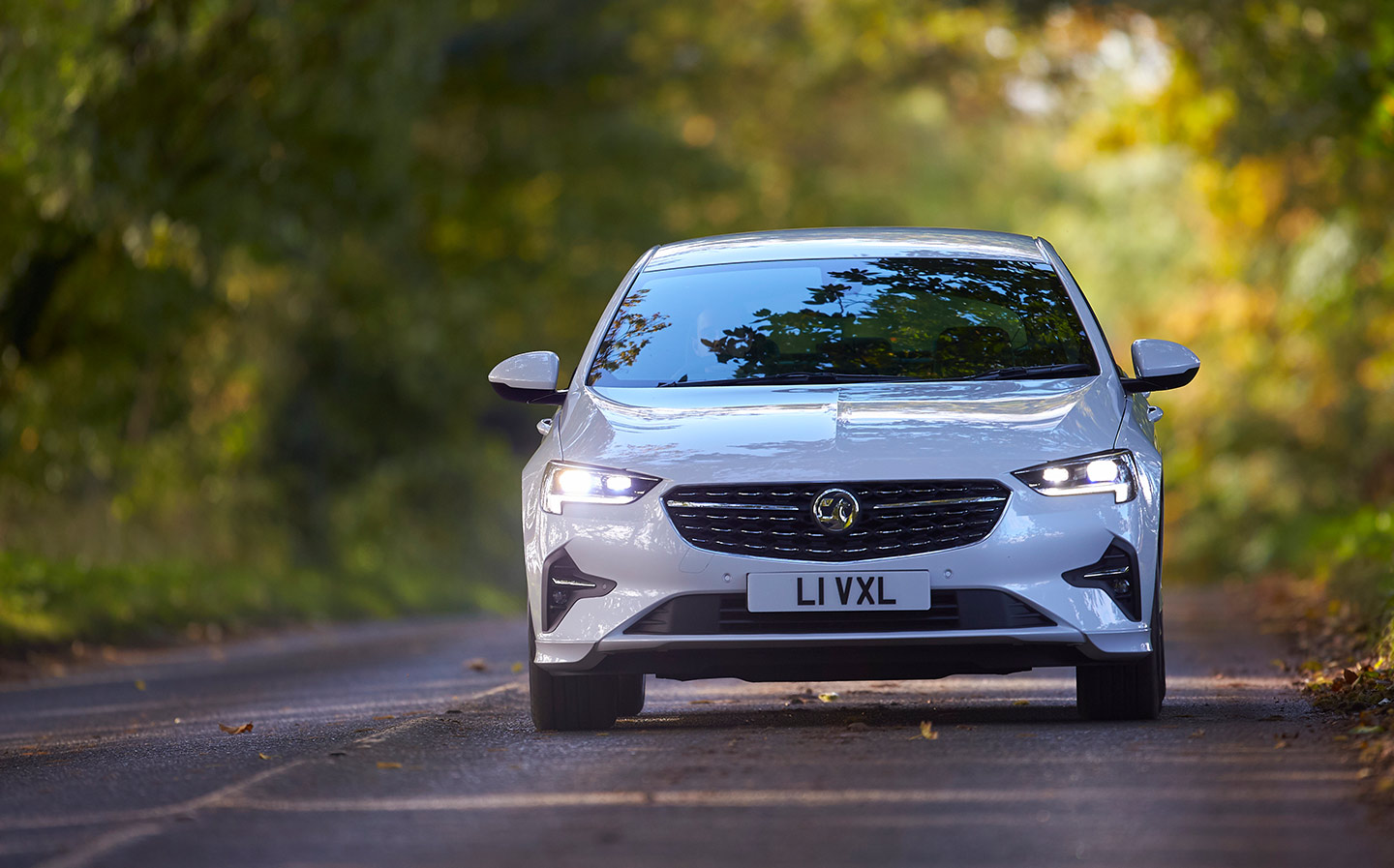 Vauxhall claims class-leading levels of technology and equipment, but take that with a pinch of salt — nothing fitted to the new Insignia bests other cars out there. There is a fair amount of kit, though, it's true.
The Insignia now comes with a rear-view camera and optional rear cross-traffic alert system, that will alert you if reversing out of a driveway onto a main road and another car is approaching.
There's also forward collision alert with auto emergency braking and pedestrian detection — all things safety body Euro NCAP heavily penalises a car maker for not including as standard.
The adaptive cruise control has lane keep assist and the cameras under the windscreen will detect traffic signs, with a display on the dashboard for maximum speed and so on. You can also load the new Insignia with auto parking assist and a head-up display, while the Infotainment system will run Apple CarPlay and Android Auto. Under the central armrest is a neat phone holder with wireless charging capability. An optional Bose sound system will ensure crystal clear Roachford as regional radio DJs pound the asphalt.
The crowning glory may be the new "IntelliLux LED Pixel lighting", which is a fancy way of saying the Insignia has now got the matrix LED headlight technology. These were pioneered by Audi in 2013 and can now be found on everything down to a VW Golf, but they're certainly a welcome addition.
Matrix LEDs are brighter than standard bulbs and portions can be switch off independently to dip around on-coming cars, or cars that you're following, leaving the rest of the road fully illuminated. It's one of the best innovations of the last decade, I reckon, but the tech can vary from car to car – some end up dazzling other drivers.
Our test, sadly, was strictly during daylight hours, so I can't give you a verdict, but Vauxhall claims its units are clever enough to adjust for weather conditions, such as rain and fog, and are suitable for use on motorways.
Vauxhall Insignia review: Ride and handling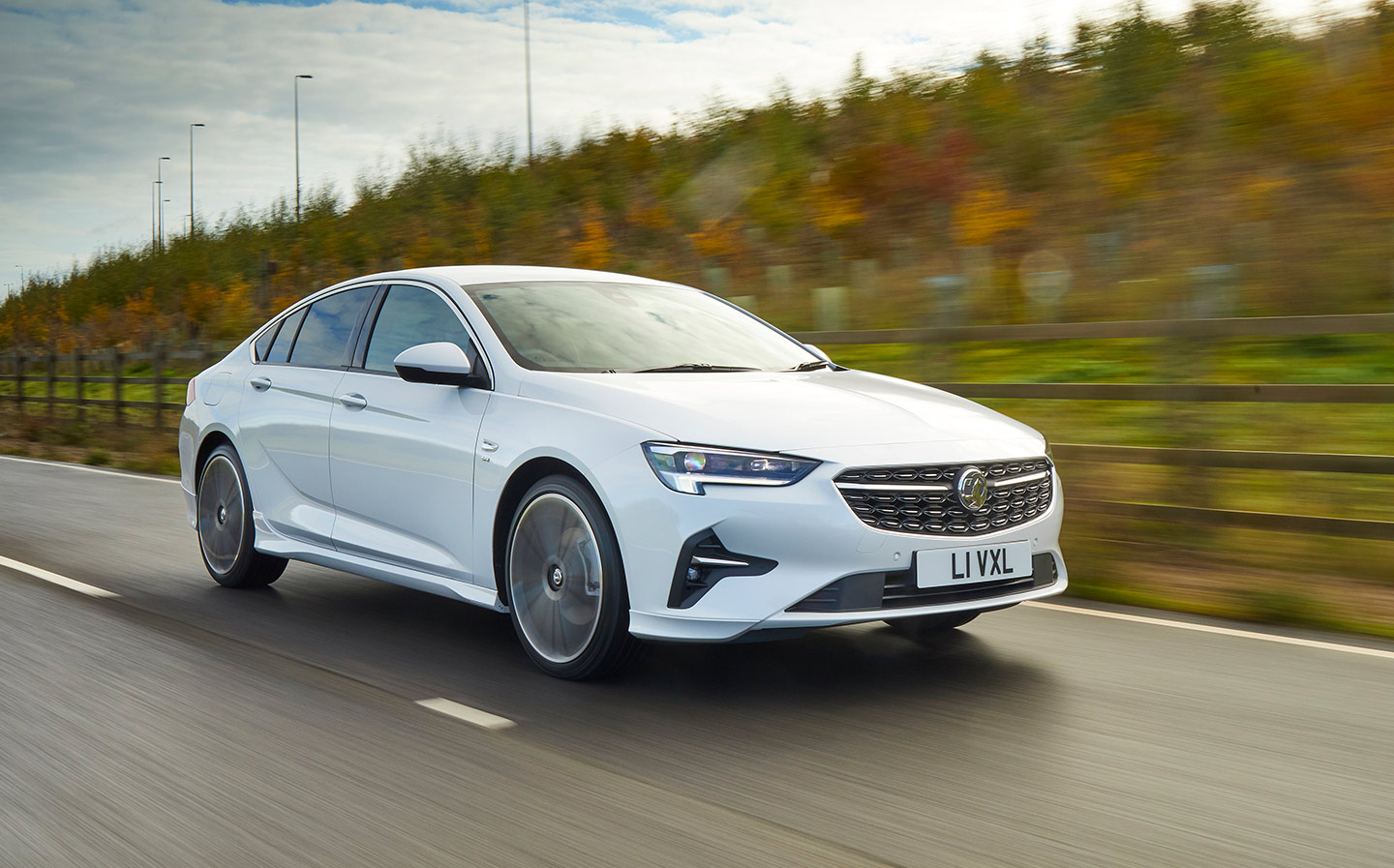 Our Insignia SRi test car couldn't have been as focused as the Nurburgring-tested, damper-tuned, torque-vectored GSi version, but the ride still erred on the firm side, most likely because it was riding on big 20in wheels.
That's no bad thing, though — I usually warn against going for big rims if it makes the ride too harsh but the Insignia's 20s render it just on the right side of solid, making it quite good fun through turns with satisfying chassis control and impressive grip, while keeping the levels of comfort acceptable.
Having said that, if you don't want your teeth to chatter while driving along particularly pockmarked roads, you may want to consider a smaller wheel size.
There are three driving modes: Tour, Normal and Sport. In Tour the steering is noticeably lighter and a lot less responsive, and the throttle response is dampened, while Sport sharpens everything up. I found myself switching between them fairly frequently, depending on the type of road I was driving.
The cabin is no stranger to tyre noise in the new Insignia, though on our test drive that will have been exacerbated by rain filling the wheel arches. The 2-litre petrol engine is audible, too, but it's not overly so and it's not an unpleasant noise.
Engines, economy, emissions and performance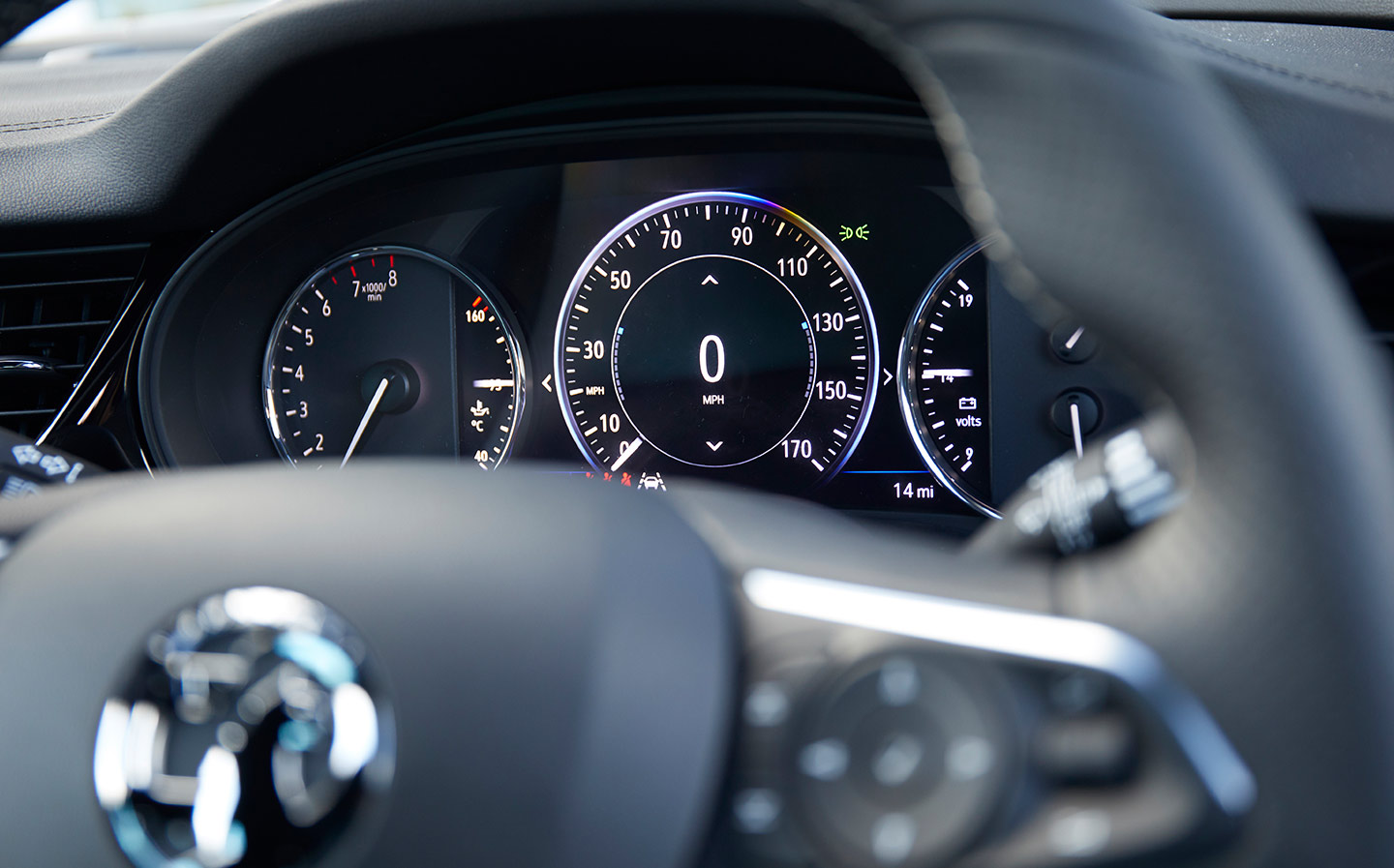 The 2021 Vauxhall Insignia gets all-new engines under the bonnet, in petrol and diesel forms. Bizarrely the Insignia doesn't get hybrid powertrains, though — a plug-in hybrid, as found on the Grandland X, would have be an obvious choice to use in an Insignia, I'd have thought, due to the tax benefits for company car drivers.
Still, the fossil-burning options, along with the aero improvements, make the new Insignia 18% more economical than before, on average.
The 2-litre petrol, as fitted to our test car, produces 200hp, and pulls well from low revs but comes more alive over 4,000rpm, lending it a sporty character. For even more guts there's a turbocharged version tuned to 230hp exclusively available for the GSi model.
Both petrol engines can switch off half of the four cylinders when they're not needed to reduce fuel consumption, with quoted fuel economy of 33.1-37.7mpg for the standard unit and 30.2-35.3mpg for the GSi's hotter version. Test economy is usually overstated and during my 58-mile test drive, over a mix of roads, I managed 28.7mpg, though I wasn't exactly tickling the throttle.
If you want a diesel, with associated tax benefits and improved economy for motorway cruising, there are two options: a three-cylinder, 1.5-litre turbo engine that produces 122hp or a 174hp 2-litre four-cylinder unit.
Another motoring journalist who tested the three-pot complained of "no power below 1,500rpm" and said it was a bit weak above that. With 49.6-61.4mpg, depending on the wheels and gearbox, and tax man-friendly CO2 rating of as little as 121g/km, it's still worth a look, but the bigger diesel manages 49.6-61.4mpg and can also produce just 121g/km (with the manual 'box), so that may be the more satisfying option, and at higher speeds may actually prove the more frugal.
Vauxhall has kept the six-speed manual and eight-speed auto transmissions from the old Insignia but added a new nine-speed automatic gearbox, as fitted to my test car, which is silky-smooth.
Acceleration from zero to 60mph takes 7.2sec or 7sec for the 200hp and 230hp petrol engines respectively, or 8.2–8.4 and 10.7-11.5sec for the diesels
Vauxhall Insignia review: The Verdict
The standard Insignia may not be the most exciting car in the world but it is surprisingly satisfying to drive, comfortable, spacious and has enough new technology to keep it relevant in a fast-changing segment. It's also not unattractive in its newest form, either, and the new, sportier Insignia GSi may appeal to those who feel the standard model lacks guts (or, perhaps, street cred).
The problem may be that in a world where electrification is increasingly important, and ever-more sensible in terms of running costs, the new Insignia seems to be a step behind the competition.
– If you enjoyed reading our Vauxhall Insignia review, then you might also like our long-term review of the Skoda Octavia iV estate plug-in hybrid.
– Also take a look at our review of the 2019 Peugeot 508 Fastback and SW estate.
– And don't miss our review of the 2018 Mazda 6.