BMW X3 E83 review (2004-2010)
Baby SUV has top-drawer image and quality, but it's no bargain
What is the BMW X3?
After the massive success of its X5 SUV it was inevitable that BMW would try to repeat the trick with a smaller spin-off. Sure enough, in March 2004 we got the BMW X3, which didn't look quite as slick but cost almost as much. Value was not a strong X3 card and it didn't help that at first there were only 2.5 or 3-litre six-cylinder petrol engines. It would be another nine months before there were any diesels. Buyers could choose between 2 and 3-litre units, and it's these that are the only rational choice when buying, unless you cover a low annual mileage.
While the smaller diesel engine provides the perfect parsimony/performance mix, the bigger unit turns the X3 into something of a Q car thanks to its ample pulling power. As you'd expect of BMW though, things got more complicated. In September 2005 a 2-litre petrol engine appeared along with an M Sport trim level, the latter spicing up the exterior design while also firming up the suspension. Some reckon it's too firm, so don't be too quick to buy one of these editions only to find that your spine doesn't like it. Buy a car with leather upholstery; many X3s are trimmed in cloth, which doesn't suit the car's image and it tends to mark easily, too.
---
Search for and buy a used BMW X3 on driving.co.uk
---
Unless you're on a really tight budget, go for one of the facelifted X3s, which was available from August 2006. These are recognisable by their redesigned grille plus fresh bumpers front and rear. It was at this point that the 2-litre petrol engine was killed off. More importantly, though, the 2 and 3-litre diesel units got extra power and the high-performance, twin-turbo 3-litre diesel also arrived, badged the 3.0sd. It's this latter option that provides the greatest performance of all but being the range topper they're few and far between. Incidentally, new badging in July 2008 meant all X3s carried an "xDrive" tag, the 2.5i becoming the xDrive 25i and the 2.0d being renamed xDrive 20d, for example.
It was around this time that one of the X3's greatest adversaries appeared – the Audi Q5. More attractive and beautifully built, the high-tech Audi is arguably a better buy than the BMW, while the Volvo XC60 is a good bet, too, with its discreet good looks and lashings of safety kit. Equally strong on image but with a more functional interior is the Land Rover Freelander 2. It's as good on-road as it is off, but you'll pay for the privilege of owning one.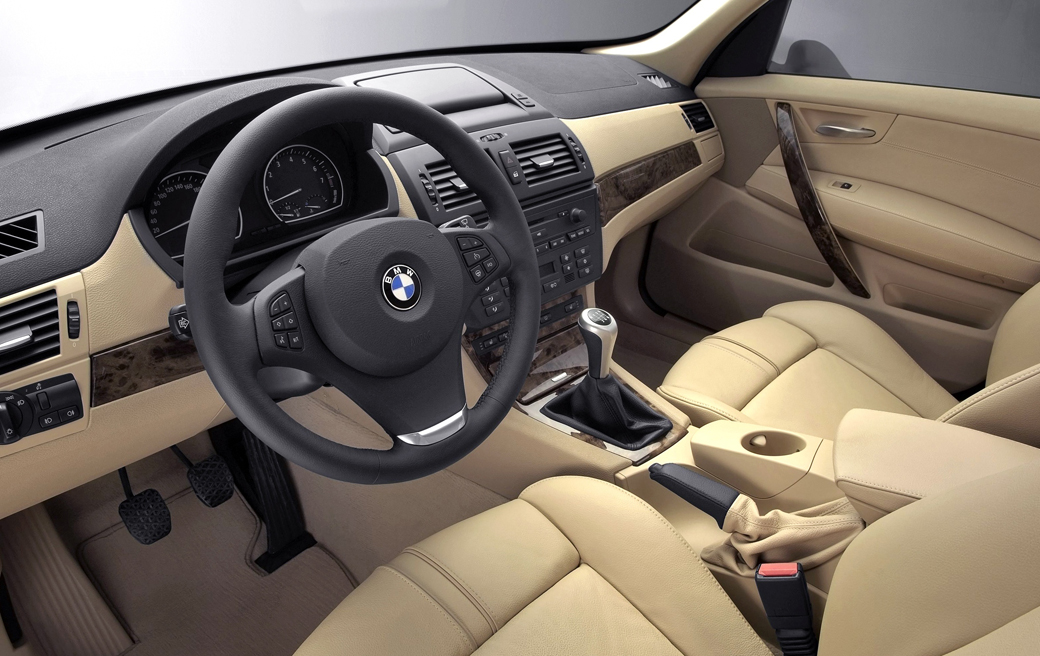 Where the X3 scores over the Freelander is with its reliability but compared with BMW's more usual highly polished efforts, this compact SUV is something of a flawed gem. With awkward styling, a disappointingly cheap-feeling interior and a relative lack of interior practicality, the X3 might seem like a missed opportunity. However, the dynamics and build quality are what you'd expect of a BMW, so if you want a small 4×4 that's painless to own, the X3 is a pretty safe bet.
What to look out for
There are few serious issues to watch for but potentially the most costly is a leaky rear diff. Instances are unusual but have been known. More likely are problems with the parking sensors, while the brushed aluminium roof rails can corrode. Also check for perishing of the factory-fitted Dunlop tyres.
So far there's been just one recall for the original X3. It came in October 2001 and affected cars built between August 2008 and June 2009; they could suffer from an electrical short circuit discharging the battery.
The one to buy
A 2009 X3 xDrive 20d in SE trim is the sensible choice. I costs £17,000 from a dealer or £15,500 privately
Factfile
Power:

177bhp @ 4000rpm

Torque:

258 lb ft @ 3000rpm

Transmission:

6-speed manual/auto

Acceleration:

0-62mph in 8.9sec

Top speed:

128mph

Fuel:

43.5mpg (combined)

CO2:

172g/km

Road tax band:

H

Dimensions:

L 4570mm, W 1855mm, H 1675mm
 BMW X3 Mk1 rivals