Toyota Rav4 Mk 4 review (2013-on)
In a competitive crowd, the Rav4 scores highly for driveability and practicality

What is the Toyota Rav4?
If the Toyota Land Cruiser is the heavyweight of the Toyota family, the Rav4 is the middleweight battler; lighter on its feet but still packing plenty of punch.
The model has added a few pounds over the years, though. Toyota invented the class it inhabits – the compact SUV – with the original Rav4 in 1994 but this fourth-generation version, launched in 2013, is much larger than that model; more than a metre longer, in fact. It's also a full 205mm longer than its immediate predecessor, the Mk3, at 4,570mm, and 30mm wider (1,845mm) as well.
The new car also has an extra 100mm in the wheelbase (the distance between the centres of the front and rear wheels). That makes it roomier inside but not quite so "compact" as it once was. Toyota's excuse is that the car has grown up with its customers.
---
Search for and buy a Toyota Rav4 on driving.co.uk
---
Rav4 rivals are everywhere these days. In 1994 the compact SUV market was a niche one but today SUVs outsell family cars, mainly thanks to their high driving position, commanding road presence, surprisingly pleasant handling characteristics, more efficient engines and their "go-anywhere" look.
Direct competition comes from the likes of the Mazda CX-5, Ford Kuga, Nissan Qashqai, Honda CR-V, Hyundai ix35 and Kia Sportage. For less money there are cars such as the Dacia Duster, while more premium rivals would be the BMW X3, Volkswagen Tiguan, Volvo X60, Mercedes M-class, Range Rover Evoque and the recently launched Porsche Macan. Yes, there are many models to choose from.
For the Rav4's part its pricing is competitive, it looks smart and the three trim levels – Active, Icon and Invincible – all come with a decent specification (see more below). Active trim cars are front-wheel drive only but Icon and Invincible offer the option of four-wheel drive. There are three diesel engines to choose from: a 122bhp 2-litre D-4D, a 148bhp 2.2-litre D-4D and a 148bhp 2.2-litre D-CAT.
This last unit is more advanced than the D-4D and uses an extra injector to pump fuel into the exhaust and burn the gases. It requires less maintenance but suffers in terms of fuel efficiency. There's also a petrol option: a 2-litre Valvematic producing 149bhp. It is available only with four-wheel drive and continuously variable transmission (CVT), rather than a manual or conventional automatic gearbox. This isn't our pick of the bunch and is likely to be much rarer than the others.
The drive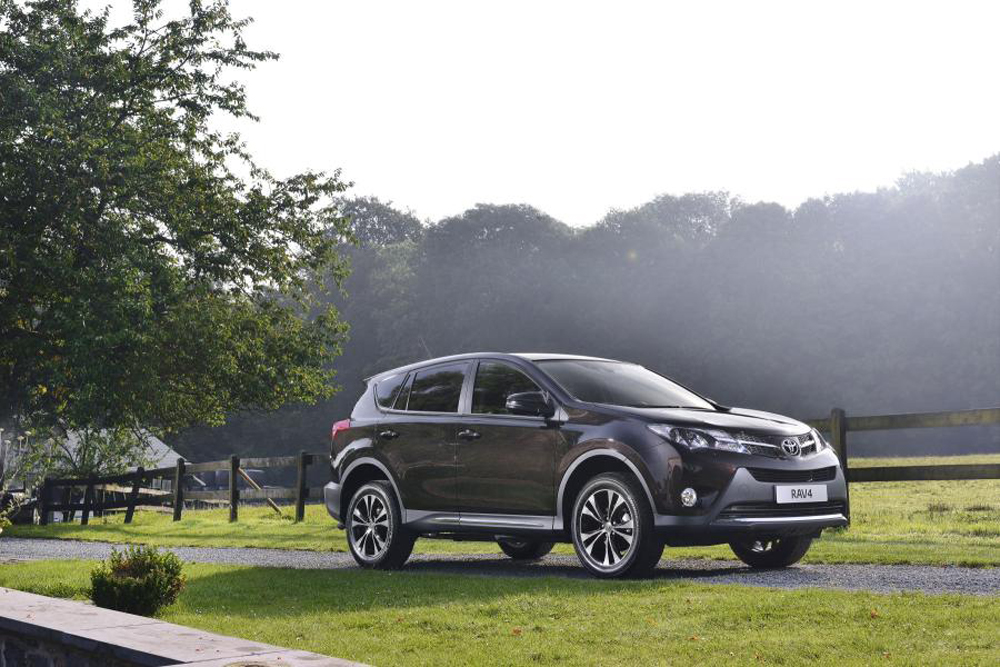 While not a proper off-roader, Toyota Rav4s with four-wheel drive have always been very impressive on the rough stuff, and the Mk 4 is no exception. Grassy fields and muddy tracks were despatched with ease during our week-long test drive which took in Cornish country lanes and "off-grid" farm tracks. There's even a 4WD Lock button which fixes torque bias 50:50 front to rear at speeds of up to 25mph.
However, it's on the road that the Rav4 is most at home, and stepping from a Ford Kuga into the Toyota (as Driving did) shows the Rav4 to have a stiffer ride with less body roll through corners. This does mean potholes and road humps are more of a chore, but overall driving satisfaction is high. Toyota will tell you that the new car is lighter than the one it replaces but in truth it is a little heavier, but more rigid.
Dynamic Drive, which is on 4WD models only, distributes up to 50% of the torque from the front to the rear wheels to reduce understeer (when a car wants to travel straight on, rather than turn) and pull the nose into a corner. Most SUVs these days have similar systems, though, and on the Ford Kuga you can monitor torque distribution to individual wheels via a display on the dashboard. No such display is available on the Rav4.
The Toyota benefits from a pleasantly smooth manual gearbox and a very smart automatic transmission that shifts gears quickly. It also learns your shift patterns and can analyse road conditions to be in the optimum gear.
If there's a chink in the Rav4's armour, it's under the bonnet. We enjoyed the strength and the linear power delivery of the most powerful unit, the 148bhp 2.2 D4D diesel, but thought it not quite as refined as Ford's 2-litre diesel unit. It has a definite rattle while idling, although this goes away at speed. It isn't as powerful as the Ford (by 10bhp) but is slightly more efficient, returning 49.6mpg with 4WD/manual transmission compared with the Kuga's 47.9mpg. The Rav4's diesel engine is cleaner than the Ford's, too, emitting CO2 emissions of 149g/km compared with 154g/km.
However, neither the Ford nor the Toyota can match the Mazda CX-5's market-leading engines. Go for the CX-5 2.2 Sport 175 AWD and you get 172bhp, 54.3mpg and 136g/km of CO2, putting it in tax band E as opposed to the Rav4's Band F and Kuga's band G. That's hard to argue with.
The interior

The Rav4's interior is smart and solidly built but it's not the most exciting. Whatever trim level you go for, you are presented with a low-fi digital clock and warning lights front and centre on the dashboard. It's as if Toyota rediscovered an old warehouse full of 1980s instruments and decided to use them on its latest SUV.
On the plus side, the seats, especially in leather, are comfortable for long trips. There are plenty of gadgets to play with in even the base Active trim level, including manual air conditioning, Bluetooth connectivity, audio controls on the steering wheel, electric windows and an auto-dimming rear-view mirror.
However, we'd recommend the Icon trim level which gets a leather steering wheel and door trim, dual-zone air-conditioning, a rear view camera, Toyota Touch 2 infotainment system, upgraded stereo with DAB radio, and a power tailgate and cruise control, among other things. Invincible adds leather seats (heated in the front), smarter 18in alloys (17in on Active), and other luxuries such as rain-sensing wipers and roof rails.
Icon and Invincible models can be upgraded with a Style Pack (front guard and underguard, side and rear chrome trim and scuff plates), while a Protection Pack (front and rear parking sensors, rear bumper protection plate) is also available for Icon grade.
In terms of space, there's a good deal up front while in the boot, with the rear seats up, there's an impressive 647 litres compared with the Kuga's 406 litres and the Honda CR-V's 589 litres. Fold the seats flat and the Rav4's boot space increases to 1,846 litres (1,603 litres in the Ford and only 1,146 litres in the CR-V). Rear passengers will find the extra boot space means they have less legroom than in some rival models, but it's still pretty decent.
What to look out for when buying a used Toyota Rav4 Mk 4
While Toyota has become known for large vehicle recalls in recent years, so far the new generation Rav4 is unblemished. It's too early for any long-term issues to have presented themselves, and properly looked after examples will be covered by Toyota's 5-year warranty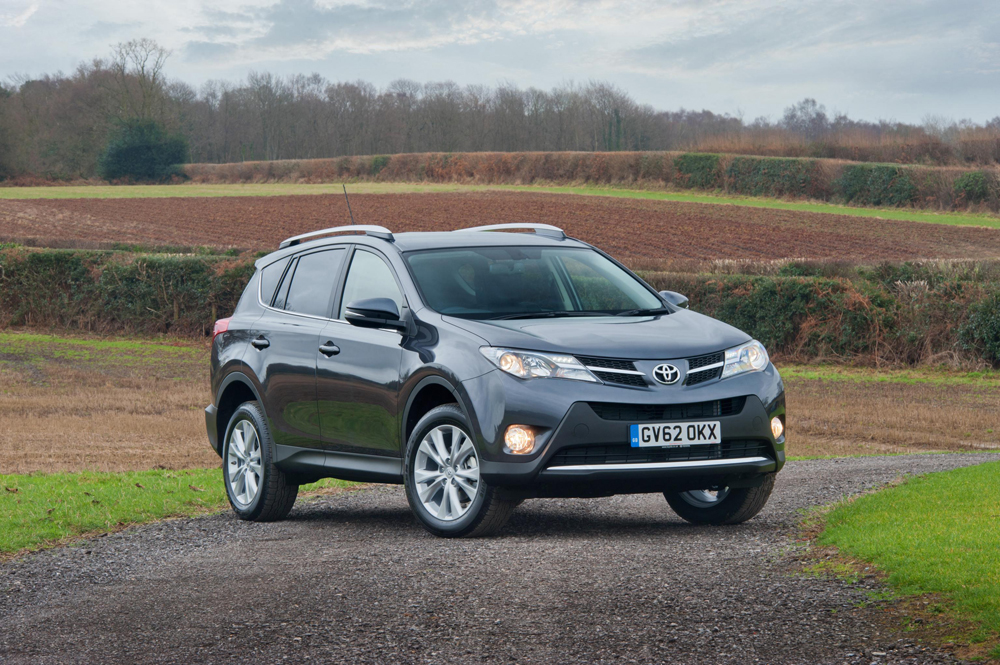 The one to buy
Toyota Rav4 Icon 2.2 D-4D AWD
Specifications
Price: £26,495
Engine: 2,231cc, 4-cylinder diesel
Power: 148bhp @ 3,600rpm
Torque: 251lb ft @ 2,000-2,800rpm
Transmission: 6-speed manual
Acceleration: 0-62mph in 9.6sec
Top speed: 118mph
Fuel: 49.6mpg combined
CO2: 149g/km
Road tax band: F
Dimensions: L 4,570mm, W 1,845mm, H 1,460mm
Toyota Rav4 rivals
---
Search for and buy a Toyota Rav4 on driving.co.uk
---