Top 10 executive and prestige cars
It's my home from home, James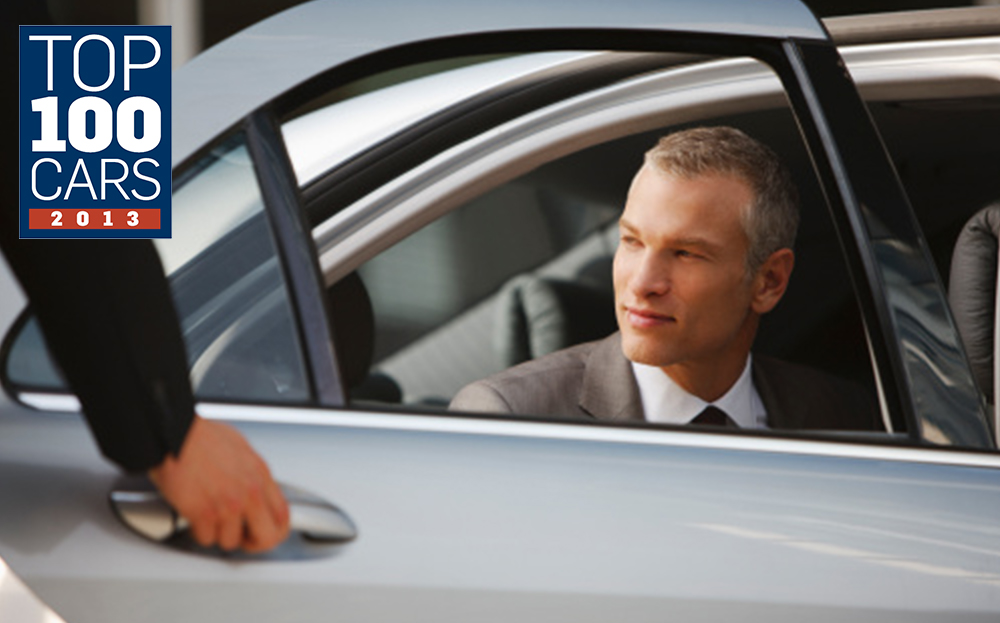 THINGS AIN'T WHAT they used to be. Twenty years ago a car in this category would have essentially been made of three boxes: one for the engine, one for the occupants and one for the luggage. It would have been stately and sedate.
Now look at these cars. There's still a strong showing for the traditional limousine, but there's also an off-roader, a coupé and a hatchback. The luxury car is no longer the preserve of the company exec.
This broadening of the boundaries reflects the fact that, increasingly, a prestige car needs to offer more than quiet and comfort. A smooth ride and refinement remain most important, but interior ambience is a big consideration too. Customers are realising that if home begins not at the front door but the moment they unlock their car in the car park, then every business trip feels shortened — and that holds whether they make their money in hip-hop or hedge funds.
Gratifyingly, it is the Brits that are pioneering these changes: the fact that four of our top five are built here proves it. Yes, the Mercedes S-class occupies the No 1 spot — its strengths across the board are unrivalled — but the tide is turning fast and heading this way.
1. Mercedes-Benz S-class
This is probably the most technologically advanced car to be offered for sale to the general public. It is also the most refined and comfortable car this side of a Rolls-Royce Phantom. At a basic level, the S-class simply does things other cars can't do, such as the giving you the option of configuring the rear and front seat in a way that turns them into an almost-flat bed for the passenger. On certain versions you can specify a camera system that will read the road ahead, telling the suspension system what's coming so it can prime itself for bumps. It works so well that sleeping policemen become barely detectable. In fact, the sheer number of driver aids means that the car could in theory drive itself if they all worked in conjunction.
As for its refinement, it's now so quiet that you find yourself being disturbed by the noise made by other cars. In the diesel form that almost everyone will buy, the S-class is also fast, frugal and surprisingly fun to drive. It may not have a Range Rover interior, but it has too many strengths across the board for its status as the world's best and bestselling luxury car to change any time soon.
Factfile Mercedes-Benz S-class, Price: £62,650-£88,130
Our pick: S 350 BlueTec L SE, £65,650
Engine: 2987cc, V6
Acceleration: 0-62mph: 6.8sec
Top speed: 155mph
Fuel: 50.4mpg
Search for used Mercedes-Benz S-class on driving.co.uk
2. Range Rover
Last year the Range Rover won our 4×4 category, but its luxurious interior, its superb build quality and the fact that most owners won't be taking it off road make it more at home in our luxury category. That in itself tells you a lot about this car. It has to be as good at climbing mountains as wafting along motorways, and despite all the design compromises that brings, it still beats everything bar the Mercedes S-class. Road presence comes as standard, and the interior is even better-looking than the exterior, a real home from home unrivalled by any car costing less than £100,000.
The new version is far lighter than the old Range Rover, which means not just better fuel consumption and greater range, but vastly improved performance and handling. It's not quite as cosseting as an S-class on a long journey, or as soothing, but if what you want is a luxury car that will go anywhere and make you feel proud just to be on board, the Range Rover is unbeatable.
Factfile Range Rover, Price: £71,310-£98,430
Our pick: 4.4 SDV8 Vogue, £78,120
Engine: 4367cc, V8
Acceleration: 0-60mph: 6.5sec
Top Speed: 135mph
Fuel: 32.5mpg
Search for used Range Rover on driving.co.uk
3. Rolls-Royce Wraith
Though Rolls-Royce won't admit it, this is its first car in more than a century of production designed to be sporty. Based on the four-door Ghost but with a shorter wheelbase, wider track and lower and stiffer suspension, not to mention a 61bhp power boost for its 6.6-litre V12 twin-turbo engine, the Wraith is now more powerful than a McLaren 12C, which is why it goes like an artillery shell.
But it's the way that this undeniably large car controls that power that is most surprising. It never gets flustered, no matter how much you throw it around, allowing you to drive it in a way almost unbecoming for a Rolls-Royce. The Wraith proves that the old marque isn't afraid of new tech: it features a sat nav system that talks to its gearbox so the transmission always knows what's coming up, be it a tight corner or a roundabout, and makes sure it's in the right gear.
And despite its abbreviated bodywork and just two doors, the Wraith is sufficiently spacious to offer ample and sumptuous accommodation to even generously proportioned adults. All it fails to do is offer the ride quality you might expect from a Rolls.
Factfile Rolls-Royce Wraith, Price: £235,000
Our pick: Wraith, £235,000
Engine: 6592cc, V12
Acceleration: 0-60mph: 4.4sec
Top Speed: 155mph
Fuel: 20.2mpg
Search for used Rolls Royce on driving.co.uk
4. Jaguar XJ
One of the best luxury cars of recent times, the XJ has nevertheless been feeling the heat of the competition in recent times, hence its slight slip down the order from second last year to fourth place now. It's still an impressive achievement because, among conventional luxury saloons, it's been beaten only by a new version of the Mercedes-Benz S-class.
The appeal of the XJ lies in its ability to create an interior ambience so warm and special that it's one of the few cars you actually might not want to leave at the end of a long journey.
But this is not an average car that merely looks the part. It remains the only car in the class designed around an aluminium monocoque, which means it is far lighter than most opponents, a fact Jaguar's chassis engineers have been able to translate into quite exceptional handling for such a large car.
And with the new 542bhp XJR model on the books, the XJ now provides supercar performance wrapped up in a Savile Row suit.
Factfile Jaguar XJ, Price: £56,865-£95,870
Our pick: 3.0 V6 Diesel Premium Luxury, £60,665
Engine: 2993cc, V6
Acceleration: 0-62mph: 6.4sec
Top Speed: 155mph
Fuel: 46.3mpg
 Search for used Jaguar XJ on driving.co.uk
5. Bentley Flying Spur
For the first time since its cars were merely rebadged Rolls-Royces, Bentley has produced in the new Flying Spur a car in which you can be just as happy as passenger or driver. This might seem a colossal blunder from a six-time Le Mans-winning manufacturer, but in fact Bentley is responding to demand.
For every new Flying Spur it sells in Britain, it will sell nine in China, a country whose city streets are now so clogged, it really is far better to relax in the back and let someone else crawl through the traffic.
So all Bentley's efforts with this radically revised car have been aimed at improving occupant comfort: there's more space in the back, softer suspension, much lower ambient noise levels in the cabin and even more luxurious fittings.
But this has been achieved at a price. While the old Spur was a hard-riding and at times remarkably raw car, given its price and badge, it did feel like a Bentley, offering improbable handling and driver involvement for a car so large and sedate in appearance.
The new Spur has waved goodbye to all that. The result is a far better car, but a rather less characterful Bentley.
Factfile Bentley Flying Spur, Price: £140,900
Our pick: Flying Spur, £140,900
Engine: 5998cc, W12
Acceleration: 0-62mph: 4.6sec
Top Speed: 200mph
Fuel: 19mpg 
Search for used Bentley Flying Spur on driving.co.uk
6. Porsche Panamera, Price: £63,893-£107,903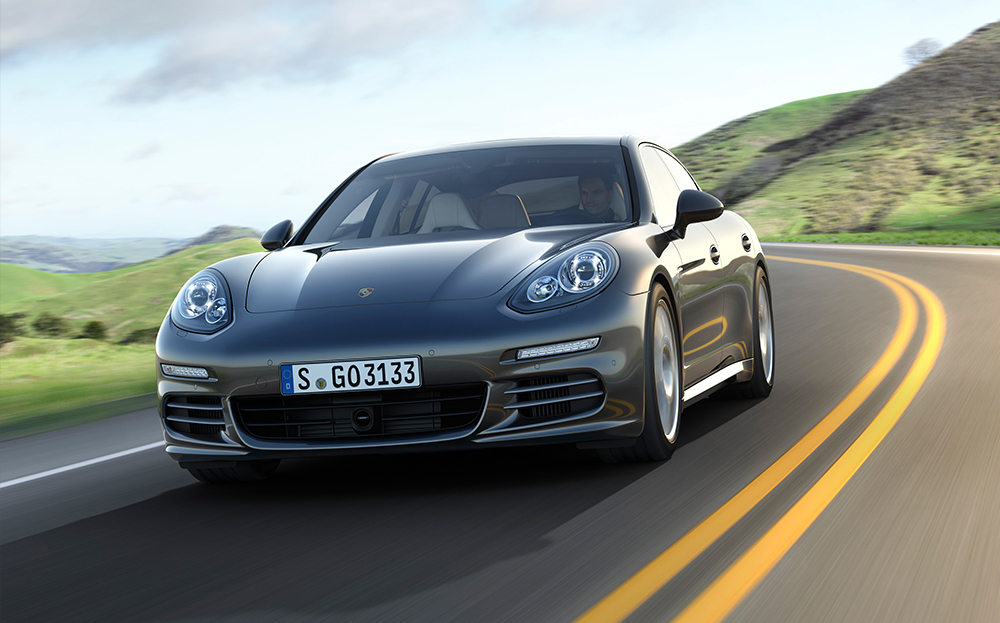 For Diesel version an outstanding transcontinental express
Against Rather ugly; seats only four
Search for used Porsche Panamera on driving.co.uk
7. Maserati Quattroporte, Price: £80,095-£108,160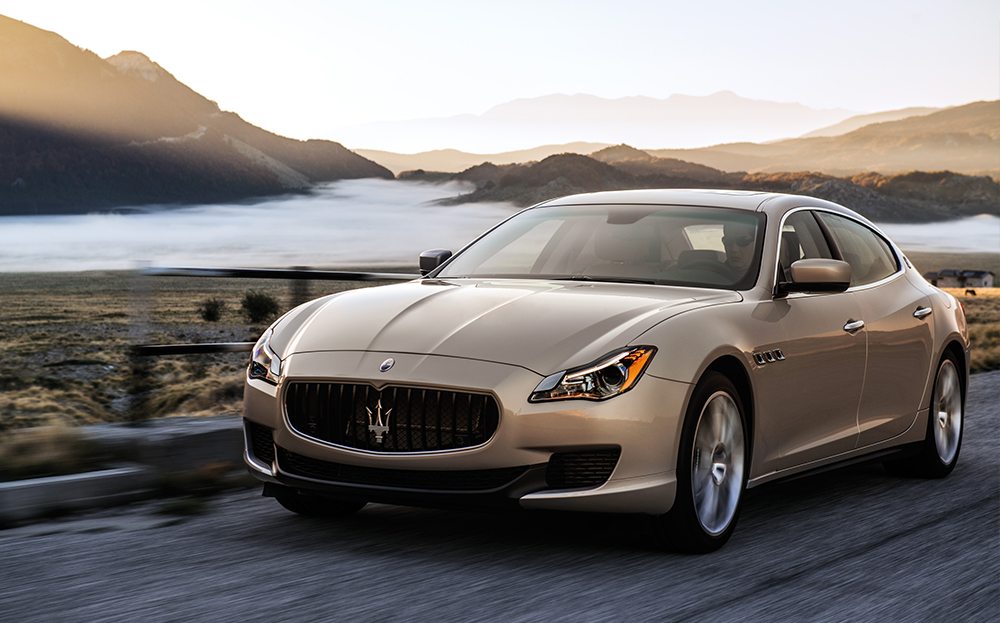 For Great image; thrilling V8 engine sound; fun to drive
Against Thirsty; not as pretty as the previous version
Search for used Maserati Quattroporte on driving.co.uk

8. BMW 7-series, Price: £58,270-£104,235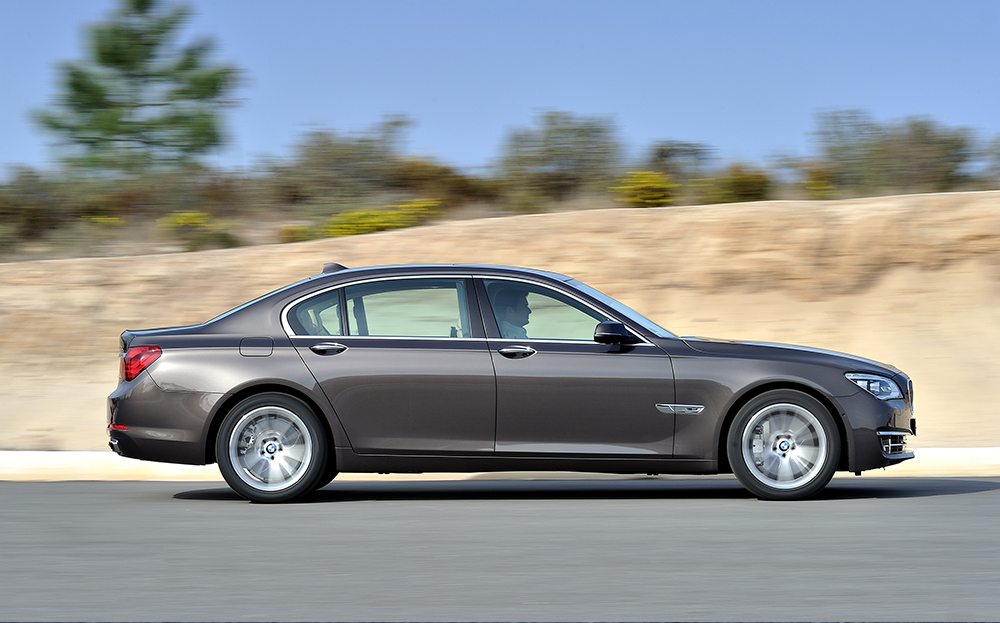 For Excellent performance and economy
Against Lacks luxury-car ride quality and interior ambience
Search for used BMW 7-series on driving.co.uk

9. Aston Martin Rapide S, Price: £146,035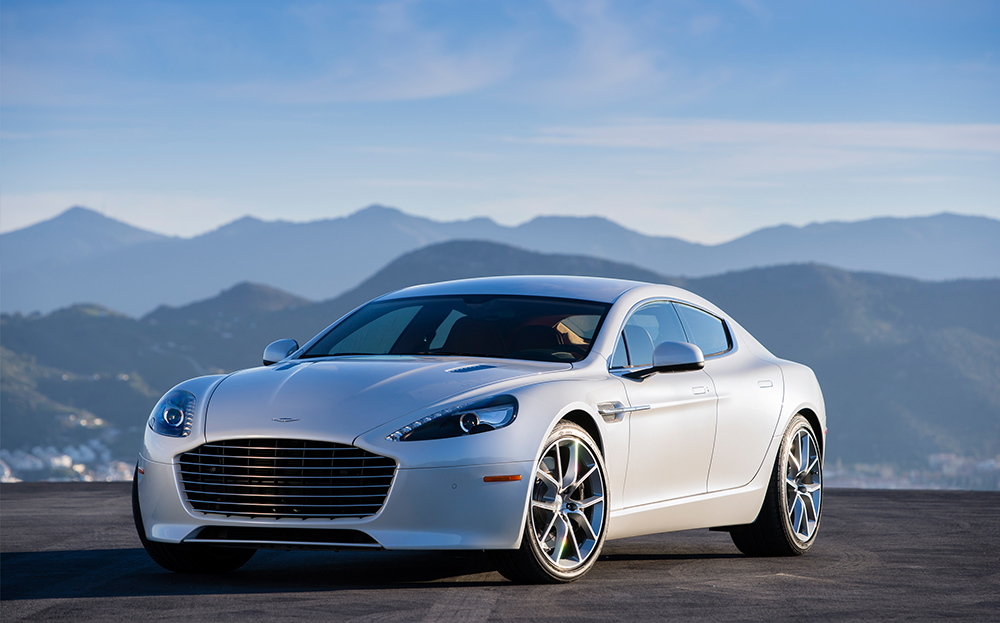 For Looks wonderful and sounds even better; the best-built Aston yet
Against High running costs; cramped rear for a four-seater
Search for used Aston Martin Rapide S on driving.co.uk

10. BMW 5-series, Price: £29,830-£57,635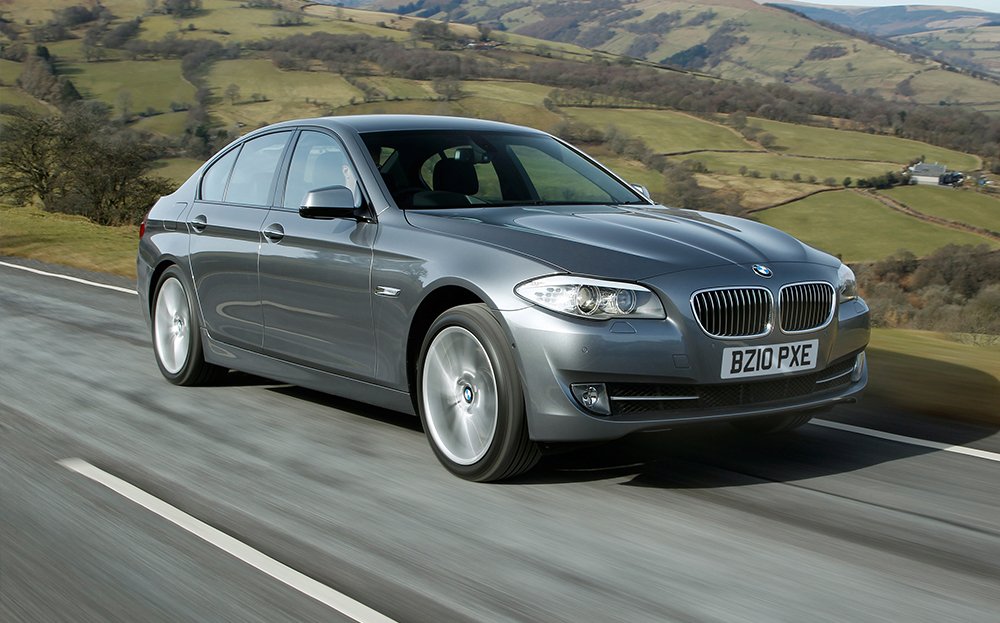 For Best engines in the class; clearly laid-out controls; lovely ride quality
Against Surprisingly characterless for a BMW; less fun than you'd hope
Search for used BMW 5-series on driving.co.uk
*Prices correct at time of publication
 Top 100 cars index