The Clarkson review: Volkswagen Golf R (2014)
Abracadabra! A cloak of invisibility for millionaires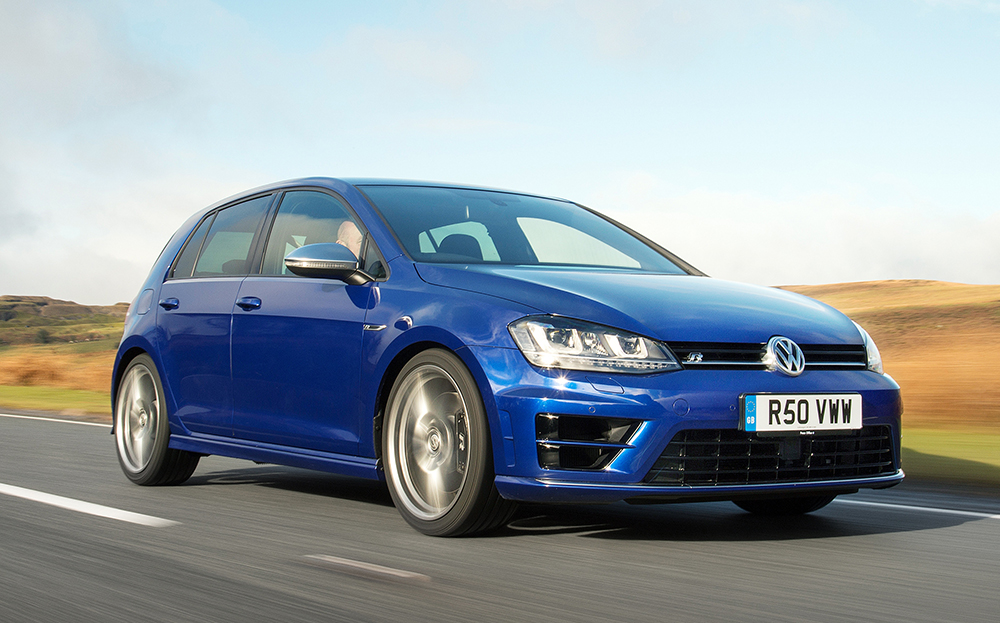 VW Golf R, £29,900
WE ALL know, because we are constantly reminded, that Boris Johnson went to Eton. And that behind the soup-stained suit and the hair that was styled by the wind and erosion, there is a lump of cash keeping the wolf from the door. And yet Boris drives a very old, very battered and extremely awful Toyota Previa people carrier.
You may imagine that this is because he doesn't like cars. Aha. But he does. He used to write a motoring column for GQ magazine and he once said that voting Tory would increase both the size of your wife's breasts and your likelihood of owning a BMW M3. Note the specifics there. He didn't just say a BMW. He picked out the model that he knew would hit the voter sweet spot.
So why, you may be wondering, does Boris not actually have an M3? Simple. Because he knows that, these days, driving a flash car is as socially acceptable as laying a brownie in a neighbour's swimming pool. And then inviting them out to look at it.
---
Search for and buy a quality used VW Golf on driving.co.uk
---
He's not alone. A recently departed director-general of the BBC called me just before he took up his position, asking what sort of car he should use while on official business.
There was a time when the big cheese would have had a Daimler or a Rolls-Royce; it's what people would have expected — wanted, even. But not any more. Now the DG has to explain himself if he turns up in anything better than a shell suit.
He ended up with a Volkswagen Phaeton. It looked like a Passat, had the people's car logo on the boot lid, but it sat on the same platform as a Bentley Continental. So he got the luxury, the silence, the high quality and the space. But the licence-fee payers thought he had been thrifty and wise.
It's a clever car, the Phaeton, and it raises an interesting question. If you're a banker who doesn't want the world to know you have just received a massive bonus, or the chairman of a beleaguered plc who doesn't want to send the shareholders into a frenzy of mutinous hatred, what do you buy?
What car satisfies the lead in your right foot without attracting the coin scratches of bitterness and jealousy? In short, what allows you to fly under the radar… at 155mph?
These days, driving a flash car is as socially acceptable as laying a brownie in a neighbour's swimming pool. And then inviting them out to look at it.
A car that leaps immediately to mind is the Maserati Quattroporte. It looks like the sort of Ford Zephyr that Detective Chief Inspector John Watt had in Softly Softly, so that's good, but sadly it makes the sort of noise that could actually bring John Watt back to life.
And at parties, when asked what you're driving, you have to say "a Maserati". Which is the same as whipping out a Fabergé egg and saying, with a pantomime grin, "What do you think of that, eh?"
There's a similar problem with BMW. Right now it is the best car maker in the world. Its foray into electric propulsion hasn't come at the expense of the petrol-powered dinosaurs, many of which are simply sublime. And gone are the days when chintz ruled. Sitting inside, say, a 435i is a bit like sitting inside the mind of a Danish architect. It's minimalist and sharp, and there's no clutter at all.
But the image is lagging behind the reality. So I'm afraid that, despite the excellence of the cars, telling someone that you have a BMW is about the same as saying, "You know all that pensions mis-selling malarkey? Well, that was me."
The upshot is that realistically you need to buy a car with a rubbish badge, which brings us nicely on to Nissan. Possibly this is the worst brand name of them all because nothing is quite as good at saying your life has been a total failure. Yup. You've bought a car named after a corrugated iron hut.
If you tell someone you have a Nissan, all sorts of things will spring to their mind, none of them pleasant. They'll envisage a Micra, with its stupid Noddy face, or a Juke, which was plainly designed by a child. Or a Bluebird, a car that was notable only for having two trip meters. And that's great because no-one will know that parked outside is a four-wheel-drive, twin-turbocharged giant-killing monster.
The GT-R is fabulous. Built in a hermetically sealed factory, it sits on tyres that are filled with nitrogen for pressure stability. There is attention to detail in this thing that makes eye surgery look slap-happy.
But sadly there's a problem with the styling. Back in the days when it was called a Skyline all was well, because then it had the appearance of a Tokyo taxi. Today, though, it's a bit "look at me". And that is precisely what we are trying to avoid.
It's weird, isn't it? There's a huge market out there for cars that are inspiring to drive but that could pass through a library without causing anyone to look up. Yet the options are so limited that today Boris Johnson is forced to go about his business in a Toyota van. And God knows what the current director-general of the BBC has — a Brompton foldaway bicycle, probably.
You could take a Golf R to a meeting of the Socialist Workers party and they'd embrace you as a brother. It's that nondescript.
Happily, however, help is at hand in the shape of a new Volkswagen Golf. It's called the R, and I shall say right at the outset that I have not yet driven it, or seen it. And yet it fills my heart with hope because on paper it looks absolutely perfect.
I spent an hour or two on VW's online configurator this morning, adding all the things I would want fitted as optional extras, and the final price was £34,000. A lot for a Golf. But not a lot at all for what you're getting here.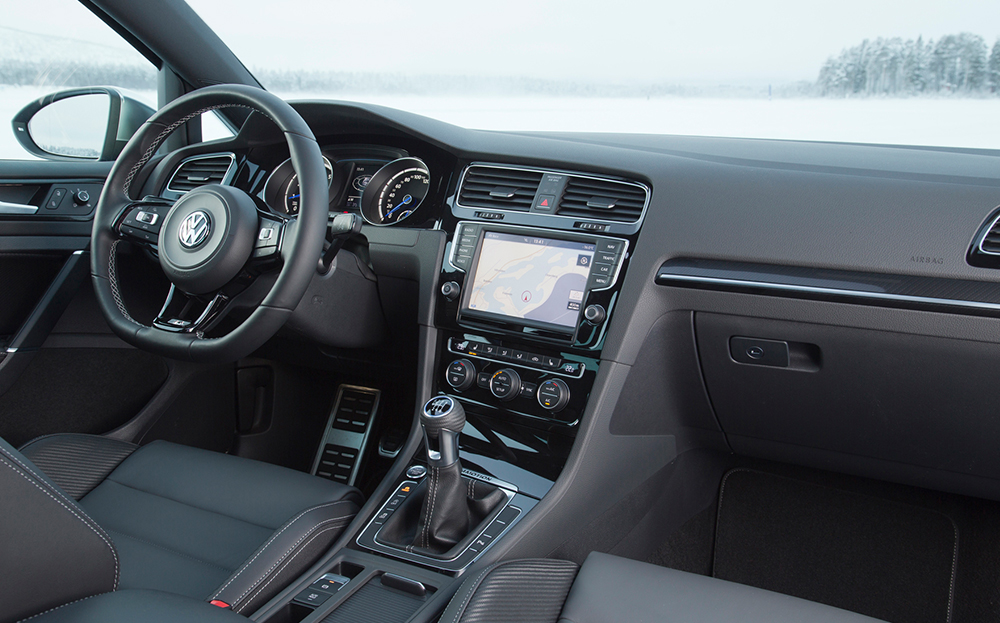 Under the bonnet it has the same basic 2-litre turbo engine as you find in the GTI. But by fiddling with the boost from the turbocharger, the valves and the pistons, the engineers have upped the power to nigh-on 300bhp. That's almost 80bhp more than in the GTI. Which is probably why it's been fitted with four-wheel drive.
Of course we've seen four-wheel-drive Golfs before, and they've been very impressive in a straightforward, no-nonsense, keep-you-going-in-snow kind of way. But on the R the all-wheel- drive system is allied to VW's new electronic differential — pay attention at the back — and that is a combination that makes me drool extensively.
The grip afforded by that diff in a front-wheel-drive GTI boggles the mind, so God alone knows what levels of barnacle tenacity will be achieved by its electronic wizardry and all-wheel drive. I should imagine your face will come off before the car actually loses traction.
The word is that, to drive, this vehicle is sensational, but, better than that, it looks like the sort of Golf that your mum has. It doesn't even get the red line on the radiator grille that you find on a GTI. You could take an R to a meeting of the Socialist Workers party and they'd embrace you as a brother. It's that nondescript.
Which for many, many people makes it absolutely perfect.
Clarkson's verdict ★★★★☆
Goes like a rocket, sticks like a limpet
Volkswagen Golf R specification
Engine: 1984cc, 4 cylinders
Power: 296bhp @ 5500rpm
Torque: 280 lb ft @ 1800rpm
Transmission: 6-speed manual
Acceleration: 0-62mph in 5.1sec
Top speed: 155mph
Fuel: 38.9mpg (combined)
CO2: 165g/km
Vehicle tax band: G (£175 for first year)
Price: £29,900
Release date: On sale now