The Clarkson review: Mercedes GLA AMG 4Matic (2015)
The hottest hatch bar none streaks out of the last chintz saloon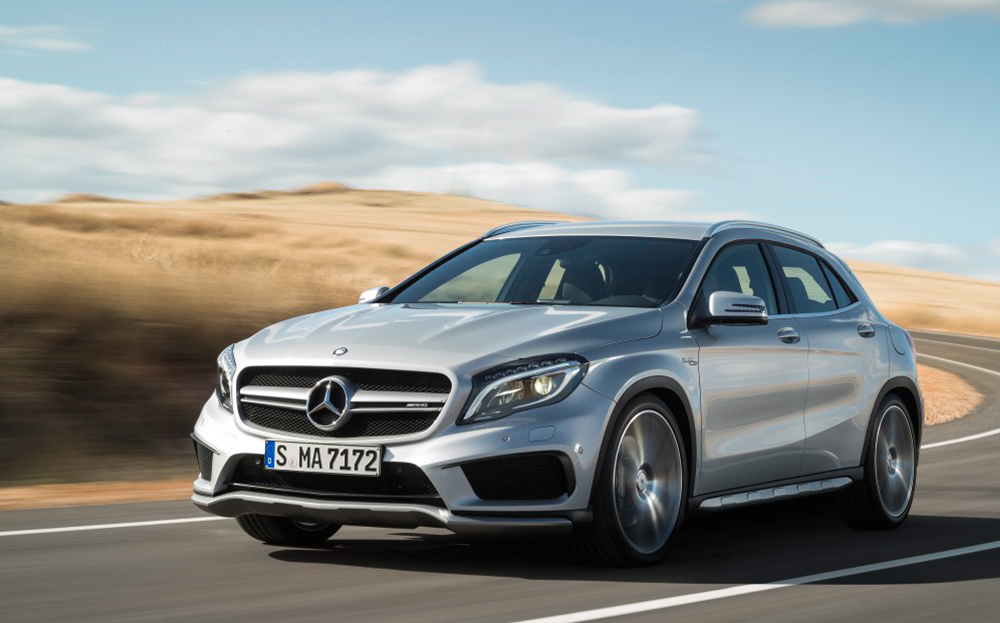 Mercedes GLA 45 AMG 4Matic, £44,595
AS WE know, there are far fewer blockbuster films being made these days than at any time in cinema's peacetime history. When I was growing up, there was a constant supply, and they were varied. There were westerns and historical dramas and war films and huge, sweeping epics involving Julie Christie. I'd see Lawrence of Arabia one weekend, Where Eagles Dare the next and Young Winston after that.
Then I'd see Young Winston again because it was the first time I'd copped a pair of breasts on the silver screen. Then I'd claim I'd lost my bus fare home and watch it again.
---
Browse the used Mercedes GLAs for sale at driving.co.uk
---
Today it's a very different story. You have Iron Man, Iron Man 2 and Iron Man 3. Then you have Iron Man teaming up with Captain America and Thor, and Wolverine versus Jaws.
It's the same story with monsters. You had Alien and Aliens, and Predator and Predator 2. And later you had Alien vs Predator. And soon you just know it will be Alien and Predator vs Iron Man and Wolverine and an Old Etonian in a cape, or a suit, or a spaceship — or maybe an Old Harrovian. Whatever; it'll definitely be some kind of thin-lipped Brit.
I don't really mind any of this. I like Robert Downey Jr, I loved Avengers Assemble and I'll watch almost anything if it features Scarlett Johansson in a pair of rather too tight trousers. But I am a bit sad that every single big-bucks film these days is about someone with metal bones or a massive hammer.
We see pretty much the same sort of thing going on with cars. It's not that we've lost brands such as Humber and Wolseley and Hillman; that happened back in the mists of time. No, it's that what's left is all a bit samey.
The Skoda Octavia is a VW Golf. So's the Audi A3 and so is the Seat Leon. And anything that isn't a Golf is either a VW Polo or a Fiat 500. Except the Fiat 500X, which is an Alfa Romeo.
Rolls-Royce has done a magnificent job with the Ghost of disguising the fact that underneath it shares many components with the BMW 7-series. You absolutely cannot tell, but you know. And that spoils the experience a bit.
It's the same story with the Bentley Continental GT. As I may have mentioned about 700 times in the past few months I currently have a big fan-boy crush on that car. But if I were to own one I'd always know, every time I climbed into it, that, actually, I was climbing into a Volkswagen Phaeton.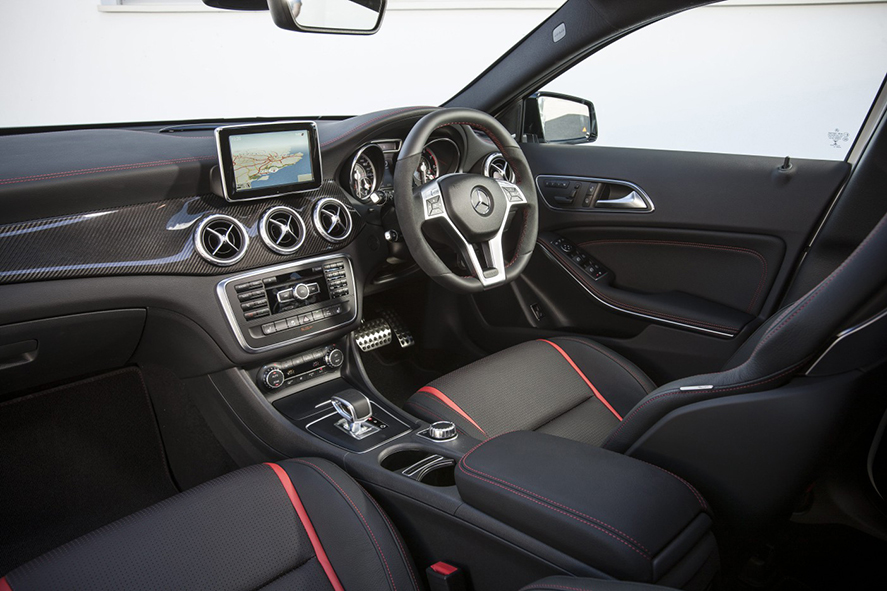 You might imagine that the solution to all this is to buy a Mercedes-Benz, because what you're getting underneath is a Mercedes-Benz. Unfortunately, Mercedes has gone completely bonkers in the past couple of years, which means that the Mercedes you buy could well be based on a Mercedes you don't like.
There was a time when the company's range was very simple. You had medium-sized cars, large cars and very large cars. All of them were functional, restrained, beautifully made and tasteful. But Mercedes has gone all Hollywood and is now making a million versions of the same thing. There is now a Mercedes for every single person on the planet.
And all of them are a bit — how can I put this tactfully? — chintzy. Mercs used to be styled by a man called Brown Bag. I'm not joking. That was his name. Oh, he said it in Italian to make it sound more interesting, but there's no getting round the fact that Bruno Sacco means Brown Bag.
Anyway, Brown Bag was brilliant. He had no time for jewellery and glitter. But he's gone, and in his place is the sort of man who would describe Elton John's spectacles as a bit understated. Just look at the front of a Merc these days. It has about a million styling details. It's a sensory overload. A Cheshire IT man's front room with headlamp washers.
All of which brings me on to the car I've been using for the past week. It's the Mercedes GLA 45 AMG 4matic, which means it's a four-wheel-drive A-class that's been slightly raised to give it a bit of off-road credibility and then lowered again to make it sporty. The end result is a car that's just 3in taller than the standard hatchback but includes roof bars. So really it's not taller at all.
And then we get to the styling, and, ooh, there's a lot of it. At the back there are vents and kickplates picked out in aluminium, plus there's a spoiler, and if you want, there's the option of having another spoiler mounted over the one that's already there. There are also many chromed badges, plus lights that look as if they belong on top of an American police car, and the net effect is: there's more stuff here than you would find in your granny's sitting room.
Look at the front for too long and you start to go cross-eyed. Then you have power bulges on the bonnet — obviously — and picked out on the front wings the legend "turbo".
You don't need to be reminded of it because, crikey, this thing is fast. Lots of hot hatches have a 2-litre turbocharged engine but none produces quite so much get-up-and-go as Merc's one. Put your foot down hard and 4.8 seconds later you're doing 62mph.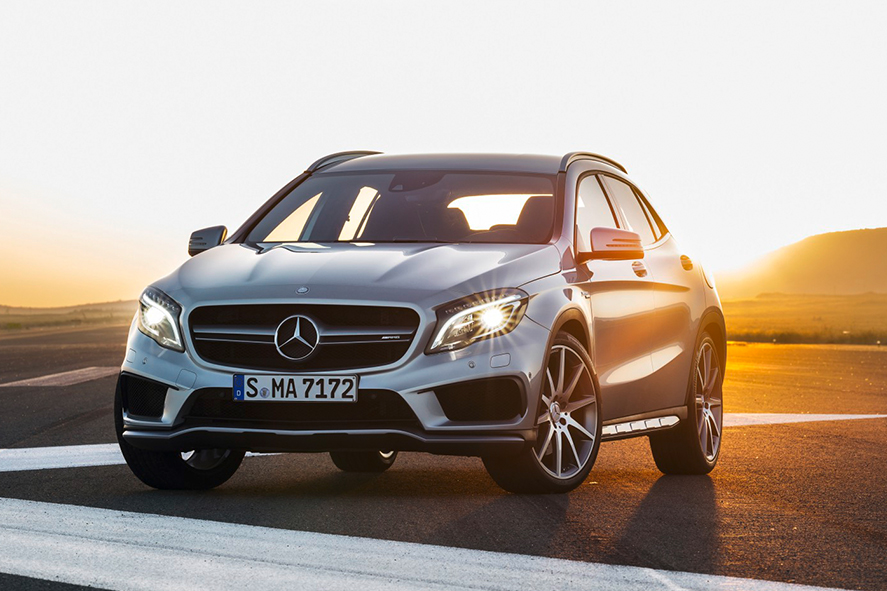 The Golf R is often cited as the best and the fastest of the hot hatches, but in a drag race with this Merc the VW wouldn't know where it had gone. Well, it would. Because you can see the glare of all the chrome from space. But you know what I mean. So it's very, very fast and it handles nicely too. Even when it's raining and the roads are slippery, you can bomb along, allowing the four-wheel-drive system to keep you on the tarmac.
Inside are some lovely touches. You get brilliant seats and a seatbelt that works out how fat you are by strangling you before you set off — it's surprisingly reassuring in a BDSM kind of way. You also get a very Germanic sat nav system that knows — precisely — where the jams are. Because of this I saved myself a two-hour hold-up outside Guildford last week.
The only real drawback to the way this car works is the throttle. It's a problem with all GLA cars. The accelerator doesn't send a request for more power from the engine until about a second after you've asked for it, which on a busy roundabout is an age.
That would drive me a bit potty. But not as potty as the styling. I simply couldn't live with it. And I'm not even sure what this car is supposed to be: a high-riding hot hatch? A low-riding SUV? A crossover with attitude?
In all honesty I wouldn't bother working it out. I'd simply save my money and buy the standard A-class instead.
Clarkson's verdict ★★★☆☆
A B-grade A-class
Mercedes GLA 45 AMG 4Matic specifications
Price: £44,595
Engine: 1991cc, 4 cylinders
Power: 355bhp @ 6000rpm
Torque: 332lb ft @ 2550rpm
Transmission: 7-speed automatic
Performance: 0-62mph in 4.8sec
Top speed: 155mph
Fuel: 37.7mpg (combined)
CO2: 175g/km
Road tax band: H (£290 for first year; £205 thereafter)
Release date: On sale now
---
Browse the used Mercedes GLAs for sale at driving.co.uk
---