The Clarkson review: Hyundai i10 (2014)
Keep at it, Korea. You've a lot of catching up to do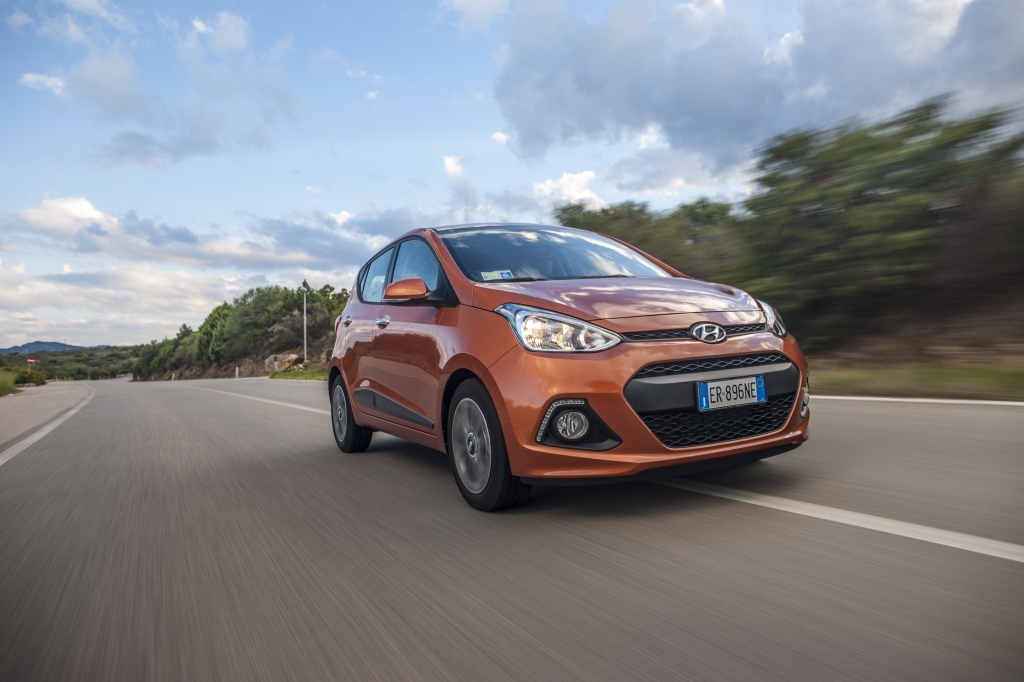 Hyundai i10, £9,995
YOU MIGHT imagine that filling entire pages with words about the new Hyundai i10 was impossible. That there simply could not be that much to say about a small Korean hatchback. And that I'd be waffling about the weather by the fourth paragraph.
Pah. I sneer in the face of your pessimism — 1,200 words on Hyundai's new baby is a breeze, a cinch, a walk in the park. Because I'm a man who at school flatly refused to play cricket. As a result I would spend my Saturday afternoons in detention, writing essays on whatever took the duty master's fancy. Once I even had to write 1,000 words on the inside of a ping-pong ball.
---
Search for and buy a quality used Hyundai i10 on driving.co.uk
---
That was a breeze as well because I figured that being in a ping-pong ball would be pretty much the same as being in Lancashire. So I wrote about that. Which was a lot more fun than sneezing my way through a hay fever fit while bigger boys threw a hard lump of leather at me.
And anyway, while you may snigger at the dreariness of this little hatchback, let me tell you that when I came out of my flat the other morning there was an elderly gentleman with a beige anorak, a world-weary face and a mobility scooter poring over it as though it were the Holy Grail.
All around were Ferraris and Aston Martins and Rolls-Royces, but Norman — I bet that was his name — was fascinated by the i10. He'd probably read all about it in this month's Which? magazine. Or maybe the Reader's Digest.
So not only am I able to fill the pages with my review of this small car but there's also an audience for what I have to say. An audience for whom Korea is not so much a country as a war.
Other motoring writers have struggled to fill their columns with reviews of the i10. One said simply that the engine made it go forwards, the brakes made it slow down and on a drive to Somerset he'd been able to overtake a lorry. And that was it. What Car? said that it was easy to park. Er, yes. So's a horse if you know what you're doing.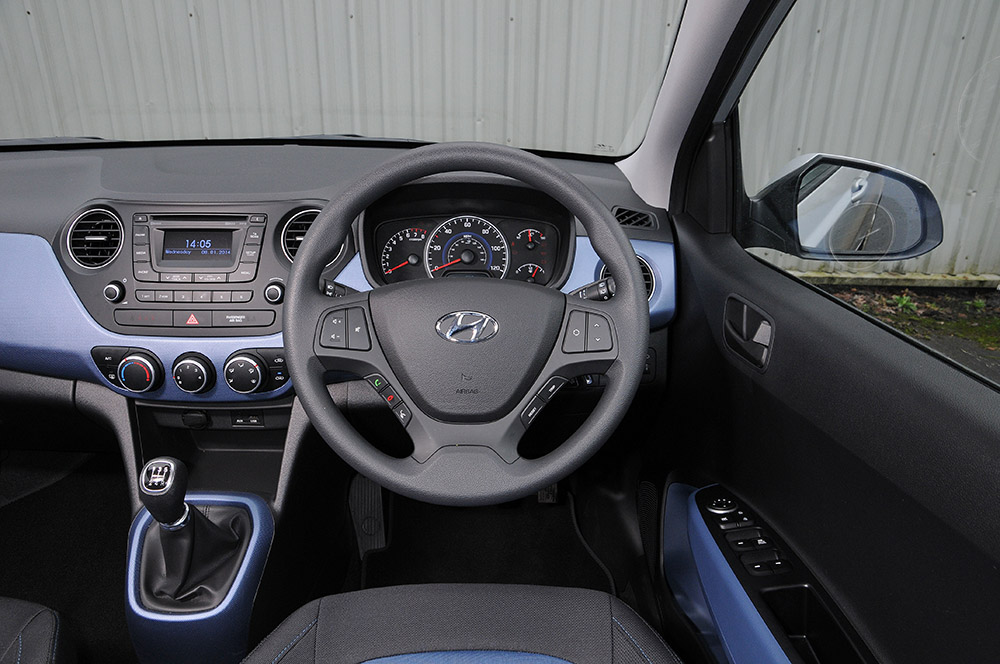 We all know the truth. Hyundai was going nowhere in this country but then one day the government introduced a scheme allowing anyone to get a couple of grand for their old car, provided it was scrapped and replaced with something new.
This was supposed to boost the British motor industry, but nobody scrapped their old Austin Maestro and then went off to purchase an Aston Martin or a Bentley. What they did was buy a new car that was cheap. A Hyundai, in other words.
And they were delighted. Because even a snot box from the Far East is going to be better than the rot box they'd just turned into kettles. So they filled in forms saying, "I'm delighted", and all of a sudden Hyundai had huge sales and the happiest customer base in Christendom.
That's why Norman was so interested in the new i10. Because he'd heard from his mate, Albert, that the old version was the best car he'd ever driven. "Tell you what, Norm," Albert had said: "it's better than my old Austin Metro." And it was.
So what about the new one? Well, first of all we need to put it in context. We need to understand what it's up against. What other cars out there are vying for your cash. We must therefore consider all the other teeny hatches that you can buy these days.
The 1-litre Ford Fiesta is fabulous —easily the best of them all. But it is expensive, which is why my favourite is Volkswagen's Up!. It manages to be cute without being twee, which is a problem that affects Fiat's otherwise wonderful 500 a little bit these days.
Other motoring writers have struggled to fill their columns with reviews of the i10. One said simply that the engine made it go forwards, the brakes made it slow down
I recently drove an Up! all the way across Ukraine, from the beautiful Crimean peninsula in the south, through the majestic city of Kiev, with its foursquare, here-tomorrow buildings, to Chernobyl in the north. I rather liked Ukraine. And I liked the Up! too.
Yes, there are times when you wish the 1-litre 3-cylinder engine had a turbocharger, but when you're not trying to overtake a lorry on a hill, it's fine. It will cruise at 85mph, and if you drive normally you'll get more than 60mpg. Which, of course, is all tremendous, but it's the big personality of this little car that I liked best of all. It really does feel like a determined sperm, wiggling its way along with nothing but its sharp elbows and pushy character to help it to the front of the queue.
Small cars need to feel this way. Big ones can be quiet or fast or pretty or even boring. But a small car has to be fun. It has to feel as if it's making an effort, as if it wants to get there first. Small cars need stripes and snazzy upholstery and big, wide-eyed headlights. They have to be like Richard Hammond, only less annoying.
If a small car is right, it can be more rewarding to drive than any big, isolated, aloof Mercedes, BMW or Audi. I really, genuinely enjoy taking a tiny 3-cylinder to the red line and driving as though my hair's on fire, knowing that when I get to the next corner I don't have to slow down at all, because I'm still doing only 32mph.
My colleague Tiff Needell will tell you that some of the best times he's had in a car — and remember that we are talking here about a chap who very nearly made it as a Formula One racer — were at the wheel of his mum's Morris 1000. Because it had skinny little tyres and would slither about on roundabouts. While doing 4mph.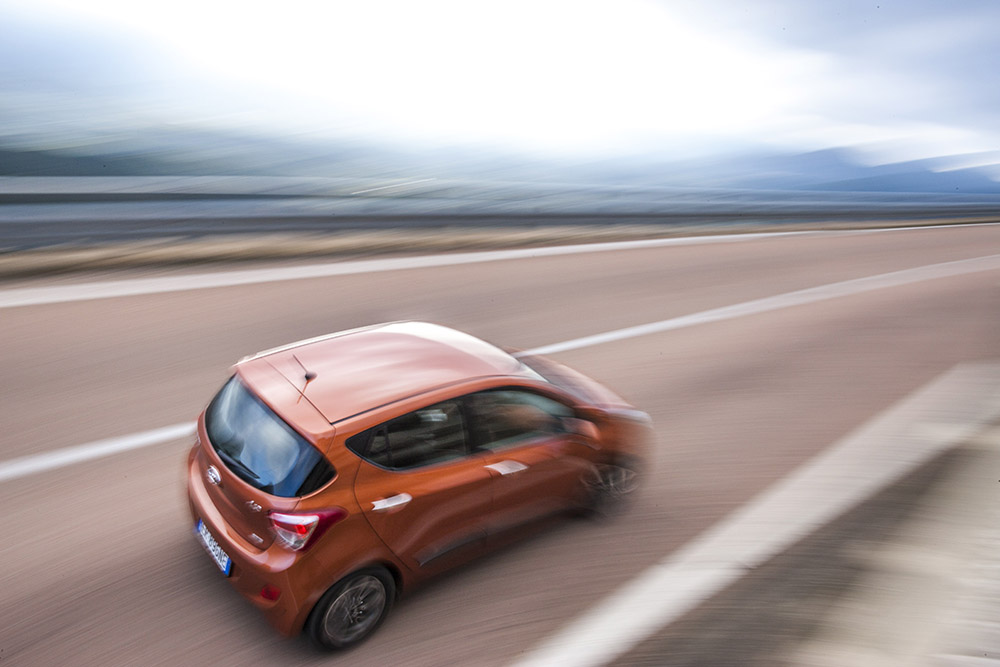 The Up! feels like that. So does the Fiat 500. And the Fiesta feels even better, because its 1-litre EcoBoost engine produces a truly staggering 123bhp.
This is what Far Eastern car makers often forget. They fit their small cars with everything the small-car-buying Reader's Digest reader needs: electric windows, local radio and wipe-down inconti-fabric upholstery. But you rarely get that sense of joie de vivre.
Which brings me back to the new i10. The model I tested costs £9,995 — about the same as a mid-range Up!. And like the VW it comes with a non-turbocharged 1-litre 3-cylinder engine. Granted, though, it comes with more of the little luxuries as standard.
Plus, you get five doors, plenty of legroom in the back and a decent-sized boot and er . . . it goes forwards when you press the accelerator and slows down a bit when you brake. Um. Also, it is easy to park.
What it lacks completely, though, is any form of spark. There's not even a trace of any personality. It is boring, and as a result it's like sitting in the inside of a ping-pong ball that . . . Oh no, I'm out of space. And I was just getting into my stride.
Verdict
Can't we talk about something else? Ping-pong balls, perhaps?
Hyundai i10 1.0 66 Premium specifications
Engine: 998cc, 3 cylinders
Power: 65bhp @ 5500rpm
Torque: 70 lb ft @ 3500rpm
Transmission: 5-speed manual
Acceleration: 0-62mph in 14.9sec
Top speed: 96mph
Fuel: 60.1mpg (combined)
CO2: 108g/km
Vehicle tax: B (free for first year)
Price: £9,995
Release date: On sale now