The Clarkson review: Citroën DS5 DSport (2012)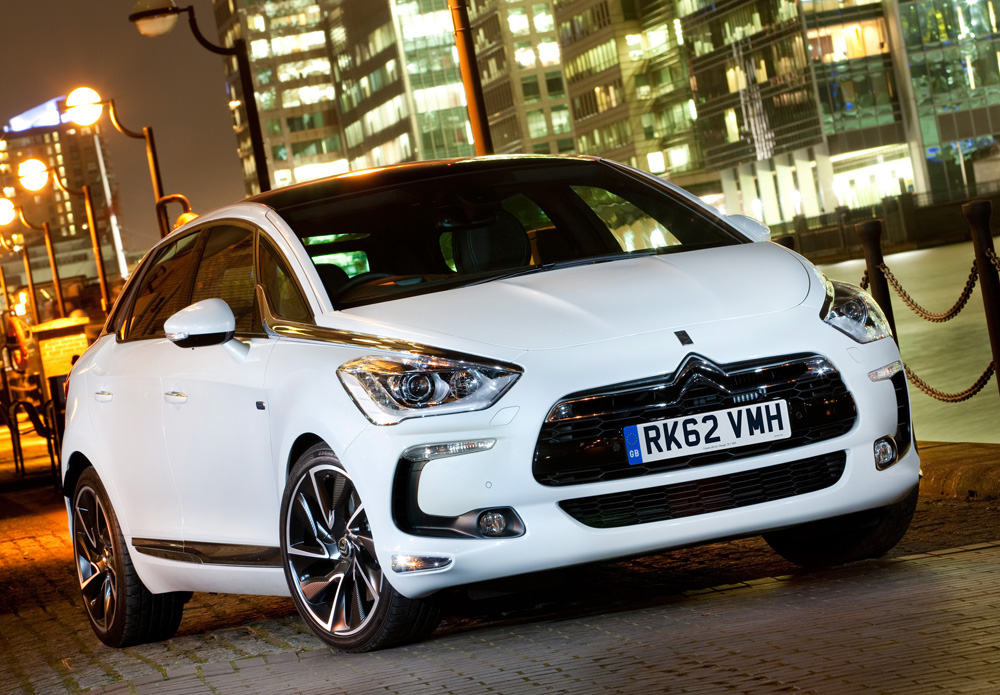 BMW very kindly agreed to lend me a brand-new V8 X5 while I was in Germany for the recent Champions League final, with the understanding that I would review it if Bayern Munich beat Chelsea.
So. Let's have a look, then, at the new Citroën DS5 DSport.
Truth be told, I can't remember much about the BMW. I know it was driven by a polite man called Christian and that it was brown. But engine performance? Seat comfort? Space in the back? Lost, I'm afraid, in the fog of warm, fuzzy satisfaction that England had beaten Germany on penalties. That Chelsea had won the biggest prize in European football. That Didier Drogba — the giant, the colossus — had waved goodbye to his career in a blue shirt by saving the day.
---
Search for and buy a Citroën DS5 Turbo on driving.co.uk
---
It's strange, isn't it, that 22 strangers kicking an inflated sheep's pancreas around a foreign field — that is forever Chelsea, by the way — can elicit such extraordinary emotions in a grown man? It would be like running around in circles because your son beat somebody else's son in a pre-school game of Connect 4. Certainly there's no reason why the win meant I should jump up and down so vigorously that I broke the credit card in my pocket. I may have even hugged a taxi driver, too.
Actually, there is a reason. It's this: back in 1970 some Leeds supporters put dog dirt in my school cap because I had dared to walk through a Yorkshire town sporting a Chelsea scarf. That, then, is what made me so happy in Munich.
Because I knew that in a working men's club somewhere, the little gang would be sitting, staring into their stout, feeling terrible. I was happy because they weren't. That's what football is all about. Anyway, the next day, the elation had been swallowed by a dreary list of appointments and the car that would transport me between them: the aforementioned Citroën.
In the olden days Citroën made its reputation by being different. It would use different engines from everyone else, different suspension, different braking. As a result, it won a strong appeal among oddballs — people who thought whales were intelligent, that vegetables had feelings and that the best way to combat the threat of a Russian attack was to chain yourself to a fence post at Greenham Common.
Of course, when Russia was no longer perceived as a threat and beards had become a joke, the customer base melted away, which meant Citroën had to come up with a new idea. And it did: value for money. The company would advertise the car for £5,000 and then, with a hysterical television advertisement, explain that you would be entitled to a 100% discount, £1,000 cashback, free financing, no Vat and the opportunity to sleep with any of the sales assistants who took your fancy.
Soon, however, an accountant must have noticed that while many cars were leaving the factories, no actual money was coming back. And anyway, the VFM rug had been snatched  away by the likes of Kia and Hyundai, which were offering 2,000% discounts, free holidays in the Far East and £20m for your old car.
Citroën was forced to come up with a new plan to disguise the fact that underneath, its cars are nothing more than dreary Peugeots. And the plan it came up with was styling. In the company's words, it set about industrialising haute couture. There's no getting around the fact that the DS5 you see here this morning is extremely striking, and I don't mean "striking" in the way you'd describe a friend's hopeless attempt at an oil painting. I mean striking as in Kate Moss. This is one good-looking car.
You may, therefore, be interested enough to have a closer look, and when you do, you will not be disappointed. Because inside, if anything, it's even better. You sit behind a styled steering wheel cocooned not only by a high central transmission tunnel but also by a  drop-down pod mounted to the roof lining. And both of these features are festooned with highly stylised buttons. They are arranged in the manner of a rhodesian ridgeback's neck and look fantastic.
But Citroën obviously had a problem. If you use buttons as a styling feature, you need to give them all a job. Which is why the DS5 DSport that I drove was equipped with every single feature ever fitted to a car, house, spaceship, train, sex toy, fighter jet, submarine, vacuum cleaner, laptop and mobile phone. It's also why there is not a single electrically operated sun blind in the roof. There are three.
This makes for excellent sport in a traffic jam: pushing things to see what happens as a result. I was especially excited to find at one point in a nasty jam on London's Euston Road that I could direct cool air into the central cubbyhole. Now. As I see it, there are a couple of issues with Citroën doing this. First, this is not a company with the best reputation for electronic reliability, and second, it all adds weight. And more weight means less acceleration, higher fuel bills and the need for firmer suspension. Couple that need to the fact this car is sold as a DSport, and the result is an extremely harsh ride.
This is a disappointment. Citroën has made fast, even sporty, cars in the past and all have retained the brand's famed reputation for comfort. The DS5 DSport does not. It rides like my AMG Mercedes. And do not think the upside is a great swathe of agility. Because of the rather vague steering, sharp brakes and all that weight, it's about as much fun to hustle as a hill. Or indeed a Peugeot 308, on which it is based.
The engine's not bad. You can specify a 197 horsepower hybrid if that's your bag, but to be honest, the 158 horsepower 2-litre turbodiesel in my test car was good enough.
However, even here there's a problem. Because for £29,500 minus the whistles and bells, I'd expect more than a four-pot turbodiesel engine. I'd expect more than 0-62mph in 9.8 seconds. In fact, the price has got me scratching my chin in many areas. Yes, this is a big car with a big boot and lots of legroom in the rear. But it doesn't look big enough to wear a price tag of nearly £30,000. Especially when we know that Citroëns don't hold their value well. So what's the alternative?
Well, again, I'm stumped because there is no car that looks, drives or feels like this. Maybe the Ford Kuga? But then again, maybe not, because that doesn't have three electrical roof blinds. An Audi Q5? Yes, but that can cost up to £37,310 and doesn't have anything like the Citroën's "want one" styling.
There's only one way really to sum this car up. It's ideal for those who want a fast-depreciating, possibly unreliable, and uncomfortable car that looks fantastic and is unbelievably well equipped and charismatic.
In short, it's undoubtedly a car you want to buy. But I suspect that after a while, it'll be a car you'll want to sell.
---
Search for and buy a Citroën DS5 Turbo on driving.co.uk
---