The Clarkson review: Citroën DS3 Racing (2011)
Oh yes, take me now, Lady Marmalade
---
Published 18 September 2012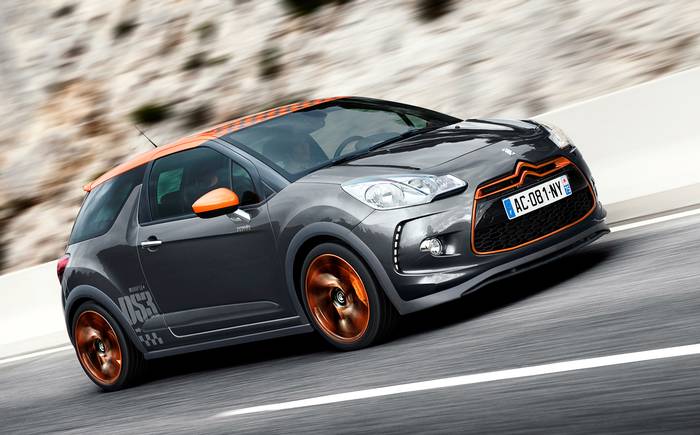 Over the past few years, the sort of people who find recycling exciting have predicted the end of the internal combustion engine and said that 2011 will herald the bright new dawn of silent, zero-emission electric motoring where no one dies and town centres actually look like the models architects make when applying for planning permission. There's no doubt, of course, that many car manufacturers are working hard on hybrids — which are normal, petrol-engine cars that have a second, electric motor to keep the rule makers in Brussels happy. But pure electric cars? I don't see their Blu-ray/VHS/Sky moment until someone commercialises a hydrogen-based system for recharging the batteries.
And that's not going to happen in 2011. Or 2012. Or any time in the foreseeable future. What I do see happening in 2011 is car makers peeping from behind the terrifying double-dip curtain of financial uncertainty and presenting us with a flurry of machinery that will keep the disciples of internal combustion as happy as if they'd landed the role of "chauffeur" in a French porn film.
---
Search for and buy a Citroën DS3 on driving.co.uk 
---
Aston Martin, for instance, will present two new cars this year. One, called the Cygnet, is a 1.3-litre version of the Toyota iQ. Engineered solely to keep the average fuel consumption figures of the Aston range down — and therefore the Euro law makers happy — it will be treated as a joke. The other will not. It's the One-77, which is made from carbon fibre, has a hand-built V12 and boasts a top speed of 220mph or more, making it by far the fastest production car Aston has made. The only trouble is that it will cost £1.2m, which is a lot.
Lamborghini is also planning a limited-edition, mega-money car for 2011 and, because it doesn't have to worry about average fuel consumption figures — Lambo is owned by Volkswagen, which makes the Polo — it will be a replacement for the Murcielago. That, however, will be overshadowed by the new McLaren. Named MP4-12C — or OCD for short — it will have a twin-turbocharged 3.8-litre V8 that develops 592 horsepower. So, with a price tag of just £168,500 — about half what McLaren charged for its last car and around a fifth of the price of the one before that — it will be less expensive and more powerful than the Ferrari 458. I can't imagine it will be better but who knows.
You want more evidence that the economy's recovering and batteries are on the back burner? Well, there's going to be a convertible version of the epic Mercedes SLS and a long-wheelbase option for the Rolls-Royce Ghost. Then we have the new Porsche 911, which will be exactly the same as every other 911, and a hardcore derivative of the car most Formula One drivers use when their sponsors and engine suppliers aren't looking — the Nissan GT-R. In the real world, BMW is working on yet another version of the Mini — it'll be a two-door coupé. There will also be a handsome-looking new 6-series and a £40,000 M version of what BMW calls the 135 coupé, even though it's actually a saloon. Never mind the muddle, though; this is one of the cars I'm most looking forward to driving, partly because I reckon the standard car is already the best model in the BMW line-up and partly because, with a twin-turbo, 335-horsepower straight six and a straightforward front-engine, rear-drive, no-styling, no-nonsense approach, it will be a genuine successor to the simple M cars of old.
I'm also looking forward to the new Mercedes SLK, although I'm a bit alarmed that industry insiders are saying it'll be a more hardcore experience than the "soft" outgoing model. Having owned an SLK 55, which I sold because it was way too uncomfortable, I am a bit worried that the new car might not have any suspension at all. Strangely, though, in this sea of wholesome goodness, the car I've been anticipating with the most eagerness is the car you see photographed here. Citroën's DS3 Racing.
I realise that this is like booking a table at the Wolseley in London and then looking forward most of all to the bread rolls. But the simple fact is this: when the sun is shining, I like a simple two-seater convertible most of all, but when it isn't — and this is Britain, after all — the type of car that I most enjoy driving is a hot hatchback. And the DS3 Racing is about as hot as hot hatches get right now. You might argue that the optional paint job, with checks on the roof and all sorts of slogans and symbols that would only make sense if they were splashed on the deck of a Nimitz-class aircraft carrier, is a bit stupid. But I disagree. They're a laugh. I even like the warning above the petrol filler cap. "Caution. Attention," it says. And why not?
Inside, it's just as bonkers, with a bright orange dash, a carbon-fibre steering wheel and epic seats that would be more at home, you feel, in an F-22 Raptor. After a period in which car makers have looked backwards for inspiration — I'm thinking of the new Beetle, the new Mini, the new Chevrolet Camaro, the new Ford Mustang and the new Fiat 500 — it comes as a refreshing change to find Citroën has decided to face the other way, while taking inspiration from both the US navy and Airfix. Mind you, I suppose that if Citroën had looked backwards, we'd have ended up with a reborn 2CV. And no one this side of The Guardian wants that.
I realise, of course, that looks and style are a matter of taste and that some of you may find the Racing garish and idiotic. But without wishing to sound childish, this is my review and I really like it. However, it would all be for nothing if its body were writing cheques its engine could not cash. Well, let's get one thing straight from the off. It's not, as the name would suggest, a racing car. It's just a DS3 with a few racing-style bits and bobs added into the mix. That said, it's powered by a 204-horsepower version of the turbocharged 1.6-litre used by BMW until recently in the Mini, so it'll do 146mph. And, thanks to a lower ride height, a wider track and firmer dampers than the basic DS3, it handles crisply, too.
Yes, there's a fair bit of torque steer and I will admit that the Renault Clio 200 Cup is a tad more dynamic.  But the Citroën is more comfortable and less noisy and, of course, every time you see your reflection in a shop window, you will feel like you're on the bridge of the Dwight D Eisenhower. Whereas when you see a reflection of yourself in a Renault, it's just a reminder that you will soon break down.
In short, I loved the DS3 Racing as much as I thought I would. I loved driving it. I loved looking at it. I love the feeling now that it's parked outside my house and I can use it for a trip to town this afternoon. It is a car that's excellent to drive but, more importantly, it's a car that makes me feel happy. And, of course, because it's a hot hatch, you get all the fun as well as a big boot, folding rear seats and space inside for five.
Issues? Well, the adjustment on the seat is so crude that you either drive sitting bolt upright or flat on your back, and I must say, for a whopping £23,100, I would have expected a few more toys. When you are paying BMW 3-series money for a small Citroën, the least you would expect is sat nav.
The worst thing, though, is that to bypass costly legal tests, Citroën has declared the Racing a "low-volume" car and will make only 1,000. Just 200 will come to Britain. On the upside, there is a loophole in the law that allows Citroën to make a modification to the engine that no one will notice and that lets the company make 1,000 more. Get your name down early, but don't be surprised to find you're behind me in the queue.
---
Search for and buy a Citroën DS3 on driving.co.uk 
---