The Clarkson review: Bentley Continental GT V8 S (2015)
There's a riot downstairs, but upstairs the butler keeps his cool
---
Published 16 February 2015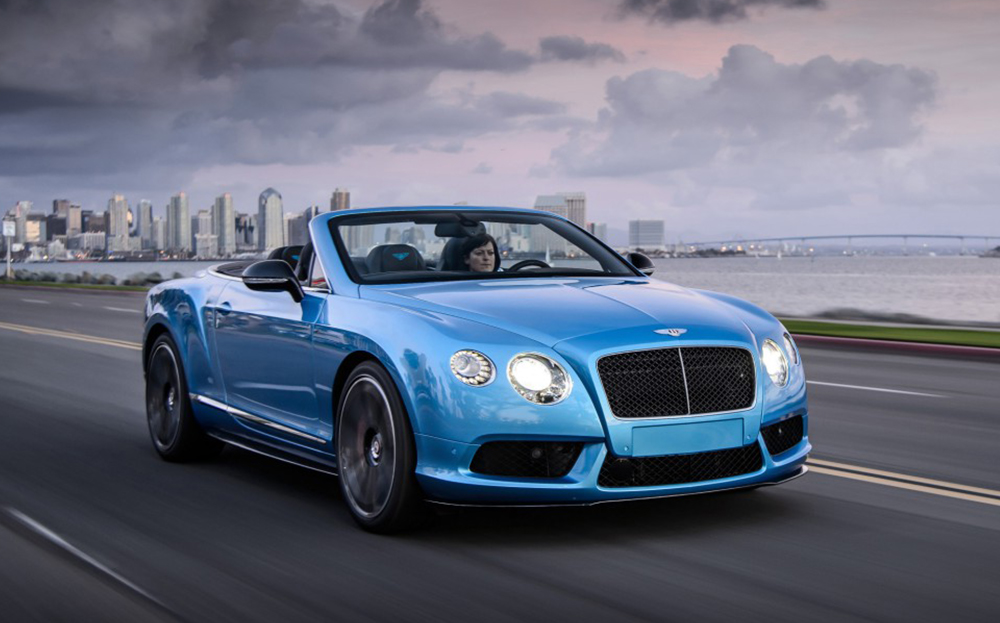 MANY OF you think I have the best job in the world, and it's hard to argue with that. But I'll be honest: when Top Gear is on air, Wednesdays are a bit tiring. It's a 5am start, followed by a dreary drive to the studio, followed by a read-through, followed by a rehearsal, followed by a break during which James May talks at some length about how he spent the entire weekend cleaning the points on one of his dreadful old motorcycles.
Then we have to do the actual show in front of 500 people, who need to be entertained with anecdotes and general nonsense while the cameras are moved and a minion is dispatched to the gallery to clear up the orange juice that the director has just spilt into the mixing desk.
---
Browse the used Bentley Continental GT for sale at driving.co.uk
---
And then there's the guest to interview, and I never know whether he or she is going to be there because his PR machine has forced it upon him, in which case he won't really speak, or if he's spent his lunch break in the lavatory, in which case he won't shut up.
This is not a moan. Good or bad, I enjoy my Wednesdays enormously, but as I said at the beginning, they are extremely draining. Now you probably think that when the recording is over, a chauffeur-driven Mercedes is waiting to take me home. That's what happens on every other show in the world. But not Top Gear. We have no wardrobe department — I know, you could never tell — and we are expected to drive ourselves home in whatever car we can find in the car park.
Usually it's something that farts and shouts and crashes from pothole to pothole in an orgy of steamed-up windows, terrifying acceleration and bloodcurdling noise. I like filming cars such as this very much. But when you're worn out and you just want to get home? No. I'd rather kill myself.
Which is why I was overcome with a sense of deep joy last week when I came out of the studio to find I'd be going back from Guildford to London in a Bentley Continental GT V8 S convertible.
You get in and close the door and it's as though you've stepped into a world of whale song and tea lights on water lilies. You fire up the engine and far away there's a muted hum; you put the waftmatic gearbox into Drive and you cruise along, wondering in a dreamy way how the council has turned the awful road into a billiard table since you drove down it that morning.
This Bentley costs £160,500 or, depending on what extras you select, probably closer to £200,000, and at that price there are many alternatives. But all are hard and noisy and über-sporty. The Bentley stands as the only comfortable expensive sports car on the market.
And yet. As you may have seen on Top Gear's recent trip to Australia, a hard-top GT V8 S trounced a Nissan GT-R in a drag race. And, thanks to its four-wheel-drive system, it hurtled up the side of a quarry almost as quickly as a 577bhp Maloo GTS pick-up, made by the performance arm of the Aussie firm Holden. And then later, with its suspension raised up — something that is done with the press of a button — it herded cattle like a Range Rover that had been fitted with nitrous.
You get in and close the door and it's as though you've stepped into a world of whale song and tea lights on water lilies
So it may come across as a genteel and soothing leather-lined transcontinental express, but when the situation arises it can become full of rage. Have you seen Colin Firth in Kingsman: The Secret Service? It's that. I like this a lot. Put your foot down hard and it genuinely terrifies your passengers. There's a bellow from the engine and a snarl from the exhausts and it's as though the stately home in which they'd been relaxing moments earlier has suddenly been hit by a 7.8-magnitude earthquake.
Keep your foot down and soon they'll be whooping with joy because somehow the undersides and the computer programs that control them can easily handle the mass and the inertia and the energy you've unleashed.
This car is a bit like the perfect butler. When he enters the room to serve pre-dinner drinks, he knows full well that downstairs all hell is breaking loose. The chef has dropped the duck, a maid has smashed the gravy boat and there's been a small fire, but he gives nothing away.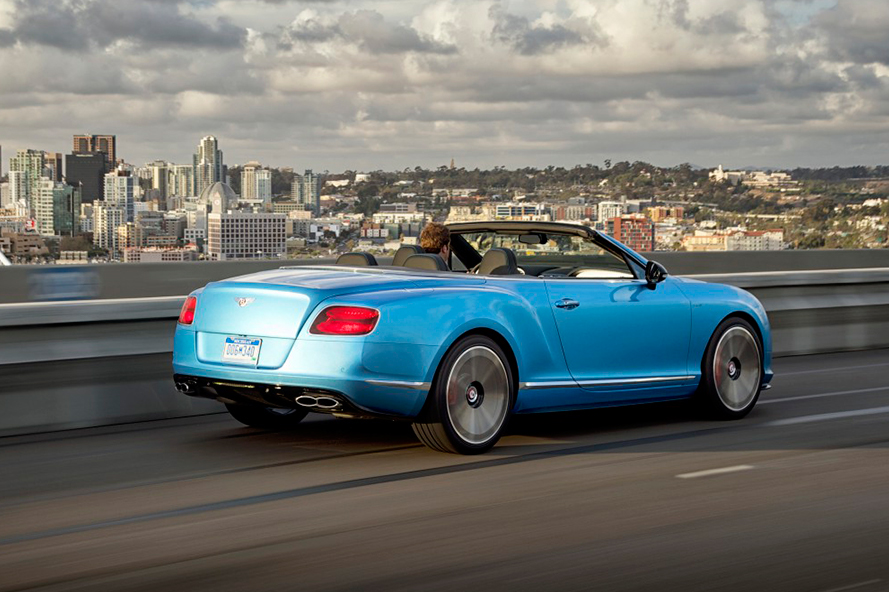 You know when you brake or corner hard that you are attempting to control 2½ tons and more than 500 rampaging German horses. But the GT V8 S gives no sense that it's difficult at all.
I understand that 60% of Bentley customers choose the W12-engined model instead of this rather less pricy V8, which brings me on to the Continental's big problem: the people who drive it.
In some models the W12 unit is no faster from 0 to 62mph than the twin-turbo V8 and uses a great deal more fuel, but in Cheshire, where the Continental has a big fanbase, this doesn't matter. The people there need to remind their neighbours that all is well in their world and they're not going to do that if they've bought the second-most-expensive car in the range. There's a word for people like this: idiots.
And that brings me to the next problem. The convertible I've been driving. No. OK? Just no. If you buy a car such as this, you are almost certainly going to be in your fifties and to have — let's be kind — a prosperous waistline and a bald patch the size of a jellyfish. And at some point you will feel compelled to drive along with the top down. This will make you look ridiculous, especially if you are going to the golf club and you have another man in the passenger seat.
So it may come across as a genteel and soothing leather-lined transcontinental express, but when the situation arises it can become full of rage
There's more. Because the roof has to be stowed somewhere when it's down, you end up with back seats that are useless and a much smaller boot than you would imagine.To make matters worse, the car I drove was a vivid blue. Why paint the press demonstrator in a colour that's completely unsuitable?
There was a similar problem with the yellow car we had in Oz. Driving around in a yellow Bentley is like going to work in a yellow suit. It's wrong. And it's unnecessary, because unlike most car makers Bentley offers an enormous range of colours. You buy a Porsche and you get a choice of grey, grey or grey. You buy a BMW and it's placenta red or James May brown. But Bentley's colour chart makes Farrow & Ball's look skimpy and mean.
There are, then, many mines on which you can tread when on your way to buy a Continental. So here's a handy cut-out'n'keep guide to help you get it right. Do not buy the convertible unless you live in Cheshire, in which case it's probably acceptable. Do not feel tempted by the brighter colours. And if the salesman suggests you go for the W12 option, put your fingers in your ears and say, "La-la-la-la-la," as loudly as you can till his mouth stops moving.
If you follow these simple steps, you'll end up with what right now is one of the world's best cars. If you don't, you'll end up looking a berk.
Browse the used Bentley Continental GT for sale at driving.co.uk
Clarkson's verdict  ★★★★☆
Follow my 3 buying rules and it's a belter
Bentley Continental GT V8 S convertible specifications
Price: £160,500
Engine: 3993cc, V8
Power: 520bhp @ 6000rpm
Torque: 501 lb ft @ 1700rpm
Transmission: 8-speed automatic
Performance: 0-62mph in 4.7sec
Top speed: 191mph
Fuel: 25.9mpg (combined)
CO2: 258g/km
Road tax band: M (£1,090 for first year; £500 thereafter)
Release date: On sale now