Supersport supercars: It's no shock the electric BMW i8 blends into Caterham paddock
What do wealthy racers make of BMW's hybrid supercar?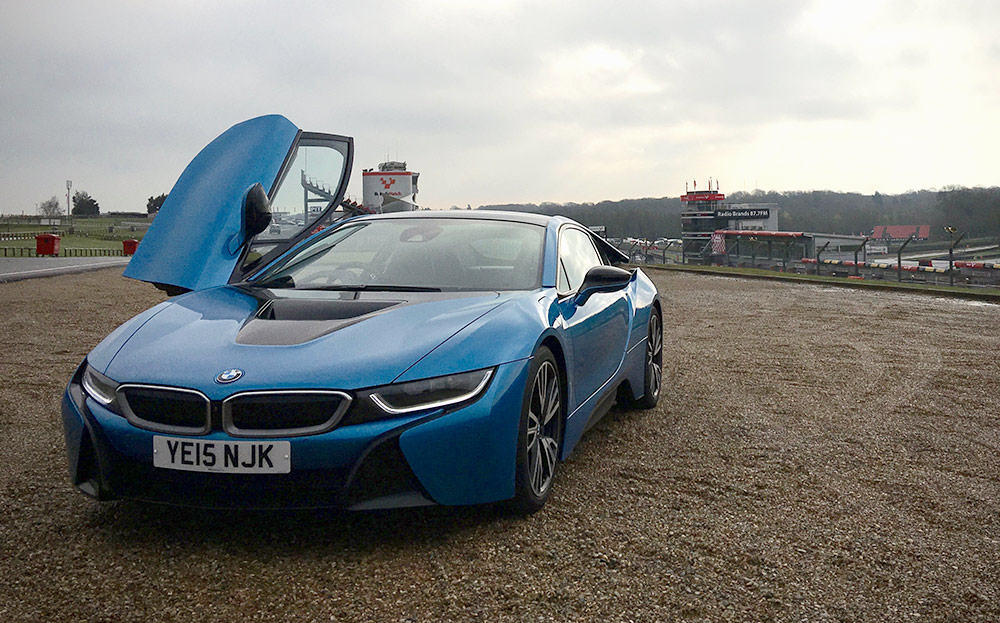 VISIT A motor sport paddock and you'll be met by an armada of exotica. The combination of money to burn — most amateur racers are self-funded — and a passion for all things automotive makes the average paddock a garden of delights for the keen car-spotter. Suit you, sir.
For the past two seasons I've been racing a Caterham Seven, backed by The Sunday Times Driving. This year we've returned for another crack at the Supersport Championship and we thought we'd extend the coverage of our experience to include the journey there. We'll be driving to each of the seven rounds in a different supercar to answer the age-old question: what should a racing driver drive?
This year's championship takes in three countries and we've tried to choose a car to suit each journey. For the European round in Zolder, Belgium, for example, we'll be taking a grand tour in a Mercedes-AMG GT.
---
View the BMW i8s for sale on driving.co.uk
---
The first race was a little more local. Brands Hatch in Kent demanded an urban crawl from my home in Clapham, southwest London, which made a BMW i8, with its electric driving mode, the ideal choice. I first drove BMW's hybrid wundercar in prototype guise for Driving in August 2013. Back then it promised a new era of socially aware supercars, and, almost three years on, there's still nothing like it.
No other £100,000 car has such a sense of theatre. In my part of London a Porsche 911 doesn't warrant a second glance, but the i8 commands attention. In a good way.
While it would be stretching the point to suggest that driving this 357bhp supercar makes you look like a polar-bear-hugging Guardian reader, there's none of the sneering associated with fast cars. And those upwards-opening "dihedral" doors, constructed from aluminium, carbon fibre and thermoplastic, are just sensational.
Come race day, three more i8s were in the paddock. My bonfire had been well and truly weed on
It feels special even at low speeds. I have a good relationship with my neighbours and felt embarrassed when I found myself starting a V8-powered Jaguar F-type at 6am and waking up the street. By contrast, the plug-in hybrid i8 glides away in near silence. An electric motor, a 1.5-litre turbo engine, a carbon chassis and a plethora of gadgets make it feel like something from the here and now, not merely an evolution of 20th-century technology. Clarkson was right — it instantly makes an M3 feel old school.
As long as you stay away from Sport mode, the ride is excellent, and while the boot is small, you can supplement it by using the rear seats — they're not much good for people. It's not a demanding car to drive. After a day's testing, when you're feeling like Peter Kay in Car Share, it plays the limo with surprising aplomb.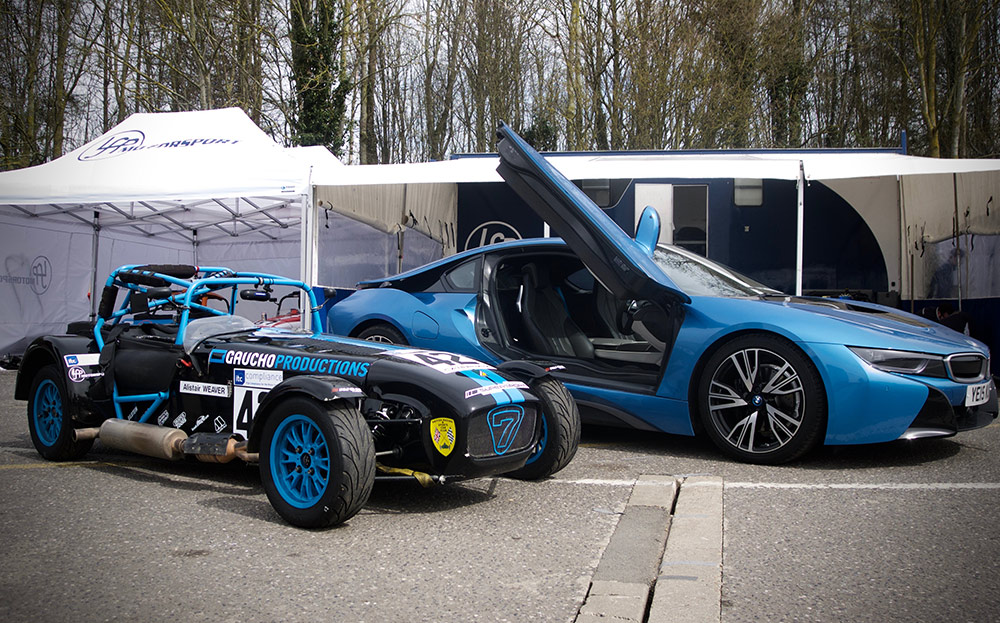 Little wonder it's proving so popular with the racing fraternity. My team-mates have a Porsche 911 Turbo, an original Aston Martin Vanquish, a Mercedes S-class and even an Ariel Atom, but all were fascinated by the Bee Em. It captures the imagination. Maybe that's why, come race day on Saturday, three more i8s were in the paddock. My bonfire had been well and truly weed on.
When I drove the prototype, it was on a circuit. There was clearly more development to be done. Now, while the i8 still doesn't feel as natural to drive as a 911 — the steering feels particularly artificial — it's much improved.
In Sport mode it sounds magnificent and pulls hard — 0-62mph takes 4.4 seconds — but the ride is downright harsh. Given how smooth the rest of the car is, it's bizarre that BMW doesn't allow you to combine adequate damping with maximum thrust. Even a Ford Focus RS offers that flexibility, and at a third of the price.
---
Browse NEW or USED cars for sale on driving.co.uk
---
Then there's the matter of fuel consumption. According to the official figures, the i8 is capable of 135.4mpg and emits just 49g/km of CO2. In the real world, of course, this is nonsense. Driving backwards and forwards to Brands Hatch, I achieved 35mpg. This makes an absurdity of the official claims, but it's still better than any of its rivals would have achieved.
This is probably the crux of i8 ownership. It reminds me of the first-generation iPhone — for all its step-ahead trickery, you suspect the next version will be the real leap forward. Right now, though, it's by far the most engaging supercar you can buy without spending a lot more money, which is no doubt why it's proving as popular with racers as with everyone else.
For the next round, on May 7-8, I'm in Anglesey, and the journey across Wales demands some extra poke. It's a job for the McLaren 650S Spider.
The race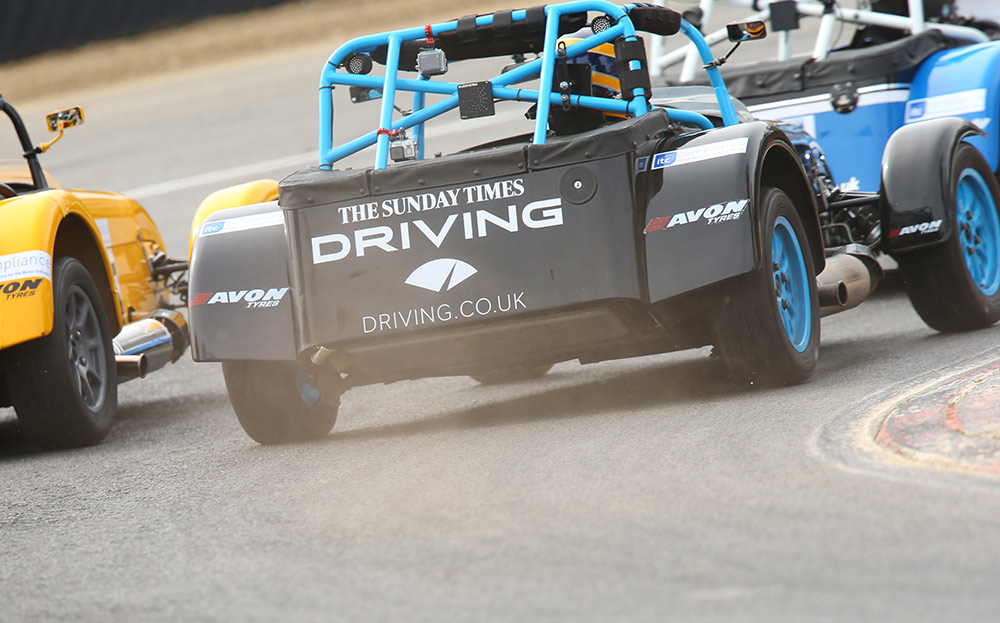 It's hard to overestimate the competitiveness of the Caterham Supersport Championship. This is supposed to be amateur racing, but the paddock is awash with teams busily analysing track data. Forty-five identical cars entered the first round, and the lap times of the top runners are separated by hundredths of a second.
With the help of the fitness company MFT, I spent the winter rebuilding myself and the car. This year I'm being run by LFP Motorsport, which stripped the car down over the winter.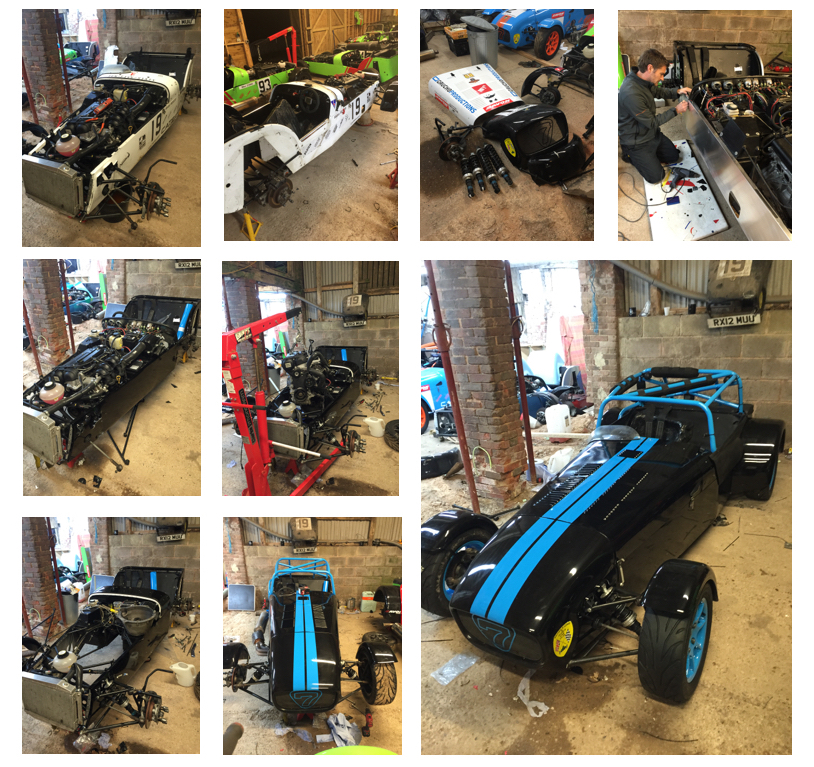 It'd had a tough life even before I took over, and lots of minor components needed replacing. When the racing's as tight as this, every detail matters. Repainting the roll cage and wrapping the car in black has also made it look faster, which is good psychologically.
Short and technical, the Brands Hatch Indy circuit is my least favourite. I made a hash of qualifying in the wet but recovered somewhat to finish 7th and 8th in the first two races of the year. Not brilliant, but a foundation for the season ahead.
Click to read the other parts in Weaver's Supersport Supercars series
Race photos: Jon Bryant, snappyracers.com