SsangYong Rodius review (2005-2013)
Ugly, but roomy and cheap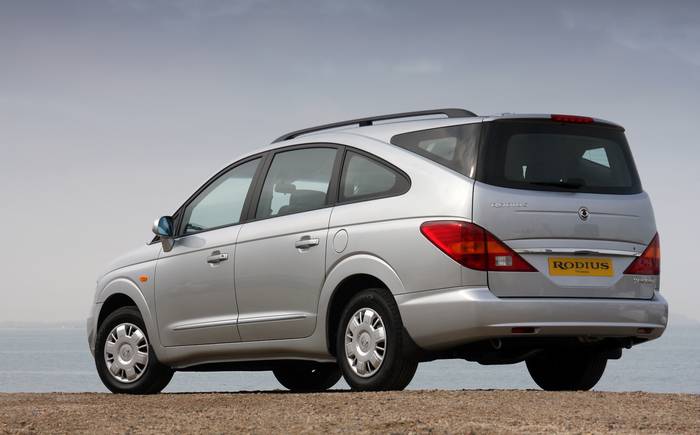 What is the SsangYong Rodius?
One of the most awkward-looking vehicles on British roads, the Korean-made SsangYong Rodius is ugly up front and downright peculiar at the back. If you can get past its exterior, it does have a couple of saving graces, however: it's huge, and it's very cheap. A seven-seat MPV with an 875-litre boot and up to 3,043 litres of load space with the middle row of seats folded flat and rearmost bench removed, it's popular with taxi drivers and private-hire firms.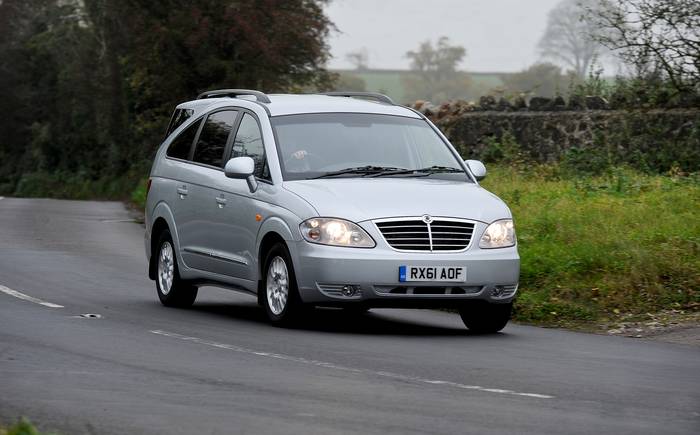 The 2.7-litre diesel engine is an old Mercedes-Benz five-cylinder. It's low tech, noisy and slow, and particularly sluggish in combination with the five-speed automatic gearbox (0-62mph takes 15 seconds, though there's a fair amount of torque mid-range). The manual's marginally better, but with its immense bulk, light steering, body roll and wallowing suspension, the Rodius is not much fun to drive. The ride is hard and jerky, especially at low speeds on poor road surfaces, and bouncy when the cabin's not fully occupied.
---
Search for and buy a used SsangYong Rodius
---
Though stability control is fitted as standard in later examples, only front airbags are supplied — a serious shortfall if you want to protect your family — and only two seats have Isofix child seat anchor points. Don't expect the latest in gadgets, entertainment and communications systems, either, though some second-hand examples do have sat nav and a DVD player — as well as being kitted out with tinted glass, chrome side steps and a full leather interior. The latter does enhance the interior a little, which is otherwise cheaply furnished and dated.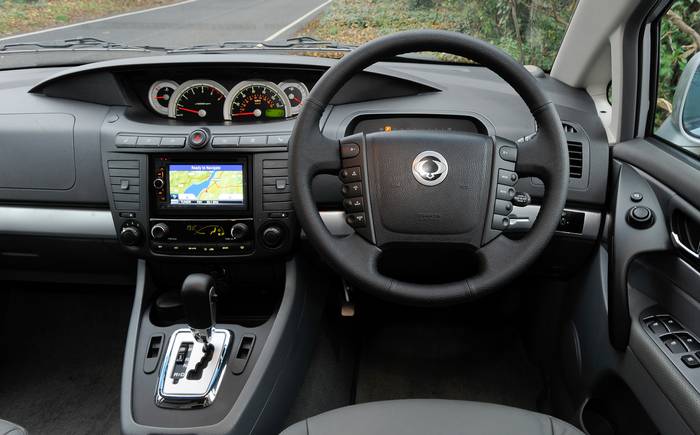 Running costs are on the high side; manual models return just 32.1mpg and the autos about 29mpg — realistically, you're looking at little more than 20mpg around town, and economy will suffer further with a full set of passengers on board or if you're towing (the Rodius will pull up to 2,500kg, another of its few useful attributes). Its high carbon dioxide emissions put it in tax band K (manual) or L (auto), and its rarity means group 27 insurance. SsangYong has, however, worked to bring down servicing and maintenance costs in recent years. The company does have a dealer network in the UK (its franchises include former Saab garages) so it shouldn't be too hard to find someone to service a SsangYong; an independent garage could handle its Mercedes mechanicals.
The Rodius started at only £15,000-odd new (with a five-year, unlimited-mileage warranty) and is a very cheap used buy, but you'll be wanting to get to one before the cabbies, so the newer and lower-mileage the better. SsangYong's approved-used scheme sells with a 101-point mechanical check, a year's warranty and European breakdown cover plus — get this — free puncture repair and free MoTs for life. Could you live with a Rodius that long?
What to look out for when buying a used SsangYong Rodius
The Rodius is pretty tough and low tech; that Mercedes engine has been slogging around for decades, and there are plenty of taxi-drivers clocking up over 100,000 miles with it. The 2006-7 Rodius was recalled for faulty welding of its front seats' fixing brackets.
Not enough are in the UK for the Rodius to have appeared in the big reliability and customer satisfaction surveys, but most owners appear to be happy (if somewhat defensive) about their purchases. Problems reported include heavy oil consumption, fast-wearing tyres and easily scratched paint, and there has been the odd duff example that has required extensive work including replacement head gaskets, prop shafts and flywheels. Multiple electrical issues, suspension problems and turbo failure have also been encountered. Owners point out that there is no oil warning light, so you need to do regular dipstick checks.
The One to Buy
SsangYong Rodius 270 ES auto
Specifications
Engine:

2696cc, 5 cylinders

Power:

163bhp @ 4000rpm

Torque:

250 lb ft @ 1800rpm

Transmission:

5-speed automatic

Acceleration:

0-62mph in 15sec

Top Speed:

108mph

Fuel

29.1mpg combined

CO2:

247g/km

Road Tax Band:

L

Dimensions:

L 5125mm, W 1915mm, H 1845mm
SsangYong Rodius rivals
Chrysler Grand Voyager (click here for used prices on driving.co.uk)
Kia Sedona (click here for used prices on driving.co.uk)
Hyundai i800 (click here for used prices on driving.co.uk)