Smart Forfour Mk2 review (2015-on)
As cute as a pug, as engaging as Andy Murray
2015 SMART FORFOUR AT A GLANCE
Handling: ★★☆☆☆
Performance: ★★☆☆☆
Design: ★★★★☆
Interior: ★★★☆☆
Practicality: ★★★☆☆
Costs: ★★★★☆
---
IT'S STATING the obvious but the genius of the original two-seater Smart car (now known as the Fortwo) was its impossibly compact size. At just 2.5m long it was a third shorter than the three-door Ford Fiesta on sale at the time.
---
Browse the used Smart cars for sale on driving.co.uk
---
Yes, its short wheelbase and hard ride made traversing every sleeping policemen feel like you had crashed into a wall, and the jerky automatic transmission gave the impression that an anchor had been dropped out of the back of the car before it (eventually) shifted from one cog to another. But the Fortwo was genuinely clever in its packaging; despite its tiny footprint it felt spacious inside and nothing this side of a scooter could beat it around crowded city streets. It was indeed a smart car.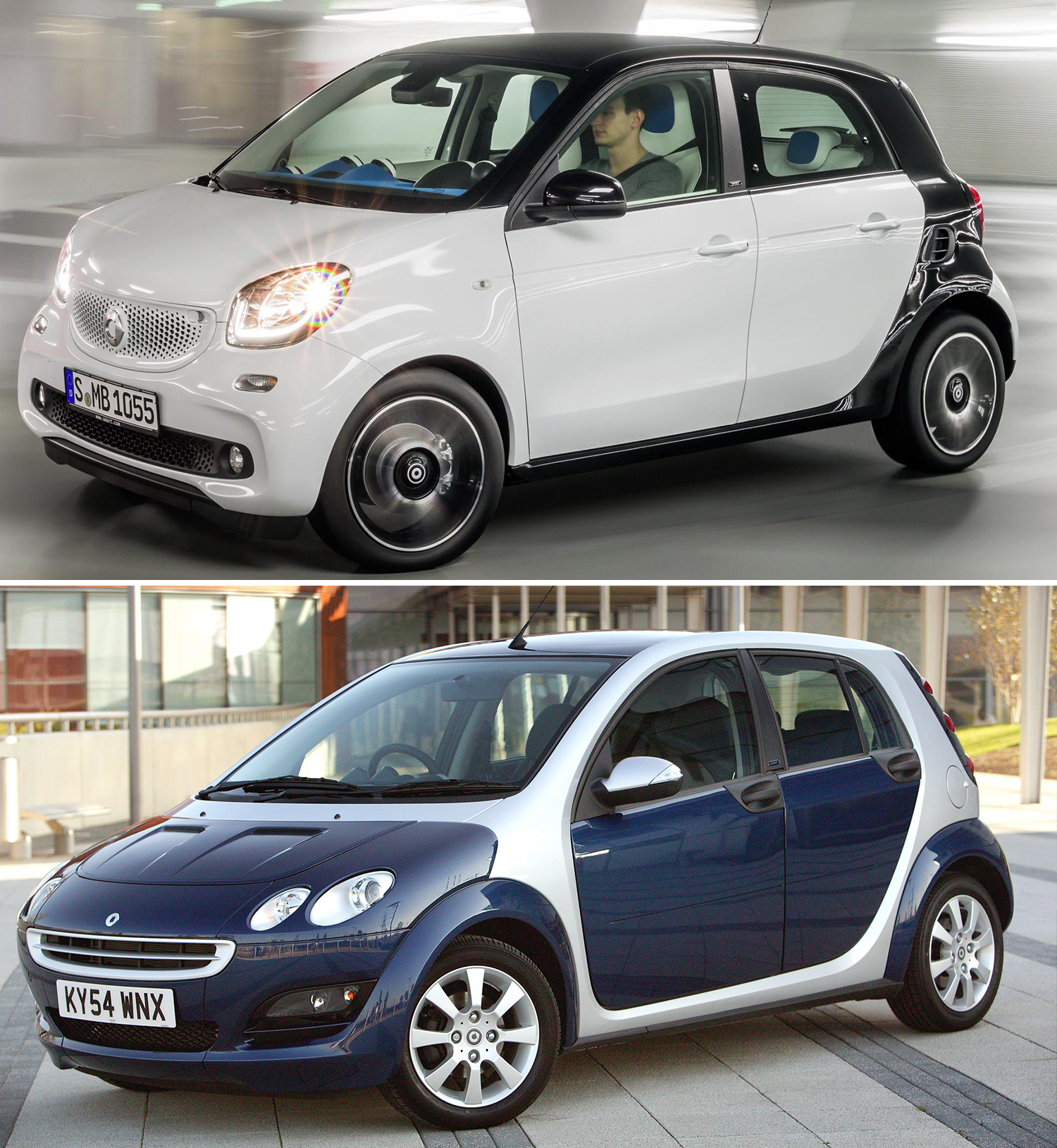 Then Smart expanded its model range with the Roadster "sports" car and the Forfour, a larger five-door version of the two-seater, and suddenly the company wasn't looking so bright. The Roadster was fine, so long as drivers could forgive it for being underpowered and sharing the Fortwo's terrible transmission, but the Forfour was, quite frankly, a mess.
A few thought it looked funky but many agreed it was painful to the eyes, with its bland exterior and odd two-tone colour scheme. The  Forfour's biggest problem, though, was how it felt behind the wheel, which fell well short of its city car rivals.
One Driving reviewer in 2004 named the Smart Forfour as his biggest disappointment of that year, calling it "a tediously average hatchback lacking entirely the charm, courage and vision". He also noted that, "Its slow sales suggest there are not quite as many fashion victims out there as Smart suspected."
The good news is that the second-generation Smart Forfour is a huge improvement… the bad news is that there are are still a number of flaws.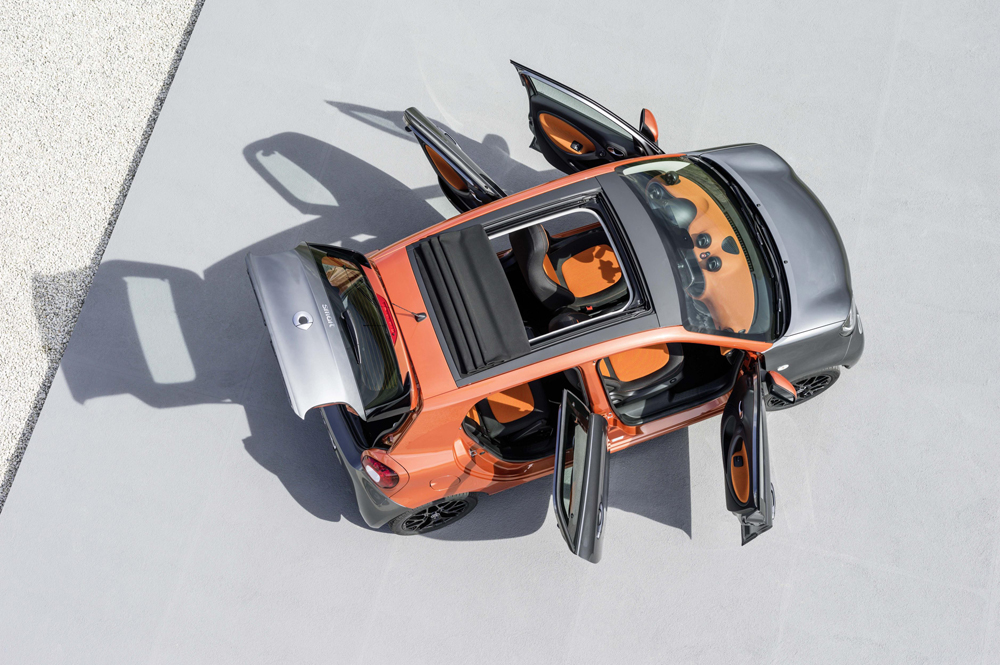 Let's start with the good stuff. It's not a bad looking car thanks to a more sculpted body, as opposed to the bric-à-brac appearance of the previous generation, and a more attractive choice of colours (still two-tone, but a much more aesthetically-pleasing arrangement). The snub nose of the new car will be endearing to many in the same way that many people fall in love with the look of their pet pug, although it could be equally divisive in appeal.
Inside, despite the compact size of the car (the Forfour is still nearly half a metre shorter than a current Ford Fiesta) the cabin is airy and feels spacious in the front. It's also typically funky in its styling; there isn't a straight line in sight, just curves in what the Smart designers call a "Loop" leitmotif.
Despite the compact size of the car (the Forfour is still nearly half a metre shorter than a current Ford Fiesta) the cabin is airy and feels spacious
The moulded dashboard comes in both gloss and matt plastics, and you can opt to have it part covered in a netted fabric, which does help the homely feel.
However, don't imagine you're buying Mercedes-Benz quality just because Smart is owned by Daimler — you're not. In fact, the Forfour is based on the Renault Twingo and built at Renault's plant in Slovenia.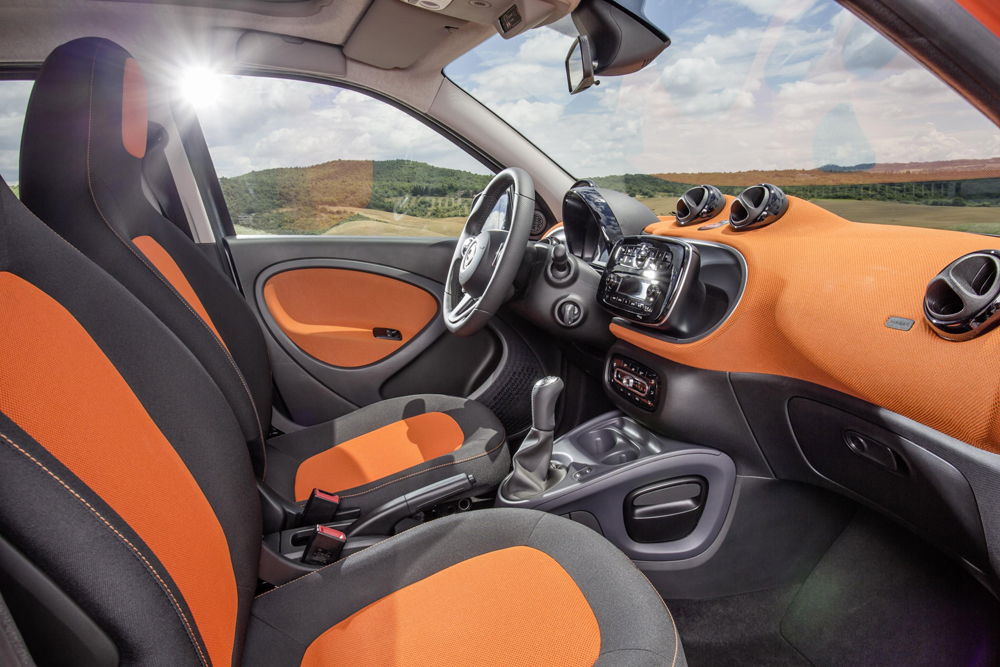 The infotainment screen is a big giveaway — although it's not a bad little system, it's unmistakably a Renault unit. Irritatingly, it's angled slightly towards the passenger in UK models, indicating that corners have been cut when adapting the car for right hand drive markets.
More gripes: we would have liked more cubbyholes in the front and while the front seats are comfortable, even for tall drivers, they offer very little support at the sides — we ended up almost falling out of the seat around sharper corners.
The rear is fairly cramped for adults but the space is adequate given how short the car is. It's a real shame that the packaging doesn't allow for a wind-down window; instead, rear occupants will have to make do with the annoying hinged windows if they need some air.
Smart has mercilessly decided not to try to squeeze in a third seat, instead placing a cupholder and cubby hole between the two rear seats in a self-contained, removable unit. When unclipped, and with the seats neatly folded flat to the floor you have a fairly practical load space in the back, should you wish to carry cargo other than humans.
This is a good thing, as the boot is minuscule due to the fact that the tiny three-cylinder engine — at launch either a 1-litre naturally aspirated unit offering 71bhp or a turbocharged 898cc motor producing 90bhp, with a basic 60bhp engine on the way — is located between the rear wheels. This also means the boot floor is quite high up, so the weak-armed may find lifting heavier shopping bags in and out a bit of a chore.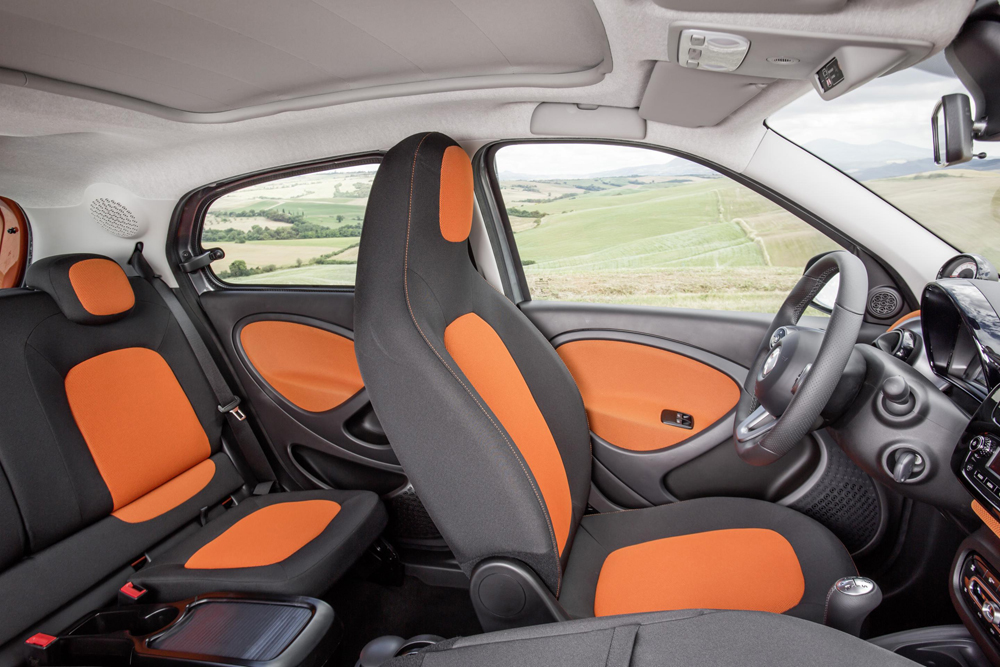 You might think that frees up space under the bonnet, but no: this is taken up by suspension, battery, fluid reservoirs and so on — no space for baguettes in here.
And that's not the only problem. We drove the full fat 90bhp model and to call it a bit lifeless would be like describing  Andy Murray as a tad unenthusiastic. Thanks to the turbo it will scoot away from traffic lights without a problem, and to be fair it's peppy around town, but don't expect to have strong bursts of acceleration on tap above 30mph. Go for the smaller engines and this underpowered feeling will be even more pronounced.
This would be acceptable if you're making a good saving on fuel but in the real world you'll not find it any more efficient than larger rivals with more spirited turbocharged petrol engines. Still, as even the 90bhp engine emits just 99g/km of CO2 you'll not have to pay anything in VED (road tax).
We drove the full fat 90bhp model and to call it a bit lifeless would be like describing Andy Murray as a tad unenthusiastic
Smart's engineers are very proud of the fact that the Forfour has a tiny turning circle, which proved very handy for a swift U-turn in a pub car park (the quality of the lemonade on offer looked dubious) but the steering felt twitchy out on the road. This was exacerbated by the rolly, lumpen ride through corners. An optional sports suspension package is available, which may improve things.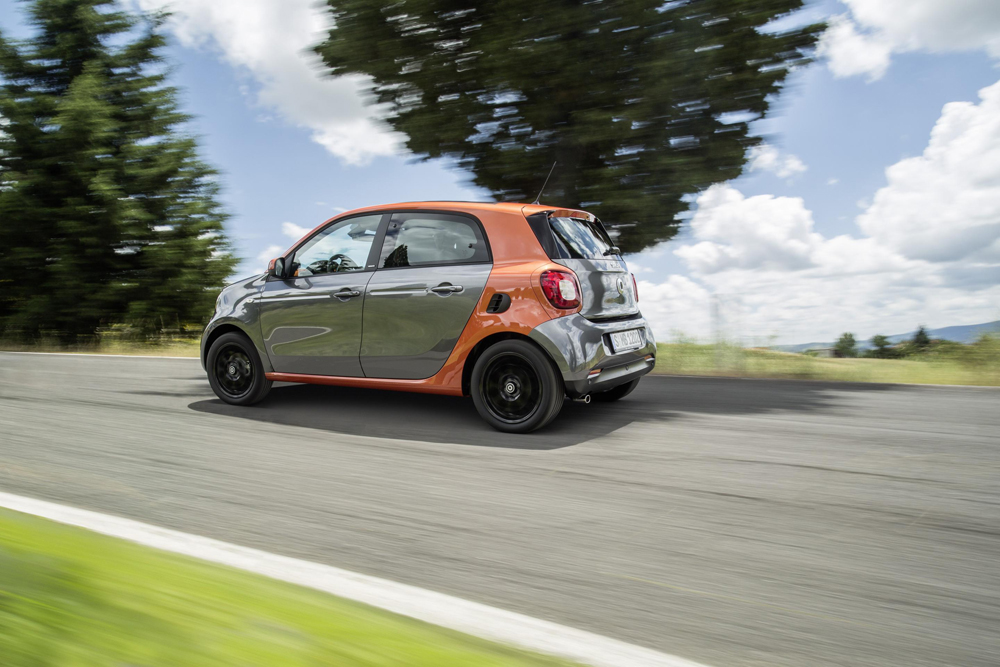 Our Forfour was at least comfortable for cruising, and potholes and bumps were soaked up well — it's a huge improvement over Smarts of old. Also, our car was fitted with cruise control, which, together with Crosswind Assist (a standard feature that brakes individual wheels to help keep you pointing in the right direction during strong gusts of wind) and greatly improved sound insulation, made motorway cruising relatively relaxing.
Without doubt, the Smart Forfour has grown up but it's still a flawed proposition in many ways. View it as a larger-than-average city car rather than an all-purpose family hatchback and you'll get on with it fine — you may even grow to love it — but if you demand the best in terms of driving experience, space and build quality, you're still better off looking elsewhere. Start with the five-door VW Up!.
2015 Smart Forfour Prime 90hp specifications
Price: £12,910
Engine: 898cc 3-cylinder, turbocharged
Power: 90bhp @5,500rpm
Torque: 100 lb ft @ 2,500rpm
Transmission: 5-speed manual
Performance: 0-62mph in 11.2sec
Top speed: 102mph
Fuel: 65.7mpg combined
CO2: 99g/km
Road tax band: A (free)
Release date: On sale now
---
Smart Forfour rivals
---
Browse the used Smart cars for sale on driving.co.uk
---