Peugeot 208 and e-208 review 2023: Bright future for updated supermini?
Le nip et tuck
---
Published 20 November 2023
There's a train of thought that suggests small electric cars make the most sense of all the battery-powered vehicles. After all, it's those in city centres — the natural habitat of the small hatchback — that suffer most at the hands of dirty air, and it's the kind of journeys covered by small hatchbacks, which are often second cars, that would see a big petrol or diesel car at their least efficient.
Despite that, though, it's larger cars that are being turned over to electric power first, while smaller cars struggle on with petrol or — perhaps more often — are put out to pasture. See the Ford Fiesta for example.
The fact of the matter is, there's more profit in SUVs than in small ones, and they're more in demand, and so that's where the manufacturers are putting their effort.
A French Vauxhall Corsa Electric?
But small electric vehicles can still make sense for the big car makers, as long as they can share their underpinnings with their partners. The Peugeot e-208 is a shining example of this, because under the skin, it's exactly the same as Vauxhall's Corsa Electric hatchback.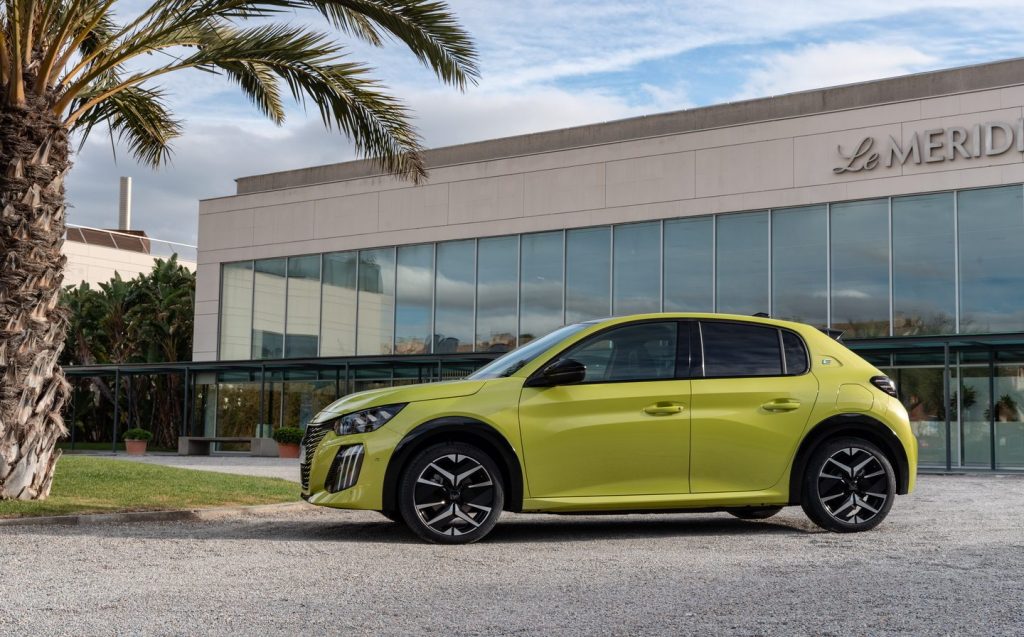 Normally, that would be a pretty unappetising situation, but the Corsa Electric is one of the brand's better products. That said, Peugeot-branded equivalents of the Vauxhall products often prove to be marginally better, despite some quirks related to the cabin ergonomics. And so it proves here.
It shouldn't come as a surprise, because it has been this way ever since the latest-generation Peugeot 208 was launched. Stylish, comfortable and better built than most would ever expect a French car to be, it has risen to become one of Europe's top sellers. And now it's even better, thanks to a little nip-and-tuck surgery designed to ensure it can still challenge at the top for years to come.
Under the surgeon's knife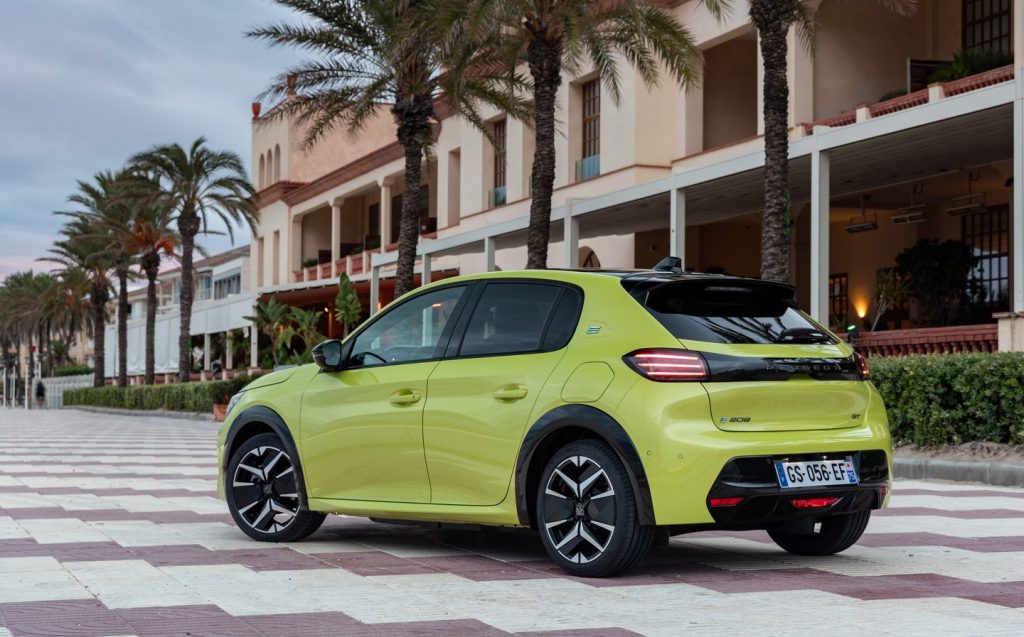 Obviously, the bold Agueda Yellow paint job pictured here is quite the talking point, but that's one of many additions that are worthy of note.
More important, for example, is the new grille with body-coloured flashes in it, and the new lights, which are designed to make the car look sportier — Peugeot's words, not ours.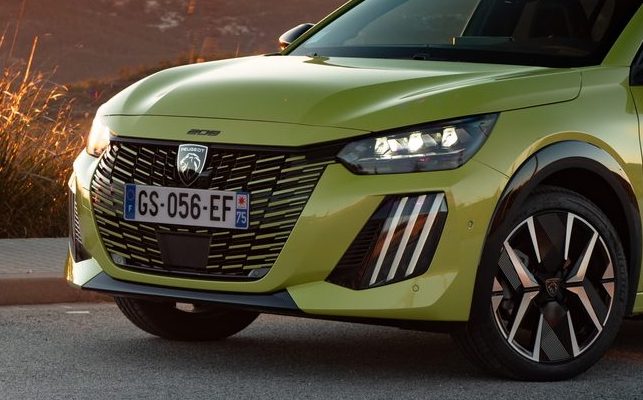 The new Peugeot badge makes an appearance, too, with the lion motif in a slightly jarring black shield on the car's nose.
To be honest, while the new look is an improvement, it's only a small one, because the 208 was already a great car to look at. The distinctive "fang" lights (now "claw marks") and solid proportions immediately put it among the best in the business, and it remains there to this day.
Business as usual inside — and that's a good thing
We could say something similar about the interior, too. While Peugeot has changed it slightly with a new touchscreen infotainment system that's sharper and more modern but still quite confusing to use, the basic design is more or less the same.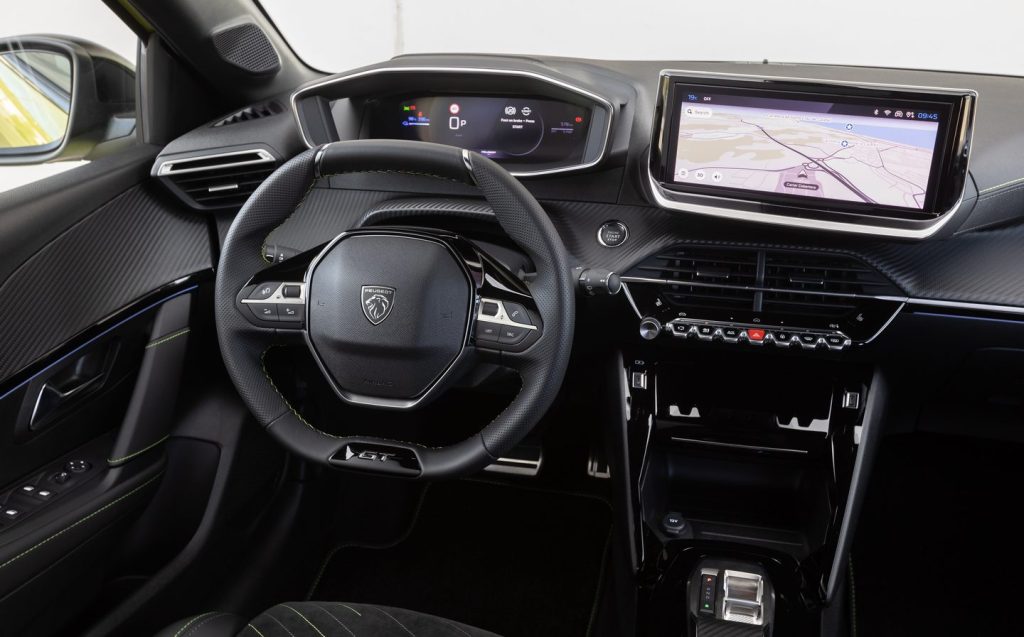 Screen aside, the biggest difference we can think of is the new toggle-style gear selector. It's hardly game-changing stuff.
But then it didn't need to be, because this is arguably the best-looking interior found in any small car on the market. The material quality is high for something so small — by which we mean you can't really spot the inevitable cost-saving measures that easily — and the way in which it's stitched together is remarkable.
Nor is it especially roomy. You couldn't swing a lion in the back of the 208, and you'd probably struggle with a conventionally sized mog, too. We wouldn't recommend it, though, because we're told the RSPCA takes a dim view of such practices.
What you definitely shouldn't do, however, is put a 6ft 2in adult in the back of a 208 for any longer than about 20 minutes, because that definitely is cruel. Especially if they have to sit behind someone equally blessed in the growth hormone department.
Admittedly, our view of the car was coloured by testing a top-of-the-range one with a glass roof that pilfers a little rear headroom, but even making a generous allowance for that can't change the fact headroom is tight in there. And legroom isn't brilliant either. It's fine for a quick dash to the pub, but not for long journeys.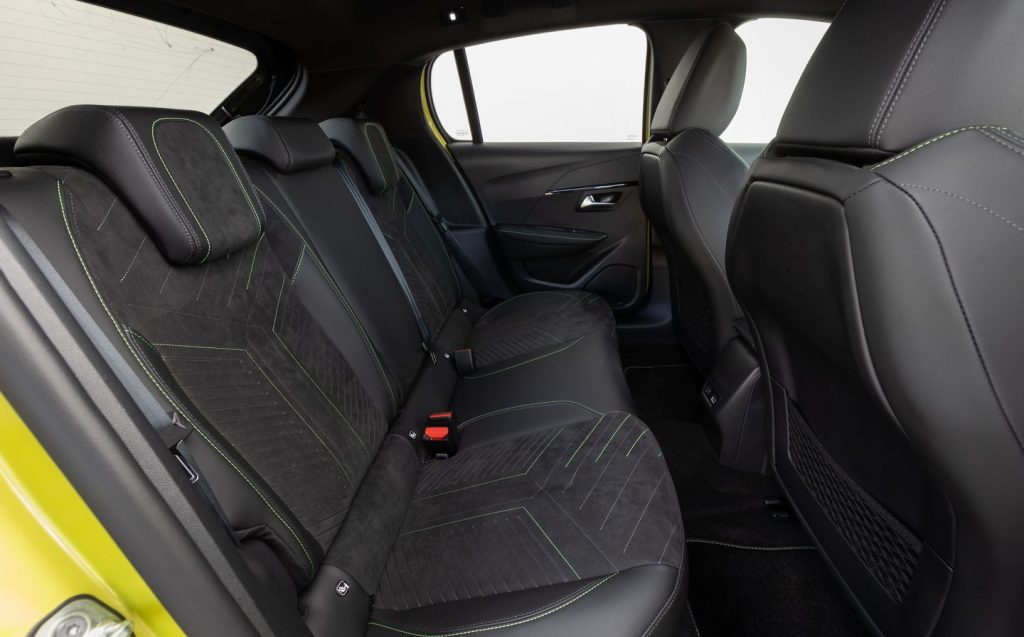 The boot is equally challenged in terms of capacity, although that's a problem that's much worse in the electric e-208 than the petrol-powered alternatives. The standard car's luggage space is competitive — it's about the same size as that of a Volkswagen Polo — but the battery steals more than 10 per cent of that capacity, leaving it looking somewhat less impressive.
You don't have to have electric power
All of which brings us on (semi-neatly) to the powertrain options.
We've already ascertained you can have a petrol- or battery-powered 208, but there are also 48-volt mild hybrid options.
In truth, the hybrid system is little more than a glorified stop-start fuel-saving device, but it's fitted to engines that are generally more powerful than the little 1.2-litre petrol engines at the foot of the range.
Those who want something more eco-friendly would probably be better served by the e-208, which now comes with a bigger battery than before and an extra 20bhp.
In fact, as with the Corsa Electric, with 154bhp on tap I t's the most powerful version of the model you can buy, and though it's no GTi it certainly feels nippy enough around town.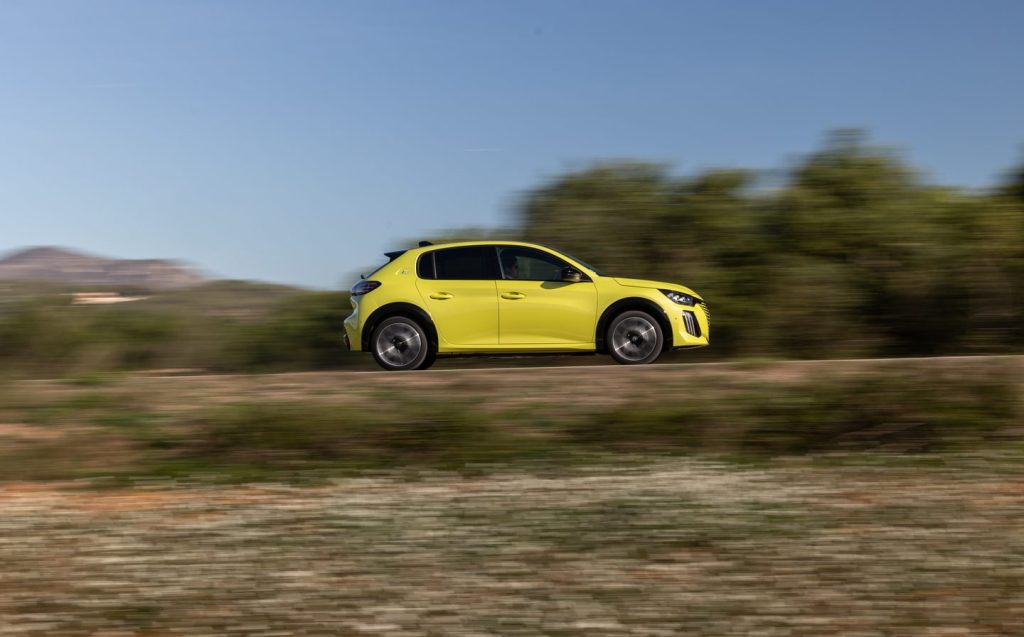 And because it comes with a new battery, it also comes with a little more range. Peugeot reckons you'll get just over 200 miles from a charge, which we think is probably a bit optimistic, but you might manage that if you just drive around town. On the motorway, however, you've probably got little chance of achieving much more than 150 miles, depending on conditions.
At least it'll charge relatively quickly. Find a charger capable of delivering more than 100kW and it'll take less than half an hour to fill the battery from 20 to 80 per cent. Using a less powerful domestic wallbox charging unit means it'll take almost five hours to recharge the battery completely.
Still, that means it can easily be done overnight, and that'll be fine for most owners. And the e-208 is at its best in town, anyway, where the instant acceleration and agility play well.
It's good on a country road, too, but it's less at home on faster A-roads and motorways, where quite a lot of tyre roar seeps into the cabin.
Still, it's pretty comfortable as small hatchbacks go.
You pay for all this goodness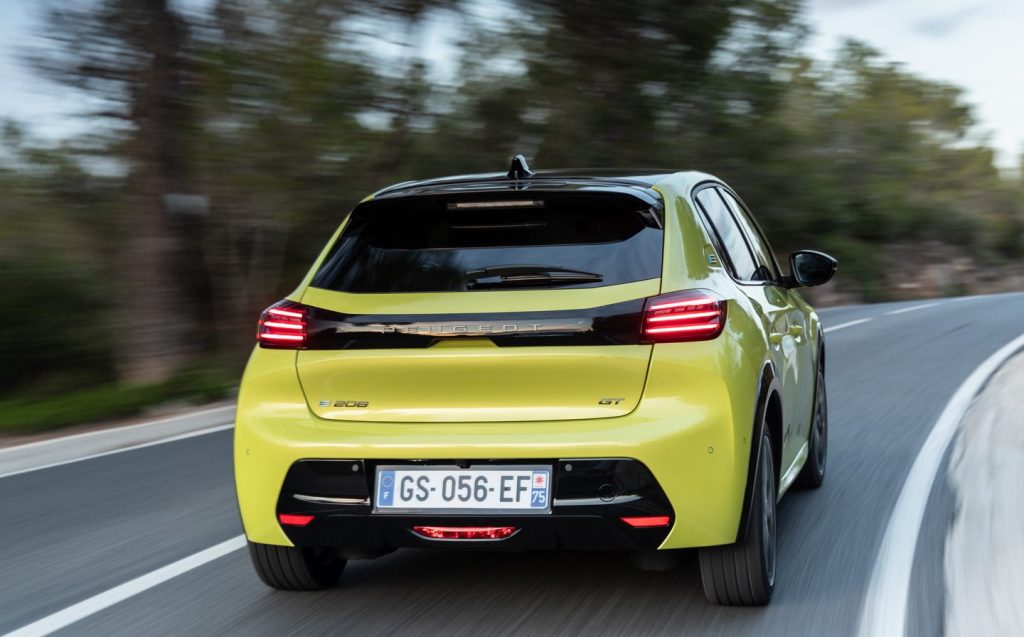 The biggest problem with the electric 208 is the price. Whereas you'll spend just over £20,000 on a basic petrol version, the e-208 costs more than £32,000. And our high-end test car cost more than £36,000.
Yes, you get plenty of kit — Android Auto and Apple CarPlay are standard across the range, while built-in navigation, climate control and a posh reversing camera are all thrown in with the higher trim levels — but so they should be as £36,000 is an awful lot of money for a small hatchback. A basic Tesla Model 3 starts at just under £40k these days, as does a much larger Skoda Enyaq.
As a result, the e-208 seems destined to be a bit of a niche option as a new car buy. While it's good fun to drive and it makes a lot of sense for some drivers, the high price will keep others at bay.
But there's no reason to avoid the petrol-powered versions of the 208, which have many of the same qualities at a much lower price.
So, while electric power might suit small cars in many ways, the electric 208 is unlikely to become the biggest seller any time soon. (It could be a cracking secondhand buy, mind you.)
Related articles
Latest articles